Recommendations are based on personal travel experiences and research. If you book through links on our site, we may earn a commission at no extra cost to you.
—
Pasadena is a charming city located just northeast of Los Angeles. There are so many great things to see and do, from hiking in the San Gabriel Mountains to seeing a game at the Rose Bowl. A favorite experience for many is visiting the Huntington Library, with its beautiful gardens and impressive art collection.
If you're looking for a cool and unique place to stay during your visit, I highly recommend checking out a boutique hotel in Pasadena or the surrounding area. They tend to have a lot of character and are often located in charming neighborhoods.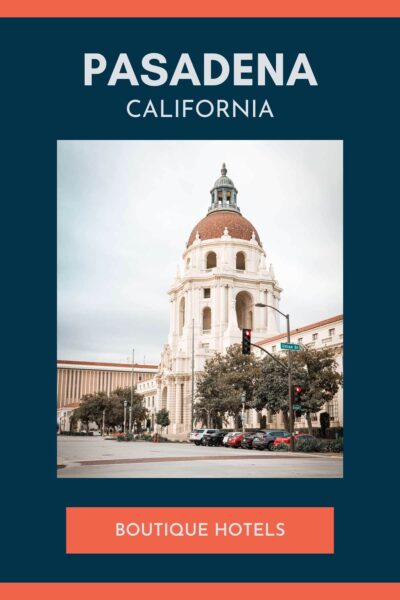 Boutique Hotels in Pasadena
Pasadena has a number of interesting neighborhoods and districts to explore, including Old Pasadena, South Lake Avenue, and the Playhouse District.
If you're visiting and looking for the best area to stay in, I would recommend Old Pasadena. It's a vibrant and lively area with a wide range of restaurants, shops, and cultural attractions. Plus, it's conveniently located near many of the area's top attractions, making it easy to get around.
Unfortunately, you'll mostly find generic-looking chain hotels in Pasadena as well as some inns and motel-type places. Knowing where to stay can be challenging, especially if you want a smaller hotel with some personality.
I've listed a few options here so you can balance style, comfort and sustainability.
Top Pick
Sheraton San Gabriel
Address: 303 East Valley Boulevard, San Gabriel, CA
Yep, this hotel is owned by one of the big chains, but I still think it's the best hotel in Pasadena. The design is a relaxed boutique style, while the building itself is a new build, designed in stunning Art Deco style by Kollin Altomare architects.
Features:
Large, modern rooms and bathrooms with walk-in showers.
Choose from San Gabriel Mountains or Los Angeles city views.
Beautiful lounge areas and a library where you can sit and relax.
Huge breakfast selection.
Sustainability:
100% renewable electricity.
Food waste minimisation measures.
No single-use plastic.
A portion of emissions are offset.
Pros: A stylish, luxury hotel with great facilities, including a bar, restaurant, good-sized gym and rooftop swimming pool.
Cons: Not located in the Old Pasadena neighborhood. Choose my next best recommendation below if you want to stay in Old Pasadena.
Check Availability
If you're interested in staying at the best boutique hotel in Pasadena, I highly recommend checking out this one. But if you're looking for something a little different or in a different location, my next favorite pick might be a good option for you.
Next Best
Hyatt Place Pasadena
Address: 399 East Green Street, Pasadena, CA
The Hyatt Place is by far the best located hotel in Pasadena. It's located between Old Pasadena and South Lake Avenue, so you'll find all the best of Pasadena within walking distance. The hotel rooms are large and clean with simple design features. Unbeatable location.
Cool and Unique Hotel
If you want to make your hotel stay special, you should consider staying in this cool and unique hotel. These types of hotels are usually way more interesting and offer a more personalized experience compared to big chain hotels.
Pasadena Hotel & Pool
Address: 928 E Colorado Boulevard, Pasadena, CA
The Pasadena Hotel meets the cool and unique hotel requirements. The rooms are cool and open to quirky curved bathrooms. The rooms form a courtyard where you'll find the stunning pool. There is a cool mix of old and modern, giving it a warm vibe and nice ambience. The reviews are excellent, so have a read and see what you think.
Eco-Friendly Hotel
If you want to minimize your environmental impact while traveling, consider staying at an eco-friendly hotel. These hotels often prioritize sustainability in their operations.
The Langham Huntington
Address: 1401 South Oak Knoll, Pasadena, CA
The Langham Huntington is exceptionally beautiful and it's an icon of Pasadena. This hotel might be an unusual choice here as it's a luxury hotel more so than a boutique hotel. But it has a high sustainability rating that might make it a worthwhile choice.
I find it difficult to consider hotels with pools sustainable, especially in California where water is often scarce. So keep this in mind if you're looking for a truly sustainable hotel. But I think it's fair to say this is a lower-impact, eco-friendly hotel.
The Langham is EarthCheck Gold certified sustainable. EarthCheck independently verifies the hotel's claims and they have maintained their sustainability measures for more than 5 years.
If you're planning a trip to California and looking for the best places to visit, be sure to check out my guide for all the top recommendations!
If you're planning a visit to Pasadena and want to learn more about the city and all it has to offer, be sure to check out the Pasadena Tourist Office's website. It's a great resource for visitors, with information on local attractions, events, and more.
Responsible Travel Tips
Many of us are increasingly concerned about climate change and sustainability.
Here are some ideas on how people can travel more responsibly in Pasadena:
Support businesses that use renewable energy and are energy efficient.
Reduce food waste by planning meals in advance and ordering only what you can eat at restaurants.
Limit consumerism by buying from local and sustainable sources or by opting for experiences instead of material possessions.
Consider adopting a sustainable diet that prioritizes plant-based and locally-grown foods.
Use sustainable transport options like biking or public transportation instead of driving. This is possible if you're coming from LA, although it could be difficult if you're coming from San Diego, for example. Santa Monica and Venice Beach are also not far but can be challenging on public transit.
Support the local community by eating at locally-owned restaurants, taking tours with local guides and supporting the arts in Pasadena.
Please share your sustainability tips in the comments.
FAQ
How far is Pasadena from LA?
Pasadena is 10 miles from Downtown La, which is around 15 minutes by car.
How far is Pasadena from San Diego?
Pasadena is 140 miles from San Diego, which is around 2 hours by car along the I-5.
How far is Pasadena from the beach?
Pasadena is less than 30 miles to Santa Monica Beach or Venice Beach, the nearest beaches. Depending on traffic, this would take around 35 minutes by car. Sadly, it's about 2 hours on public transit.
If you have questions or want to leave a hotel review, please do so in the comments.
—
Recommendations are independently chosen based on personal travel experiences and extensive research. This post contains affiliate links to hotels in Pasadena, California. This means I get a small commission from any bookings at no extra cost to you.