Recommendations are based on personal travel experiences and research. If you book through links on our site, we may earn a commission at no extra cost to you.
—
Visitors to Minneapolis are often struck by the city's vibrant arts scene, the picturesque chain of lakes and the intriguing mix of modern and historic architecture.
This city is renowned for its rich culture and distinctive hospitality and also has a fine selection of boutique hotels that elegantly blend comfort and style.
In this guide, I'll share my list of the best boutique hotels in Minneapolis, helping you to find your ideal match.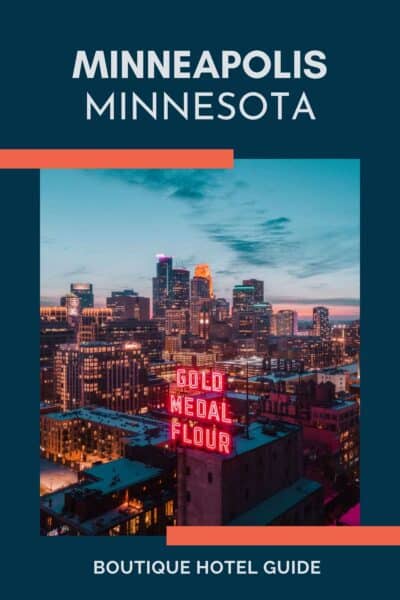 Boutique Hotels in Minneapolis
When it comes to booking a hotel in Minneapolis, your choice of neighbourhood can have a significant impact on your stay.
Downtown Minneapolis is at the heart of the action with its impressive array of restaurants, shopping centres, and entertainment venues, including Target Field and the Guthrie Theater.
Alternatively, North Loop is a creative area featuring cool bars, art galleries, and a thriving cafe culture against a backdrop of historic warehouse conversions.
Top Pick
Hewing Hotel
Address: 300 Washington Avenue, Minneapolis, MN
Location: North Loop
The Hewing Hotel, housed in a beautifully renovated old warehouse in the Warehouse District, enjoys a prime location near Target Field and light rail connections. The interior of the hotel showcases a trendy decor, merging modern touches with preserved architectural features, giving a nod to its historical roots. With friendly staff, cosy rooms, and a lively rooftop that provides a fabulous atmosphere for drinks and food and a pool with a stunning skyline view, this hotel seamlessly combines style, comfort, and convenience. Its on-site restaurant serves dinner, and nearby, a Whole Foods store is within a three-block walk.
Features:
Distinctive decor and design.
Cosy rooms with large beds.
Modern bathrooms furnished with quality fittings.
Rooftop pool and bar.
Great location in the Warehouse District.
Pros: Prime location; renovated warehouse; trendy, cosy interiors; friendly staff; on-site restaurant; vibrant rooftop with pool.
Cons: Limited sustainability measures.
Check Availability
While the Hewing Hotel is a top choice, there are other Minneapolis boutique hotels that could be equally appealing.
Each one showcases a unique style or a standout feature, such as location or eco-friendly practices.
In the following sections, I'll highlight a couple of these alternatives to help you find your perfect fit.
Next Best
Canopy Minneapolis Mill District
Address: 700 Third Street South, Downtown Minneapolis
Location: Downtown East
The Canopy Minneapolis Mill District hotel combines architecture and decor that are both stylish and inviting, providing a cosy atmosphere throughout. The hotel goes beyond the essentials with beautiful, convenient amenities like a coffee and tea kit and a minibar. A bar at the reception plays high-quality music at appropriate volumes and times, adding to the overall ambience. The hotel also includes a basic gym and hosts a team of attentive and efficient staff. Its location is excellent, especially if you're attending an event at the nearby US Bank Stadium, with the light rail providing easy transport around the city. The chic and welcoming rooms are enhanced by attractive features such as wood ceilings and metalwork. In addition, you can enjoy the beautifully decorated lobby, which doubles as a social area, and try out the exceptional cocktails served by the wonderful bar staff. The room cleanliness and provision of quality shower essentials round out the top-notch offerings of this hotel.
Eco-Friendly Hotel
When considering an eco-friendly hotel, pay attention to how they implement sustainable practices.
You might find measures like renewable energy, energy-efficient lighting, water-saving features, and a commitment to reducing waste.
Staying in such a hotel can make a significant difference, allowing you to enjoy your travels while also helping to reduce your carbon footprint and promote environmental conservation.
Emery Hotel
Address: 215 4th Street South, Downtown Minneapolis
Location: Downtown West
The Emery Hotel, located in the heart of downtown Minneapolis, is a modern and elegant accommodation choice that upholds a strong commitment to sustainability. The rooms are both comfortable and aesthetically pleasing, enhanced by tasteful decor and comfy beds. Compliments for the staff are frequent, noting their friendliness and competence, which contribute to the overall pleasant experience. Additional facilities include a high-quality hotel bar and an on-site restaurant and coffee shop, both of which have garnered positive reviews for their food and drinks. The Emery takes pride in providing bicycles for guest use, a delightful way to tour the surrounding areas like the Mississippi River. This hotel takes its eco-friendly commitment seriously, using 100% renewable electricity and sourcing most of its food locally and organically. The hotel supports the local community, invests a portion of its revenue into community or sustainability projects, and provides a platform for local artists to display their talents. Vegetarian and vegan menu options are also available in their restaurant, catering to diverse dietary preferences.
Luxury Boutique Hotel
Choosing a luxury boutique hotel can provide you with a unique and personalised experience, merging high-end amenities with distinct character and charm.
These properties often have a more intimate and cosy atmosphere than larger hotel chains, enhancing your comfort and relaxation.
In addition, they are typically located in prime city locations, making it easier to access local attractions.
The design and decor of luxury boutique hotels tend to reflect the local culture and history, offering an immersive experience that goes beyond just a place to sleep.
The Marquette Hotel
Address: 710 Marquette Avenue, Downtown Minneapolis
Location: Downtown West
The Marquette Hotel in downtown Minneapolis proves an excellent choice for travellers desiring luxury and comfort. The hotel's beauty is immediately apparent, complete with clean, spacious rooms that provide stunning views of the city. Guests praise the Corner King suite for its size and vistas, while the comfort of the bed and functional amenities add to the experience. The staff, renowned for their friendliness and accommodating nature, contribute to an exceptional stay. The hotel's location serves as another key advantage, as it is central and well-connected to the Skyway system, providing easy access to the city's many attractions. The convenience is extended to their parking facilities, located directly in front of the hotel.
Cool and Unique Hotel
In the quest for a unique boutique hotel, pay attention to the essence of the property and how it distinguishes itself from standard accommodations.
It's about more than a place to sleep—it's an experience.
You'll find these hotels often embrace their setting, be it in architecture or local culture, creating a characterful narrative that enriches your stay.
Their size, usually smaller than average, enables personalised service, and their design is usually contemporary or highly thematic.
Unique boutique hotels can transform your trip, making your accommodation as much a highlight as the destination itself.
Moxy Minneapolis Downtown
Address: 247 Chicago Avenue South, Downtown Minneapolis
Location: Downtown East
At the heart of downtown, Moxy Minneapolis Downtown has an engaging vibe. The hotel presents a distinctive approach with check-in at the bar, marking a departure from the usual reception desk. It's a practical touch that sets the stage for a relaxed, fun atmosphere in the lobby, acting as a gathering hub. Each guest is welcomed with a complimentary drink on arrival, a warm gesture enhancing the overall experience. Rooms embody a 'loft' design, a blend of unconventional and comfort, contributing to the hotel's unique, somewhat hipster appeal. Cleanliness is a clear priority at Moxy, evident from the spotless facilities to the immaculate rooms. The staff are lauded for their friendly nature, creating an affable atmosphere that adds to the overall charm of the property. The hotel sits in a vibrant neighbourhood, making it well-situated for exploring the city.
Where to Stay in Minneapolis
Downtown Minneapolis: The heart of the city with a bustling business district. Known for its vibrant nightlife, range of restaurants, and prominent landmarks like US Bank Stadium. Ideal spot if you're wondering where to stay in Minneapolis for easy access to the city's pulse.
Mill District: Steeped in history, this area showcases some of the city's finest architecture. The area is a cultural hub with numerous galleries and museums.
North Loop: Once an industrial area, now a trendy neighbourhood known for its mix of independent stores and loft-style living. Great spot for vintage shopping, innovative eateries, and cool bars.
Northeast Minneapolis: Known for its vibrant arts scene, craft breweries, and eclectic dining options. A haven for creatives, foodies, and craft beer enthusiasts.
Uptown: Noted for its vibrant nightlife, Uptown is an energetic area boasting a multitude of bars, restaurants, and the famous Chain of Lakes. Close to green spaces, it's an ideal place for outdoor enthusiasts.
Southwest Minneapolis: An area packed with green spaces and known for its quieter, laid-back atmosphere. Great for those who value peaceful surroundings without straying too far from city amenities.
Dinkytown: The student area around the University of Minnesota is perfect for those who enjoy a youthful, energetic atmosphere full of affordable eateries and independent shops.
St Anthony Main: This historic area along the Mississippi River is perfect for leisurely strolls, picnics, and sightseeing, with a good mix of dining options and beautiful river views.
Discover the diverse landscapes, vibrant cities, and unique attractions of the North Star State with my detailed guide to the best places to visit in Minnesota.
Meet Minneapolis is a brilliant resource if you're seeking more comprehensive information about the city. It's particularly useful for finding out about local events, sightseeing spots, and various things to do.
Responsible Travel Tips
Here are a few ideas on how we can travel more responsibly in Minneapolis.
Renewable energy: Consider choosing accommodation providers in Minneapolis that utilise renewable energy, such as solar power, and ask about energy-saving practices when booking.
Minimising food waste: Minneapolis has numerous farmers' markets where you can buy fresh, local produce. This helps to reduce the environmental impact of transporting goods, and buying only what you need can help minimise waste.
Sustainable diets: Enjoy plant-based meals in the city's numerous vegetarian and vegan-friendly eateries to reduce your carbon footprint.
Sustainable transport: Minneapolis is known for its bike-friendly infrastructure. Take advantage of the city's extensive bike path network, and use public transport where possible.
Avoid flying: If you're travelling within the US, consider taking a train or bus to Minneapolis instead of flying. Not only will you reduce your carbon footprint, but you'll also get to enjoy the scenery along the way.
Supporting the local community: Support locally owned businesses in Minneapolis. This can be anything from dining at a local restaurant, shopping at independent stores, or visiting community-run events and exhibitions.
FAQ
What kind of hotels can I find in Minneapolis?
In Minneapolis, you'll come across a range of hotels to cater to your preferences, from luxury and boutique hotels to unique and eco-friendly establishments, ensuring your stay is both comfortable and aligned with your preferences.
Where should I stay when visiting Minneapolis?
Downtown Minneapolis is popular due to its proximity to major attractions and business centres. Other neighbourhoods like Uptown, North Loop, and Northeast also provide distinctive atmospheres with their unique eateries, shops, and cultural hotspots.
What should I know about travelling responsibly in Minneapolis?
When in Minneapolis, you can travel responsibly by opting for accommodations that utilise renewable energy, reducing food waste by shopping at local farmers markets, adopting a plant-based diet, using sustainable transport like cycling or public transit, and supporting locally owned businesses.
In navigating the vibrant city of Minneapolis, the right choice of accommodation is an essential factor in shaping your experience. Your stay can be tailored to your preferences with a range of boutique hotels to fit varying tastes.
Whatever the nature of your visit, these hotels are nestled within neighbourhoods that are rich in culture, history, and local charm.
If you have questions or want to leave a hotel review, please do so in the comments.
—
Recommendations are independently chosen based on personal travel experiences and extensive research. This post contains affiliate links to hotels in Minneapolis, Minnesota. This means I get a small commission from any bookings at no extra cost to you.