Recommendations are based on personal travel experiences and research. If you book through links on our site, we may earn a commission at no extra cost to you.
—
Louisville is a city well recognised for its rich bourbon heritage, thriving arts scene, and the annual Kentucky Derby. It's a city where classic southern charm meets modern urban sophistication, and it's no surprise that this is reflected in its fantastic selection of boutique hotels.
In this guide, I'll take you through the best boutique hotels in Louisville, giving you an understanding of where to stay for an authentic experience in this compelling city.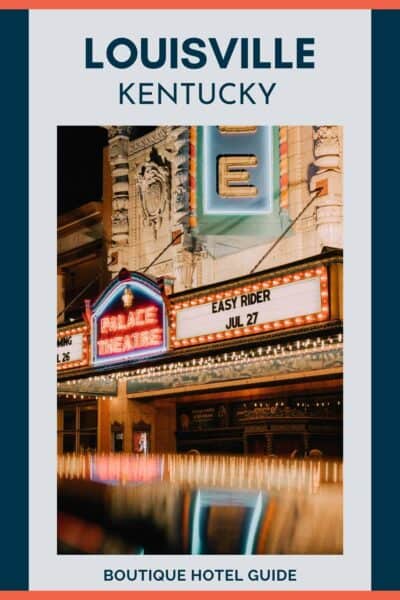 Boutique Hotels in Louisville
Location plays a key role in shaping your experience when considering where to stay in Louisville.
Downtown Louisville is the heart of the city and the hub of action with its assortment of popular attractions. Here you'll find the Muhammad Ali Centre and the Kentucky Science Centre, which also hosts various eateries and shops.
Alternatively, the East Market District or NuLu neighbourhood – short for "New Louisville" – is a lively district known for its distinctive local shops, innovative art galleries and farm-to-table restaurants nestled alongside attractive green spaces.
Top Pick
Hotel Genevieve
Address: 730 East Market Street, Louisville, KY
Location: East Market District – NuLu
Hotel Genevieve delivers a luxurious stay marked by exceptional service, striking the perfect balance of elegance and comfort. Staff interactions at all levels – check-in, valet, restaurant, and the onsite speakeasy – are nothing short of excellent, epitomising their commitment to providing top-notch service. The rooms are well appointed and clean and offer surprising comfort, while the rooftop and the restaurant enhance the overall stay, serving delicious food amidst an atmospheric setting. Finally, the hotel's prime location, unique amenities like water fill stations on every floor and a distinct design character make it an outstanding choice for a stay in Louisville.
Features:
Quirky and cool design.
Modern, immaculate rooms complete with large beds and a sitting area.
Cosy speakeasy serving craft drinks.
Stunning lobby, lounge and rooftop areas.
Great location near diverse eateries.
Highly rated service.
Sustainability:
Most food is organic and locally sourced.
Avoids using single-use plastics.
Support is given to local community organisations and charities.
Offset a portion of emissions.
Pros: Exceptional service, luxuriously comfortable rooms, unique amenities, onsite speakeasy and restaurant, and excellent location.
Cons: Occasionally busy at peak times.
Check Availability
Of course, Louisville's boutique hotel scene isn't just about Hotel Genevieve. In the upcoming sections, I'll bring to your attention a couple more gems, each with distinct appeal in terms of their location, unique attributes, or commitment to sustainability.
It's all about finding the perfect fit for your individual travel style and preferences.
Next Best
Hotel Distil
Address: 101 West Main Street, Louisville
Location: Downtown
Hotel Distil sets itself apart with its prime location, making it an excellent base for those on a Bourbon Trail weekend. With many popular distilleries and the bustling Louisville Loop just a short walk away, it offers ease of access to both the city's famed bourbon heritage and its vibrant outdoor scene. The hotel's architecture reflects Louisville's dedication to preserving its historic buildings, contributing to the city's distinctive vibe. The rooms are comfortable, full of light, and exceptionally clean, while the onsite restaurant, Repeal, is known for its excellent service and delicious food. Adding to its charm, Hotel Distil is pet-friendly, welcoming furry companions with the same warmth as their owners. With attentive staff always ready to assist, this hotel promises a pleasant and convenient stay in the heart of downtown Louisville.
Cool and Unique Hotel
Opting for a cool, unique boutique hotel can inject an element of fun and novelty into your travels.
Boutique hotels are typically characterised by their distinctive style, often marrying local architectural influences with contemporary design elements, and they often provide a more personalised and intimate experience compared to larger hotel chains.
This can make for a truly engaging and enriching stay, immersing you in the locale's culture and spirit while offering the comforts of thoughtful, attentive service.
21c Museum Hotel
Address: 700 West Main Street, Louisville, KY
Location: Downtown
The 21c Museum Hotel delivers a truly unique stay, combining an art museum's appeal with a boutique hotel's comforts. It's situated in a central location, ideal for exploring the local distilleries and other attractions, and its staff are known for their friendliness and efficiency, particularly in the quick valet service. The hotel rooms are comfortable and quiet, providing a restful retreat, and the hotel further adds to the guest experience by offering amenities like morning coffee, pastries, and fruit. However, the art exhibits spread across the different floors really set the hotel apart. These add an element of fun and quirkiness to your stay, with even the children finding delight in the interactive exhibits near the elevators. With great food and a vibrant atmosphere, the 21c Museum Hotel promises an enjoyable and distinctly unique stay in Louisville.
Eco-Friendly Hotel
Staying in an eco-friendly hotel is a conscious choice that aligns with sustainable living and caring for our environment.
Such establishments prioritise practices that reduce energy consumption, minimise waste, and support local communities.
By opting for a green hotel, you're playing an active role in mitigating the impact of tourism on the environment.
It's a step towards responsible travel that doesn't compromise the quality of your stay and can even enhance your travel experience, knowing that you're making a positive difference.
Moxy Louisville Downtown
Address: 100 West Washington Street, Louisville
Location: Downtown
Moxy Louisville champions sustainable practices without compromising on style or comfort. The hotel uses 100% renewable electricity and provides an electric car charging station, making it a smart choice for eco-conscious travellers. It's in an amazing location by the river, and guests appreciate the convenience of being within walking distance of popular attractions like Fourth St Live and the Yum Center, as well as a host of local restaurants and activities. Beyond its commitment to green initiatives, Moxy Louisville has its own atmosphere. The unique decor, exceptional staff, and lively bar and lounge area contribute to its quirky, swanky theme. Adding to the enjoyment are the games available for guests and the availability of tours and activities organised by local guides. Moxy Louisville proves that an eco-friendly stay can also be a uniquely enjoyable one.
Luxury Boutique Hotel
You're signing up for an intimate, high-quality experience in a luxury boutique hotel. These hotels focus on providing personalised service tailored to each guest.
A hallmark of luxury boutique hotels is their distinctive character, often reflected in their unique design and architecture, which can make your stay feel special.
On top of that, they often prioritise high-end comfort, with luxe furnishings and top-tier amenities, making them a good choice for travellers who appreciate the finer things in life.
The Grady Hotel
Address: 601 West Main Street, Louisville, KY
Location: Downtown
The Grady Hotel nails it when it comes to location – a hop, skip, and jump from many downtown attractions, distilleries, and The Palace Theatre. Complementing its location, the hotel sports a thoughtful design peppered with unique artwork that is bound to catch your eye. The staff here pull out all the stops to make you feel welcome, providing friendly and personalised service. A key highlight of your stay is bound to be the breakfast served at the on-site restaurant, both scrumptious and good value, with friendly servers adding to the experience. Not to be overlooked, the comfortable rooms provide excellent views, and the walk-in showers add a dash of luxury.
Where to Stay in Louisville
Downtown Louisville: The heart of the city, where to stay in Louisville if you want to be in the middle of it all. Home to the KFC Yum! Center and the Kentucky International Convention Center, an area that is bustling with activity. The 4th Street Live! entertainment district is also here, making it a hub for nightlife.
Central Business District (CBD): This is a good choice for visitors interested in shopping and dining. It's home to Museum Row, which includes several significant museums. This area also houses the impressive Louisville Slugger Field.
NuLu (New Louisville): This area is known for its innovative food scene and independent stores. East Market District or NuLu has emerged as a lively spot with an artsy edge.
Old Louisville: Known for its Victorian architecture and St. James Court, it's the place to stay for history buffs. This district boasts the largest collection of Victorian homes in the U.S. and an attractive central park.
Butchertown: Once the heart of the meat-packing industry, Butchertown has transformed into a hip district filled with boutique stores, galleries, and trendy eateries.
The Highlands: This area is famous for its vibrant Bardstown Road and Baxter Avenue, full of bars, nightclubs, and unique stores. The Highlands also has several lovely parks, making it ideal for outdoor enthusiasts.
Germantown: A historic neighbourhood with a down-to-earth vibe. It's filled with locally-owned restaurants and bars, adding to its charm.
Clifton & Crescent Hill: These neighbouring areas are known for their lovely historic homes, Frankfort Avenue's independent boutiques, and great restaurants.
Jeffersonville, Indiana: Just across the Ohio River, Jeffersonville offers a quieter atmosphere with riverfront parks and a growing dining scene. The Big Four Bridge pedestrian path makes it an easy walk to downtown Louisville.
In my comprehensive guide, I've explored all corners of the state to bring you the best places to visit in Kentucky, ensuring you get the most from your trip by experiencing our top-rated attractions, landscapes, and cultural highlights.
For those seeking further insights into the city, Go to Louisville provides excellent resources on a broad array of activities, sightseeing options, and events. It's a solid reference point to enhance your city exploration experience.
Responsible Travel Tips
Here are a few ideas on how we can travel more responsibly in Louisville.
Renewable Energy: Choose hotels that prioritise sustainable practices and use renewable energy sources; Louisville is gradually increasing its renewable energy initiatives, with solar and wind energy becoming more prevalent.
Minimising Food Waste: Be mindful of portion sizes when dining out in the city; Louisville's restaurants are famous for their generous servings, so consider sharing meals to avoid unnecessary waste.
Sustainable Diets: Embrace the farm-to-table eateries in Louisville; the city is surrounded by rich agricultural land providing fresh, local produce that supports a sustainable diet.
Sustainable Transport: Utilise Louisville's public transport system or consider renting a bike; the city is becoming increasingly cycle-friendly with more bike lanes and trails being introduced.
Avoiding Flying: If you're within a reasonable distance, consider alternative transport methods to flying, such as train or bus. Louisville is well connected by rail and road networks, reducing the need for short-haul flights.
Supporting the Local Community: Engage with locally-owned businesses and artisans in the city's markets; Louisville has a vibrant local community with many small businesses that contribute to the city's unique charm.
FAQ
What factors should I consider when choosing a hotel in Louisville?
You should consider the location of the hotel, its proximity to attractions you want to visit, whether it has the amenities you need, and how it aligns with your budget and style preferences.
What is the best area to stay in Louisville?
The best area to stay in depends on what you want to do during your visit. Downtown Louisville is great for first-timers as it's close to the main attractions. The Highlands is known for its vibrant nightlife and eclectic dining scene. For a quieter, more residential feel, consider Crescent Hill.
What's the best way to get around Louisville?
Louisville is quite a walkable city, especially in the downtown area. Public transit is also available through the TARC system, which includes buses and trolleys. Alternatively, you can rent a bike or use a rideshare service.
Final Thoughts
Finding the right boutique hotel in Louisville can make your visit much more enjoyable.
With an assortment of unique, eco-friendly, and luxury boutique hotels available, it's worth finding a place that suits your preferences and needs. Keep location, amenities and the neighbourhood's character in mind when selecting. With its diverse neighbourhoods, vibrant culture, and rich history, Louisville is a city that truly caters to every type of traveller.
Whatever your interests, you're sure to find something that resonates with you in this welcoming city.
If you have questions or want to leave a hotel review, please do so in the comments.
—
Recommendations are independently chosen based on personal travel experiences and extensive research. This post contains affiliate links to hotels in Louisville, Kentucky. This means I get a small commission from any bookings at no extra cost to you.