Recommendations are based on personal travel experiences and research. If you book through links on our site, we may earn a commission at no extra cost to you.
—
Fort Lauderdale is one of Florida's most vibrant cities. It's home to a unique blend of beautiful beaches, buzzing nightlife, and cultural richness that leaves a lasting impression on any traveller.
In this guide, we are exploring the best boutique hotels in Fort Lauderdale, serving you a comprehensive list of the city's finest accommodations.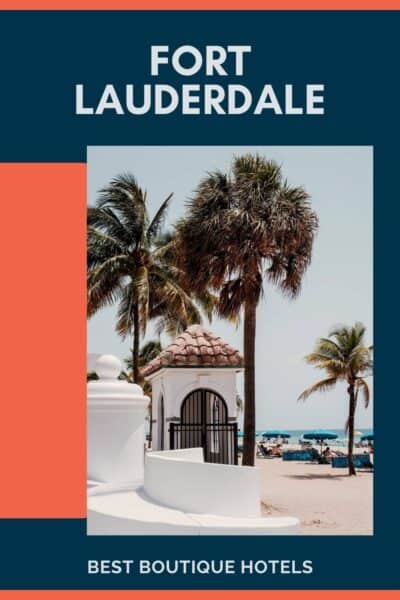 Boutique Hotels in Fort Lauderdale
Picking the right area is a crucial first step when you're searching for a hotel.
In Fort Lauderdale, the downtown district is a hive of activity, where modern high-rises meet historic architecture and a good selection of places to stay.
On the other hand, Wilton Manors is renowned for its vibrant atmosphere, brimming with eclectic independent shops, cool bars, galleries and green spaces.
Top Pick
The Kimpton Shorebreak
Address: 2900 Riomar Street, Fort Lauderdale, Florida
Location: Central Beach
The Kimpton Shorebreak is a gem of a place. Rooms are cosy, and the friendly, welcoming staff set the tone for a brilliant stay. Its central location and little touches, like a beach towel and bag, added greatly to the experience. The rooftop pool is a highlight, as is the beautifully restored traditional building that houses it all. The delicious breakfasts and free bike rental just added the cherry on top.
Features:
Cool and unique design.
Modern, immaculate rooms complete with large beds and a sitting area.
Huge selection for breakfast.
Stunning lobby, lounge and bar areas.
Great location near Bonnet House Museum and Gardens, Greenfield Park.
Pros: Beach location. Cosy, spacious rooms. Thoughtful amenities. Brilliant rooftop pool. Delicious breakfasts. Free bike rental.
Cons: Occasionally busy at peak times.
Check Availability
Next, I'll be sharing recommendations for a couple of other boutique hotels you might like in Fort Lauderdale.
Each has something distinctive: a stellar location, a unique style, or a commendable commitment to sustainability.
Next Best
Four Seasons Hotel
Address: 525 North Fort Lauderdale Beach Boulevard, Fort Lauderdale
Location: Central Beach
Although not a boutique hotel, the Four Seasons in Fort Lauderdale truly knows how to impress. The rooms are excellent due to their size, luxurious bathrooms, and notably perfect bed, ensuring the best night's sleep. This beautiful property sits in an ideal location, providing great service and featuring a pleasant, if small, pool. The food in the restaurant was more than satisfactory, and the sustainable practices observed by the hotel are quite commendable. A jacuzzi or hot tub would have been a nice touch, but this is a minor shortfall.
Eco-Friendly Hotel
Choosing an eco-friendly hotel can make a real difference to your travel footprint. Look for a place that prioritises energy efficiency, waste reduction, and the use of sustainable materials. You're actively supporting their efforts to reduce environmental impact by staying at such a hotel.
Pelican Grand Beach
Address: 2000 North Ocean Boulevard, Fort Lauderdale, Florida
Location: Lauderdale Beach
The Pelican Grand Beach Hotel in Fort Lauderdale is a standout choice, particularly for those of us who prioritise eco-friendly travel. There is an impressive pool and beach area. The double bedrooms are spacious, complete with a cosy bed and a well-stocked bathroom boasting full bottles of delicious-smelling body products. The balcony view, the quality of the restaurant's dinner menu, and the convenience of the on-site ice cream shop are further highlights. The staff proved to be friendly and kind, and the excellent beachfront location places you near a multitude of great restaurants. Best of all, the hotel operates on 100% renewable electricity, underlining its commitment to sustainability.
Luxury Boutique Hotel
Luxury boutique hotels are a fantastic choice when you're after a stay with that extra touch of class. These unique hotels pride themselves on their personalised service, often housed within distinctive or historical architecture.
Attention to detail is key, with plush rooms and high-quality amenities typically part of the package. The smaller size compared to large chain hotels means you enjoy an intimate, tailored experience; often, these boutique spots occupy prime locations too.
The Pillars Hotel
Address: 111 North Birch Road, Fort Lauderdale, Florida, USA
Location: Central Beach
The Pillars Hotel is a gem in the heart of Fort Lauderdale, blending luxury with a charming boutique feel. Its smaller size fosters a personal atmosphere, made even more appealing by the incredibly attentive staff. The rooms tick all the boxes for comfort and are furnished to perfection. Set just a bit away from the main hustle and bustle, it offers an ideal balance of accessibility and tranquillity. The relaxing pool and the superb views over the water add to the overall appeal.
Where to Stay in Fort Lauderdale
1. Downtown Fort Lauderdale: At the city's heart, you'll find a bustling hub with attractions aplenty. It's an excellent base for exploring, with plenty of excellent restaurants, museums, and shopping centres at your fingertips.
2. Las Olas Boulevard: Known for its vibrant atmosphere, this neighbourhood is brimming with cafes, boutiques, and art galleries. If you're asking yourself where to stay in Fort Lauderdale for a mix of culture and entertainment, Las Olas Boulevard is a top contender.
3. Wilton Manors: This lively area is known for its active nightlife and welcoming community. With trendy bars and cafes, it's a great spot to enjoy the city's social scene.
4. Victoria Park: A residential neighbourhood with a relaxed feel. It's close to the city centre, yet its parks and green spaces give it a more tranquil vibe.
5. Lauderdale Beach: If sun, sand, and surf are your top priorities, Lauderdale Beach is your answer. The beach is your backyard, and the area's lined with restaurants and shops.
6. Harbor Beach: A quieter, more upscale residential area, Harbor Beach offers tranquillity away from the city hustle. It's ideal if you're after a more laid-back stay.
7. Riverwalk Arts & Entertainment District: Stay here to be in the heart of the city's cultural scene, with access to the Broward Center for the Performing Arts, NSU Art Museum, and other standout venues.
8. Coral Ridge: This neighbourhood is known for its golf club, but it's also near the beach and packed with great places to eat and drink.
Remember, wherever you choose to stay in Fort Lauderdale, you're bound to have a cracking time exploring all the city has to offer.
For a deep dive into the diverse landscapes, vibrant cities and iconic landmarks that define the state, check out my comprehensive guide to the best places to visit in Florida.
Head to the Visit Lauderdale website for more detailed information about visiting Fort Lauderdale, especially sightseeing, events, and various activities.
It's a fantastic resource that's packed full of handy tips and recommendations to help you make the most of your visit.
Responsible Travel Tips
Here are a few ideas on how we can travel more responsibly in Fort Lauderdale.
Choose Renewable Energy: Consider staying in eco-friendly hotels in Fort Lauderdale that use renewable energy sources. This city is graced with abundant sunlight, perfect for solar energy generation.
Minimise Food Waste: Be mindful of portion sizes when ordering at local restaurants to avoid wasting food. In this vibrant city known for its culinary scene, it's easy to over-order, but remember, leftovers are also great for the next day's lunch!
Adopt a Sustainable Diet: Try plant-based options available at Fort Lauderdale's eateries, which are both delicious and have a lower environmental impact compared to meat-based dishes.
Sustainable Transport: Take advantage of the city's extensive public transport system or rent a bicycle for shorter distances. Fort Lauderdale is a bike-friendly city with plenty of scenic paths to enjoy.
Limit Air Travel: Consider other methods of reaching Fort Lauderdale to reduce your carbon footprint. For example, train travel can be more sustainable if you travel domestically.
Support the Local Community: Shop at local markets and independent stores to support Fort Lauderdale's community and economy. This vibrant city is home to numerous local businesses that greatly appreciate your support.
FAQ
What is the best area to stay in Fort Lauderdale?
Las Olas Boulevard and Downtown are great places to stay. Las Olas Boulevard is known for its cafe culture, galleries and vibrant nightlife, while Downtown is the city's commercial hub with easy access to most attractions.
What are some recommended boutique hotels in Fort Lauderdale?
The Kimpton Shorebreak and The Pillars Hotel are all exceptional boutique options, each offering unique experiences, from eco-friendly practices to luxury services.
What's the best way to get around Fort Lauderdale?
The city has a robust public transport system, but for more convenience and to take in the sights, consider renting a bicycle, especially when navigating the more scenic areas.

Are there plenty of dining options in Fort Lauderdale?
Absolutely, Fort Lauderdale is a food lover's paradise. You can find a wide range of restaurants serving everything from fresh local seafood to international cuisines.
Selecting a boutique hotel in Fort Lauderdale is all about your personal preferences; luckily, this city has something for everyone.
You might want to indulge in luxury at The Pillars Hotel, enjoy the Pelican Grand Beach Resort's eco-friendliness, or feel the Kimpton Shorebreak's unique charm.
What's constant, though, is the city's vibrant atmosphere, welcoming locals, and the array of activities.
So pack your bags, choose your hotel, and prepare for a brilliant Fort Lauderdale stay.
If you have questions or want to leave a hotel review, please do so in the comments.
—
Recommendations are independently chosen based on personal travel experiences and extensive research. This post contains affiliate links to hotels in Fort Lauderdale, United States. This means I get a small commission from any bookings at no extra cost to you.