Recommendations are based on personal travel experiences and research. If you book through links on our site, we may earn a commission at no extra cost to you.
—
Denver is known for its stunning Rocky Mountain backdrop and vibrant arts scene. The city is also a hub for craft beer aficionados and outdoor enthusiasts who flock to its parks, ski slopes and hiking trails.
In this article, I'll introduce you to some of the best boutique hotels in Denver, perfect for a comfy stay that lets you easily explore all the Mile-High City offers.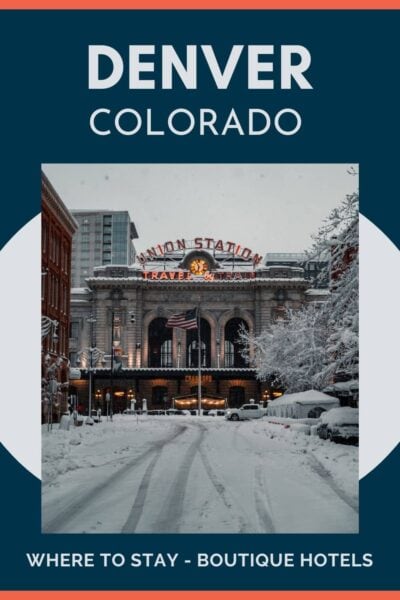 Boutique Hotels in Denver
When searching for a hotel, the first step involves deciding where you'd like to base yourself.
Downtown Denver is often the go-to for travellers, given its proximity to major landmarks and its bustling business district.
On the other hand, the Capitol Hill neighbourhood has garnered attention for its eclectic mix of cafes, independent stores and galleries.
Alternatively, you might like to stay in the trendy River North Art District, also known as RiNo. This area is where you'll find my top hotel pick.
Top Pick
The Ramble Hotel
Address: 1280 25th Street, Denver
Location: River North Art District
The Ramble Hotel in Denver is well-situated in the RiNo district, just a short 5-minute walk to LoDo and surrounded by quality shops and eateries. The hotel maintains a high cleanliness standard and features an eclectic, funky interior; its bar, Death & Co, serves excellent cocktails. Amenities like spacious showers, expansive wall-sized windows with superb views and high-end event spaces contribute to its reputation.
Features:
Distinctive hotel decor and design.
Stylish rooms with lots of natural light.
Ultra-modern bathrooms.
Huge breakfast selection.
Great location near Coors Field.
Exceptional attention to detail and service.
Pros: Excellent location in RiNo, close to LoDo. Clean and stylish design hotel.
Cons: Can be busy on the weekends.
Check Availability
While the Ramble Hotel has its own set of appealing features, there are also other boutique hotels in Denver that stand out for various reasons.
Whether you're drawn to a unique architectural style, or you prioritise eco-friendly practices, there are options that could tick your boxes.
Next Best
Limelight Hotel Denver
Address: 1600 Wewatta Street, Denver, CO, United States
Location: Union Station
Limelight Hotel Denver stands out for its focus on comfort and customer service, avoiding the unnecessary showmanship seen in some luxury hotels. Located in a prime downtown spot, it makes accessing local attractions a breeze. The hotel features spacious, modern rooms with a Scandinavian touch in the decor. Exceptional furniture balances design and comfort. The onsite restaurant serves quality food, and the bar provides a broad selection of premium liquors, all complemented by a friendly and efficient staff.
Cool and Unique Hotel
In selecting a cool boutique hotel, consider the unique elements that set it apart from conventional options.
A distinctive design theme, local artwork or a rich historical context can add layers of interest to your stay.
Halcyon
Address: 245 Columbine Street, Denver, Colorado
Location: Cherry Creek
The Halcyon impresses with its attention to detail and focus on a personalised experience for guests. Situated in a superb location near a scenic bike path along Cherry Creek, the hotel features a rooftop swimming pool and hot tub with striking views. The staff, from the reception to the restaurant, are consistently friendly and professional. Amenities like a communal sitting area with a fireplace, special wine and beer mingling hours, and complimentary bike availability add to the appeal.
The Rally Hotel at McGregor Square
Address: 1600 20th Street, Denver, CO, USA
Location: River North Art District
The Rally Hotel at McGregor Square offers a distinctive experience, featuring rooms with views of the nearby baseball stadium. Its prime location makes it a convenient base for exploring both downtown and the RiNo district. The property is notably clean and has a modern look, complemented by an exceptionally friendly and helpful front desk staff. Moreover, the hotel is just a walk away from Coors Field and local dining spots.
Eco-Friendly Hotel
When considering an eco-friendly hotel in Denver, looking for clear sustainability certifications and environmental standards is crucial.
Such hotels often focus on energy efficiency, waste reduction, and the use of renewable energy sources.
By choosing to stay in a sustainable hotel, you reduce your carbon footprint and support businesses committed to responsible tourism.
Catbird Hotel
Address: 3770 Walnut Street, Denver, Colorado
Location: Cole
The Catbird Hotel stands out for its strong commitment to sustainability by using 100% renewable electricity. On arrival, guests are aided through a smooth self-check-in process by courteous staff. The hotel's location is particularly convenient, just a short walk from the train station that connects to the airport. In terms of comfort, the rooms are well-appointed with attention to detail, from the decor to the bed quality. The hotel also prioritises locally sourced art and offers a good range of food options, including a tasty breakfast. All in all, it's a value-for-money option that doesn't compromise on eco-friendliness or comfort.
Luxury Boutique Hotel
When you're considering a luxury boutique hotel, pay attention to the level of personalised service and the quality of amenities.
Unique design elements and top-notch dining are also common features that contribute to the overall sense of exclusivity.
Thompson Denver
Address: 1616 Market St, Denver, United States
Location: Central Business District
The Thompson Denver Hotel is well-situated for exploring downtown Denver and is committed to sustainability, operating on 100% renewable electricity. Guests often appreciate the well-appointed rooms featuring comfy beds, quality products, and the delicious breakfast served at Maggy's restaurant. The staff, from the front desk to the valet crew and the team in the Reynard lounge, are noted for being exceptionally friendly and helpful, contributing to a pleasant and hassle-free stay. This luxury boutique hotel sets itself apart with two cocktail bars on-site and a focus on beautiful design.
Where to Stay in Denver
RiNo (River North Art District): This is your go-to neighbourhood if you're into art. RiNo has an edgy vibe, filled with art galleries, mural-painted streets, and a young, creative crowd. Nightlife here is buzzing with cool bars and music venues.
LoDo (Lower Downtown): This historic city centre is packed with historic architecture and boutique shops. LoDo is also the place to go for nightlife, especially if you're a fan of brewpubs.
Capitol Hill: A diverse neighbourhood known for its history and architecture. The area is populated with old mansions and modern condos, and it's a short walk to the Colorado State Capitol and Civic Center Park. Plenty of green spaces to relax in.
Downtown Denver: This is the heart of the city and probably the first place you'd consider when deciding where to stay in Denver. It's home to several key attractions like the Denver Art Museum and Coors Field. You'll also find a mix of cool bars, restaurants, and shopping centres. Public transport is readily available, making it convenient for further exploration.
Central Business District (CBD): Right next to Downtown, the CBD is where you'll find high-rise buildings and the core of Denver's business world. Despite its corporate vibe, the area has its share of leisure spots, including parks and eateries. Ideal for business travellers or those who like staying in the middle of the action.
Cherry Creek: Known for its shopping district, Cherry Creek is less hectic than downtown areas but still offers a lot. There are various art galleries, independent stores, and cafe culture. A bike path along Cherry Creek adds a touch of nature to your stay.
Highlands: Perfect for those looking for a more residential vibe. It's a bit quieter but has a growing number of chic restaurants and bars. Locals love it for its sense of community, and it's a short drive from Downtown.
Washington Park: If you're a fan of green spaces, this neighbourhood will be up your alley. Known for its 165-acre park, it's great for outdoor activities like jogging or paddle boating on Smith Lake.
Uptown: Situated close to Downtown, Uptown is a versatile neighbourhood with a mix of modern and historic homes. It's home to Restaurant Row on 17th Avenue, making it a great spot for foodies.
Check out my comprehensive guide to the best places to visit in Colorado, where you'll find a carefully curated list of destinations, from bustling cities to serene natural landscapes, all backed by thorough research to enhance your travel planning.
The Denver – The Mile High City is a solid resource for those wanting more in-depth info on the city's attractions. The site provides a wealth of information concerning things to do, sightseeing opportunities, and upcoming events.
Responsible Travel Tips
Here are a few tips on how you can travel more responsibly in Denver.
Renewable Energy
Choose hotels committed to using 100% renewable energy. Denver is making strides in renewable energy infrastructure, and you can do your part by supporting these initiatives.
Minimising Food Waste
Opt for restaurants that have a focus on zero-waste practices. The city is increasingly embracing waste minimisation, and some eateries even participate in food donation programs to minimise waste.
Sustainable Diets
Go for plant-based or locally sourced meals. Denver has a strong farm-to-table culture, and many restaurants cater to a more sustainable palate.
Sustainable Transport
Use Denver's extensive public transport system, including buses and light rail, or use the city's bike lanes for a greener commute.
Avoiding Flying
If you're close enough, consider taking the train into Denver's Union Station instead of flying, as train travel generally has a lower carbon footprint.
Supporting the Local Community
Shop at local businesses and markets. Denver has a vibrant local art scene and weekend farmers' markets that showcase local produce and crafts.
Reduce Plastic Use
Carry reusable water bottles and shopping bags. The city has refill stations to help reduce single-use plastics.
Participate in Local Cleanup
Join community initiatives aimed at maintaining local parks or river clean-ups. Denver is known for its green spaces; you can help keep them pristine.
Respect Nature and Wildlife
When exploring Denver's parks and mountain trails, always stick to marked paths to preserve the natural flora and fauna.
By following these tips, you'll contribute to Denver's efforts to be a more sustainable city.
FAQ
What should I look for when choosing a boutique hotel in Denver?
Look for a boutique hotel with a distinct character and personalized service. The location should also be central to activities and dining options that interest you.
How do I decide on the best area to stay in Denver?
Consider what you want out of your visit. If you're interested in art and independent stores, neighbourhoods like RiNo might be a good fit. For a bustling urban experience, downtown Denver offers a variety of shopping and dining options.
Is Denver a walkable city, and is public transport convenient?
Denver is considered fairly walkable, especially in areas like downtown and Cherry Creek. Public transport options are also available and include buses and a light rail system, making it easy to get around the city without a car.
What are the key attractions I shouldn't miss when visiting Denver?
Don't miss the Denver Art Museum, the Botanic Gardens, and the Coors Brewery. Also, consider spending some time exploring the vibrant neighbourhoods and outdoor spaces like Red Rocks Park.
When choosing a boutique hotel in Denver, pay close attention to location and your desired experience.
A well-placed hotel can serve as a convenient base for exploring the city's bustling urban areas and scenic outdoor spaces.
Prioritise personalised service and unique amenities to ensure your stay aligns with your desired needs.
By doing so, you're set to make the most out of your visit to Denver.
If you have questions or want to leave a hotel review, please do so in the comments.
—
Recommendations are independently chosen based on personal travel experiences and extensive research. This post contains affiliate links to hotels in Denver, Colorado. This means I get a small commission from any bookings at no extra cost to you.