Recommendations are based on personal travel experiences and research. If you book through links on our site, we may earn a commission at no extra cost to you.
—
Dallas is known for its rich history, vibrant arts scene and bustling business district. Many visitors are drawn to the city's famous museums, galleries, and excellent dining experiences.
In this article, we'll give you an overview of some of the best boutique hotels in Dallas that perfectly match the city's unique character.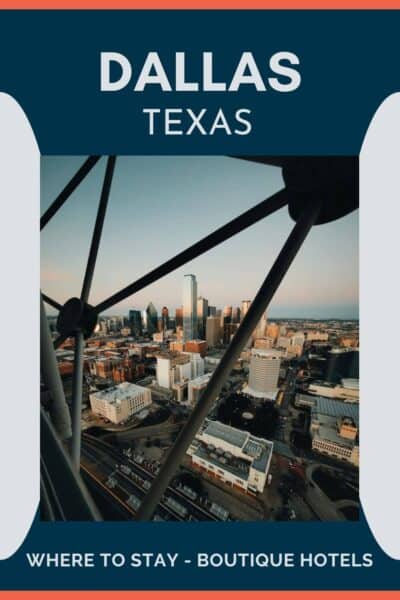 Boutique Hotels in Dallas
When you're sorting out a hotel, the first step usually involves deciding on the ideal area to base yourself on.
In Dallas, the Downtown district serves as the city's hub, housing many major businesses, cultural landmarks, and shopping venues.
Another standout is the Deep Ellum neighbourhood, well-regarded for its indie music scene, local art galleries, and an array of boutique shops.
Most visitors will find Downtown Dallas to be the most convenient area to stay, and that's the location of my top hotel pick.
Top Pick
Canvas Hotel Dallas
Address: 1325 Botham Jean Boulevard, Dallas
Location: Downtown Dallas
Canvas Hotel Dallas catches the eye with its well-executed design and aesthetic elements, including rooms adorned with exposed brick and large windows. The staff have a reputation for friendliness and efficiency, contributing to a smooth booking process and enjoyable stay. The hotel is noted for its breakfast, rooftop amenities, and spacious, stylish rooms.
Features:
Cool and unique hotel.
Spacious rooms with city views.
High-end amenities in the luxurious bathrooms.
Huge breakfast selection.
Great location near Pioneer Plaza.
Rooftop pool and terrace.
Sustainability:
Efforts are made to minimise food waste.
Most food is organic and locally sourced.
Vegetarian and vegan menus are available.
A recycling program is in place.
The support is given to local community organisations.
Promotion of local artists within the hotel.
Pros: Well-executed design, friendly staff, smooth booking process, spacious, stylish rooms.
Cons: Seasonal rooftop availability.
Check Availability
While Canvas Hotel Dallas has its merits, other boutique hotels are worth your consideration.
Whether you prioritise location, style, or eco-friendliness, you'll find alternatives that tick different boxes.
Next Best
The Joule
Address: 1530 Main Street, Dallas, Texas
Location: Downtown
The Joule Hotel has built a strong reputation for its exceptional service and quality amenities. Guests often highlight the comfortable and inviting rooms, as well as the thoughtful extras like electric shades and specialised areas for makeup. The hotel stands out for its dining options, featuring room service that's consistently praised and a menu that accommodates both vegetarian and vegan preferences.
Unique Hotel
Opting for a unique boutique hotel often means you're in for a more personalised, distinct experience.
What sets them apart is often their intimate scale, artistic flair, and keen attention to guest preferences.
In essence, unique boutique hotels can add an extra layer of interest and fun to your travel experience.
The Adolphus
Address: 1321 Commerce Street, Dallas, TX
Location: Downtown
The Adolphus Hotel in downtown Dallas strikes a balance between historic charm and modern amenities, evident in its large, updated rooms housed in a beautifully aged building. The hotel is noted for its exceptional, professional service, often going the extra mile with gestures like complimentary bottles of wine. Overall, the Adolphus delivers on both location and quality, making it a strong choice for a Dallas stay.
Eco-Friendly Hotel
Consider an eco-friendly hotel in Dallas to make your travels lower impact.
These green hotels typically focus on sustainability by reducing waste, conserving renewable energy, and often sourcing local, organic products.
Kimpton – Pittman Hotel
Address: 2551 Elm Street, Dallas, TX, United States
Location: Deep Ellum
Located near the vibrant Deep Ellum neighbourhood, the Kimpton Pittman Hotel combines stylish design with a strong commitment to sustainability. The adult-only policy and spacious rooms add to the sense of exclusivity, while the pool area provides an inviting space for relaxation. The on-site restaurant receives high marks for its fresh and well-prepared cuisine. Overall, this hotel merges eco-conscious practices with a prime location and quality amenities, making it a compelling choice for travellers focused on sustainability.
Luxury Boutique Hotel
Luxury boutique hotels combine the best of both worlds: the personalised service commonly found in smaller establishments and the high-end amenities usually reserved for larger luxury brands.
Opting for a luxury boutique hotel means you can expect meticulous attention to detail, from service to decor, enriching your stay in a way that standard accommodations might not.
Thompson Dallas
Address: 205 North Akard Street, Dallas, United States
Location: Downtown
Thompson Dallas situates itself as a compelling alternative to other high-end accommodations, blending high-end service with excellent location. Breakfast is served in the aesthetically pleasing Nine at the National, featuring a diverse menu and table service rather than the usual buffet style. The hotel also includes well-appointed outdoor pool and gym areas, and dining options like Catbird and Monarch deliver delicious food and impressive views. With spacious, comfortable rooms and a well-equipped gym, this hotel presents a luxury experience that many find worth the investment.
Where to Stay in Dallas
Downtown Dallas: A natural starting point when considering where to stay in Dallas, Downtown is the city's financial and historical core. You'll find a range of accommodations, from luxury hotels to budget-friendly options. It's well-connected by public transport and places you in close proximity to major attractions like the Dallas Museum of Art and Klyde Warren Park.
Deep Ellum: Known for its vibrant street art and indie music scene, this neighbourhood is a haven for the creatively inclined. It's also a hub for nightlife, making it an ideal locale if you're looking to experience the city's bars and live music venues.
Uptown: Uptown provides a slightly quieter experience compared to Downtown but doesn't skimp on the offerings. The area is rich in green spaces like Griggs Park and features the popular West Village with its array of shops and cafes.
Bishop Arts District: This neighbourhood is perfect for those who love exploring independent stores and enjoying a casual coffee culture. Galleries and unique eateries abound, giving it a distinct, community-focused vibe.
Knox/Henderson: This area strikes a balance between the old and new. Expect a mix of cool bars, upscale boutiques, and charming vintage shops. It's also renowned for its culinary scene, which ranges from modern American to international cuisine.
Lower Greenville: Known for its laid-back atmosphere, this is an area where you can enjoy comfort food, thrift shops, and a selection of bars that range from trendy to divey.
Oak Lawn: If you're seeking an area with a strong sense of community and a touch of sophistication, Oak Lawn is worth considering. It's home to the city's LGBTQ+ district and has various events throughout the year.
Design District: A mecca for interior design and art, this neighbourhood features not only design showrooms but also offers a selection of breweries and fine dining establishments.
Choosing the right neighbourhood significantly impacts the quality of your Dallas stay.
For a well-rounded experience combining convenience and attractions, Downtown Dallas stands out as a solid choice.
For a comprehensive look at the Lone Star State, my guide to the best places to visit in Texas provides accurate, up-to-date information on diverse attractions ranging from natural wonders to bustling cities.
The Visit Dallas website is a reliable resource for those seeking additional insights into city activities, sightseeing, and events. It's a great starting point for planning your trip.
Responsible Travel Tips
Here are a few tips on how you can travel more responsibly in Dallas.
Renewable Energy: Opt for hotels and accommodation options that use renewable energy sources. Dallas has a growing renewable energy market, making it easier to find eco-friendly stays.
Minimising Food Waste: Many Dallas eateries participate in food donation or composting programs. Limit your food orders to what you'll actually consume to assist in these initiatives.
Sustainable Diets: Look for restaurants that serve plant-based or locally sourced meals. Dallas has a growing number of farm-to-table options, making it easier to eat sustainably.
Sustainable Transport: Use the DART system for getting around the city. It's a public transport option that's efficient and less taxing on the environment compared to personal cars.
Avoiding Flying: Take a train or bus into Dallas instead of flying. The city has Amtrak and Greyhound stations that are well-connected to various parts of the country.
Supporting Local Community: Engage with local artisans and buy locally-produced goods. Dallas has numerous markets and small stores where you can find local crafts and foods.
Responsible Sightseeing: While exploring Dallas, stick to marked trails and respect restricted areas, particularly in parks like the Dallas Arboretum and Botanical Garden.
Community Volunteering: If you're staying for an extended period, consider spending a day volunteering at local community gardens or shelters. Dallas has a variety of programs in need of short-term helpers.
These specific tips can guide you toward a more responsible and sustainable visit to Dallas.
FAQ
What makes a hotel in Dallas unique or boutique?
Dallas boutique hotels often blend historical elements with modern design, creating a unique atmosphere. They usually offer a more personalised service and are set in prime locations, often close to the city's vibrant districts like Deep Ellum or Downtown.
Which neighbourhoods in Dallas are recommended for visitors?
Downtown Dallas is central and teeming with cultural landmarks and attractions. Additionally, areas like Deep Ellum are renowned for their lively arts scene, cafe culture, and nightlife, while Uptown is trendy with a mix of dining and shopping options.
Is Dallas a walkable city, and what are the public transport options?
While some districts like Uptown and Deep Ellum are quite walkable, Dallas is expansive, and having a car or using public transportation can be beneficial. The DART system provides efficient public transport with a bus and train network connecting key parts of the city.
What can visitors expect from luxury boutique hotels in Dallas?
Guests at luxury boutique hotels in Dallas can anticipate a blend of opulence and personalised service. These establishments typically feature spacious rooms, high-end amenities, and gourmet dining options, all set within prime locations close to city attractions.

Selecting a boutique hotel in Dallas provides you with an opportunity for a unique lodging experience that often combines local history, modern amenities, and personal service.
Dallas itself has various districts, each with its distinct personality, enabling you to tailor your stay based on your interests.
Public transport, particularly the DART system, can make navigating this sprawling city easier.
Overall, a visit to Dallas offers a rich blend of culture, arts, and gastronomy, all made more enjoyable by selecting the right area and style of the hotel to fit your needs.
If you have questions or want to leave a hotel review, please do so in the comments.
—
Recommendations are independently chosen based on personal travel experiences and extensive research. This post contains affiliate links to hotels in Dallas, United States. This means I get a small commission from any bookings at no extra cost to you.