Recommendations are based on personal travel experiences and research. If you book through links on our site, we may earn a commission at no extra cost to you.
—
Chicago is known for its iconic skyline, rich history, and diverse culinary scene. This Windy City along Lake Michigan is a hub for architecture enthusiasts, foodies, and fans of the arts.
In this guide, you'll find a curated list of the best boutique hotels in Chicago that give you a unique place to rest while you explore the city.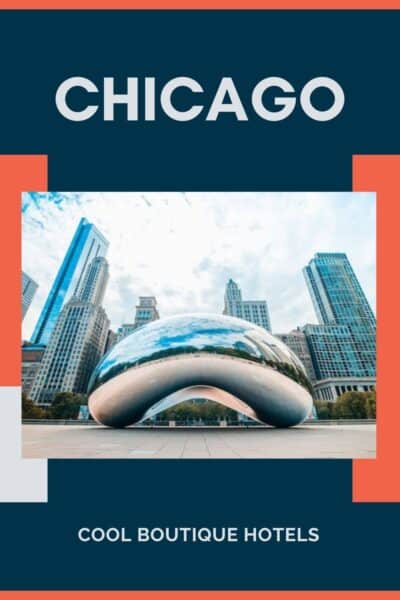 Boutique Hotels in Chicago
When it comes to booking a hotel, the first thing to consider is the location you'd prefer to stay in.
The Loop, Chicago's downtown district, is the city's business and cultural centre, putting you near famed attractions like Millennium Park and the Art Institute of Chicago.
On the other hand, Wicker Park is the go-to district for a more relaxed vibe, known for its hipster culture, trendy bars, and independent shops.
If you're looking for a lively atmosphere with plenty to see and do, Wicker Park could be the best area for your stay, and this is where you'll find my top pick.
Top Pick
The Robey
Address: 2018 W North Avenue, Chicago
Location: Wicker Park
The Robey in Chicago is well-situated in Wicker Park, making it convenient for accessing transport, shops, and dining options. The hotel is known for its friendly, engaged staff and clean, comfortable rooms complete with excellent blackout curtains. Amenities like a great bar and a standout breakfast cafe add to the hotel's good energy.
Features:
Cool and unique hotel.
Spacious rooms with city views.
High-end amenities in the luxurious bathrooms.
Huge breakfast selection.
Highly-rated restaurant.
Great location in a cool district.
Sustainability:
Efforts are made to minimise food waste.
It avoids using single-use plastics.
The support is given to local community organisations.
Promotion of tours led by local guides.
Pros: Great location; engaged, friendly staff; clean, comfortable rooms; excellent amenities.
Cons: The hotel is located in a busy area.
Check Availability
While The Robey has its own set of appealing features, there are other boutique hotels in Chicago that might catch your eye for different reasons.
Whether it's location, style, or eco-friendliness that you're after, these alternatives provide distinct experiences.
Keep reading to explore more options that could suit your specific needs.
Next Best
21c Museum Hotel
Address: 55 East Ontario Street, Chicago, Illinois
Location: River North
21c Museum Hotel is situated in an excellent location that puts you within walking distance of many major attractions. The hotel stands out for its spacious, comfortable rooms and well-appointed amenities and its unique identity as a museum with intriguing displays. The staff is known for being friendly and helpful, even accommodating luggage storage post-checkout.
Cool and Unique Hotel
When opting for a boutique hotel, look for cool or unique design elements and a personalised approach to service.
These cool boutique hotels often stand out for their creative interiors and attention to detail, making your stay feel more individualised.
Hotel EMC2
Address: 228 East Ontario Street, Chicago, United States
Location: Streeterville
Hotel EMC2 stands out for its modern, clean design and unique, dark and moody ambience that contributes to a restful sleep. Situated in an ideal location, the hotel goes beyond conventional services with innovative features like Amazon Echo devices for room service and robot-delivered meals. The staff are noted for their pleasant demeanour. Breakfast isn't part of a standard package, giving you the freedom to order specifically what you want from their restaurant. Overall, Hotel EMC2 provides a highly unique and high-tech experience.
Eco-Friendly Hotel
When seeking an eco-friendly hotel, keep an eye out for certifications from reputable environmental organisations.
Such hotels often use energy-efficient systems, source local and sustainable food, and have waste-reduction measures in place.
The Hoxton
Address: 200 North Green Street, Chicago
Location: Fulton Market / West Loop
The Hoxton is an eco-conscious choice situated in the vibrant Fulton Market/West Loop area, surrounded by various dining and shopping options. The hotel has achieved a high sustainability rating, indicating a strong commitment to environmental practices. Features like on-demand room service reduce waste, and the option to rent a bike encourages low-impact travel. The atmosphere in communal areas like the lobby and restaurant is inviting, and the hotel's restaurant, Cira, serves up a variety of healthy breakfast options. With a convenient location close to the Morgan station, the Hoxton blends sustainability with comfort and accessibility.
Viceroy Chicago
Address: 1118 North State Street, Chicago, IL, USA
Location: Magnificent Mile
The Viceroy merges luxury with sustainability. Located on the historic site of the 1920s Cedar Hotel, the hotel has preserved its facade while offering modern and stylish rooms. Guests often praise the spacious bathrooms, the rooftop bar with impeccable service, and the breakfast restaurant serving healthy, delectable meals. Its prime location puts you close to foodie adventures, iconic attractions like the River Walk and Bean, and just a short stroll to Oak Street Beach. With its commitment to both luxury and the environment, Viceroy Chicago sets a standard for eco-conscious hospitality.
Luxury Boutique Hotel
You should expect personalised service and finely tailored experiences in a luxury boutique hotel.
These hotels often stand out for their unique design and attention to detail, making them special in a market filled with generic luxury accommodations.
They tend to be situated in premium locations, making exploring local culture, dining, and entertainment convenient.
Nobu Hotel Chicago
Address: 155 North Peoria Street, Chicago, IL, United States
Location: West Loop
The Nobu Hotel nails it when it comes to luxury features and high-end service. Situated in the bustling West Loop area, it places you within walking distance of premium dining options. The hotel ensures your comfort with amenities like a complete gym and steam bath accessible to all guests. Coupled with its exceptional front desk service and five-star food and drinks at the Nobu rooftop, this spot stands as a high-quality choice for your stay in Chicago.
Where to Stay in Chicago
Downtown / The Loop: This is the heart of Chicago and a strategic place if you want to be near major tourist attractions. It's rich in architectural landmarks and features Millennium Park. Great for first-time visitors who want to take it all in. This area is often top of mind when pondering where to stay in Chicago.
West Loop: Noted for its food scene, West Loop is a culinary paradise with everything from fine dining to casual eateries. Its modern lofts and repurposed warehouses make the atmosphere stylish yet unpretentious. This area also offers some boutique hotels, including the aforementioned Nobu Hotel.
Wicker Park / Bucktown: These are the neighbourhoods for you if you're after independent stores, cool bars, and a young, hip vibe. They offer excellent public transport connections and are only a few stops from downtown.
River North: This area is a haven for art enthusiasts and design aficionados. It's packed with galleries, antique shops, and innovative office spaces. Good for a more laid-back, cultural stay.
Streeterville: This residential neighbourhood offers close proximity to Navy Pier and Lake Michigan. A mix of luxe and casual, it's ideal for families or those looking for a balanced vacation.
Gold Coast: For those who want luxury and history combined, this area is home to many old mansions turned into hotels and B&Bs. Oak Street Beach offers some sun and sand without leaving the city.
Lincoln Park: Known for its zoo and conservatory, this neighbourhood is great for those who appreciate green spaces. It's family-friendly and also offers a wide range of dining and shopping options.
Lakeview / Wrigleyville: Especially popular for sports fans due to the presence of Wrigley Field, this area also offers a plethora of bars and live music venues for a night out.
Logan Square: Known for its thriving cafe culture and beautiful boulevards, this area is rising in popularity among younger crowds. Ideal for those looking for a local feel without straying too far from the action.
By choosing the right area, you can easily cater to your own interests and travel agenda, making your Chicago experience all the more enjoyable.
For a comprehensive and reliable list of must-see locations throughout the state, check out my guide to the best places to visit in Illinois, which provides information on everything from natural wonders to vibrant cities.
Choose Chicago can be useful for those seeking additional, reliable information about the city's attractions, sightseeing opportunities, and upcoming events.
The site provides accurate details that can help you make the most of your visit.
Responsible Travel Tips
Here are a few tips on how you can travel more responsibly in Chicago.
Renewable Energy:
Opt for accommodations that use renewable energy sources. Chicago has a range of eco-friendly hotels that use solar and wind power.
Minimising Food Waste:
Take advantage of Chicago's numerous farmers' markets to buy fresh, local produce in the exact amounts you need, reducing food waste.
Sustainable Diets:
Choose plant-based options at restaurants, particularly in neighbourhoods like Logan Square, known for its focus on sustainable dining.
Sustainable Transport:
Utilise the city's extensive bike-sharing program, Divvy, for short trips or get around using the "L" train to reduce your carbon footprint.
Avoiding Flying:
If you're travelling from nearby cities like Milwaukee or Indianapolis, consider taking the Amtrak train to Chicago instead of flying.
Supporting Local Community:
Shop at local boutiques and stores, particularly in neighbourhoods like Wicker Park, to support the local economy rather than international chains.
Reduce, Reuse, Recycle:
Keep an eye out for recycling bins around the city and beaches like North Avenue Beach, and make sure to separate your waste accordingly.
Conservation Initiatives:
Visit natural spaces like the Chicago Botanic Garden but stick to the marked paths to avoid disturbing local flora and fauna.
Public Transport Over Ride-Sharing:
Use Chicago's well-connected CTA buses and trains instead of ride-sharing services to lessen the number of cars on the road.
By keeping these tips in mind, you can contribute to making travel more sustainable and beneficial for both Chicago and the environment.
FAQ
What should I look for when choosing a boutique hotel in Chicago?
You'll want to focus on location, unique decor, and the level of service. Boutique hotels often have a unique vibe and offer more personalised service compared to larger hotel chains. West Loop and River North are popular neighbourhoods for boutique hotels.
What are the best areas to stay in Chicago for a first-time visitor?
The Downtown area, specifically the Loop, is ideal for first-time visitors due to its proximity to major attractions and public transport. River North is great for nightlife and dining, while Fulton Market is perfect for foodies who love to explore various restaurants.
Is it easy to get around Chicago without a car?
Yes, Chicago has an extensive public transport system, including buses and the "L" train, making it easy to get around the city without a car. Many neighbourhoods are also quite walkable, and there are bike-sharing programs available.
In your search for a boutique hotel in Chicago, pay close attention to the neighbourhood, as each offers a different flavour of the city's diverse culture and attractions.
Consider amenities and services that align with your preferences, but don't discount the hotel's overall atmosphere.
Combining location and unique features makes you more likely to enjoy your Chicago stay to the fullest.
If you have questions or want to leave a hotel review, please do so in the comments.
—
Recommendations are independently chosen based on personal travel experiences and extensive research. This post contains affiliate links to hotels in Chicago, United States. This means I get a small commission from any bookings at no extra cost to you.