Recommendations are based on personal travel experiences and research. If you book through links on our site, we may earn a commission at no extra cost to you.
—
Charlotte, North Carolina, is an inviting city known for its vibrant arts scene, rich history, and the charm of Southern hospitality.
You'll find an impressive skyline, buzzing food culture, and top-notch museums and parks during your visit.
In this guide, I list some of the best boutique hotels Charlotte has to offer, promising a blend of style, comfort, and top-tier services for your stay.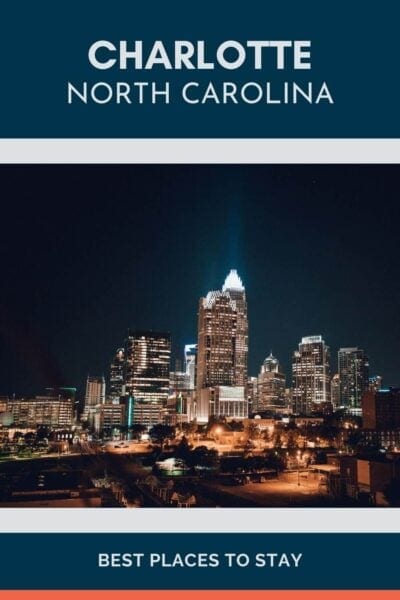 Boutique Hotels in Charlotte
Choosing your hotel begins with deciding on the area you want to be based in Charlotte, NC.
Uptown Charlotte, the city's bustling heart, is well-regarded for its high-rise hotels, modern amenities, and proximity to key attractions like the Levine Museum of the New South and the NASCAR Hall of Fame.
Meanwhile, NoDa (short for North Davidson) is an appealing area known for its dynamic art galleries, inviting parks, and vibrant nightlife, featuring a multitude of bars and live music venues.
While both areas have their merits, for a first-time visitor, Uptown Charlotte is a smart choice due to its central location and easy access to major attractions.
Top Pick
Kimpton Tryon Park Hotel
Address: 303 South Church Street, Charlotte
Location: Uptown Charlotte
Kimpton Tryon Park Hotel, one of Charlotte's most respected hotels, is located in the heart of Uptown, presenting amazing city skyline views. The hotel is appreciated for its clean and stylish rooms, convenient in-room service, valued valet parking and efficient front desk service. Its prime location – within walking distance to major attractions, plus amenities such as the rooftop bar and engaging cocktail hours, make it a recommended choice for your stay in Charlotte.
Features:
Cosy rooms with large beds and tea and coffee-making facilities.
High-end amenities in the luxurious bathrooms.
Views over Uptown Charlotte.
Modern gym for a quick workout.
Warm and welcoming service.
Sustainability:
Efforts are made to minimise food waste.
Most food is locally-sourced.
Opportunity for artists to display their work in the hotel.
Pros: Central Uptown location; stunning city views; clean, stylish rooms; efficient service; rooftop bar; engaging cocktail hours.
Cons: Slight confusion navigating from the parking lot to the main hotel area.
Check Availability
While Kimpton Hotel is a top pick, other boutique hotels in Charlotte might pique your interest.
In the upcoming sections, I will be suggesting a few notable options distinguished by their unique style, excellent location or commitment to eco-friendliness.
Next Best
Canopy Charlotte Southpark
Address: 4905 Barclay Downs Drive, SouthPark, Charlotte
Location: Southpark
Canopy Charlotte South Park stands out for its modern design, clean facilities, and commendable staff service. The hotel features thoughtful in-room amenities like refillable water bottles, and the offer of a $5 breakfast bag is a nice touch. One of the stand-out elements of this hotel is the on-site restaurant, praised for its outstanding food, with drinks from the bar receiving similar acclaim. Despite some staff shortages, the service remains excellent, with particular mentions going to the better-than-average complimentary coffee in the lobby. This hotel welcomes pets, adding to its appeal for dog owners. The hotel is peaceful, with comfortable rooms conveniently close to shopping and dining options. All in all, Canopy Charlotte presents an appealing choice with its superb restaurant and bar, comfort, and a pet-friendly policy.
Cool and Unique Hotel
In seeking a cool and unique boutique hotel, you'll want to consider properties that carry a distinct personality, often reflected through an engaging mix of design elements, atmosphere, and authentic local experiences.
Such hotels typically blend modern comforts with historic or culturally significant aspects, resulting in a stimulating and enjoyable ambience.
Staying in such places can provide an immersive, culture-rich experience, which sets them apart from more conventional accommodations.
Grand Bohemian Hotel Charlotte
Address: 201 West Trade Street, Charlotte
Location: Uptown Charlotte
The Grand Bohemian Hotel distinguishes itself as an exquisite property with a unique bohemian aesthetic. The hotel stands out with artful decor throughout, from the impressive lobby to the walls adorned with beautiful pictures. Additional perks include exclusive guest access to a rooftop with splendid views, a well-regarded spa, and an on-site restaurant. Notably, the Buho restaurant and Bohu bar have earned high praise. Convenience is also a strong point, with a Starbucks in the building and spacious, comfortable rooms offering views of the city and local landmarks. The hotel is within walking distance of the convention centre and other city attractions. Its cleanliness, comfort, and exceptional amenities, like MICO's excellent service and food, mark it as a top-tier option for those seeking a distinctive and enjoyable stay.
Eco-Friendly Hotel
As an eco-conscious traveller, you may gravitate towards hotels committed to sustainability.
Such establishments focus on reducing their environmental footprint through various measures like energy-efficient operations, water conservation, waste reduction, and sourcing local and sustainable food for their restaurants.
Staying at an eco-friendly hotel aligns with your sustainable values and contributes positively to the environment.
Aloft Charlotte Ballantyne
Address: 13139 Ballantyne Corporate Place, Ballantyne, Charlotte
Location: Ballantyne
Aloft Charlotte Ballantyne is an eco-friendly hotel that stands out for its clean, well-appointed rooms and efficient service, noted for its friendly staff and swift check-in. With a comfortable and clean atmosphere, the modern property brings solid value to its guests. The hotel is LEED certified, indicating a commitment to environmental sustainability, which is further demonstrated through efforts to reduce food wastage and the provision of mostly organic food. An electric car charging station on the property signals to the eco-conscious traveller. Also noteworthy is its support for the local arts scene, offering local artists a platform to showcase their talents.
Luxury Boutique Hotel
When it comes to luxury boutique hotels, the allure lies in the promise of an exquisite experience.
These establishments typically focus on providing top-tier service and exclusive amenities in a unique, intimate setting.
Unlike mainstream luxury hotels, boutique options often feature distinctive design elements and personalised attention, adding to their charm.
Opting for a luxury boutique hotel can add a certain special touch to your stay, infusing your travel with elegance and sophistication.
The Ivey's Hotel
Address: 127 North Tryon Street, Charlotte, NC
Location: Uptown Charlotte
The Ivey's Hotel is renowned for its prime location in the city's heart, placing you near uptown restaurants and the Belk Theatre. A distinctive feature of this hotel is its uniquely designed rooms that exhibit a tasteful balance of elegance and comfort. The larger suites are noteworthy for their size and luxury, earning high praise from guests. The service at The Ivey's is top-notch, with the staff praised for their attentiveness and willingness to go the extra mile. Another drawcard is the beds' comfort and the establishment's overall cleanliness. This hotel's reputation for attention to detail and its cozy yet elegant atmosphere sets it apart as a recommended luxury boutique stay in Charlotte.
Where to Stay in Charlotte
Uptown: The heart of the city and the main business district, Uptown hosts a number of top-rated hotels, such as the Kimpton Tryon Park Hotel and the Ivey's Hotel. Close to the Belk Theatre and other prime attractions, it's an excellent choice for where to stay in Charlotte.
SouthPark: A residential and commercial hotspot, SouthPark is home to the Canopy Charlotte SouthPark. With a unique mix of upscale shopping, diverse dining, and modern living, it's perfect for those seeking a quieter yet still vibrant area.
Ballantyne: Located in the southernmost part of Charlotte, Ballantyne is known for its luxurious amenities and family-friendly environment. Aloft Charlotte Ballantyne, a noteworthy eco-friendly hotel, can be found here.
Elizabeth: One of the city's oldest neighbourhoods, Elizabeth is rich in history and is characterised by its bungalow-style homes, leafy streets, and local charm.
Plaza Midwood: Known for its hip, youthful vibe, Plaza Midwood offers a unique mix of eclectic art galleries, trendy bars, and independent stores.
NoDa (North Davidson): Renowned as the city's arts district, NoDa is filled with colourful murals, music venues, and cool craft breweries.
Dilworth: This area is famous for its beautiful historic homes, leafy streets, and bustling East Boulevard, which is lined with cafes, restaurants, and boutiques.
Remember, the best area to stay in Charlotte ultimately depends on your interests and what you want to get from visiting this dynamic city.
In my comprehensive guide, you'll discover the best places to visit in North Carolina, outlining the state's key attractions, hidden gems, and must-see landmarks.
For additional details on sightseeing, events, and various activities in the city, Charlotte's Got a Lot serves as an excellent resource. This platform provides extensive information, making your visit to Charlotte more enjoyable and well-planned.
Responsible Travel Tips
Here are a few ideas on how we can travel more responsibly in Charlotte.
Renewable Energy: Consider staying in accommodations that utilise renewable energy sources. Numerous establishments in Charlotte have made strides towards greener energy practices; look for them to reduce your carbon footprint.
Minimising Food Waste: Be mindful of portion sizes when eating out in Charlotte's diverse culinary scene. You can request smaller servings or take home leftovers to minimise food waste.
Sustainable Diets: Opt for plant-based dishes available in numerous restaurants in Charlotte. These options significantly lower greenhouse gas emissions associated with food production.
Sustainable Transport: Make use of Charlotte's public transport system, including its extensive bus network and LYNX light rail, to reduce carbon emissions. Also, explore the city on foot or by bike where possible.
Avoiding Flying: If you're within a reasonable distance of Charlotte, consider road or rail travel instead of flying. The city is well-connected by intercity bus and train services, which have a lower carbon impact than air travel.
Supporting the Local Community: Choose to shop at local markets and boutiques in Charlotte's neighbourhoods to support the local economy. Engage with community-led tours to understand the culture better and contribute directly to the local community.
FAQ
What type of hotel is best to stay in when visiting Charlotte?
Your choice would depend on your personal preference. Luxury boutique hotels such as The Ivey's Hotel offer a comfortable, stylish stay, while unique boutique hotels like the Grand Bohemian Hotel Charlotte bring artistic flair. Eco-conscious travellers might prefer the Aloft Charlotte Ballantyne for its sustainable practices.
Which areas are ideal for a stay in Charlotte?
Downtown Charlotte, South Park, Ballantyne, and Uptown are all excellent choices. Each of these areas provides easy access to shopping, dining, and local attractions, offering a different slice of Charlotte's rich culture.
What are some recommended activities to do in Charlotte?
Charlotte's Got a Lot provides comprehensive information about things to do, sightseeing, and events in the city. From enjoying the vibrant arts scene to exploring the local cuisine, there's plenty to keep you busy in Charlotte.
How can I experience local cuisine in Charlotte?
Charlotte has a diverse culinary scene. Many hotels, like Canopy Charlotte South Park, have exceptional on-site restaurants. You can also explore local restaurants and eateries in the Downtown and South Park areas.
In the end, finding the right hotel in Charlotte can shape your experience of this vibrant city. Your ideal accommodation might be a cosy boutique hotel in the heart of the city, a sustainable stay in Ballantyne, or a luxury retreat in Uptown.
Remember, it's about what suits you best. Enjoy exploring all that Charlotte has to offer, from its bustling neighbourhoods to its rich culinary scene. Safe travels!
If you have questions or want to leave a hotel review, please do so in the comments.
—
Recommendations are independently chosen based on personal travel experiences and extensive research. This post contains affiliate links to hotels in Charlotte, North Carolina. This means I get a small commission from any bookings at no extra cost to you.