Recommendations are based on personal travel experiences and research. If you book through links on our site, we may earn a commission at no extra cost to you.
—
Atlanta is a vibrant city known for its rich history, bustling arts scene, and delicious Southern cuisine.
Visitors often explore the Martin Luther King Jr. National Historic Site, the Georgia Aquarium, and the Atlanta Botanical Garden, among other popular attractions.
In this article, I'll share a curated list of the best boutique hotels in Atlanta, Georgia that make for a comfortable and stylish stay.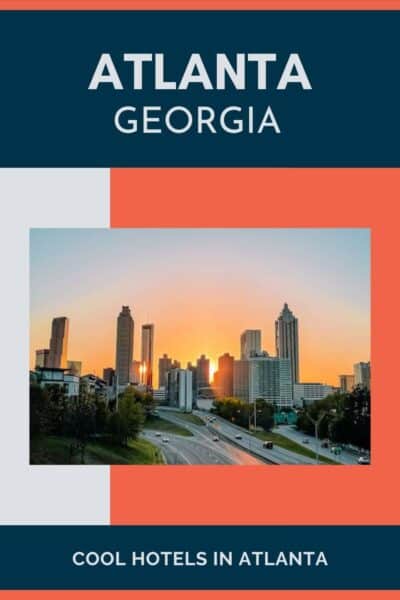 Boutique Hotels in Atlanta
When considering where to stay in Atlanta, location is often the first thing on your mind.
Downtown Atlanta is the city's business hub and is close to major attractions like the Georgia Aquarium and Centennial Olympic Park.
Alternatively, the Midtown area is Atlanta's cultural heart, with a wide array of art galleries, green spaces, and vibrant nightlife.
For something different, stay in the Poncey-Highland district, which is known for its park, museum and art installations. This is the location of my top hotel pick.
Top Pick
Hotel Clermont Atlanta
Address: 789 Ponce De Leon Avenue Northeast, Atlanta
Location: Poncey-Highland
Hotel Clermont Atlanta sits in an interesting location near the Jimmy Carter Presidential Library and Museum. The staff are noted for going out of their way to ensure you're looked after. With a clean and well-decorated room, a rooftop bar for relaxed evenings, and an excellent brunch featuring a standout burger, it's no wonder this hotel gets great reviews.
Features:
Cool and unique hotel.
Stylish rooms with lots of natural light.
High-end amenities in the luxurious bathrooms.
Highly-rated restaurant.
Rooftop bar, ideal for sunset cocktails.
Great location near green spaces.
Sustainability:
Efforts are made to minimise food waste.
Most food is locally sourced.
Promotion of local artists within the hotel.
Pros: Good location, clean, stylish rooms, rooftop bar, excellent brunch.
Cons: The rooftop bar can get busy.
Check Availability
While Hotel Clermont Atlanta has its merits, you might also appreciate a few other boutique hotel options.
These alternatives bring their own unique qualities, whether it's location, distinct style, or a focus on sustainability.
Next, I'll detail some of these standout options for you.
Next Best
Kimpton Shane Atlanta
Address: 1340 West Peachtree Street NW, Atlanta, Georgia
Location: Midtown
Kimpton Shane Atlanta is a new hotel situated in a desirable part of downtown Atlanta, providing easy highway access and valet service. The rooms are large, exceptionally comfortable and feature modern decor along with excellent bathrooms. Amenities include an onsite restaurant and bars, coffee and breakfast options, and the extra touch of refreshing fruit water at the reception—all contributing to its great value and a staff that's consistently praised for being exceptional.
Cool and Unique Hotel
Opting for a cool and unique boutique hotel can add a layer of individuality to your trip. These hotels often prioritize distinct design and personalized service to create a different kind of hospitality experience.
Their smaller scale usually allows for greater attention to detail, making your stay feel special.
Moxy Atlanta Midtown
Address: 48 13th Street NE, Atlanta, GA, United States
Location: Midtown
Situated in an excellent Midtown location, Hotel Moxy stands out for its unique and laid-back atmosphere. The staff are noted for their kindness, and the service is well-rated. Not your average hotel, the lobby doubles as a lively social space with a DJ and games, adding an inviting feel when coming in from dinner. Further amenities include a good-sized pool, bar and restaurant.
Eco-Friendly Hotel
Choosing an eco-friendly hotel can be a simple yet effective way to reduce your travel footprint.
Look for certifications or ratings that validate the hotel's sustainability practices, like energy-efficient lighting or waste management systems.
The Hamilton Alpharetta
Address: 35 Milton Avenue, Alpharetta, GA, United States
Location: Alpharetta
The Hamilton Alpharetta stands out for its eco-conscious approach. Located in a superior area with a variety of shops and restaurants around, the hotel provides more than just an ethical choice. Known for its cleanliness and friendly staff, you'll also find the rooms to be tastefully decorated. If a quiet room is what you're after, that can be arranged, too, making it a well-rounded option for those who want to be both responsible and comfortable during their stay.
Boutique Hotels in Buckhead Atlanta
Kimpton Sylvan Hotel
Address: 374 East Paces Ferry Road NE, Atlanta, USA
Location: Buckhead Atlanta
Kimpton-Sylvan Hotel provides a luxurious setting for your stay, perfectly suited for special trips. Located within walking distance of various dining and shopping options in Buckhead, the hotel also has its own range of amenities, including a terrace bar, a second bar downstairs, and an onsite restaurant. The valet attendants are quick and courteous, making your arrival and departure smooth. This hotel is well worth checking out, with comfortable beds, pristine conditions, and a tranquil pool deck.
Luxury Boutique Hotel
A luxury boutique hotel combines the best of both worlds: personalised service and high-end amenities.
Opting for this type of stay means you're getting a room and an experience designed to exceed standard hospitality norms.
Thompson Atlanta Buckhead
Address: 415 East Paces Ferry Road, Atlanta, United States
Location: Buckhead Village
Thompson Atlanta Buckhead sets the bar for luxury boutique accommodations with attentive staff and meticulously clean facilities. The rooftop pool is a prime relaxation spot, elevated by excellent on-site dining options catering to various dietary needs, including vegan and vegetarian menus. The hotel is strategically located and even features an electric car charging station for eco-conscious travellers. It's an ideal stay for families, couples or individuals seeking a mix of comfort, convenience, and sustainable amenities.
Where to Stay in Atlanta
Here's a detailed guide on where to stay in Atlanta, highlighting various areas for their unique features:
Downtown Atlanta
Central to the city's hustle and bustle, Downtown Atlanta is ideal for travellers keen on easy access to main tourist attractions like the Georgia Aquarium and Centennial Olympic Park. This area provides a variety of hotels and is a public transport hub, making it convenient for those without a car.
Buckhead
Buckhead is renowned for its upscale malls and leafy residential streets and offers a blend of luxury and tranquillity. It's great for visitors looking for excellent restaurants and shopping. You'll find hotels like the Kimpton and Thompson Atlanta Buckhead here and venues with live music.
Midtown Atlanta
If you're into arts and culture, Midtown is the place to be. Known for its theatre scene and artsy vibes, it's home to the Fox Theatre and the High Museum of Art. Bars and eateries are abundant, and the area has several parks for outdoor relaxation.
Virginia Highland
This neighbourhood is perfect for those who appreciate historic architecture, independent stores, and a lively bar scene. Characterized by its early 20th-century bungalows and craftsman homes, it offers a relaxed yet vibrant environment.
Inman Park
Inman Park is a good pick if you're looking for an area with a strong sense of community and historic charm. Cafes and local stores abound, and it's conveniently located near the BeltLine for those who like to explore on foot or by bike.
Alpharetta
Located north of the main city, Alpharetta provides a more suburban setting. It's a suitable area for travellers prioritising peace and quiet but still wanting access to good restaurants and shops. The eco-friendly Hamilton Hotel is located here.
West End
If you're interested in Atlanta's history, particularly the civil rights movement, consider staying in the West End. Rich in history and culture, it has various museums and historic sites, including the Wren's Nest and the Hammonds House Museum.
Old Fourth Ward
Known for its trendy vibe, this area offers a mix of old and new Atlanta. It has a bustling market, plenty of eateries and is home to the famous Ponce City Market. It's ideal for travellers who want a lively, hip environment.
For an overview of must-see spots, you'll find my guide to the best places to visit in Georgia invaluable; it covers everything from historic landmarks and natural wonders to local hotspots.
Discover Atlanta is a reliable resource for those keen to dive deeper into what the city offers. You'll find a wealth of factual information there, particularly focused on activities, sightseeing opportunities, and upcoming events.
Responsible Travel Tips
Here are a few tips on how you can travel more responsibly in Atlanta.
Renewable Energy: Atlanta has multiple electric vehicle charging stations; consider using electric vehicles for your commute and choosing a hotel that uses renewable energy.
Minimising Food Waste: Opt for restaurants that are part of Atlanta's Zero Waste Zone program, which diverts food scraps from landfills to compost.
Sustainable Diets: Many local eateries focus on farm-to-table practices; supporting these establishments makes your dining choices count.
Sustainable Transport: Atlanta has an extensive MARTA public transit system; use it to reduce your carbon footprint.
Avoiding Flying: If you're travelling regionally, consider alternatives to flying, like taking a bus or train; both have terminals conveniently located in Atlanta.
Supporting the Local Community: Instead of big chains, shop at locally-owned stores and markets like Little Five Points or Ponce City Market.
Environmental Initiatives: Participate in local cleanup events or nature conservation activities, like those organized by the Atlanta BeltLine project.
Preserving Local Nature: Stick to marked trails if you're visiting any of Atlanta's parks to help protect local flora and fauna.
Making these conscious choices can help keep Atlanta sustainable for future generations.
FAQ
What should I look for in a boutique hotel in Atlanta?
When searching for a boutique hotel in Atlanta, you might want to focus on the location, the unique decor, and the type of amenities that suit your needs. This can include whether the hotel has a specific aesthetic, offers live music or entertainment, or even features a rooftop bar.
How do I find a hotel that suits my style and interests?
Look at online reviews, photos, and the hotel's website to get a sense of its atmosphere and offerings. If you're interested in a lively scene with lots of amenities, aim for hotels in bustling areas like Midtown or Buckhead. If you prefer a quieter, more historical setting, areas like the Old Fourth Ward or Inman Park may be more up your alley.
What are the best areas to stay in Atlanta for tourists?
The best area for you depends on what you're looking to get out of your trip. Downtown Atlanta is central and offers a lot of tourist attractions. Midtown is known for its arts scene and green spaces, and Buckhead offers upscale shopping and dining options. If you're looking for a bohemian vibe, consider staying in areas like Little Five Points or East Atlanta Village.
These answers should give you a solid starting point for planning your trip and finding the best place to stay in Atlanta.
Final Thoughts
When looking for a boutique hotel or planning your visit to Atlanta, the key is to identify what matters most to you, be it the location, amenities or vibe.
Each area has its distinct character and attractions, and choosing wisely can enhance your overall experience.
If you have questions or want to leave a hotel review, please do so in the comments.
—
Recommendations are independently chosen based on personal travel experiences and extensive research. This post contains affiliate links to hotels in Atlanta, Georgia. This means I get a small commission from any bookings at no extra cost to you.