Recommendations are based on personal travel experiences and research. If you book through links on our site, we may earn a commission at no extra cost to you.
—
Directly across the bay from San Francisco, Oakland is sometimes forgotten for its more well-known neighbor. But Oakland itself has a lot to offer visitors. The diverse art scene is a great starting point. Visit a museum, take part in a festival or browse the artisan stores. You could even take the Oakland Cannabis Trail for something unique to Oakland.
In this guide, I recommend the best areas to stay in Oakland and cool hotels in the city centre. This will place you with easy access to sights, shops, businesses, markets and nightlife. With the nearby BART, you can easily reach everything San Francisco has to offer as well.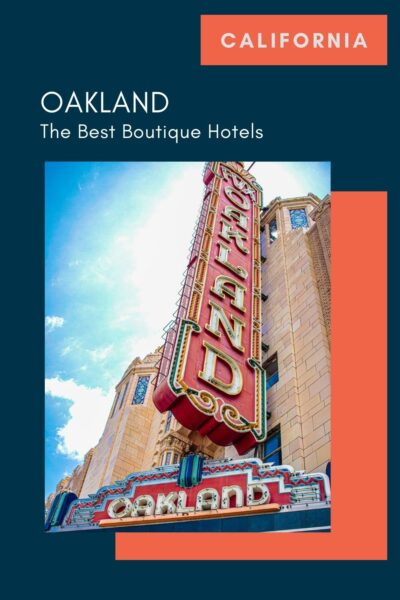 Boutique Hotels in Oakland California
Oakland is home to several distinct and interesting neighborhoods. If you have time, they're worth exploring for the diverse experiences you'll find in each location.
Uptown is one of the coolest areas of the city if you're interested in nightlife and independent boutiques.
Oakland Hills is peaceful and green, the Dimond District is big on Latino culture while the huge Chinatown area is the place to experience Korean, Vietnamese and Japanese culture as well as Chinese.
The Jack London district is all about the waterfront sights, KONO is home to Korean businesses and brew pubs and Lake Merritt is a wonderful wildlife refuge. Temescal Alley is cool, unique and unusual.
Of course, there is the downtown area and Old Oakland. This is where you'll find most of the hotels and big events.
Top Pick
Kissel Uptown Oakland
Address: 2455 Broadway, Oakland, CA, USA
The thoughtful details are what make this hotel stand out. Cosy lighting, mini speakers and quiet rooms make staying at the Kissel extremely comfortable in addition to the welcoming staff and good food.
Features:
Stylish rooms with natural light.
Modern bathrooms with quality fittings.
Stunning lobby, lounge and bar areas.
Peleton bikes in the gym.
Pros: The Kissel is well located for visitors to Oakland who want to be close to some of the best bars and restaurants in the city.
Cons: Breakfast is not included (although it's available). Only some rooms have access to a balcony.
Check Availability
Selection Criteria
A quick search for hotels in Oakland will show there aren't that many options for discerning travellers.
The Kissel is clearly above the rest with regard to style, cleanliness and space. Other hotels are more generic business-style hotels, which are fine but nothing special.
Given the limited hotels that meet the boutique standard, I think you can't go wrong with this place to stay.
Next Best
Oakland Marriott City Center
Address: 1001 Broadway, Oakland, CA
While it would be nice to have some other boutique hotel options in Oakland, there really isn't anywhere of note. That's why my next best recommendation is the Oakland Marriott. The hotel is very well-appointed with comfortable beds, great views and a warm atmosphere. The location close to the BART transport entrance makes it easy to hop over to San Francisco if you want to. The Oakland Marriott is right in the downtown area, near the Old Oakland district.
For more places to visit in California, our guide to the state highlights the sights and attractions in the region.
If you have questions or want to leave a hotel review, please do so in the comments.
Visit Oakland is a useful resource if you're visiting the city for the first time and are looking for things to do.
—
Recommendations are independently chosen by our travel editors. This post contains affiliate links to hotels in Oakland, California. This means we get a small commission from any bookings at no extra cost to you.