Recommendations are based on personal travel experiences and research. If you book through links on our site, we may earn a commission at no extra cost to you.
—
Visiting Twin Falls allows you to experience Idaho's natural beauty. The Snake River Canyon and Shoshone Falls are must-sees for any nature lover, and the city has a variety of other outdoor activities to offer, like hiking, biking and rafting.
The scenic drive along the Snake River Canyon is one of the most memorable experiences if you have the chance to take it.
For accommodation, I recommend looking into staying at a unique boutique hotel near Twin Falls. Not only will you have a comfortable room to return to each evening, but you'll get the chance to explore a different side of the city.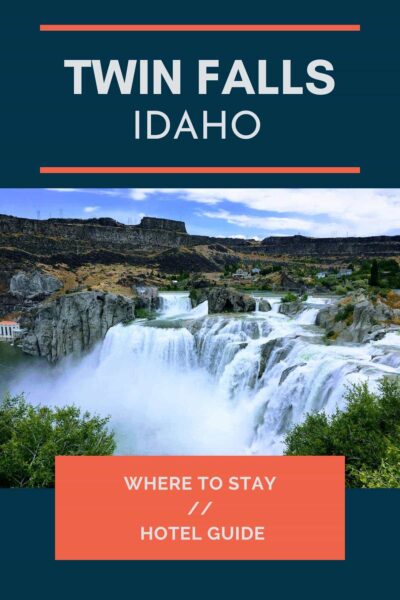 Boutique Hotel near Twin Falls Idaho
Twin Falls has several unique neighbourhoods with distinct personalities. Most places to stay are in the downtown area, between the Herrett Center, Canyon Rim Trail and Perrine Memorial Bridge.
It would be great to stay near Shoshone Falls Park, but there aren't any hotels in this part of Twin Falls.
While I know you're looking for a boutique hotel in Twin Falls, there aren't any here or even near Twin Falls. Accommodation is almost exclusively chain motels.
Below you'll find the best places to stay.
Top Pick
La Quinta by Wyndham Twin Falls
Address: 539 Pole Line Road, Twin Falls, Idaho
La Quinta is a great choice in Twin Falls, thanks to its central location in the downtown area. There are loads of restaurants in this area and this hotel is near the Centennial Waterfront Park, the Visitor Center and the Snake River. The rooms are a good size and comfortable. You can't go wrong here.
Features:
A great choice for breakfast, including waffles and biscuits.
Relaxing pool, hot tub and gym.
Ideal base for visiting Sun Valley.
The highly-rated Java coffee house is right opposite.
Friendly staff and service.
Great dog amenities.
Pros: Excellent location in central Twin Falls with great access to the beautiful nearby nature. A highly-rated hotel that's way better than the competition.
Cons: There are no sustainability measures in place. See below if you're looking for an eco-friendly hotel.
Check Availability
If you're searching for the top hotel near Twin Falls and this one doesn't fit your needs, or you're searching for something distinct or in a different location, my alternative pick might be suitable for you.
Alternatively, if you're set on staying in a boutique hotel, you might be better off staying in a larger city. This guide to boutique hotels in Boise could be a better option for you. There are 2 or 3 luxury boutique hotels there.
Eco-Friendly Hotel
You might like to prioritise an eco-friendly or sustainable hotel for your stay. This is one way you can reduce your environmental impact and promote sustainability while travelling.
TownePlace Suites
Address: 175 Pole Line Road East, Twin Falls, ID
As you step into the TownePlace Suites in Twin Falls, you'll be pleased to know that you're staying in the most sustainable hotel in the area.
From the moment you check-in, you'll notice the hotel's commitment to reducing its carbon footprint. The TownePlace Suites is proud to use 100% renewable electricity, which is the most important factor in minimizing carbon emissions.
As you settle into your room, take a moment to appreciate the thoughtful sustainability initiatives the hotel has in place.
The hotel is dedicated to minimizing food waste, so you can feel good about indulging in the complimentary breakfast, knowing that any leftovers will be put to good use.
The hotel also supports local artists by showcasing their work throughout the property, which adds a unique touch to your stay.
If you're looking for a sustainable way to explore Twin Falls, the hotel has you covered. They offer bike rentals, which not only allow you to get around town in an environmentally friendly way but also give you the opportunity to experience the area at your own pace.
As you make your way around the hotel, you'll quickly realize that the commitment to sustainability doesn't come at the expense of quality. The rooms are well-appointed, comfortable and designed with your needs in mind.
You'll find all the facilities you need for a comfortable stay, including a fitness centre and a swimming pool.
And the friendly and attentive service will ensure that your stay is as enjoyable as it is sustainable.
Next Best
Holiday Inn Express Hotel Twin Falls
Address: 1554 Filmore Street, Twin Falls, Idaho
The Holiday Inn Express Hotel is the final option near Twin Falls, and I highly recommend it for your stay.
This hotel boasts an exceptional central location that makes it easy to access all the attractions and activities the area offers. Moreover, it has received top reviews, which is a testament to the excellent experience you are likely to have here.
Upon checking in, you'll be delighted to find that the rooms are spacious and comfortable, providing a cozy home away from home. If you plan on staying for an extended period, some rooms come equipped with kitchens, giving you the convenience and flexibility to cook your own meals.
Additionally, the hotel features a pool and spa that are perfect for unwinding after a long day of exploring or conducting business. You can take a refreshing dip in the pool or soak in the soothing hot tub to relax your muscles.
Furthermore, this hotel offers excellent value, especially for longer stays, making it a smart choice for budget-conscious travellers.
The combination of great amenities, central location, and affordability make the Holiday Inn Express Hotel a top choice for your stay in Twin Falls.
Where to Stay in Twin Falls
When planning your visit to Twin Falls and searching for the best areas to stay, consider the following neighbourhoods:
Downtown Twin Falls: If you want to be in the heart of the action, Downtown Twin Falls is where to stay in Twin Falls. Here, you'll find a vibrant cafe culture with plenty of independent coffee shops and cafes to explore. The area is also home to several art galleries, museums, and theatres, making it a great spot for culture lovers. You can also check out the area's cool bars and nightlife options.
Canyon Rim: For those who love the great outdoors, Canyon Rim is a great place to stay. Located on the edge of the Snake River Canyon, this neighbourhood is known for its stunning views and access to the canyon trails. You can take a scenic walk or hike along the canyon and enjoy the breathtaking views of the waterfalls and nature.
Blue Lakes Boulevard: If you're looking for convenience and ease, Blue Lakes Boulevard is the perfect neighbourhood for you. You'll find plenty of chain hotels and restaurants here, making it a great spot for families or those on a budget. There are also plenty of shopping centres and grocery stores in the area, making it easy to stock up on essentials.
North Park: North Park is a great option if you're looking for a quiet and residential area. This neighbourhood is located on the north side of Twin Falls and is known for its green spaces and parks. You can take a stroll through the neighbourhood and enjoy the tree-lined streets or spend an afternoon in the park with a picnic.
Overall, there are several great neighbourhoods to choose from when deciding where to stay in Twin Falls.
Whether you're looking for culture, nature, convenience, or peace and quiet, there's a neighbourhood that's perfect for you.
And if you're looking for a boutique hotel experience, be sure to check out the options in Downtown Twin Falls, where you'll find plenty of unique and charming accommodations to choose from.
If you are looking for a comprehensive and reliable guide to the most beautiful destinations in Idaho, you can check out my guide which features a carefully curated list of the best places to visit in Idaho.
Visit North Central Idaho has a particularly user-friendly website that I found to be extremely helpful in providing information and resources for planning a visit to Twin Falls.
Responsible Travel Tips
Many of us are increasingly concerned about climate change and sustainability. Here are some ideas for lower-impact travel.
Stay at hotels that use renewable energy sources.
Make an effort to reduce food waste by ordering only what you know you can finish at restaurants.
Limit consumerism by opting for experiences over material possessions and supporting local, sustainable, eco-friendly businesses in Twin Falls.
Sustainably source your food by looking for local farm-to-table options or visiting the farmer's market to support local agriculture and reduce the carbon footprint of transportation.
Opt for sustainable transportation, such as walking or biking, to get around Twin Falls.
Support the local community by choosing locally owned accommodations, restaurants, and businesses in Twin Falls. It will benefit the local economy and give you a chance to learn more about the place's culture and way of life.
By taking these steps and being mindful of your impact on the environment, you can help make your travels more sustainable and responsible in Twin Falls and support the local community.
Please share your sustainability tips in the comments.
FAQ
What is the best time of year to visit Twin Falls?
The best time to visit Twin Falls is during the summer months (June-August) when the weather is warm and pleasant. This is also the peak season, so expect more crowds and higher prices. Alternatively, spring (April-May) and fall (September-October) offer milder temperatures and fewer crowds. However, keep in mind that the weather can be unpredictable during these seasons.
What are some popular attractions in Twin Falls?
Some popular attractions to check out in Twin Falls include the Shoshone Falls, the Snake River Canyon, the Herrett Center for Arts and Science, and the Twin Falls City Park.
What are the best areas to stay in Twin Falls?
Some of the best neighbourhoods to consider for your stay in Twin Falls are Downtown Twin Falls for a lively atmosphere and culture, Canyon Rim for nature and stunning views of the Snake River Canyon, and Blue Lakes Boulevard for convenience and budget-friendly options.
Final Thoughts
Remember to consider your priorities when choosing where to stay, whether it be a lively atmosphere, natural beauty, or convenience.
And don't forget to check out some of the popular attractions in the area during your stay.
Whatever your plans, I wish you a wonderful trip to Twin Falls and hope you have an enjoyable and memorable experience.
If you have questions or want to leave a hotel review, please do so in the comments.
—
Recommendations are independently chosen based on personal travel experiences and extensive research. This post contains affiliate links to hotels in Twin Falls, Idaho. This means I get a small commission from any bookings at no extra cost to you.