Recommendations are based on personal travel experiences and research. If you book through links on our site, we may earn a commission at no extra cost to you.
—
Moscow is one of Idaho's charming and beautiful cities that offers visitors a unique blend of outdoor activities, arts and culture, and great food.
From hiking and fishing in the Palouse Hills to strolling through the charming downtown area and taking in a show at the Kenworthy Performing Arts Centre, there's plenty to keep you entertained.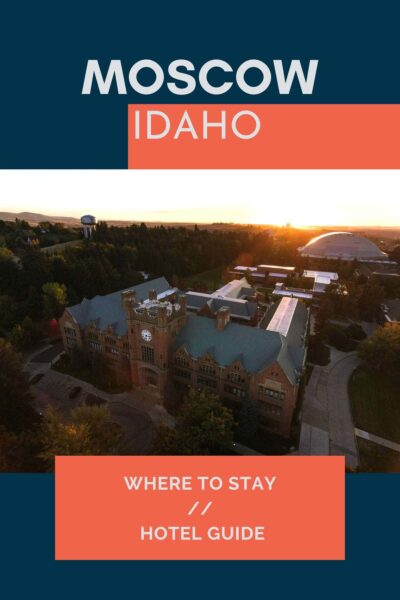 I recommend staying in a boutique hotel in Moscow, as it will give you a sense of being more connected to the city and its culture through its art, food and design.
Boutique Hotel in Moscow, Idaho
Moscow has some cool neighbourhoods that are worth exploring. The East City neighbourhood, has a unique blend of vintage homes, small businesses and tree-lined streets.
The north side of town offers some great outdoor recreational opportunities and a more residential feel.
If you're visiting, I recommend staying in the East City neighbourhood or in the Downtown area.
Here you'll be in close proximity to some great food, drink and entertainment options, as well as have a more authentic and local experience.
Unfortunately, Moscow doesn't really have a boutique hotel or even a luxury hotel, but my top pick is a great option if you're looking for a nice place to stay.
If you don't mind staying further away in Pullman, I recommend a boutique-style hotel there below.
Top Pick
Best Western Plus University Inn
Address: 1516 West Pullman Road, Moscow, Idaho
The Best Western Plus University Inn is located in the heart of Moscow, near the University of Idaho and the Appaloosa Horse Museum. The hotel is a short walk from the university and a 14-minute walk to the museum. It is also located near Washington State University and Kibbie Dome, making it an ideal spot for exploring the local area and participating in sports and outdoor activities.
Features:
Great-sized rooms with comfortable beds.
Known for its excellent buffet breakfast.
Free cocktail upon arrival.
Indoor pool, spa, sauna and gym.
Warm and welcoming service.
Sustainability:
Bike rental is available to help you get around sustainably.
Pros: By far the best hotel in a city where there are limited options. Excellent service, huge rooms, quality breakfast and friendly service.
Cons: Limited sustainability measures are in place. Something for them to work on.
Check Availability
If this hotel isn't quite what you're looking for, or if you're interested in a more unique or alternative location, my next top pick might be more suitable for your preferences.
Pullman, Washington
Pullman has one of the nicest hotels near Moscow if you don't mind staying across the border. I highly recommend staying here if the location suits you.
Hotel McCoy Pullman
Address: 455 Southeast Paradise Street, Pullman, WA
Hotel McCoy Pullman is a highly-rated boutique hotel located 20 minutes on foot from Martin Stadium and Washington State University. It offers free bikes, a gym, a garden, and a shared lounge with a terrace.
Rooms include a seating area and a private bathroom; some have a kitchenette. The hotel's restaurant offers breakfast and American cuisine with vegetarian and vegan options.
Next Best
Fairfield Inn & Suites
Address: 1000 West Pullman Road, Moscow, Idaho
Fairfield Inn & Suites in Moscow is a great option if you're looking to explore the picturesque Palouse region of the Pacific Northwest. The hotel's convenient location, just half a mile from the University of Idaho and Moscow Farmers Market makes it easy to discover the charming college town on foot and a short 15-minute drive from Pullman, home of Washington State University.
The hotel is pet-friendly, so you can bring your furry friend and enjoy a jog together along Latah Trail. If you're looking for adventure, Steptoe Butte State Park, Lewis, and several other National Forests are less than two hours away and make excellent day trips.
If you're looking for an informative guide on the top destinations to visit in Idaho, I would highly recommend checking out my guide. It provides comprehensive and well-researched information on the most scenic, historic and entertaining places to visit throughout the state, offering an in-depth look at what each location has to offer, making your trip more meaningful and memorable.
The Moscow, Idaho tourist office has a useful website for anyone planning a visit to Moscow. It lists things to do, places to stay, and other useful information to make your trip more enjoyable.
Responsible Travel Tips
Many of us are increasingly concerned about climate change and sustainability. Here are a few ideas on how we can lower our impact when travelling.
Biking or walking instead of driving can reduce carbon emissions and traffic congestion. My top hotel pick above has bike rental available if this is of interest.
Supporting local businesses and restaurants that prioritize using locally sourced and organic ingredients and reducing food waste. You'll find breweries, wineries and specialty coffee shops in Moscow.
Choosing accommodations that prioritize energy efficiency and use of renewable energy sources.
Limiting consumerism by opting to buy locally-made souvenirs, crafts and products. If you head to independent stores in Moscow, you'll find plenty of locally produced goods.
Supporting and participating in environmental conservation and clean-up efforts in and around Moscow.
Choosing to adopt a plant-based diet and reducing the consumption of animal-based products when travelling to help decrease carbon footprint and deforestation. There are a few plant-based options in Moscow.
If you have questions or want to leave a hotel review, please do so in the comments.
—
Recommendations are independently chosen based on personal travel experiences and extensive research. This post contains affiliate links to hotels in Moscow, Idaho. This means I get a small commission from any bookings at no extra cost to you.