Recommendations are based on personal travel experiences and research. If you book through links on our site, we may earn a commission at no extra cost to you.
—
When you visit Everett, Washington, you'll find a city with a rich history, stunning waterfront views, and a thriving arts and culture scene.
Stroll through the historic downtown area and admire the stunning architecture, or visit one of the many museums and galleries to experience the city's artistic side.
Consider checking into a trendy boutique hotel in Everett during your stay for a truly unique and memorable experience.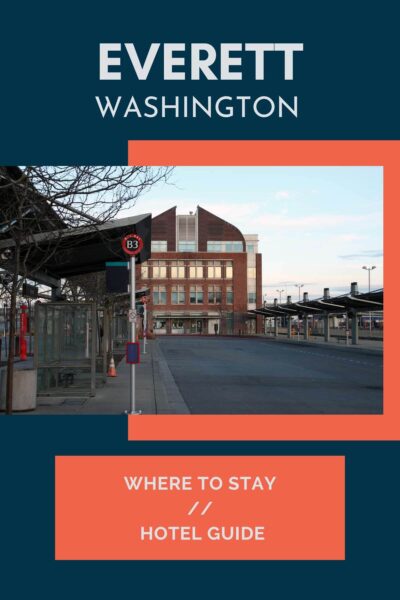 Boutique Hotel in Everett Washington
Everett has cool and unique neighbourhoods to explore, each with its own charm.
If you're visiting, the historical Lowell neighbourhood is a great area to stay in, known for its eclectic mix of homes and local boutiques.
Another option is along the coast near Jetty Island, a perfect spot for outdoor enthusiasts to enjoy water activities and scenic views.
But you'll find most hotels are in Downtown Everett, and that's the location of my top place to stay in Everett.
Unfortunately, there aren't any independent boutique hotels in Everett, but some excellent options with cool decor and great service.
Top Pick
Courtyard by Marriott Seattle Everett Downtown
Address: 3003 Colby Avenue, Everett, WA
If you're looking for a hotel in Everett, consider the Courtyard by Everett. As the hotel is located in Downtown Everett, you'll be just minutes to many of the city's sights and attractions. You can also enjoy stunning views of Port Gardner Bay from some rooms. The location is also convenient, with downtown Seattle being a 30-minute drive.
Features:
Quiet and clean rooms with sitting areas.
Huge breakfast selection.
Heated indoor swimming pool.
Pets are allowed, but charges may be applicable.
Warm and welcoming service.
Free bikes to get around sustainably.
Sustainability:
100% renewable electricity is used throughout.
Energy-efficient LED lighting.
Local artists are offered a platform to display their talents.
Food waste is minimised.
Recycled and eco-friendly paper products are used.
Pros: The Courtyard might be standard in some ways, but the personalized service makes it a standout in Everett.
Cons: It's not a boutique hotel, as it's part of the Marriott group. Nevertheless, it's the best hotel in the area.
Check Availability
If you're looking for the best hotel in Everett, WA, I highly recommend the Courtyard. However, if you prefer something with a unique touch, distinct features, or a different location, I've listed a few alternative options for you below.
Next Best
Hotel Indigo Seattle Everett Waterfront Place
Address: 1028 13th Street, Everett, WA
If you're looking for a waterfront hotel experience in Everett, consider Hotel Indigo.
Nestled on the banks of Port Gardner Bay, the hotel offers a scenic location surrounded by outdoor activities.
The surrounding neighbourhood, Waterfront Place, boasts a 3.5-mile trail perfect for a morning jog or bike ride and opportunities to rent kayaks and explore the waters with playful seals.
The hotel also features dining options, including a seafood lunch at the Jetty Bar & Grille and an indoor, heated saline pool for a swim.
Eco-Friendly Hotel
You might prefer staying at an eco-friendly or sustainable hotel because it aligns with your values and supports the conservation of the environment. It allows you to minimize your carbon footprint and contribute to the hotel's sustainability efforts.
Delta Hotels
Address: 3105 Pine Street, Everett, Washington
Delta Hotels is located in a convenient location if you're passing through Everett and need a nice place to stay for a night.
The hotel is within walking distance of the Angel of the Winds Arena and just a short drive from Paine Field Airport.
Whether you're in town for the Future of Flight Boeing Tour or want to try your luck at Tulalip Casino, the hotel is an ideal choice.
You may find my guide to the best places to visit in Washington incredibly helpful in planning your trip, as it highlights the most notable attractions and hidden gems in the state, allowing you to fully experience all that Washington has to offer.
As a visitor to Everett, you'll find this website incredibly helpful in planning your trip. It provides comprehensive information on local attractions, events, and activities, allowing you to make the most of your stay in the city.
Responsible Travel Tips
Many of us are increasingly concerned about climate change and sustainability. Here are a few ideas on how we can travel more responsibly in Everett.
As a responsible traveller in Everett, you can consider the following tips to minimize your impact on the environment and local community:
Use renewable energy options like electric vehicle charging stations and solar-powered amenities in your hotel. My top pick hotel uses 100% renewable electricity, so it's a great sustainable hotel option in Everett.
Minimize food waste by being mindful of what you order and choosing appropriate portion sizes. You could also take home leftovers to eat as a picnic the following day.
Incorporate sustainable diet choices into your meals by seeking out restaurants that use locally sourced ingredients and reducing your meat and dairy consumption.
Choose sustainable transportation options like walking, biking, or public transit instead of renting a car. My top-pick hotel has free bikes if you want to get around this way. Ask at reception about safe cycling infrastructure and trails.
Avoid flying and opt for alternative modes of transportation like trains or buses.
Support the local community by shopping at local markets and seeking out locally-run restaurants and attractions.
If you have questions or want to leave a hotel review, please do so in the comments.
—
Recommendations are independently chosen based on personal travel experiences and extensive research. This post contains affiliate links to hotels in Everett, Washington. This means I get a small commission from any bookings at no extra cost to you