Recommendations are based on personal travel experiences and research. If you book through links on our site, we may earn a commission at no extra cost to you.
—
Tacoma has a reputation as a city that's both hip and historic. Its urban core is lively, diverse and distinctively Pacific Northwest. There's no better place to enjoy the melding of old and new than in the downtown district.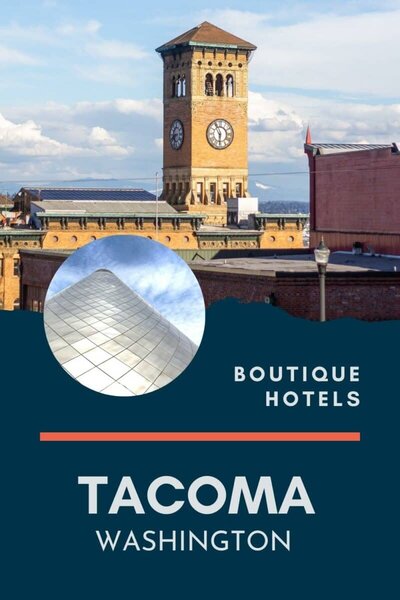 The city is widely considered to be one of the most "creative" in America. Walk down any street and you'll see local galleries, museums and shops that make Tacoma a shopper's paradise.
Boutique Hotels in Tacoma
Tacoma has its own art district, with warehouses transformed into studio spaces for glass artists and other workspaces for painters and sculptors. You can also see stunning examples of their work on display at museums, galleries, and private homes throughout the city.
You can stay in one of these cool neighbourhoods like 6th Avenue, Proctor District, Stadium District or the Downtown area famous for the Museum District.
Top Pick
Hotel Murano
Address: 1320 Broadway Plaza, Tacoma, WA
I recommend staying at Hotel Murano due to its Downtown location with easy access to the Museum District. There are six major museums in this area but also theatres, historic sights, shopping and great places to eat out. The hotel itself beautifully showcases local art, in particular, glass art that Tacoma is famous for. When you stay here it's almost like staying in an art gallery.
Pros: Incredible art, comfortable beds, quiet rooms and an excellent location.
Cons: This is a large hotel so not the typical small boutique style you might be expecting.
Check Availability
Selection Criteria
There are several reasons why I recommend Hotel Murano over other hotels in Tacoma.
Location – Yes, there are other hotels in the downtown area, but Hotel Murano is the most central and is within walking distance of Tacoma Art Museum, Court House Square, the Comedy Club and many top restaurants. But it's also easy to get to the Ruston Way Riverfront from the hotel and 6th Avenue is a short ride away.
Design and Comfort – If you're looking for a boutique hotel, unfortunately, there isn't really anywhere in Tacoma that would fit into this category. But Hotel Murano is the next best thing with the wonderful artwork on display and the simple, clean lines of the room decor.
Facilities – You'll find a spa and wellness centre on-site in the hotel and a bar and restaurant. Parking is expensive, but there is an electric car charging station if you need it. Pets are allowed.
Sustainability – Unfortunately, there is not much in the way of sustainable hotels in Tacoma, but hopefully this will soon change.
Any other hotels?
If you prefer to stay in the Rushton Waterfront district, I recommend the Silver Cloud Hotel. This hotel is the best-reviewed of all of Tacoma's hotels, which is unsurprising. The rooms are of an excellent standard, the views are incredible and the staff friendly.
Things to do in Tacoma
Tacoma is a great place to visit if you're looking for some good food, fun shopping, and a lot of culture. There's more than enough to keep you busy on a weekend visit.
The best neighbourhoods for eating out are the University District and downtown Tacoma. There are so many different kinds of restaurants here that you're sure to find something that suits your taste.
If you're looking for something more outdoor-oriented, stop by Point Defiance Park, which features more than 1,000 acres of trails, beaches, gardens and playgrounds.
This guide is part of our series on places to visit in the Pacific Northwest.
If you have questions or want to leave a hotel review, please do so in the comments.
To help plan your trip to Tacoma, you can get information on things to do in Tacoma at the official regional tourism site.
—
Recommendations are independently chosen by our travel editors. This post contains affiliate links to hotels in Tacoma, Washington. This means we get a small commission from any bookings at no extra cost to you.