Recommendations are based on personal travel experiences and research. If you book through links on our site, we may earn a commission at no extra cost to you.
—
Basking in more than 350 days of sunshine a year, Tucson is an appealing destination for sun-seekers, outdoor enthusiasts, and history buffs alike.
This vibrant city is rich in Indigenous and Spanish history and surrounded by five minor mountain ranges, offering plenty of exploration opportunities.
I'll be highlighting the best boutique hotels in Tucson in this guide, providing you with ideal bases to delve into the city's unique charm.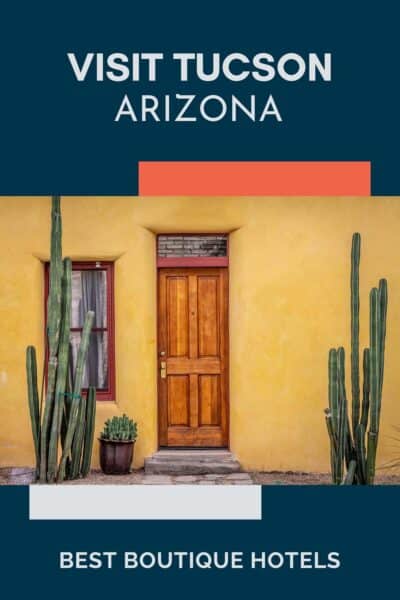 Boutique Hotels in Tucson
When choosing a hotel, your initial decision is often where to position yourself in the city.
Downtown Tucson is the heart of the city, and it's known for its vibrant nightlife, historic architecture, and a host of attractions, including the Tucson Museum of Art.
On the other hand, the Fourth Avenue district is renowned for its thriving cafe culture, a wide array of independent shops, and easy access to green spaces.
My top hotel pick is located near the University of Arizona, but if you'd prefer to be Downtown, I've listed several options below.
Top Pick
Graduate Tucson
Address: 930 East 2nd Street, Tucson, AZ, United States
Location: The University of Arizona
Graduate Tucson, less than 1 km from Arizona Stadium, is conveniently placed for exploring key attractions. The Tucson Museum of Art and the University of Arizona are nearby, and you're also within a short commute of Tucson Convention Centre and Reid Park Zoo. The hotel's thoughtful features include a rooftop pool, a popular bar, and a well-regarded lobby cafe. The staff consistently receive praise for their helpful approach, from providing dinner recommendations to promptly addressing any room issues.
Features:
Quirky and cool design.
Modern, immaculate rooms complete with large beds and a sitting area.
Rooms with city views.
Rooftop pool and yoga terrace.
Huge selection for breakfast.
Great location near the Tucson Museum of Art.
Pros: Prime location; rooftop pool; near the university; quirky decor.
Cons: Might be busy during university events.
Check Availability
To expand your options, I'll be suggesting a couple of other boutique hotels in Tuscon that you might find interesting.
These hotels have been selected based on their distinctive locations, unique styles, or commitment to sustainability.
So, you'll get to know diverse choices to make your stay in Tucson more tailored to your preferences.
Luxury Boutique Hotel
Luxury boutique hotels provide an ideal blend of exclusivity, personalised service, and meticulous attention to detail.
These establishments are often distinguished by their unique design and architecture, reflecting the city's character while maintaining a high standard of comfort.
By choosing to stay in a luxury boutique hotel, you're opting for a tailored travel experience, adding an extra touch of refinement to your Tucson trip.
The JTH Tucson
Address: 12051 West Fort Lowell Road, Tucson, AZ, United States
Location: Old West Ranchettes
The JTH Tucson is a splendid luxury boutique hotel committed to sustainability and community projects. A touch of elegance is found in its posada-style architecture, with views of a cactus garden and lavender alley right outside your window.
Cool and Unique Hotel
Opting for a cool and unique boutique hotel can bring extra fun and intrigue to your stay.
These establishments often present an unconventional design or a particular theme, creating a distinctive atmosphere that deviates from the traditional hotel experience.
They reflect creativity and individuality and can make your stay as exciting as the city exploration itself.
So, for a truly distinctive travel experience, a cool and unique boutique hotel might be just what you're after.
Hotel McCoy
Address: 720 West Silverlake Road, Tucson, Arizona
Location: South Tuscon
Hotel McCoy stands out with its distinctive charm and character. This unique hotel, located within a reasonable distance of key city landmarks, offers a fresh take on the traditional motel stay. Remarkable artwork further complimented the property, contributing to the overall pleasant atmosphere. The rooms are noted for their cleanliness and appealing design, offering a comfortable alternative to chain hotels. With friendly staff and a nice pool for relaxation, Hotel McCoy ensures a stay that's comfortable and carries a feel-good factor that guests rave about.
Eco-Friendly Hotel
Choosing an eco-friendly hotel is a responsible decision for the mindful traveller.
These establishments prioritise sustainable practices, such as energy efficiency, water conservation, and waste reduction, significantly lowering their environmental impact.
Moreover, they often support local communities, contribute to the preservation of natural and cultural heritage, and promote environmental awareness among guests.
Therefore, opting for an eco-friendly hotel aligns with conscious travel and enables you to contribute to positive environmental and social change during your stay.
The Tuxon Hotel
Address: 960 South Freeway, Tucson, United States
Location: Barrio Kroeger Lane
The Tuxon shines as an exceptional eco-friendly choice. The property prioritises sustainable practices with initiatives including the use of energy-efficient LED bulbs and running on 100% renewable electricity. Vegetarian and vegan menu options cater to diverse diets, and the hotel's commitment to the community is evident in its investment in local projects and platform for local artists. The Tuxon excels in sustainable operations and guest comfort and design, offering clean, inviting, and comfortable rooms with a modern and creative design that maximises space.
Next Best
The Citizen Hotel
Address: 82 South Stone Avenue, Tucson, AZ, USA
Location: Downtown
The Citizen Hotel welcomes you with a contemporary style and a nod to local heritage. The hotel emphasises fresh and clean rooms with a coffee press to start your day and an exceptional bathroom that feels like your own private spa. The Citizen goes beyond just being a cute boutique hotel with a cozy bar; it's also within walking distance of several local bars and restaurants.
Where to Stay in Tucson
Downtown Tucson: This is the heart of the city, where you'll find a lot of action. It's home to the Tucson Convention Center and close to the historic city centre, making it an ideal base for first-time visitors wondering where to stay in Tucson.
University Area: A vibrant neighbourhood adjacent to the University of Arizona. It has a youthful, energetic vibe with a variety of food options and lively nightlife.
El Presidio: Known for its historic charm, this area features well-preserved adobe buildings, boutique stores, and the Tucson Museum of Art.
Barrio Historico: For a feel of old Tucson, this neighbourhood's unique architecture and narrow streets offer a glimpse into the city's past.
Sam Hughes: Green and peaceful, this neighbourhood is an excellent choice for families or those seeking a quieter stay but still close to the city's attractions.
Armory Park: This historic district has a range of architectural styles, from Victorian to early 20th-century bungalows. It's within walking distance of downtown and the streetcar line.
El Encanto: Considered one of Tucson's original suburbs, El Encanto is an upscale neighbourhood known for its wide streets, manicured lawns, and a variety of shopping and dining options.
Catalina Foothills: Located north of the city, the area offers upscale accommodations, luxury shopping, and beautiful desert views. It's also home to the popular La Encantada Shopping Center.
Menlo Park: One of Tucson's oldest neighbourhoods, Menlo Park is rich in history and culture. Close to the downtown area, it offers easy access to several popular attractions, including the Tucson Museum of Art and Arizona Stadium.
Remember, each neighbourhood in Tucson has its unique charm and attractions. Your choice ultimately depends on what you're seeking during your visit to this vibrant desert city.
You'll discover a wealth of fascinating destinations in my guide, covering the best places to visit in Arizona, from vibrant cities to stunning natural wonders.
I suggest you check out Visit Tuscon for additional insights into the city. They have a wealth of up-to-date information on sightseeing, events, and various activities to enhance your visit.
Responsible Travel Tips
Here are a few ideas on how we can travel more responsibly in Tucson.
Renewable Energy: Tucson enjoys abundant sunlight throughout the year, making it a prime location to use solar-powered facilities. Seek out a hotel that harnesses this sustainable energy source.
Minimising Food Waste: Plan your meals and avoid over-ordering at Tucson's diverse range of eateries. Leftovers? Ask for a takeaway box to enjoy them later, a common practice in the US.
Sustainable Diets: Opt for plant-based meals when you can. Tucson, known for its rich culinary scene, offers an array of vegetarian and vegan options.
Sustainable Transport: Tucson's Sun Link Streetcar connects key districts, reducing the need for car travel. It's an environmentally friendly way to navigate the city.
Avoiding Flying: If possible, consider alternatives to flying when travelling to or from Tucson. For example, the city is well-connected by rail services, which have a significantly lower carbon footprint than air travel.
Supporting the Local Community: Spend your dollars at local businesses and consider purchasing handmade souvenirs or local produce at Tucson's farmers' markets. This helps to support the local economy and reduces the carbon footprint associated with mass-produced goods.
FAQ
What makes a hotel in Tucson stand out from the rest?
Tucson is known for its boutique and unique hotels, each with its distinctive flair. Look for properties that blend style, comfort, local culture, and modern amenities to truly enhance your stay.
What are some good areas to stay in Tucson?
Downtown Tucson is always popular due to its proximity to restaurants, shops, and historic sites. For a more laid-back atmosphere, consider Sam Hughes or Armory Park, known for its beautiful historic homes and local charm.
What can I do during my visit to Tucson?
There's no shortage of things to do in Tucson. You can explore the local art scene, visit historic sites like Mission San Xavier del Bac, hike in the nearby Saguaro National Park, or indulge in the rich culinary offerings of this diverse city.
Final Thoughts
When you're planning your visit to Tucson, take the time to select a boutique hotel that aligns with your preferences and lifestyle.
Each hotel in this vibrant city holds its unique charm and style, offering a distinct perspective of local culture.
A thoughtful choice can enrich your stay, making it an integral part of your Tucson experience.
If you have questions or want to leave a hotel review, please do so in the comments.
—
Recommendations are independently chosen based on personal travel experiences and extensive research. This post contains affiliate links to hotels in Tucson, Arizona. This means I get a small commission from any bookings at no extra cost to you.