Recommendations are based on personal travel experiences and research. If you book through links on our site, we may earn a commission at no extra cost to you.
—
Tampa is famed for its vibrant waterfront, rich history and world-class Busch Gardens. Its home to an engaging array of boutique hotels reflecting the city's character, providing intimate and personalised service without compromising comfort.
In this guide, we'll explore the best boutique hotels in Tampa, presenting you with excellent options for your stay.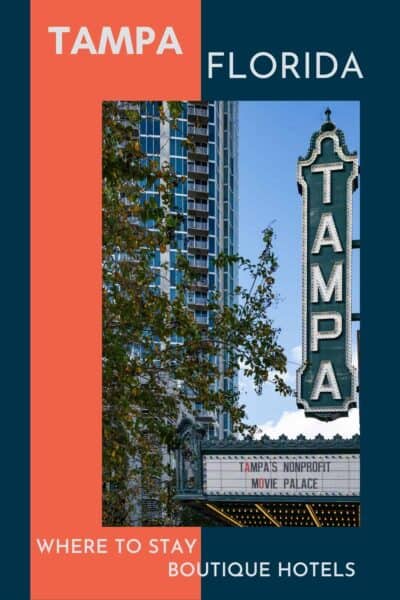 Boutique Hotels in Tampa
When booking a hotel, determining the area in which you'd prefer to stay is a crucial first move.
The Downtown district of Tampa, home to numerous business hubs and the striking Riverwalk, presents a mix of the city's old and new.
Alternatively, Ybor City, known for its thriving cafe scene, vibrant nightlife, and rich cultural history, paints a different picture of life in Tampa.
Top Pick
The Tampa Edition
Address: 500 Channelside Drive, Tampa, Florida
Location: Downtown
The Tampa Edition, a fresh and luxurious hotel, sits favourably located for your convenience, where you can enjoy warm muffins, perfect espresso, and fresh green juice downstairs. Known for its modern yet lush interiors, it's renowned for its attention to detail, seen in its beautiful decor and, particularly, in its splendid rooms. The exceptional staff, continually ready to help, contribute significantly to the overall experience, making your stay comfortable and relaxed, while small luxuries like plush robes, quality soaps and comfortable pillows enhance the sense of indulgence.
Features:
Distinctive decor and design.
Modern, immaculate rooms complete with large beds and a sitting area.
High-end amenities in the luxurious bathrooms.
Rooftop pool and bar.
Stunning lobby, lounge and bar areas.
Exceptional attention to detail and service.
Sustainability:
Most food is locally-sourced.
Opportunity for artists to display their work in the hotel.
Offset a portion of emissions.
Pros: Central location; fresh, luxury interiors; delicious food offerings; accommodating, friendly staff; detailed attention; plush, clean rooms.
Cons: It can get busy, with potential weekend crowds and high demand during peak times.
Check Availability
You might also be interested in a few other boutique hotels that stand out for their individuality, location, or commitment to sustainability.
These options, which will be detailed shortly, could provide a different twist on your Tampa stay, enriching your travel experience.
Next Best
Roost Tampa
Address: 1050 Water Street, Tampa, FL, United States
Location: Downtown
Roost is a standout option for visitors seeking an exceptional stay. This boutique hotel provides clean and comfortable rooms, including studio apartments that are thoughtfully equipped with all the essentials you might need, including a fully stocked kitchen and private laundry facilities. The property's well-appointed communal areas enhance the experience; a fantastic gym, viewing room, workspace, and a stunning outdoor pool all make the list. In terms of location, Roost is perfectly situated within walking distance of a variety of attractions such as the Amelie Arena, Channelside, Aquarium, and numerous restaurants. Added conveniences, such as the grocery store within walking distance, parking facilities, and customer-friendly staff, further elevate the boutique experience.
Cool and Unique Hotel
When considering a unique boutique hotel for your stay, there are a few key aspects to bear in mind.
Such a property typically marries individuality with design, creating an environment that breaks away from the conventional hotel model.
These hotels often blend the local culture and history into their aesthetic, making for a fun and educational immersion into the city.
Hotel Haya
Address: 1412 East 7th Avenue, Tampa, Florida
Location: Ybor City
Hotel Haya is a standout establishment in Ybor City, highly regarded for its impeccable cleanliness, spacious rooms, and commendable staff service. Its excellent location, nestled in a historical part of Tampa, adds an extra layer of charm, placing you within easy reach of the vibrant downtown strip with a variety of restaurants, bars, clubs, and the comedy club. The free trolley nearby is a handy bonus for visitors. The hotel's unique style, influenced by its cultural surroundings, further adds to the appeal of a stay here. The hotel also provides exceptional dining, with a restaurant serving delicious food, a cafe offering morning treats, and the convenience of complimentary coffee for guests. Moreover, the comfort of the rooms and the exceptional staff service contribute to an overall excellent experience at Hotel Haya.
Eco-Friendly Hotel
Opting for an eco-friendly hotel aligns with conscious travel and can significantly minimise your carbon footprint.
These establishments prioritise sustainable practices in various operational aspects, including energy usage, waste management, and sourcing local and organic food.
Element Tampa Midtown
Address: 3650 Midtown Drive, Tampa, Florida
Location: Midtown
Element Tampa, an eco-friendly hotel, maintains an admirable reputation for its cleanliness, strategic location, and commendable service from the staff. It stands out for its generous space in rooms, making it a comfortable stay. Conveniently nestled in the heart of Tampa, it grants easy access to the city's prime attractions. An added luxury is the provision of complimentary valet parking, demonstrating a level of hospitality that goes beyond the norm. Guests spoke highly of its rooftop pool and bar, adding an element of relaxation to your stay. The hotel is a stone's throw away from a variety of shopping and dining options, as well as green spaces for those seeking tranquillity amidst the city hustle. Each room is equipped with a kitchenette, which includes a fridge and microwave, adding to the convenience for guests. The cleanliness and comfortable bed also contribute to making your stay at Element Tampa worthwhile.
Luxury Boutique Hotel
As you explore options for your stay, luxury boutique hotels can provide a unique and personalised experience.
These establishments often deliver exceptional service and strongly emphasise design and atmosphere, providing a unique setting you won't find in larger hotel chains.
Additionally, they often have a distinct character that reflects the local culture or history, adding an extra layer to your travel experience.
Staying in a luxury boutique hotel can be a special part of your trip, as the attention to detail and personalised service create an environment of comfort and exclusivity.
The Current Hotel
Address: 2545 North Rocky Point Drive, Tampa, Florida, USA
Location: Rocky Point
The Current Hotel, a luxury boutique accommodation in Tampa, delivers a premium experience with a mix of modern comfort and upscale amenities. Your stay will be in a spacious, well-furnished room with a panoramic view perfect for watching the sunrise without leaving the comfort of your bed. The hotel's location is a strong point; it's just minutes from downtown Tampa, the airport and major highways, making it convenient for any traveller. On-site dining options, such as The Julian restaurant and The Rox hotel bar, provide top-notch food and beverages, while the rooftop bar adds a lively flair to your evenings. The hotel maintains a high standard of service, with courteous staff across all departments, from reception to housekeeping. In terms of facilities, it's hard to beat the stunning pool area and the delicious breakfast served. The hotel's modern and aesthetically pleasing decor and waterfront proximity make it a compelling choice for a luxurious stay in Tampa.
Where to Stay in Tampa
Downtown Tampa: The heart of Tampa's business and entertainment scene. Here, you'll find a mix of cultural attractions, museums, and an array of restaurants and bars, making it a top contender when deciding where to stay in Tampa.
Ybor City: Known as Tampa's historic district, Ybor City is a vibrant neighbourhood brimming with unique architecture, trendy eateries, and a lively nightlife scene. Its rich Cuban heritage is evident in its art galleries, independent stores, and cigar factories.
Channelside: Located adjacent to the Downtown area, Channelside is best known for its waterfront and the Channel District, a popular shopping and entertainment complex. This district is home to the Florida Aquarium and the Port of Tampa.
South Tampa: A residential area is known for its green spaces and outdoor activities. The neighbourhood is dotted with parks, has a strong cafe culture, and is close to the city centre.
Hyde Park: A neighbourhood loved for its historic charm, Hyde Park features independent stores, high-end boutiques, and a selection of stylish bars and restaurants. Its close proximity to the University of Tampa gives it a vibrant, youthful energy.
Seminole Heights: This trendy neighbourhood is well-known for its independent boutiques, antique shops, and a variety of craft breweries. Seminole Heights also features some of Tampa's top-rated cafes and restaurants, making it an ideal spot for foodies.
Harbour Island: An upscale residential neighbourhood located in the heart of Tampa. With beautiful views of the city skyline, Harbour Island offers a serene environment yet is just a short distance from downtown Tampa's vibrant energy.
Remember, each area has its unique charm and attractions, so your ideal place to stay in Tampa will largely depend on what you want from your visit.
You'll find my guide indispensable as it sheds light on the best places to visit in Florida, providing insights that aim to enhance your exploration of the Sunshine State.
For further detailed information about sightseeing, events and other activities in the city, I'd suggest checking out Visit Tampa Bay. It's a comprehensive source providing a wealth of useful tips and guidance for exploring Tampa.
Responsible Travel Tips
Here are a few ideas on how we can travel more responsibly in Tampa.
Renewable Energy: Tampa is making strides in sustainable energy. You can contribute by staying in accommodations that utilise solar power and other renewable resources.
Minimising Food Waste: When dining out in Tampa, consider sharing meals or ordering smaller portions to avoid unnecessary waste.
Sustainable Diets: Tampa has a wealth of fresh, local produce. Opt for plant-based or locally sourced meals when possible to support sustainability.
Sustainable Transport: Tampa is well-connected by buses, trams, and bike lanes. Reduce your carbon footprint by using these modes of transport instead of hiring a car.
Avoiding Flying: If you're within a reasonable distance of Tampa, consider taking a train or bus instead of flying to minimise your carbon emissions.
Supporting Local Community: Tampa has a vibrant local community. Purchase goods from local artisans and farmers' markets, and participate in community-led tours to help keep money within the community.
FAQ
What are the best areas to stay in Tampa?
Downtown Tampa, Ybor City, and Hyde Park are among the top choices for where to stay in Tampa. Each offers a unique vibe, with Downtown being vibrant and lively, Ybor City rich in history and culture, and Hyde Park is known for its elegant homes and trendy shops.
What kind of hotels can I find in Tampa?
Tampa has a range of accommodations to suit all types of travellers, including luxury boutique hotels, unique boutique hotels, and eco-friendly hotels. Each offers a distinctive experience, from high-end luxury to sustainable practices.
What are the main attractions in Tampa?
Tampa has a wealth of attractions, including the historic Ybor City, the bustling Downtown area, and the trendy Hyde Park neighbourhood. It's also home to many museums, galleries, and green spaces. Plus, the city's vibrant food and nightlife scenes are not to be missed.
How is public transportation in Tampa?
Tampa offers good public transportation options, including buses and trams, making exploring the city and reducing your carbon footprint easy. Alternatively, the city's bike-friendly nature offers another sustainable option for getting around.
Finding the right Tampa boutique hotel truly hinges on your personal preferences. With a wide range of options from the eco-conscious to the uber-luxurious, you're bound to find a place that caters to your unique tastes.
Each hotel provides its own unique charm, and many are situated in fantastic locations, close to local attractions and with excellent access to public transport.
So take your time, do your research, and make sure to choose a place that best suits your needs for a fantastic stay in this vibrant city.
If you have questions or want to leave a hotel review, please do so in the comments.
—
Recommendations are independently chosen based on personal travel experiences and extensive research. This post contains affiliate links to hotels in Tampa, Florida. This means I get a small commission from any bookings at no extra cost to you.