Recommendations are based on personal travel experiences and research. If you book through links on our site, we may earn a commission at no extra cost to you.
—
Scottsdale awaits with open arms if you're seeking the warmth of the Arizonian sun. Known for its vibrant arts scene, rich Native American history, and world-class golf courses, this city is sure to impress.
In this guide, I'm going to delve into the best boutique hotels in Scottsdale, ensuring you find the perfect place to rest and recharge during your stay.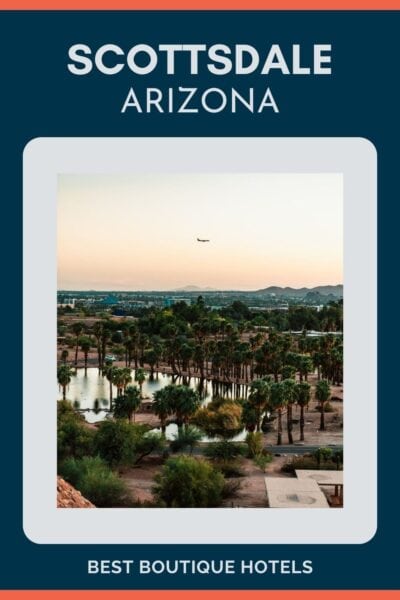 Boutique Hotels in Scottsdale
When on the hunt for a hotel, location is key. Scottsdale's Downtown, home to the celebrated Old Town, has a lot going on with its Western heritage and easy access to a myriad of shopping and dining venues.
On the other hand, you've got South Scottsdale, brimming with an eclectic mix of independent boutiques, lush green parks, and trendy bars.
If you're keen on being at the heart of the action, Downtown Scottsdale should definitely be your pick, or consider my top pick, located near the Camelback Mountain trailhead.
Top Pick
Sanctuary Camelback Mountain
Address: 5700 East McDonald Drive, Scottsdale
Location: Paradise Valley
The Sanctuary Camelback Mountain Hotel is tucked beneath the magnificent Camelback mountains. Their rooms and suites are spacious, kitted out to perfection and incredibly tidy. After a session at the gym or a day out sightseeing, you can cool off by the infinity pool before enjoying a cocktail or a bite, all while surrounded by considerate staff and stunning grounds.
Features:
Distinctive decor and design.
Stylish rooms with ample natural light.
Rooms with mountain views.
Huge selection for breakfast.
Great location near Echo Canyon Recreation Area.
Pros: Nestled beneath Camelback Mountains, generously sized rooms, well-appointed suites, thoughtful amenities, a superb infinity pool, immaculate cleanliness, well-maintained grounds.
Cons: Occasional wait times, high-season crowds, and limited vegetarian menu options.
Check Availability
If you would prefer to stay in the Phoenician or the Old Town Scottsdale districts, I've got a few other boutique hotels that might be of interest.
Each has its own unique flair or stands out for its location or commitment to eco-friendliness.
Next Best
The Phoenician
Address: 6000 East Camelback Road, Scottsdale, Arizona
Location: Phoenician
The Phoenician Hotel takes top marks for its spotless surroundings and top service. You'll find the staff both kind and helpful, always on their toes to ensure your stay is excellent. The resort is situated on a stunning property in a gorgeous part of Scottsdale, just a quick 10-minute jaunt from the heart of Old Town. They've got bike rentals for you to use and beautiful trails to explore. And while the breakfast options might be a tad limited, they sure don't skimp on quality. Plus, they've got a sustainable edge, being powered by 100% renewable electricity.
Cool and Unique Hotel
In a unique boutique hotel, you're signing up for an experience that breaks away from the usual. You can expect personalised service, eclectic design elements, and a vibe that truly reflects the local culture.
The fun part is that each boutique hotel is distinct, providing you with a fresh perspective and a stay far from run-of-the-mill.
Civana Wellness Resort
Address: 37220 North Mule Train Road, Scottsdale, AZ
Location: Carefree, north of Scottsdale
Civana Hotel stands out as a gem of tranquillity and self-care in Scottsdale. It's more than just a place to rest your head; it's a whole experience with a team that goes above and beyond to make you feel pampered. They run a host of engaging classes, their spa is top-tier, and you can unwind by the pool or enjoy sumptuous meals at Terra's. The overall vibe is calm and welcoming, with the ease of navigating around or switching classes. Trust me, every moment at this unique boutique resort will leave you feeling cherished.
Eco-Friendly Hotel
When you're considering an eco-friendly hotel, it's all about seeing the commitment to sustainable practices. This could be in the form of energy efficiency, water conservation, using renewable energy, or offering locally sourced and organic food.
Senna House Hotel Scottsdale
Address: 7501 E Camelback Road, Scottsdale, AZ
Location: Old Town Scottsdale
The Senna House Hotel in Scottsdale takes the cake for its stellar location, right in the thick of downtown. Beyond its eye-catching design, the attention to detail shines through, with well-kept suites, a clean and welcoming atmosphere, and comfortable beds for a good night's rest. The staff at the hotel is exceptional, with fast and courteous valet parking that just adds to the smooth experience. Plus, the eco-conscious will appreciate the hotel's high sustainable travel rating, making it a brilliant choice for a stay with a lighter footprint.
Canopy
Address: 7142 East 1st St, Scottsdale, Arizona
Location: Old Town Scottsdale
Tucked away in the heart of Scottsdale, Senna House Hotel is a little gem that marries eco-friendly features with modern comfort. The architecture beautifully captures the spirit of the Southwest, and the view from your room will leave you smitten. It's not just about looks, though. The staff is ready and willing to answer all your questions, the breakfast options are varied and tasty, and your room will be cleaned to your exact instructions. Let's not forget about the rooftop bar – it's something else! Throw in a comfy bed, a fantastic shower, and an excellent sustainable travel rating, and you've got the makings of a brilliant, eco-friendly stay.
Luxury Boutique Hotel
Staying at a luxury boutique hotel means entering an experience where every detail is meticulously crafted for comfort and pleasure. These spaces pair exclusivity with personalised service, delivering a unique blend of style, culture, and elegance.
Arizona Biltmore
Address: 2400 East Missouri Avenue, Phoenix, Arizona
Location: Biltmore, Phoenix
Luxury seeps from every corner of the Arizona Biltmore. You'll be instantly transported into a world of refined elegance – the aroma in the lobby, the serene adult pool, and the meticulously maintained gardens. It's the perfect blend of architectural and aesthetic beauty, with the hotel's friendly staff adding a warm, personal touch to your stay. The spa, shops, and restaurants elevate the experience. All these elements work together to create an unmistakable feeling of being at a resort that truly cares about quality.
Mountain Shadows
Address: 5445 East Lincoln Drive, Scottsdale, AZ, United States
Location: Paradise Valley
Mountain Shadows is a delightful place to luxuriate in style. Its perfect location, wedged between picturesque mountains and a well-maintained golf course, provides stunning views, creating a serene backdrop for your stay. This hotel gets it right, from the design of the rooms, which embody elegance and comfort, to the lovely pool area where relaxation is given. The food is excellent, and with hiking trails just a stone's throw away, it's a haven for the active traveller. The staff shine in their dedication to making your stay as easy and comfortable as possible, so much so that you'll undoubtedly be keen to return.
Where to Stay in Scottsdale
Downtown Scottsdale: Looking for the heart of the action? Downtown is where to stay in Scottsdale, with an array of fine dining options, hip bars, and nightlife activities to keep you entertained well into the early hours. This area's charm is its walkability, so you'll be able to explore all the unique shops, art galleries, and museums at your own pace.
Old Town: Known for its stunning Western American style, Old Town offers a vibrant atmosphere packed with independent boutiques and eateries. The historical district is a must-visit for those interested in the unique heritage of Scottsdale. The area's weekly ArtWalk is an absolute treat for art lovers.
Paradise Valley: Nestled between Camelback Mountain and the McDowell Mountains, Paradise Valley is perfect for nature enthusiasts. It's here that you'll find the Sanctuary Camelback Mountain resort. This affluent area is also known for its golf courses and beautiful desert gardens.
North Scottsdale: Luxurious resorts and spas make North Scottsdale an enticing area to stay. Notable for its exquisite dining and high-end shopping, it's a perfect area for those who appreciate a bit of pampering. The beautiful McDowell Sonoran Preserve, with its abundant hiking trails, is an additional attraction for outdoor lovers.
South Scottsdale: South Scottsdale is popular among wellness and health-conscious travellers. It's also a hub for arts and culture, with a number of art galleries and museums in the vicinity. For those interested in architectural beauty, it's home to many mid-century modern buildings.
Gainey Ranch: If luxury is what you're after, Gainey Ranch might be the spot. This upscale area is filled with fancy resorts, pristine golf courses, and gourmet restaurants.
Arcadia: Arcadia is known for its cafe culture, serving up some of Scottsdale's best coffee and brunch spots. Its urban farm culture and picnic-friendly green spaces make it a refreshing place to stay.
Remember, no matter where you choose to stay in Scottsdale, you're in for a fantastic time filled with relaxation, adventure, and memorable experiences.
Check out my comprehensive guide detailing the best places to visit in Arizona.
The Experience Scottsdale website is a brilliant resource for in-depth details about visiting the city. They've got heaps of useful information, particularly about things to do, sightseeing, and events, making your travel planning a breeze.
Responsible Travel Tips
Here are a few ideas on how we can travel more responsibly in Scottsdale.
Opt for Renewable Energy: In Scottsdale, many accommodations make use of solar power, thanks to the abundant sunshine. Seek out these places for your stay.
Minimise Food Waste: Be mindful of portion sizes when ordering food in restaurants. Scottsdale is known for its hearty meals, but taking leftovers home for later is perfectly fine.
Adopt a Sustainable Diet: Arizona has a rich agricultural industry. Look out for local farmers' markets in Scottsdale, where you can buy fresh, seasonal, and organically grown produce.
Use Sustainable Transport: Scottsdale is a bike-friendly city with numerous cycling paths. Try swapping the car for a bicycle or even walking to explore the city in a greener way.
Avoid Flying: If possible, consider taking a train or driving to Scottsdale instead of flying. Arizona's scenic landscapes make the journey enjoyable and less carbon-intensive.
Support the Local Community: Spend your dollars at local businesses. Whether it's buying handcrafted souvenirs or dining in a family-owned restaurant, you're supporting Scottsdale's economy directly.
Participate in Local Initiatives: Scottsdale has various community projects such as desert clean-ups and tree planting events. Participating can contribute to the sustainability of the city.
FAQ
What should I consider when choosing a hotel in Scottsdale?
Consider the type of experience you desire, such as a luxury, eco-friendly, or unique boutique stay. It's also worth checking the location, accessibility, facilities, and cleanliness of the hotel.
Is it easy to get around in Scottsdale?
Indeed, Scottsdale is a highly navigable city. You can enjoy exploring the city on foot, by bicycle, or by using the well-connected public transportation network.
Which areas in Scottsdale are recommended for tourists?
Popular areas to stay include Downtown Scottsdale, known for its vibrant nightlife and cultural scene; Paradise Valley, for its luxury resorts and stunning views; and Old Town, which offers a great blend of history, shopping, and dining.
What can I expect from the food scene in Scottsdale?
Scottsdale is renowned for its diverse culinary scene. From authentic Southwestern cuisine to innovative farm-to-table dining experiences, there's something for every palate.
In choosing your perfect stay in Scottsdale, consider your needs and wants. A trove of luxury, boutique and eco-friendly hotels is waiting for you. Each one provides a unique perspective on this vibrant city.
As you explore Scottsdale, embrace its cultural offerings, relish its culinary delights, and take time to appreciate its natural beauty.
If you have questions or want to leave a hotel review, please do so in the comments.
—
Recommendations are independently chosen based on personal travel experiences and extensive research. This post contains affiliate links to hotels in Scottsdale, United States. This means I get a small commission from any bookings at no extra cost to you.