Recommendations are based on personal travel experiences and research. If you book through links on our site, we may earn a commission at no extra cost to you.
—
Santa Barbara is a charming coastal town that offers visitors an idyllic blend of natural beauty and rich history. One of the unique features of Santa Barbara is its Spanish-influenced architecture, which adds to the town's old-world charm.
The city's many beaches are also a major draw and are perfect for swimming, sunbathing, and surfing.
If you're planning a visit, I recommend staying at one of Santa Barbara's boutique hotels to get a taste of the town's unique atmosphere and charm.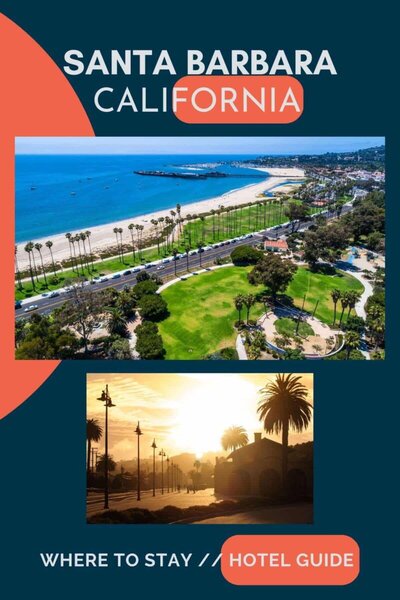 Best Boutique Hotels in Santa Barbara
Santa Barbara has several unique neighbourhoods that offer a range of interesting experiences. For a bohemian vibe with a great selection of independent stores, cafes, and nightlife, you should check out the Funk Zone.
The area has been revitalized in recent years and is now home to a mix of art galleries, wine-tasting rooms, and restaurants.
Another neighbourhood worth exploring is the historic Presidio District, where you'll find museums, gardens, and several historical landmarks.
However, if you're looking for the best area to stay in, Santa Barbara, I recommend the charming and walkable downtown area.
The city's cultural heart is filled with galleries, museums, and theatres. It's also the ideal spot for foodies, as it's home to several top-notch restaurants.
Top Pick
Hotel Californian
Address: 36 State Street, West Beach, Santa Barbara, CA
If you're looking for a luxurious and stylish hotel in Santa Barbara, Hotel Californian is a great choice. The hotel features stunning design and decor by renowned designer Martyn Lawrence Bullard, creating a unique and unforgettable atmosphere. Located in the heart of Santa Barbara's Funk Zone, the Hotel Californian is an ideal urban destination for the Hollywood elite, international visitors, and locals alike. It's worth noting that Hotel Californian is also committed to accessibility, with property descriptions that provide detailed information to help all guests make an informed decision about their stay.
Features:
Unique decor and design with a stunning lounge.
Stylish rooms with loads of natural light.
Incredible rooftop pool overlooking Santa Barbara Beach.
Ocean views rooms within steps from the beach.
A good-sized gym.
Pets are allowed.
Sustainability:
Electric vehicle charging station
Bikes are available for getting around the neighbourhood.
Plant-based, bathroom amenities.
Pros: With its prime location, stunning design, and commitment to accessibility, Hotel Californian is unquestionably the best choice for a luxurious and memorable stay in Santa Barbara.
Cons: While the Hotel Californian is a top-notch hotel in every regard, some guests have reported that noise from the nearby train tracks can occasionally be heard from the rooms
Check Availability
In addition to my top pick, I have also recommended a couple of other boutique hotels you might like, each with its unique atmosphere and amenities to suit a range of tastes and budgets.
Next Best
El Encanto Hotel
Address: 800 Alvarado Place, Santa Barbara, CA
El Encanto, in Santa Barbara, is a luxurious and charming property that offers an unforgettable experience. You will love the serene and picturesque setting, the elegant and comfortable accommodations, and the impeccable service provided by the staff. Additionally, the hotel features an excellent restaurant, a beautiful pool area, and stunning views of the ocean and mountains.
Cool and Unique Hotel
If you're the kind of traveller who likes to stay in a cool and unique boutique hotel, you can expect a memorable and personalised experience.
Boutique hotels offer a distinct atmosphere and design that often reflect the local culture, and my next recommendation is no exception.
Palihouse Santa Barbara
Address: 915 Garden Street, Santa Barbara, CA
Palihouse Santa Barbara is a stylish and distinctive boutique hotel that offers excellent amenities and a prime location. You will appreciate the well-appointed and spacious rooms, some of which feature kitchenettes and minibars, as well as the on-site fitness centre, restaurant, and bar. The hotel's convenient location near the city centre and top attractions make it an ideal choice for your Santa Barbara stay.
Kimpton Canary Hotel, an IHG Hotel
Address: 31 West Carrillo Street, Santa Barbara, CA
The Kimpton Canary Hotel is a one-of-a-kind boutique hotel in the heart of Santa Barbara, offering an unforgettable stay with top-notch amenities and services. The hotel's iconic Spanish-style architecture and luxurious accommodations will transport you to a different era, while the rooftop pool provides breathtaking views of the city and the ocean. With its focus on personalized service, delicious dining options, and delightful perks like hosted wine hour, the Kimpton Canary Hotel is a true gem that will make your Santa Barbara experience one to remember.
Eco-Friendly Hotel
By choosing a sustainable or eco-friendly hotel, you can expect to stay in a property that has taken steps to reduce its environmental impact and promote responsible tourism.
You might enjoy such a hotel if you want to minimise your carbon footprint and support businesses that prioritize sustainability.
The Waterman
Address: 12 East Montecito Street, West Beach, Santa Barbara, CA
The Waterman is a sustainable hotel that prioritizes environmental responsibility. It has various eco-features, such as solar panels, a water conservation system, and a green roof. In addition, the hotel uses sustainable materials throughout its property, has implemented recycling and composting programs, and offers electric vehicle charging stations.
If you're looking for a comprehensive and trustworthy guide to California's best places to visit, you may want to consider checking out my guide, which features a carefully curated list of must-see destinations and insider tips to help you make the most of your trip to the Golden State.
If you're planning a trip to Santa Barbara, you'll be pleased to know that it has a helpful website that provides a wealth of information on things to see and do in the area, as well as practical advice on transportation, accommodations, and dining options.
Responsible Travel Tips
Many of us are increasingly concerned about climate change and sustainability. Here are a few ideas on how we can travel more responsibly in Santa Barbara.
Santa Barbara offers visitors several ways to travel more responsibly and positively impact the environment and the local community.
To start, consider using sustainable transport options like renting a bike or taking the local bus instead of driving.
Santa Barbara is also home to a variety of renewable energy initiatives, including solar-powered homes and businesses, so consider supporting those efforts by staying in a green-certified hotel or eating at a restaurant that uses locally sourced and sustainable ingredients.
If you want to reduce your environmental impact even further, try to minimize food waste by ordering only what you can eat at restaurants or choosing to eat at places that offer compostable or reusable packaging.
Consider adopting a sustainable diet by choosing plant-based or organic options when possible, as Santa Barbara is home to several farmer's markets and organic farms.
Lastly, consider supporting the local community by shopping at independent stores and restaurants instead of large chain businesses and by choosing to participate in local tours and activities instead of flying in from far away.
By taking these steps, you can help ensure that Santa Barbara remains a beautiful and sustainable destination for generations to come.
If you have questions or want to leave a hotel review, please do so in the comments.
—
Recommendations are independently chosen based on personal travel experiences and extensive research. This post contains affiliate links to hotels in Santa Barbara, California. This means I get a small commission from any bookings at no extra cost to you.