Recommendations are based on personal travel experiences and research. If you book through links on our site, we may earn a commission at no extra cost to you.
—
Portland, Maine – the city of lighthouses, fresh seafood and lovely parks. It's a charming town where modernity meshes perfectly with the past, providing a cosy yet lively atmosphere that you're bound to adore.
In this guide, I'll share my picks for the best boutique hotels in Portland, a fantastic line-up of unique places to stay that further enrich the city's character.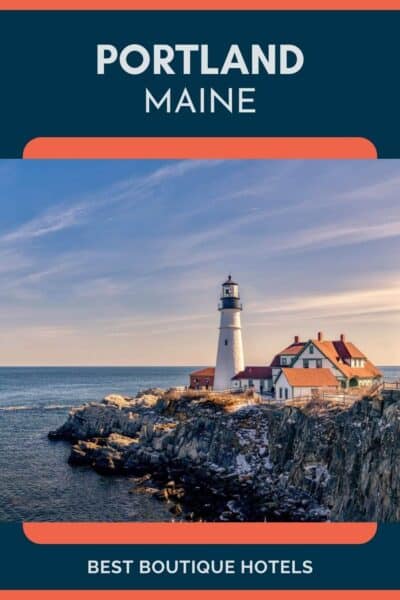 Boutique Hotels in Portland Maine
Choosing a hotel also means picking a district that suits your holiday style.
The Old Port is the heartbeat of Portland, with its historic buildings, cobblestone streets and bustling harbour, making it a popular area to stay.
Meanwhile, the Arts District has become a magnet for those loving a vibrant mix of galleries, museums, eclectic boutiques and hip bars.
Where to stay depends on your visit, but my top pick is a cool boutique hotel in the upscale West End district.
Top Pick
Blind Tiger Portland
Address: 163 Danforth Street, Portland, Maine
Location: West End
At the Blind Tiger in Portland, you'll notice the seamless blend of comfort and style wrapped into its beautifully designed rooms. The location is brilliant and the delicious breakfast provides a great kickstart to the day. The kind and helpful staff, the wonderful atmosphere and the well-kept finishes make this boutique hotel a standout choice.
Features:
Cool and unique design.
Stylish rooms with ample natural light.
Huge selection for breakfast.
Stunning lobby, lounge and bar areas.
Great location near Harborview Park.
Sustainability:
Energy-efficient lighting.
Efforts are made to minimise food waste.
Measures in place for food waste reduction.
Most food is organic and locally sourced.
Vegetarian and vegan menus are available.
Opportunity for artists to display their work in the hotel.
Pros: Stylish and comfortable rooms, calm location, varied breakfast, exceptionally helpful service and beautiful atmosphere.
Cons: Limited parking spaces and no swimming pool.
Check Availability
While the Blind Tiger has its unique charm, there are other boutique hotels in Portland that might pique your interest.
Each is selected for its distinct qualities, location, style, or commitment to sustainability.
Next Best
The Press Hotel
Address: 119 Exchange Street, Portland, ME
Location: Downtown
The Press Hotel makes its mark as a stunning hotel in Portland, set within a stroll's distance from the city centre. The delightful interior, a homage to the print press, is coupled with attractive, comfortable furnishings, making for an elegant and cosy stay. Its commitment to the environment makes it special, demonstrated by its use of 100% renewable electricity. The on-site restaurant, Union, is a gem worth exploring, and coupled with top-notch customer service and immaculate cleanliness, it's a strong contender for your stay. All this with fabulous views and a perfect location for exploring Portland on foot.
Cool and Unique Hotel
A cool, unique boutique hotel is an artful blend of innovative design, personality and a local vibe. This style of hotel stands out, daring to be different and often bringing an unexpected yet delightful twist to your stay.
Blind Tiger Portland
Address: 46 Carleton St, Portland, United States
Location: West End
At the Blind Tiger on Carleton Street, you can't help but admire the marriage of classic bed-and-breakfast vibes with the uniqueness of a boutique hotel. Maintaining its Victorian charm post-renovation, the inn is beautifully set with a comfortable lounge and breakfast area. The rooms are spacious and clean and feature well-fitted bathrooms, upping the ante on comfort. Breakfast, an expansive and fresh affair, is certain to get your day started on the right note. And the icing on the cake? The helpful, kind staff and the relaxed mood were set by the snack closet, welcoming lobby and common areas.
Eco-Friendly Hotel
Eco-friendly hotels focus on minimising their impact on the environment, offering a stay that's mindful of our planet. Key elements include energy-efficient utilities, use of renewable resources and waste-reduction practices.
Aloft Portland Maine
Address: 379 Commercial Street, Portland, ME
Location: Old Port
The Aloft Hotel in Portland, Maine, sets a high standard in eco-conscious hospitality without compromising on comfort or style. Set by the waterfront, a stone's throw from the Old Port area, it combines convenience with tranquillity. Each room, stylishly designed and well-appointed, creates a perfect haven for sleep, work and relaxation. Though parking comes at a price, the excellent, efficient staff and clean, modern amenities truly enhance your stay. Moreover, its proximity to the water, shopping and a host of restaurants makes it a superb choice for an eco-friendly hotel stay in Portland.
Luxury Boutique Hotel
Luxury boutique hotels are a class apart, presenting a perfect blend of exclusivity, intimacy and attention to detail. They focus on creating an immersive, personalised experience, allowing you to revel in an elevated sense of comfort and sophistication.
Portland Harbor Hotel
Address: 468 Fore Street, Portland, ME
Location: Old Port
The Portland Harbor Hotel sets the bar high for luxury boutique stays with its unbeatable location and tastefully appointed rooms. Nestled conveniently close to port activities and a wealth of shopping and dining options, it promises an experience that exceeds expectations. Compliments are well deserved for the friendly staff who do a great job, and the quality of the food is a highlight, especially the very good breakfast. A charming feature is the pretty garden patio, providing a lovely spot for relaxation.
Where to Stay in Portland, Maine
Downtown Portland: Undeniably a top choice when deciding where to stay in Portland, Maine. This area is the city's heartbeat, brimming with shops, top-rated restaurants, and impressive architecture. You'll find vibrant art galleries and world-class museums here, ensuring a dose of cultural enrichment with your stay.
Old Port: This charming waterfront district is renowned for its cobblestone streets, old brick buildings and stunning views of the harbour. Add to this mix a lively cafe culture, hip bars, and some of the city's most beloved restaurants, making Old Port an area worth considering for a vibrant yet relaxing stay.
East End: An eclectic neighbourhood known for its creative energy and friendly community vibe. Independent shops and unique eateries dot the streets, while the beautiful Eastern Promenade and its green spaces provide opportunities for outdoor fun.
West End: Steeped in history, this area teems with stunning 19th-century homes, lovely parks and a relaxed atmosphere. West End also enjoys proximity to the Portland Museum of Art and the historic Victoria Mansion, making it a hit with culture enthusiasts.
Arts District: As the name suggests, this neighbourhood is the epicentre of Portland's thriving arts scene. Housing a plethora of galleries, music venues and the impressive Portland Stage Company, it's a cultural hotspot that promises a unique, art-filled stay.
Munjoy Hill: Sitting atop Portland's East End, Munjoy Hill is a residential neighbourhood known for its panoramic views of the city and the sea. It's home to the Eastern Promenade, a popular green space perfect for leisurely strolls, picnics and even a dip in the beach during summer.
Eager to explore more of this part of the US? Read my guide to best places to visit in Maine, packed full of tips and recommendations to help you make the most of your trip.
In need of more insights about visiting Portland, Maine? You might find the local tourist office handy as they provide a wealth of information, particularly about things to do, places to see and events that you wouldn't want to miss during your stay.
Responsible Travel Tips
Here are a few ideas on how we can travel more responsibly in Portland.
Use Renewable Energy: While you're in Portland, consider staying in accommodations that use renewable energy sources, such as solar or wind power. Many hotels in the area are already making the switch, and by choosing these places, you're voting with your wallet for sustainable practices.
Minimise Food Waste: When dining out in Portland, be mindful of portion sizes and try not to order more than you can eat. The city's restaurants are known for their generous servings, so why not share a dish or ask for a to-go box for leftovers?
Adopt a Sustainable Diet: Make an effort to eat locally-sourced food. Portland is a coastal city known for its fresh seafood and is also surrounded by farmland that produces a wide variety of fruits and vegetables. Not only will your meal be more environmentally friendly, but it'll taste fresh too!
Sustainable Transport: Portland is a compact city with excellent public transportation, perfect for reducing your carbon footprint. Consider using the METRO bus system or take advantage of the numerous cycle lanes and bike rental schemes to get around.
Avoid Flying if Possible: If you're travelling to Portland from within the USA, consider alternatives to flying, such as train travel. For example, the Amtrak Downeaster service connects Portland with Boston and other towns, providing a more eco-friendly way to travel.
Support Local Businesses: While you're in Portland, spend your money at local shops and eateries rather than international chains. This will help support the local economy, and you'll likely discover unique, locally-made products.
Participate in Clean-Up Events: Keep an eye out for community-led initiatives such as beach or park clean-ups. These events are common in Portland and are a great way to give back to this beautiful city during your stay.
FAQ
What's the best area to stay in Portland, Maine?
The Old Port district is often considered the heart of the city with its bustling waterfront, charming streets and many dining options. However, each neighbourhood has its own unique charm, so it depends on what you're looking for in your visit.
Are there any unique boutique hotels in Portland, Maine?
Indeed, there are. Blind Tiger Portland and the Press Hotel are two outstanding boutique options that offer exceptional experiences with their distinctive decor and impeccable service.
What types of activities are there to do in Portland, Maine?
There's a variety of activities to enjoy in Portland. The city is known for its vibrant art scene, historic sites like the Portland Head Light, delicious seafood and nearby nature trails. Additionally, the local breweries and quaint shops provide plenty of entertainment for visitors.
Is Portland, Maine, a walkable city?
Absolutely! Many of Portland's attractions are within walking distance, especially in the Downtown and Old Port areas. Plus, the city is bike-friendly, with numerous bike rental services available for those who wish to explore a bit further.
Portland, Maine, is a city with a bit of everything, and it's clear why it's a favourite among travellers.
Whether you're after popular food and drink places, a thriving arts scene or just keen on relaxing by the picturesque waterfront, you'll find your niche.
As for accommodation, boutique hotels like the Blind Tiger or the Press Hotel provide an ideal blend of comfort, style, and local flair that'll make your stay all the more enjoyable.
If you have questions or want to leave a hotel review, please do so in the comments.
—
Recommendations are independently chosen based on personal travel experiences and extensive research. This post contains affiliate links to hotels in Portland, Maine, United States. This means I get a small commission from any bookings at no extra cost to you.