Recommendations are based on personal travel experiences and research. If you book through links on our site, we may earn a commission at no extra cost to you.
—
Las Vegas isn't just about glittering casinos and high-octane shows; it's a city where indulgence and luxury take a new form in its stunning boutique hotels.
As a traveller, you'll find these smaller establishments possess a unique charm beyond the opulence of typical Sin City resorts, providing intimate settings, personalised service, and distinct experiences embodying the Las Vegas spirit.
In this guide, I'll shine a spotlight on the best boutique hotels in Las Vegas, revealing how each provides a singular experience that can enhance your stay in this desert oasis.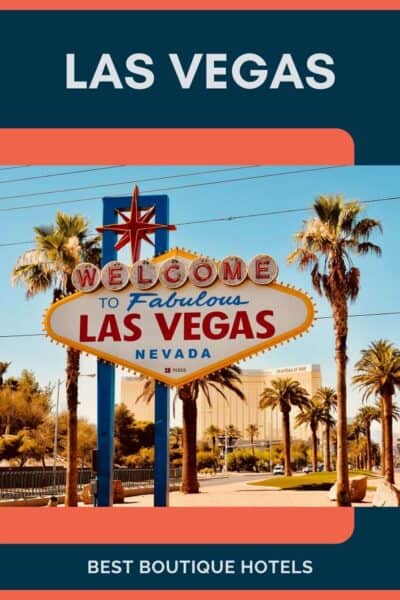 Boutique Hotels in Las Vegas
When it comes to finding the right hotel, it's critical to first consider the neighbourhood that suits your travel style and interests best.
The heart of the action can be found in Downtown Las Vegas, where historic casinos meet modern entertainment venues, creating a vibrant mix that's just quintessentially Vegas.
If you're more inclined towards a relaxed vibe with an emphasis on creativity, Arts District, known for its trendy bars, boutique shops, and cultural sites, including galleries and museums, will fit your bill perfectly.
For the full-on Vegas experience, though, staying in Downtown puts you right in the centre of the excitement.
Top Pick
The English Hotel
Address: 921 South Main Street, Las Vegas
Location: Arts District
The English Hotel, located perfectly in the quieter Arts District, stands out for its immaculate rooms, fashionable design and friendly atmosphere. The rooms are clean, comfortable and tastefully decorated, and the staff go out of their way to ensure a relaxing stay. For the quality of service and attention to detail, it's well worth it.
Features:
Distinctive decor and design.
Stylish rooms with ample natural light.
Huge selection for breakfast.
Artwork by local artists is displayed.
Walking distance to numerous attractions, including Las Vegas Festival Grounds and The Neon Museum.
Pros: Cool location; clean, comfortable rooms; friendly staff; free parking; stylish decor.
Cons: A bit removed from the Strip.
Check Availability
While the English Hotel has its charms, Las Vegas's a whole world of boutique hospitality to discover.
In the upcoming sections, I'll share a couple of other distinctive hotels chosen for their unique location, style, or commitment to sustainability.
Next Best
NoMad Las Vegas
Address: 3772 South Las Vegas Boulevard, Las Vegas, Nevada
Location: Las Vegas Strip
Tucked away within the bustle of the Park MGM, NoMad Las Vegas presents an oasis of tranquillity and luxury. The hotel blends comfort and style effortlessly, providing quiet, spacious rooms with tasteful decor, while the pool provides a chilled space for relaxation, complemented by excellent food and drink options. Yet, the excitement of Las Vegas is never far away, with all the action you need and the main attractions nearby. One standout feature is the hotel's non-smoking policy within the MGM, a rare plus for Vegas.
Cool and Unique Hotel
A cool and unique boutique hotel can often be defined by its individuality, capturing a distinct character and sense of place that sets it apart from larger, more generic establishments.
These hotels often meld design and hospitality in ways that reflect the spirit of their location, offering a deeper, more personal connection to the city or neighbourhood.
Aloft Henderson
Address: 2631 St. Rose Parkway, Henderson, Las Vegas, United States
Location: Southfork
Aloft Henderson provides an intriguing blend of comfort, style, and fun. Its rooms are clean and cosy, and the hotel also hosts a fantastic workout facility for those looking to stay active during their travels. But what truly sets it apart is the lively lobby area, complete with games, a pool table, and cosy booths that add a touch of enjoyment to your stay. This stylish design extends to the room, where the comfortable bedding invites a restful night's sleep. The staff are friendly and attentive, adding to the overall excellent service. Given the quality on offer, the pricing is more than fair.
Luxury Boutique Hotel
A luxury boutique hotel serves as a sweet spot between opulence and personalised service, which truly sets it apart. At these hotels, you can expect high-end finishes and attention to detail in design, giving them a unique flair that you might not find in larger luxury chains.
Delano Las Vegas at Mandalay Bay
Address: 3950 Las Vegas Boulevard South, Las Vegas, NV
Location: Las Vegas Strip
Delano Las Vegas adds a touch of sophistication to your Las Vegas experience. The rooms are spacious, spotless and well equipped, with thoughtful touches such as a white noise machine and air filter enhancing the comfort. The suite's layout, featuring a second room with a sofa and desk, allows you to truly spread out and enjoy your stay. The hotel's ambience is pleasant, and its location is exceptionally convenient for exploring the city.
Where to Stay in Las Vegas
1. The Strip: Known as the heart of Las Vegas, The Strip is where you'll find the city's most iconic casinos, luxury hotels, and vibrant nightlife. It's perfect for visitors who want to be right in the action.
2. Downtown Las Vegas: This area is the historic centre of Las Vegas, offering a different vibe with its unique blend of vintage charm and modern entertainment. Here, you can enjoy the Fremont Street Experience, the Neon Museum and more local-oriented establishments.
3. Arts District: Nestled between The Strip and Downtown, the Arts District is a haven for culture and creativity. It's a hub for independent stores, cool bars, and art galleries, making it an appealing spot for those seeking a local experience.
4. Henderson: For those after a more relaxed, family-friendly stay in Las Vegas, Henderson is an excellent choice. It's further from the bustling Strip but offers beautiful parks, hiking trails, and local eateries.
5. Summerlin: This upscale neighbourhood is known for its golf courses, shopping, and access to beautiful natural parks like the Red Rock Canyon National Conservation Area. It offers a peaceful alternative for those thinking about where to stay in Las Vegas.
6. North Las Vegas: While it's a bit removed from the central action, North Las Vegas offers a more affordable stay with still easy access to the main attractions. It's also close to Nellis Air Force Base, making it a good spot for military families.
7. Paradise: Living up to its name, Paradise is home to many of the city's main attractions, including the University of Nevada, and a variety of restaurants, making it a good place for foodies.
So, depending on your preferences, there are plenty of areas to consider when choosing where to stay in Las Vegas. From vibrant nightlife to quiet natural retreats, Las Vegas truly has something for everyone.
Dive into my comprehensive guide that handpicks the best places to visit in Nevada, tailored to make your travels rewarding.
The Visit Las Vegas website is a valuable resource for more detailed information about visiting the city, especially when it comes to sightseeing, events, and other activities. I recommend using their services to ensure you have a well-rounded trip. It's especially useful for finding shows and events.
Responsible Travel Tips
Here are a few ideas on how we can travel more responsibly in Las Vegas. Keep in mind Las Vegas might not be the most sustainable of destinations, given its desert location and limited water availability.
Renewable Energy: Support businesses that use renewable energy. Many hotels in Las Vegas run on solar power. By choosing these, you're somewhat supporting a greener Las Vegas.
Minimising Food Waste: Be mindful of portion sizes when eating out, as Las Vegas is known for its generous servings. If you can't finish, take leftovers away in reusable containers. Avoiding buffets can also help, as these are often wasteful.
Sustainable Diets: Opt for plant-based meals. Las Vegas has a growing number of restaurants serving vegan and vegetarian dishes, reducing the carbon footprint of your meals.
Sustainable Transport: Use public transportation or walk when possible. The Monorail and the Deuce bus service are great ways to get around the Strip and downtown Las Vegas, reducing your carbon footprint.
Avoiding Flying: Consider ground transportation when travelling to or from Las Vegas. If you're nearby, drive or take a train instead of flying to reduce emissions.
Supporting the Local Community: Shop at local businesses and eat at local restaurants. In areas like the Arts District and Fremont East, you can support the community by buying local arts, crafts, and food.
FAQ
What is the best area to stay in Las Vegas?
There's no one-size-fits-all answer, as it depends on your preferences. The Strip is great for those seeking the full Vegas experience, with its shows and top-tier restaurants. The Arts District is a quieter, creative neighbourhood with indie galleries and craft breweries.
Are there any boutique hotels in Las Vegas?
Yes, indeed! Las Vegas has several boutique hotels that provide a unique and personalised experience. For example, the English Hotel and NoMad Las Vegas are top choices.
What should I consider when choosing a hotel in Las Vegas?
Consider factors like location, the amenities offered, the type of experience you want, and your budget. Reviews and ratings from previous guests can also give you a good idea of what to expect.
How can I get around in Las Vegas?
Las Vegas has several transportation options. You can rent a car, take a taxi, or use rideshare apps. Consider using public transport like the Deuce bus or Monorail for sustainable travel. Walking is also a great option, especially along the Strip.
Happy travels, and enjoy discovering the many faces of Vegas!
If you have questions or want to leave a hotel review, please do so in the comments.
—
Recommendations are independently chosen based on personal travel experiences and extensive research. This post contains affiliate links to hotels in Las Vegas, United States. This means I get a small commission from any bookings at no extra cost to you.