Recommendations are based on personal travel experiences and research. If you book through links on our site, we may earn a commission at no extra cost to you.
—
As a seasoned traveller, I've seen the appeal of Houston firsthand. It's not just the space city; it's an impressive mix of urban landscapes, compelling museums, and remarkable gastronomy, all couched in the warm, Southern hospitality.
In this guide, I share a list of the best boutique hotels in Houston, which merge comfort, style, and a unique taste of the city.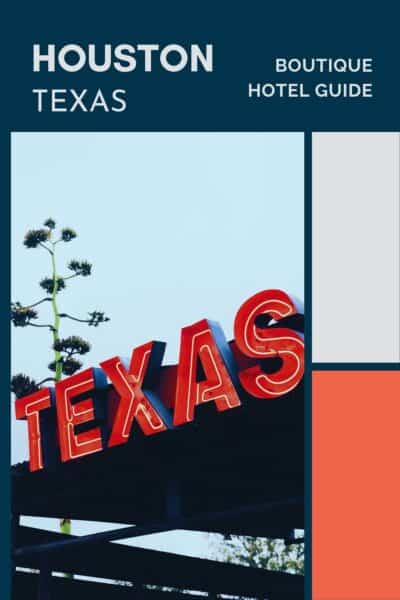 Boutique Hotels in Houston
Choosing the right district for your stay is critical to the Houston experience.
Downtown Houston is a bustling hub of activity with key attractions such as the Theatre District and the impressive skyline, serving as the heart of this vibrant city.
On the other hand, the Montrose district brims with eclectic charm, art galleries, unique shops, and lively nightlife, offering a contrasting yet equally attractive choice.
My top hotel pick is in West Oaks, but if you prefer to stay in Downtown Houston, one of the hotels below would be better suited.
Top Pick
The Post Oak Hotel
Address: 1600 West Loop South, Houston, Texas
Location: West Oaks
If you're someone who appreciates attentive service and attention to detail, the Post Oak Hotel, will likely expectations. The property radiates elegance and modernity, with friendly staff and well-appointed rooms adding to its appeal. However, considering the high-end pricing, it's fair to say that expectations run equally high, a challenge this elite establishment meets with aplomb.
Features:
Cool and unique design.
Stylish rooms with ample natural light.
Huge selection for breakfast.
Stunning lobby, lounge and bar areas.
Ideal central Downtown location.
Exceptional attention to detail and service.
Pros: Prime location; exceptional staff; pristine, stylish rooms; top-notch dining; meticulous attention to detail.
Cons: Lack of sustainability initiatives.
Check Availability
To further enrich your Houston visit, I've got a few more boutique hotel suggestions up my sleeve.
These selections shine in terms of location, unique style, and commitment to sustainable practices.
Each one brings its own distinctive charm and personality to the fore, setting them apart in the bustling Houston hotel scene.
Next Best
Hotel ZaZa
Address: 9787 Katy Freeway, Houston, TX
Location: Memorial City
Situated within 3 km of Downtown, Hotel ZaZa extends its charm with its strategic location and delightful offerings. The rooms are impeccably clean and quiet, made even more inviting with the thoughtful evening delivery of ice and cookies. It's surrounded by a variety of restaurants, and the on-site dining is commendable, while the overall aesthetics of the property and rooms are engaging and pleasing. The entire setup at Hotel ZaZa effortlessly brings together comfort and style, making it a delightful choice for your stay in Houston.
Cool and Unique Hotel
A cool and unique boutique hotel is distinguished by its attention to detail, authenticity, and personal touch.
It's a place where design and service intertwine to create a bespoke atmosphere steeped in local culture and aesthetics.
Rather than conforming to a standard template, these establishments celebrate their individuality, making each stay different from the last.
Opting for a unique hotel can infuse your travel experience with character and charm, adding an extra layer of fun to your exploration of a city.
Magnolia Hotel Houston
Address: 1100 Texas Avenue, Houston
Location: Downtown Houston
The Magnolia Hotel Houston mark with its central downtown location, historic beauty, and modern, clean rooms. The rooms are spacious and well-appointed, complete with efficient lighting and ready access to drinks and snacks. Its location is a boon for those seeking the buzz of Houston, with restaurants, entertainment venues and more within walking distance. The hotel stands out for its delicious breakfast and panoramic rooftop views.
Eco-Friendly Hotel
An eco-friendly hotel is an excellent choice for the environmentally-conscious traveller.
They emphasise sustainability through practices such as efficient energy use, waste reduction, and locally sourced food, creating a minimal ecological footprint.
By choosing to stay in such establishments, you actively contribute to environmental preservation.
It's a rewarding way to travel, knowing that your stay aligns with your values and promoting a sustainable future while enjoying the comforts of hospitality.
The Laura Hotel
Address: 1070 Dallas Street, Houston, United States
Location: Downtown Houston
Located in Downtown Houston, the Laura Hotel is an excellent example of sustainable hospitality. The hotel stands out with its elegant rooms, comfortable beds, and remarkable views of Houston's financial districts. The friendly and helpful staff complement its pleasant aesthetic and great vibe, exceeding standard expectations. The Laura Hotel's eco-friendly features, such as the use of energy-efficient LED lighting, sourcing 100% renewable electricity, and providing an electric car charging station, clearly demonstrate its commitment to sustainability. The availability of vegetarian menu options also adds to its eco-conscious appeal, making it an ideal choice for the environmentally mindful traveller.
Luxury Boutique Hotel
A luxury boutique hotel encapsulates the best of both worlds – the intimate, personalised service of a boutique establishment and the exquisite comfort and high-end amenities of a luxury hotel.
These hotels focus on creating an environment of opulence and refinement while ensuring each guest feels individually catered to.
Choosing a luxury boutique hotel adds a distinct layer of indulgence to your travels, turning a mere stay into a sublime experience where every detail is meticulously curated for your enjoyment.
It's not just about the plush comforts but also the unique ambience and top-tier service that sets these establishments apart.
La Colombe d'Or Hotel
Address: 410 Montrose Boulevard, Houston, TX, USA
Location: Montrose
This hotel combines luxury with convenience, offering a desirable location within a 15-20 minute reach of key city attractions and only a five-minute stroll from the main restaurant area in Montrose. The hotel's superior service is backed by an excellent pool, a cocktail bar, and an array of amenities that enhance your stay. You'll appreciate the hotel's distinct, eclectic decor, open spaces, and serene neighbourhood setting with the bonus of a balcony. Beyond luxury, La Colombe d'Or shows a commitment to sustainability, sourcing most food locally, reducing food waste, using energy-efficient lighting, and providing an electric car charging station.
The Lancaster Hotel
Address: 701 Texas Avenue, Houston, Texas
Location: Downtown Houston
Situated in Houston's vibrant Theatre District, The Lancaster Hotel presents a unique fusion of history and luxury, recognised as both a Texas Historical Landmark and a Historic Hotel of America. With a beautiful interior, this boutique hotel lives up to its status. The staff are attentive, the service delightful, and the rooms simply sumptuous. While I'd recommend this hotel for its location, staff, and cleanliness, it's also worth noting the somewhat corporate atmosphere. That being said, The Lancaster is strongly committed to sustainability, sourcing most of its food locally, reducing food waste, and using energy-efficient lighting. They even cater to various dietary preferences with vegetarian and vegan menu options available.
Where to Stay in Houston
Downtown Houston: Known as the heart of the city, Downtown Houston is an ideal place to stay, hosting a mix of business centres and entertainment venues. It's a stone's throw away from many attractions like Minute Maid Park and the Theatre District.
Montrose: With a unique cultural flavour, Montrose hosts independent stores, eclectic boutiques, and art galleries. It's also a great area for foodies, with a selection of hip bars and diverse restaurants.
The Museum District: Here, you'll find some of Houston's top cultural institutions, including the Houston Museum of Natural Science. It's a great choice if you're interested in history, art, or science.
The Galleria Area: For those who love shopping, staying near The Galleria, Houston's biggest mall, would be a smart choice. It's not only about shopping; great restaurants and other attractions are nearby.
Houston's Theatre District: If you're a fan of the arts, the Theatre District is a fantastic option. Resident opera, ballet, music, and theatre companies are here.
Memorial City: Conveniently located within reach of both downtown and The Galleria, Memorial City also hosts its own set of attractions, including CityCentre, a place known for its dining and entertainment options.
The Heights: A quaint, historic neighbourhood known for its charming bungalows, vibrant street art, and an abundance of green spaces. This district also has a bevy of cool bars and cafés.
So, when considering where to stay in Houston, these areas certainly have a lot to offer. Each one has a distinct vibe and appeals to different interests, ensuring a diverse experience of the city.
Check out my comprehensive guide detailing the best places to visit in the United States, packed with useful information for planning your ideal trip.
For further insights into visiting the city, Visit Houston can be a valuable resource, providing ample information on things to do, sightseeing opportunities, and upcoming events. It's an essential tool when looking to make the most of your stay.
Responsible Travel Tips
Here are a few ideas on how we can travel more responsibly in Houston.
Renewable Energy: Consider staying at hotels that utilise renewable energy sources. Houston has a thriving renewable energy sector, with many establishments embracing this eco-friendly approach.
Minimise Food Waste: Order only what you can eat when dining out at Houston's various eateries to prevent unnecessary food waste. Leftovers can often be taken away for the next meal.
Sustainable Diets: Seek out restaurants and food markets that offer locally sourced, organic, vegetarian, or vegan options. Houston's culinary scene is diverse, and many venues prioritise sustainable practices.
Sustainable Transport: Use public transportation like Houston's MetroRail and Metro buses, or choose to walk or cycle where possible. Car sharing is also a popular, more sustainable alternative to car hire.
Avoid Flying: If you're in Texas or a neighbouring state, consider alternative modes of transport to flying. Trains, buses or driving could be an adventure in themselves.
Support the Local Community: Shop at local businesses, and consider visiting Houston's various local arts, crafts, and farmers markets. This gives you a taste of the city's culture and helps support the local economy.
FAQ
What's the best area in Houston to find a boutique or luxury hotel?
Many boutique and luxury hotels are concentrated in Downtown Houston and the Museum District, with the Theatre District being particularly notable for its range of upscale boutique options.
What should I look out for when selecting a hotel in Houston?
Key factors to consider are location relative to the attractions or areas you plan to visit, the hotel's amenities, and any special features that are important to you, like a gym, pool, or certain sustainable practices.
What is there to do in Houston?
Houston is packed with cultural attractions, from the NASA Space Center and the Houston Museum of Natural Science to the vibrant arts scene in the Theatre District. Its restaurant scene is renowned, and there's a host of parks and outdoor spaces to explore.
Is Houston easy to get around?
Yes, it is. While driving is a common mode of transport in Houston, the city also has an extensive bus and light rail system that reaches most major attractions and neighbourhoods.
Choosing the right boutique hotel in Houston depends on what you're after. Downtown is an excellent pick for those looking for a lively urban experience, whilst the Museum District is ideal for those who enjoy a bit of culture and history.
Each hotel will have its own unique charm and amenities, so take your time and find a spot that suits your style and needs.
If you have questions or want to leave a hotel review, please do so in the comments.
—
Recommendations are independently chosen based on personal travel experiences and extensive research. This post contains affiliate links to hotels in Houston, Texas. This means I get a small commission from any bookings at no extra cost to you.