Recommendations are based on personal travel experiences and research. If you book through links on our site, we may earn a commission at no extra cost to you.
—
Cincinnati is a thriving metropolis known for its rich history and vibrant arts scene. As home to celebrated institutions such as the Cincinnati Art Museum, the National Underground Railroad Freedom Centre, and the iconic Cincinnati Zoo, it's a destination that never fails to delight.
In this article, I'll delve into a handpicked selection of the best boutique hotels in Cincinnati, providing you with a reliable roadmap to a comfortable stay in Cincinnati.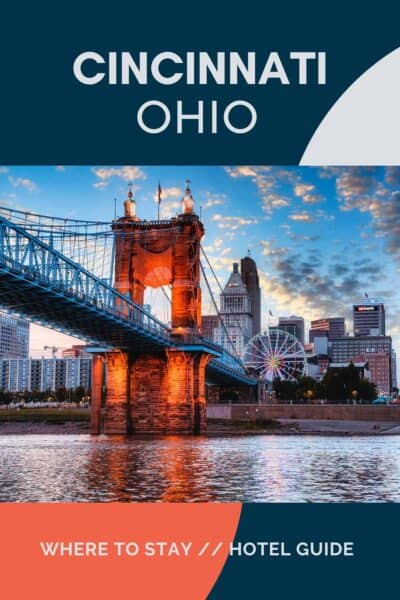 Boutique Hotels in Cincinnati
Finding the right hotel starts with choosing your ideal location.
Downtown Cincinnati, the city's heart, is teeming with life, featuring premier attractions like the Great American Ball Park and the Contemporary Arts Centre.
On the other hand, Over-the-Rhine, a historic neighbourhood, is a hub for hip cafes, local boutiques and lush parks, including the beloved Washington Park.
My top hotel pick is located in the Downtown area, but several other hotels are listed below, located in different districts.
Top Pick
Kinley Cincinnati Downtown
Address: 37 West 7th Street, Cincinnati
Location: Downtown
The Kinley is located smack bang in the city centre, perfectly positioned to explore popular spots like the Freedom Centre, Great American Ball Park and Paul Brown Stadium. The rooms are modern, spacious and comfortable, and the staff – always polite and friendly – are clearly dedicated to ensuring a great experience for guests.
Features:
Cool and unique design.
Stylish rooms with ample natural light.
Huge selection for breakfast.
Stunning lobby, lounge and bar areas.
Ideal central Downtown location.
Sustainability:
Kinley uses 100% renewable electricity.
Energy-efficient heating and cooling system.
Measures in place for food waste reduction.
The restaurant prioritises sustainable and locally-sourced food.
Vegetarian and vegan menus are available.
Use of recycled and eco-friendly paper products.
Pros: Central location; friendly staff; spacious, modern rooms; commitment to sustainability; support for local community and artists.
Cons: Potential for city centre noise; amenities vary by room type.
Check Availability
While Kinley Cincinnati Downtown is a top pick, there are a few other boutique hotels you might find appealing for their unique flair, location or commitment to eco-friendliness.
Next Best
Hotel Covington Cincinnati Riverfront
Address: 638 Madison Avenue, Covington, KY
Location: Covington
Set just across the river in Covington, this hotel has stylish architecture and a unique vibe, thanks to its past life as a department store. The place brims with charm and functionality, showcasing a lofty atrium, generous spaces to relax, and huge, clean rooms with delightful features like eggplant walls and an excellent minibar. The Hotel Covington is well-situated, even away from the riverside, and the valet service is a nice touch. Their staff are friendly and efficient, and the on-site bar and food services are top-notch.
Cool and Unique Hotel
For an intriguing stay, a boutique hotel can add a unique dimension to your travels.
These establishments typically display distinctive architecture, rich local history, and customised services that set them apart from conventional chain hotels.
The charm of a boutique hotel lies in its fusion of authenticity and comfort, often presenting a refreshing blend of modern facilities within a characterful setting.
Graduate Cincinnati
Address: 151 Goodman Street, Cincinnati, OH, USA
Location: Corryville
The bright, funky design of the Graduate Cincinnati adds a touch of fun to it, making it feel like a cross between a museum and an amusement park. The rooms are comfortable, and the breakfast, especially the vegetarian burrito, is well-reviewed. The staff at the hotel and Poindexter Coffee were quick, friendly, and efficient. The hotel's close proximity to the University of Cincinnati and easy parking add to its convenience.
Eco-Friendly Hotel
An eco-friendly hotel can be an excellent choice for those who value green practices.
Such hotels are designed to minimise their environmental impact through energy efficiency, waste reduction, and resource conservation.
When you choose to stay in an eco-friendly hotel, you secure comfortable lodging and contribute positively to the environment.
The Lytle Park Hotel
Address: 311 Pike Street, Cincinnati, United States
Location: Downtown
The Lytle Park Hotel is an eco-conscious choice nestled in the historic part of Cincinnati. Not only does the property make significant strides in sustainability by using energy-efficient LED lighting and sourcing 100% renewable electricity, but it also supports local food producers and offers vegetarian and vegan menu options. The hotel itself exudes luxury with clean, great rooms, an incredible rooftop bar with views of the Cincinnati skyline, and the in-house restaurant Subito, which comes highly recommended. What sets The Lytle Park Hotel apart is its staff, who are both efficient and extremely friendly and accommodating.
Luxury Boutique Hotel
A luxury boutique hotel can be an excellent choice for a truly indulgent getaway.
These hotels are typically characterised by their high-end amenities, bespoke service, and exclusive, often designer, environments.
Opting for a luxury boutique hotel ensures a unique experience, as each one tends to have its own distinctive style and personality.
You can expect superior comfort, meticulous attention to detail, and a strong focus on providing a personalised guest experience that makes your stay feel extra special.
21c Museum Hotel Cincinnati
Address: 609 Walnut Street, Cincinnati, OH, United States
Location: Downtown
The 21c Museum Hotel stands proudly in the city's heart, steps away from the Aronoff Center for the Arts. The art doesn't stop at the doorstep; it permeates the building, making your stay feel like a personalised art exhibit. The staff's friendliness and efficiency will make you feel well taken care of. The restaurant delivers on taste with locally sourced food and tries to reduce food waste. They even cater to dietary preferences, with vegetarian and vegan options available. The rooms are upscale yet comfortable, delivering on the promise of luxury. Light floods in, illuminating energy-efficient LED bulbs, and the location provides proximity to all that Cincinnati has to offer.
Where to Stay in Cincinnati
Downtown Cincinnati: Central to Cincinnati, it's a hub for business, entertainment and shopping. It's where you'll find the Great American Ball Park and Paul Brown Stadium. Home to a myriad of hotels like the Kinley Cincinnati Downtown and 21c Museum Hotel Cincinnati, it's an ideal spot when deciding where to stay in Cincinnati.
Over-the-Rhine (OTR): Known for its historic architecture, it's brimming with local shops, breweries, and music venues. The neighbourhood's vibrant street murals and food scene will keep you busy.
Mount Adams: Perched atop a hill, this quaint neighbourhood offers stunning views of the city and the Ohio River. You'll also find the Cincinnati Art Museum and Eden Park.
Hyde Park: This is the spot if you love green spaces and local boutiques. It's a charming, leafy neighbourhood with independent stores and an array of cafes.
Clifton: Perfect for those who enjoy an academic atmosphere, this neighbourhood houses the University of Cincinnati and the Cincinnati Zoo and Botanical Garden.
Covington: Situated across the Ohio River, it offers a quieter stay with beautiful river views. It's located at Hotel Covington Cincinnati Riverfront, combining style with a cool, old-school vibe.
Northside: Known for its artsy vibe, this eclectic neighbourhood houses several unique shops and trendy bars. If you're a music fan, you'll find a strong local music scene here.
The Banks: A lively area by the river between the Great American Ball Park and Paul Brown Stadium, featuring bars, eateries and green spaces. Great spot for sports fans and those who enjoy an energetic night scene.
Remember, no matter where you choose to stay, you're only a short ride away from all Cincinnati has to offer!
You'll find my comprehensive guide to the best places to visit in the United States invaluable in planning your perfect trip across this vast and diverse country.
For more insights into what Cincinnati has to offer, especially regarding sightseeing, events, and activities, I suggest checking out Visit Cincy. They provide valuable information that can enhance your visit to the city.
Responsible Travel Tips
Here are a few ideas on how we can travel more responsibly in Cincinnati.
Renewable Energy: Opt for accommodations committed to sustainable practices, like using energy-efficient LED bulbs or sourcing 100% renewable electricity. In Cincinnati, some hotels have these practices in place.
Minimising Food Waste: When dining out, order what you can consume and consider taking leftovers home, as many restaurants in Cincinnati provide eco-friendly takeaway containers.
Sustainable Diets: Choose local, seasonal, and plant-based options where possible. Cincinnati has a variety of farmers' markets where you can sample locally sourced produce and goods.
Sustainable Transport: Make use of Cincinnati's public transport system or hire a bike for short distances to limit your carbon footprint. The city also has numerous walking tours that let you explore while keeping emissions low.
Avoiding Flying: If you're within a reasonable distance, consider alternatives to flying, such as trains or coaches. This will significantly lower your carbon emissions.
Supporting the Local Community: Local artisans and small businesses in Cincinnati are supported by local shopping. This strengthens the local economy and reduces the carbon footprint associated with shipping goods from afar.
FAQ
What's the best area in Cincinnati for tourists to stay in?
The Downtown area is typically the most convenient for visitors, as it's close to major attractions and has a variety of dining and entertainment options. Covington, on the Kentucky side of the river, is another excellent option, particularly for those seeking boutique hotels. Over-the-Rhine is a vibrant neighbourhood known for its historic architecture, independent shops, and lively food scene.
What types of hotels are available in Cincinnati?
Cincinnati offers a wide range of accommodations to suit all preferences and budgets. You'll find everything from luxury and boutique hotels, such as 21c Museum Hotel Cincinnati and The Lytle Park Hotel, to unique options like Graduate Cincinnati.
What can I expect from the hotels in Cincinnati?
Hotels in Cincinnati often stand out for their commitment to exceptional service and comfort. Many hotels are noted for their distinctive decor, friendly staff, and a range of amenities such as on-site dining, fitness centres, and in some cases, art galleries. Sustainability efforts are also increasingly common, with properties featuring energy-efficient lighting and locally sourced food options.
Final Thoughts
Navigating your stay in Cincinnati, you'll discover it's a city that caters to all types of travellers. Boutique hotels give a unique charm, injecting character and flair into your experience.
Sustainability is a growing focus in the city's hospitality sector, and luxury options deliver high standards of service and comfort.
Every neighbourhood adds a unique twist to your visit, so choosing where to stay in Cincinnati is a chance to personalise your trip.
If you have questions or want to leave a hotel review, please do so in the comments.
—
Recommendations are independently chosen based on personal travel experiences and extensive research. This post contains affiliate links to hotels in Cincinnati, United States. This means I get a small commission from any bookings at no extra cost to you.