Recommendations are based on personal travel experiences and research. If you book through links on our site, we may earn a commission at no extra cost to you.
—
Gazing upon the charming cobblestone streets and grand mansions of Charleston, South Carolina, I'm reminded why this historic city, steeped in Southern hospitality, is an experience few should miss.
Warm as the sultry summer air, Charleston brims with a rich tapestry of American history and beautiful gardens.
In this guide, I'll lead you through the winding alleyways of Charleston, sharing the hidden charms of the city's best boutique hotels.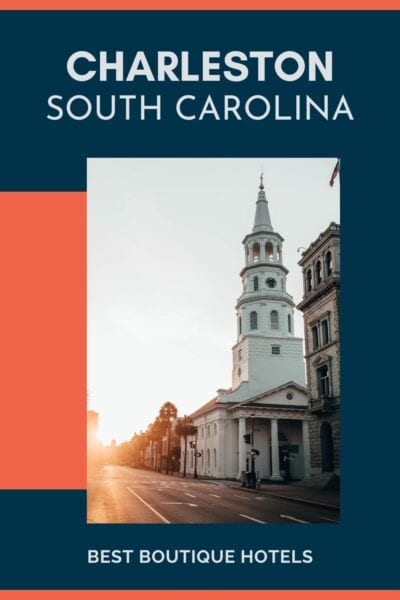 Boutique Hotels in Charleston
When booking a hotel, a top consideration is which area you'd fancy staying in.
The Historic District, the heart of Charleston, teems with rich history, stunning architecture and plenty of eateries to satisfy your foodie cravings.
On the other hand, King Street is the go-to spot for those seeking a lively cafe culture, an eclectic array of independent stores and cool bars that promise a fun-filled night.
For visitors looking to capture the essence of Charleston, staying in the Historic District will truly immerse you in the city's unique charm.
Top Pick
The Pinch Charleston
Address: 40 George Street, Charleston
Location: Historic District
The Pinch Charleston is a remarkable find where historic charm meets modern luxury. Nestled right in the heart of the city yet maintaining a serene ambience, it welcomes you with spacious rooms that blend luxurious interiors with the allure of an old-world setting. The hotel's design radiates trendy sophistication, complemented by a beautiful outdoor courtyard, complete with an open fireplace, perfect for winding down after a day of exploration. The friendly staff and comfy rooms round out what is a truly cosy, excellently located boutique experience.
Features:
Cool and unique design.
Stylish rooms with ample natural light.
Huge selection for breakfast.
Artwork by local artists is displayed.
Walking distance to numerous attractions, including Marion Square and Wragg Square.
Sustainability:
Energy-efficient lighting.
Measures in place for food waste reduction.
Most food is organic and locally sourced.
Arrangement of tours led by local guides.
Pros: Superb location for exploring historic Charleston. Luxurious, spacious rooms in a historic setting. Trendy yet sophisticated design. Warm, friendly staff. Tranquil outdoor courtyard with open fireplace.
Cons: It can be busy during peak seasons.
Check Availability
Though The Pinch Charleston stands out for its historical allure and prime location, a wealth of other boutique accommodations might catch your interest.
Based on various factors like their unique styles, green credentials or locations, I'll be highlighting a few other gems that could make your stay in Charleston extra special.
Next Best
Hotel Emeline
Address: 181 Church Street, Charleston, South Carolina
Location: Historic District
Dropping your bags at Hotel Emeline, you'll find yourself enveloped in an atmosphere of charm, its fabulous decor and thoughtful touches setting a high standard. Perfectly situated for convenience, everything you need is within reach, making it easy to soak in the best Charleston has to offer. The rooms are adorably decorated to echo the lobby's theme, creating a cohesive aesthetic throughout. The friendly front desk staff are always at the ready, eager to enhance your stay. The meticulous attention to design and detail make it a place you'll want to revisit. Absolutely worth it, Hotel Emeline leaves a lasting impression.
Cool and Unique Hotel
A unique boutique hotel stands out like a lighthouse in the sea of hospitality. These hotels are designed with a personal touch, setting them apart with their individual character and style.
Instead of a one-size-fits-all approach, boutique hotels focus on providing a distinctive experience that reflects the locale's culture or history, and each one has a distinct personality.
The Palmetto Hotel
Address: 194 East Bay Street, Charleston
Location: French Quarter
Taking a leap on the Palmetto Hotel in Charleston, you're in for an experience like no other. It's the kind of place that, while perhaps a bit of a splurge, leaves you feeling it was worth every cent. The Palmetto radiates charm and tranquillity, a peaceful sanctuary amidst the city's hustle and bustle. Its great central location brings the city's attractions right to your doorstep. The staff are nothing short of brilliant, offering helpful guidance throughout your stay. The clean, comfortable surroundings reflect downtown Charleston's quaint charm, making your time at the Palmetto a highlight of your trip.
The Loutrel
Address: 61 State Street, Charleston, SC
Location: French Quarter
Stepping into the Loutrel, you're greeted by a perfect blend of elegance and comfort, its fantastic staff ready to make your stay extra special. The hotel enjoys a wonderful position right in the heart of Charleston, with everything you want to see just a stone's throw away. Thoughtful details pepper your stay, from arrival cocktails to delightful snacks in your room, not to mention the 24-hour complimentary beverages. Enjoy an extensive breakfast offering, or savour the delight of a happy hour on the rooftop terrace. Large rooms and immaculate bathrooms add a touch of luxury. The staff consistently go above and beyond, their kindness and professionalism enhancing your stay.
Eco-Friendly Hotel
Opting for an eco-friendly or sustainable hotel is a brilliant way to leave a softer footprint during your travels. These accommodations focus on minimising their environmental impact, using strategies such as energy-saving technologies, waste reduction measures, and sourcing locally grown, organic food.
The Dewberry Charleston
Address: 334 Meeting Street, Charleston, United States
Location: Historic District
Returning to the Dewberry is like reuniting with a dear friend. With each stay, it's evident that the staff's warm, accommodating service is truly exceptional. The rooms are just wonderful, adding to the overall comfort and appeal. For the environmentally conscious traveller, you'll be pleased to know it holds a high sustainability rating, a nod to its dedication to eco-friendly practices. Whether celebrating a special occasion or simply seeking a quality stay, the Dewberry Hotel ticks all the boxes, presenting a five-star service with great food and drink.
Luxury Boutique Hotel
Luxury boutique hotels are an excellent choice for travellers seeking a stay that's a cut above the ordinary. These places take pride in providing excellent service, from when you walk through the doors to when you bid goodbye.
The Spectator Hotel
Address: 67 State Street, Charleston, SC, USA
Location: French Quarter
Staying at the Spectator Hotel, you'll feel enveloped in luxury. The attention to detail is excellent, with spacious rooms that are meticulously clean and peppered with complimentary snacks for an extra touch of indulgence. The location couldn't be more convenient, with the historic French Quarter, the vibrant King Street and an array of restaurants practically on the doorstep. There's nothing to fault with the Spectator; it's a standout choice for a touch of luxury in Charleston.
Where to Stay in Charleston
Downtown Charleston: This is the place where history comes alive. You'll find 18th-century homes, narrow cobblestone streets and horse-drawn carriages, which create an undeniable charm.
French Quarter: A popular neighbourhood in the historic district, French Quarter offers an array of art galleries, shops, and restaurants. The area's character is just waiting to be discovered.
Cannonborough/Elliotborough: A bit off the beaten track, but this area is vibrant and diverse with a collection of indie shops, cool bars, and fantastic food joints.
Ansonborough: This area is loaded with green spaces and beautiful historic homes. It's a quieter part of town, which can be a nice change of pace.
Harleston Village: Home to the College of Charleston, this neighbourhood has a youthful vibe with its college crowds, sports venues and coffee shops.
South of Broad: As the name suggests, this area is located south of Broad Street and is considered one of Charleston's poshest neighbourhoods. It's home to gorgeous houses, iconic landmarks, and leafy streets.
Radcliffeborough: An eclectic mix of students, professionals and families call this neighbourhood home. It's packed with historic homes, local restaurants, and easy access to Marion Square.
In deciding where to stay in Charleston, SC, consider your interests, budget and vibe you're looking for. Each neighbourhood has its own distinct charm, so you're bound to find something that suits you.
To truly experience the magic and charm of the area, don't miss out on my comprehensive guide to the best places to visit in North Carolina, filled with hidden gems and iconic sights.
For an even more in-depth understanding of the city's offerings, the tourist office is a fantastic resource, especially when it comes to sightseeing, events, and engaging activities.
Responsible Travel Tips
Here are a few ideas on how we can travel more responsibly in Charleston, South Carolina.
Use of renewable energy: Opt for hotels committed to using renewable energy sources or at least taking part in energy-saving initiatives. Charleston has a sunny climate, so there are numerous places taking advantage of solar energy.
Minimising food waste: Enjoy the local cuisine and be mindful of your portions. Charleston has a vibrant food culture, but avoiding ordering more than you can consume is important.
Sustainable diets: When dining out, go for plant-based or locally sourced options. Charleston is renowned for its farm-to-table restaurants, which support local agriculture.
Sustainable transport: Explore Charleston by walking, cycling or using public transport. The city's size makes navigating on foot or by bike easy, reducing your carbon footprint.
Avoid flying where possible: Consider alternatives to flying if you're travelling within a reasonable distance. Trains or buses are a great way to witness the landscape while journeying to or from Charleston.
Supporting the local community: Engage with local businesses and artisans to support the local economy. Charleston is brimming with independent stores and markets showcasing locally-made products.
Respect the environment: Charleston's beautiful beaches and parks are a major draw. Make sure to leave them as you found them, not leaving any litter behind, and respecting wildlife.
Water conservation: Be mindful of your water usage, even when you're staying in a hotel. Shorter showers and not requesting daily linen changes can make a big difference.
FAQ
What makes a good boutique hotel in Charleston?
A good hotel in Charleston should provide excellent customer service, have a central location for easy access to local attractions, offer clean and comfortable rooms, and deliver a sense of local charm that resonates with Charleston's historic atmosphere.
Where's the best place to stay in Charleston for a first-time visitor?
First-time visitors often find the historic city centre, particularly the French Quarter, a great place to start. It's close to many of Charleston's iconic landmarks and museums, offering a taste of the city's rich history and vibrant culture.
What can I do during my visit to Charleston?
Charleston offers a wealth of experiences. You can explore historic sites like the Aiken-Rhett House, enjoy a stroll along the Waterfront Park, discover local cuisine at one of the many restaurants, or shop at independent stores on King Street.
Is it easy to get around in Charleston?
Yes, Charleston is quite compact and pedestrian-friendly, especially within the historic city centre. Walking or cycling is a great way to get around. There are reliable public transport options and plenty of taxis for longer distances.
In choosing a Charleston boutique hotel, remember to keep in mind the importance of location and personal preferences.
Charleston is teeming with unique, well-appointed design hotels that can enrich your stay, making you feel less like a tourist and more like a local in the heart of this historic city.
If you have questions or want to leave a hotel review, please do so in the comments.
—
Recommendations are independently chosen based on personal travel experiences and extensive research. This post contains affiliate links to hotels in Charleston, USA. This means I get a small commission from any bookings at no extra cost to you.