Recommendations are based on personal travel experiences and research. If you book through links on our site, we may earn a commission at no extra cost to you.
—
St Andrews is a charming coastal town located in the northeast of Scotland, known for its picturesque beaches, ancient ruins, and of course, golf.
St Andrews is unique in its status as the home of golf, with the iconic Old Course being a must-visit for any golf enthusiast.
In addition to golf, St Andrews also has a rich history, with landmarks such as the ruins of St Andrews Cathedral and St Andrews Castle.
If you're planning a visit to St Andrew's, I recommend staying in one of the boutique hotels in the area or choosing from my list of the best places to stay in St Andrews to fully immerse yourself in the town's charm and history.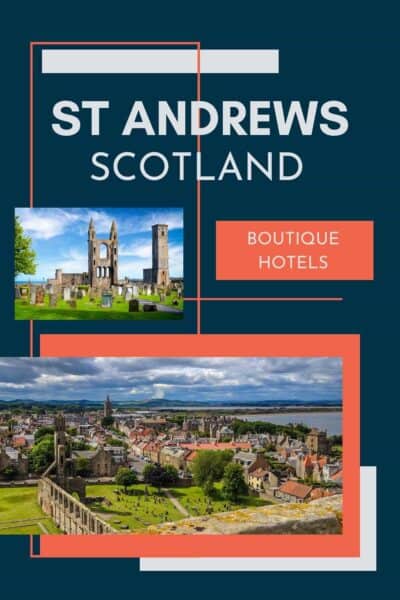 Places to Stay in St Andrews
A few come to mind when it comes to cool and interesting neighbourhoods to stay in St Andrews.
The West Port and South Street areas are perfect if you're looking for cafe culture and independent stores, while Market Street and Bell Street are known for their galleries, museums, and unique boutiques.
If you're interested in the lively bar scene, then North Street and Church Square are your best bets.
Generally, I would recommend staying somewhere near the Old Course or the university area as these are central and have a great mix of cafes, shops and pubs.
But if you're not set on staying in the city centre, then you might like to stay in St Andrews's most famous hotel.
Top Pick
Fairmont St Andrews
Address: Kingask, St Andrews, UK
At the Fairmont St Andrews, you'll find yourself immersed in luxury estate perched atop cliffs overlooking the enchanting St Andrews Bay. Indulge your palate with exquisite dining options, from the two restaurants, one with Scottish and the other with authentic Italian cuisine crafted by genuine Italian chefs. Enjoy a superb stay with unmatched room comfort, top-notch facilities, outstanding views and a breakfast that will leave you wanting more.
Features:
Cool and unique design.
Modern, clean rooms with large beds and sitting areas.
High-end amenities in the amazing bathrooms.
Ocean views rooms historic town and St Andrews Bay,
La Cucina serves authentic Italian recipes by authentic Italian Chefs. restaurant on-site.
Sustainability:
Independently certified sustainable hotel.
Fairmont St Andrews, Scotland uses 100% renewable electricity.
Organic food is available.
Most food is locally-sourced, reducing food miles and supporting local businesses.
Pros: Luxury on 520-acre estate atop cliffs overlooking St Andrews Bay. Exquisite dining, superb comfort, top-notch facilities, outstanding views.
Cons: Location slightly far from city center.
Check Availability
Although I firmly believe the Fairmont St Andrews is the best place to stay, I understand that preferences may vary, so I've also recommended a couple of charming boutique hotels in the area that you might find appealing.
Next Best
Rufflets St Andrews
Address: Strathkinness Low Road, St Andrews, UK
At the Rufflets St Andrews, you'll find a country house hotel with timeless charm amidst picturesque gardens. Experience a warm and welcoming atmosphere and the personalised service you'd expect in this kind of high-end boutique hotel.
Cool and Unique Hotel
When staying at a cool and unique boutique hotel, you can expect an intimate vibe infused with character and a distinct sense of place that sets it apart from larger properties.
You might appreciate my next hotel for its exclusive charm, bespoke design, and attentive, personalised service that creates a truly memorable experience.
The Arran
Address: 5 Murray Park, St Andrews, UK
At the Arran, you'll be able to relax in the recently renovated rooms that perfectly blend a contemporary twist with an idyllic garden setting and picturesque views. Located just 600 meters from West Sands Beach and 1.1 km from St Andrews East Sands Beach, this sustainable aparthotel has both convenience and comfort, including a delicious breakfast that's cooked to order. Experience exceptional service from the gracious host, who goes above and beyond to ensure your stay is nothing short of extraordinary.
Luxury Boutique Hotel
When opting for a luxury boutique hotel, you can anticipate an atmosphere of exclusivity, elegance, and personalised attention.
If you're a discerning traveller looking for a refined, intimate environment with exquisite design, impeccable service, and unforgettable experiences, then I highly recommend checking out my next hotel suggestion.
Haar with Rooms
Address: 1 Golf Place, St Andrews, UK
At the 5-star Haar with Rooms, you'll discover the epitome of luxury in the heart of St Andrews, just a short stroll from West Sands Beach and 1.4 km from St Andrews East Sands Beach. Enjoy a fully cooked traditional or vegetarian breakfast, and get a taste of the exquisite Scottish and local cuisine served at the on-site restaurant, which also caters to vegetarian, vegan, and dairy-free preferences. Unwind in your beautifully decorated room with a supremely comfortable bed, and indulge in the exceptional food and drinks that contribute to an unforgettable stay.
Eco-Friendly Hotel
When choosing a sustainable or eco-friendly hotel, you can look forward to a hotel experience that prioritises environmental responsibility and conscientious practices.
The following hotel has made steps towards reducing its ecological footprint, giving you the peace of mind that comes from knowing you're supporting a hotel that values the environment's wellbeing.
Hotel Du Vin
Address: 40 The Scores, St Andrews, UK
At Hotel Du Vin, you'll be a part of a greener accommodation experience, as this eco-friendly hotel proudly holds a Green Tourism certification, showcasing its commitment to sustainability. Rest assured that your stay contributes to a brighter future, as the property has undergone rigorous independent certification processes to validate its substantial efforts towards environmental responsibility and sustainability. This doesn't impact the rooms, which are beautifully presented, clean and comfortable.
Where to Stay in St Andrews
When considering where to stay in St Andrews, you'll want to explore neighbourhoods that have a perfect blend of culture, natural beauty, and vibrant entertainment. Or you might light to stay outside of the city centre in one of the historic hotels the region is known for.
Here's a list of areas that cater to those looking for a boutique hotel experience:
Central St Andrews: This area is ideal for its proximity to a rich variety of independent stores, galleries, and museums, as well as the town's lively cafe culture. Staying here will keep you close to the action and enable you to explore the town easily.
West Sands Beach: Choose this location if you're looking for a relaxing stay near the coast, with easy access to green spaces and stunning views. The area is also home to a few cool bars and nightlife spots, perfect for unwinding after a day of sightseeing.
East Sands Beach: Another beachfront location, East Sands Beach has a more laid-back atmosphere with plenty of green spaces, cafes, and local bars for an enjoyable evening out.
South Street: This vibrant street has a mix of cafes, shops, and galleries, providing a lively atmosphere for those who appreciate a bustling environment. South Street also has easy access to St Andrews University and the town's historic sites.
Market Street: This lively shopping area is perfect for those seeking a neighbourhood filled with boutique shops, cafes, and eateries. Staying here will give you a taste of the local culture and provide a unique St Andrews experience.
As you plan your stay, consider your preferences and choose the area that best suits your interests and travel goals.
Each neighbourhood in St Andrews has something unique to offer, ensuring a memorable experience tailored to your desires.
Discover the hidden gems and must-see attractions of Scotland with my comprehensive guide, as it leads you on a captivating journey through the country's rich history, stunning landscapes, and vibrant culture.
As you plan to explore St Andrews, Visit Scotland provides expert advice, local insights, and the essential information to ensure a seamless and relaxing experience.
Responsible Travel Tips
Many of us are increasingly concerned about climate change and sustainability. Here are a few ideas on how we can travel more responsibly in St Andrews.
Opt for renewable energy: Choose eco-friendly accommodations like the Hotel Du Vin, which holds a Green Tourism certification, ensuring that your stay contributes to sustainable practices.
Minimise food waste: Dine at restaurants that prioritise locally-sourced ingredients and sustainable practices. Inquire about portion sizes before ordering and consider sharing dishes to avoid unnecessary waste.
Embrace a sustainable diet: Enjoy the abundant fresh, local produce and seafood available in St Andrews. Visit farmers' markets and select eateries that showcase Scotland's sustainable culinary specialties.
Use sustainable transport: Explore the town on foot or by bike, as St Andrews is compact and easily navigable. You can also take advantage of the local bus system for longer distances or when the weather is less favourable.
Avoid flying: If possible, choose alternative means of transportation to reach St Andrews, such as trains or buses, which have a lower carbon footprint compared to flying.
Support the local community: Shop at local boutiques and markets, attend cultural events and engage with local artisans. By doing so, you contribute to the local economy and help preserve St Andrews' unique charm and heritage.
FAQ
What are some popular tourist attractions near St Andrews, and which hotels are located closest to them?
Many tourists visit St Andrews to play golf or explore historic landmarks like St Andrews Castle and St Andrews Cathedral. The Old Course at St Andrew's is also a popular attraction for golf enthusiasts. Several hotels are located near these tourist spots, such as Hotel du Vin St Andrews.
What is the best time of year to visit St Andrews, and what are the weather conditions like?
The best time of year to visit St Andrews is during the summer months (June to August) when the weather is warm and sunny, and the town is bustling with tourists. However, this is also the busiest time of year, and hotels can be expensive. Spring (March to May) and autumn (September to November) are also great times to visit, with fewer crowds and milder temperatures. Winter (December to February) is the least busy time of year, and hotels can be cheaper, but the weather is often cold and rainy.
Final Thoughts
When looking for the best places to stay in St Andrews, it's important to consider the hotel's location, amenities, and overall atmosphere.
Luxury and boutique hotels often have unique decor, personalised service, and a more intimate atmosphere than larger chain hotels.
When visiting St Andrews, be sure to explore the town's rich history and natural beauty, from the ruins of St Andrews Cathedral to the stunning beaches along the coast.
Whether you're a golf enthusiast, a history buff, or simply looking for a relaxing getaway, St Andrews has something for everyone.
If you have questions or want to leave a hotel review, please do so in the comments.
—
Recommendations are independently chosen based on personal travel experiences and extensive research. This post contains affiliate links to hotels in St Andrews, UK. This means I get a small commission from any bookings at no extra cost to you.