Recommendations are based on personal travel experiences and research. If you book through links on our site, we may earn a commission at no extra cost to you.
—
As a regular traveller, I've walked down the cobblestone streets of Oxford on several occasions. It's a place where the spires of ancient colleges tower above, creating a skyline like no other, and the River Cherwell calmly weaves its way through verdant parks.
In this guide, I'll share my picks of Oxford's best boutique hotels that promise a unique and comfortable stay in the city's heart.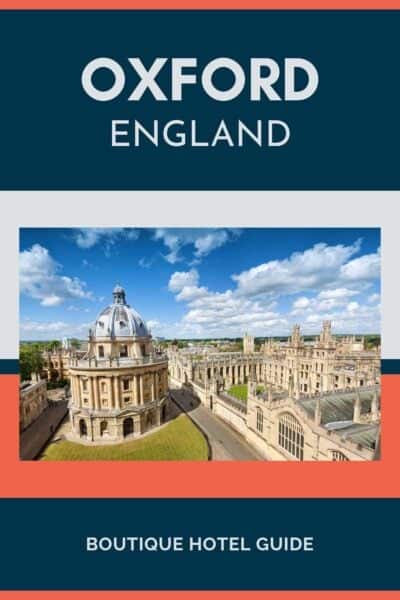 Boutique Hotels in Oxford
When choosing a hotel, your first consideration should be the district you'd most like to call home during your stay. You can't go wrong with Oxford's City Centre, steeped in academic historic, where historic colleges rub shoulders with centuries-old pubs.
Alternatively, just north of the centre, Jericho serves up a vibrant blend of indie boutiques, art-house cinema, trendy bars and lush parks.
If it's a mix of culture and relaxation you're after, make the City Centre your base for your trip to Oxford.
Top Pick
Malmaison Oxford
Address: 3 Oxford Castle, New Road, Oxford
Location: City Center
The Malmaison is the result of a a transformation of a Victorian prison into stylish boutique hotel within original architecture. You'll have the option to enjoy the hote's brasserie, two atmospheric bars and a choice of a full-cooked or continental breakfast each morning. With a spacious room, a great location, and a team of helpful staff, the entire experience is designed to be amazing.
Features:
Distinctive decor and design.
Stylish rooms with ample natural light.
Huge selection for breakfast.
Stunning lobby, lounge and bar areas.
Ideal central city centre location.
Sustainability:
Independently certified sustainable hotel.
Malmaison Oxford uses 100% renewable electricity.
Travel Sustainable Level 3+
Pros: Luxurious rooms, unique architectural charm, ideal location, helpful staff, sustainable credentials.
Cons: Potential noise from the bustling city centre.
Check Availability
In addition to my top pick, I will share a couple more boutique hotels in Oxford that are worth considering. Each has its unique appeal, be it a prime location, distinct style, or commitment to sustainability.
Next Best
Old Parsonage Hotel
Address: 1 Banbury Road, Oxford, England
Location: Oxford City Centre
Step into the rich history of Oxford at the Old Parsonage Hotel, a charming boutique hotel set in a building dating back to 1660. You'll find yourself in the heart of the city, just a 5-minute walk from Oxford city centre and a 17-minute walk from Oxford Train Station. The hotel provides modern comforts with two terraces, a new resident's garden library, a restaurant and a bar. At the Parsonage Bar & Grill, you can indulge in British classics with a modern twist from breakfast until late. The staff are exceptionally helpful and friendly, eager to make your stay as comfortable as possible.
Cool and Unique Hotel
A cool and unique boutique hotel can add an extra layer of interest to your stay. These hotels often feature a distinctive design and a personal touch that separates them from the typical chain hotel experience.
It's about finding a place that reflects the character of the location, providing an immersive, authentic stay. You might like the following unique hotel in Oxford.
Artist Residence Oxfordshire
Address: Station Road Mason Arms, Oxford, United Kingdom
Location: South Leigh
Venture just 15 minutes drive from Oxford city centre to the village of South Leigh, and you'll find the Artist Residence Oxfordshire, a cool and unique boutique hotel that's brimming with charm. Housed in a beautiful building, this interesting property exudes character, offering accommodations that range from cosy bedrooms to luxurious suites and even a converted Shepherd's Hut overlooking the herb garden for a truly unique stay. The hotel's pub and dining room, The Mason Arms, will treat your taste buds to seasonal British food, local ales, hand-crafted cocktails, and a variety of wines. When you're ready to explore, you'll find that you're just a short drive from notable Oxfordshire attractions like Blenheim Palace and Bicester Village.
Luxury Boutique Hotel
Opting for a luxury boutique hotel can truly elevate your stay. These properties typically provide a blend of high-end comfort and personalised service. They aim to make every guest's stay not just comfortable, but truly exceptional, prioritising both quality and individuality.
Staying in a luxury boutique hotel is about more than just accommodation; it's about indulging in an experience that enriches your journey, making your stay as exciting and fulfilling as the city you're exploring.
The Randolph Hotel
Address: Beaumont St, Oxford, United Kingdom
Location: City Centre
Nestled in the heart of Oxford, opposite the Ashmolean Museum, The Randolph Hotel provides a luxury stay. This boutique hotel is more than just its location; it's an oasis of comfort with sumptuous, well-equipped bedrooms that offer plenty of space to relax and unwind. You'll relish the opportunity to dine at The Randolph's restaurant, where a diverse range of European dishes caters to every palate. You'll find The University of Oxford Colleges just a stone's throw away, while the picturesque riverside and boathouses are merely a 15-minute walk away. Oxford Railway Station is conveniently half a kilometre away, making your travels seamless. The hotel's commitment to sustainability is notable, with most lighting throughout the property using energy-efficient LED bulbs and ongoing efforts to reduce food wastage. With its beautifully appointed rooms, excellent breakfast, lovely helpful staff, and perfect location, The Randolph Hotel ensures a luxury stay that is as sustainable as it is comfortable.
Old Bank Hotel
Address: 91-94 High Street, Oxford, United Kingdom
Location: City Centre
The Old Bank Hotel is a luxury hotel in the heart of historical Oxford. Each room exudes charm with marble bathrooms, modern art, and often, original period features and stunning city views. Your gastronomic experience will be catered for at Quod restaurant, where you can savour breakfast, lunch, afternoon tea or dinner on the terrace or at the bar, and traditional roast dinners are a delight not to be missed. The hotel's prime location places you at the doorstep of Merton, All Souls and Oriel Colleges and is just a 5-minute walk from the Botanic Garden. Venture a little further to explore Magdalen Bridge and the River Cherwell. The Old Bank Hotel isn't just a place to stay; it's a gracious and elegantly appointed oasis in one of the most beautiful cities, a first-class boutique hotel with parking in central Oxford that truly has everything one could wish for.
Eco-Friendly Hotel
Choosing an eco-friendly or sustainable hotel can be a rewarding way to travel. These hotels prioritise practices that minimise their impact on the environment, which might include energy efficiency, water conservation and a commitment to reducing waste.
Staying in an eco-friendly hotel not only allows you to enjoy your trip, but also helps you contribute to a more sustainable future. It's a choice that aligns comfort and convenience with sustainability. If this is what you're looking for, you might like the following hotel.
La casetta d'Àneu
Address: Apartment 8, Bookbinders Court St. Thomas Street, Oxford
Location: Oxford Castle
Nestled in the heart of Oxford, less than 1 km from the University of Oxford, you'll find La casetta d'Àneu, an eco-conscious apartment hotel in the Oxford Castle area. This recently renovated apartment stands out not only for its impeccable cleanliness, tasteful decor, and comfortable ambience but also for its commitment to sustainable practices. The majority of the food provided at the property is locally sourced, reducing carbon emissions from transportation and supporting local producers. Lighting throughout the property uses energy-efficient bulbs, and the property runs entirely on 100% renewable electricity. Efforts are also made to minimise food wastage, further enhancing its eco-friendly ethos.
Where to Stay in Oxford
When deciding where to stay in Oxford, consider the rich variety of neighbourhoods, each with its own distinct vibe, all offering a range of boutique hotel options:
City Centre: The heart of Oxford, the City Centre is steeped in history and character. It's home to the iconic University of Oxford and its many constituent colleges. Explore the cobbled streets, independent stores and cafes while never far from green spaces like Christ Church Meadow.
Jericho: Known for its eclectic mix of bars and eateries, Jericho is the trendy district of Oxford. It's a great place to soak up the local culture, wander through artisan shops, or simply relax in one of the many parks nearby.
Headington: Home to the renowned Oxford Brookes University, Headington boasts an array of cafes and local shops. It's also the gateway to the city's green belt, with easy access to Shotover Country Park, ideal for those seeking a balance of city and nature.
Cowley Road: A vibrant, multicultural neighbourhood, Cowley Road is renowned for its dynamic nightlife and unique eateries. With a range of independent shops, galleries and live music venues, it's perfect for those who want a lively stay.
Summertown: A suburb in the north of Oxford, Summertown offers a more relaxed yet upscale atmosphere. Its tree-lined streets are populated with chic boutiques, restaurants and a thriving cafe culture, while also being within easy reach of Oxford's city centre.
Botley: A quieter residential area of Oxford, Botley offers a slower pace but easy access to the city centre. It's also a stone's throw away from the scenic Oxford Canal and Port Meadow, the city's beloved ancient grazing land.
Each of these neighbourhoods provides a unique base from which to explore and enjoy the multifaceted city of Oxford, allowing you to find the perfect spot that suits your tastes and preferences.
Check out the comprehensive guide I've curated, showcasing the best places to visit in the UK, where you'll find diverse destinations, each with its unique charm and rich heritage.
For more in-depth details on sightseeing, events, and unique things to do in Oxford, consider reading Visit Oxford. They provide a wealth of information that can help you tailor your visit to your interests, ensuring you make the most of your time in this historic city.
Responsible Travel Tips
Many of us are increasingly concerned about climate change and sustainability. Here are a few ideas on how we can travel more responsibly in Oxford.
Renewable Energy: Opt for accommodations in Oxford that are committed to using renewable energy sources, such as solar power or wind energy. You'll not only be comfortable but also contribute to a greener environment. I've listed some options above.
Minimising Food Waste: While enjoying Oxford's culinary delights, try to order only what you can eat. Many restaurants in the city are more than happy to pack up leftovers for you to enjoy later.
Sustainable Diets: Embrace the farm-to-table movement that's popular in Oxford. There are numerous local eateries that source their ingredients from nearby farms, supporting sustainable agriculture and reducing carbon footprints.
Sustainable Transport: Oxford is a compact city, perfect for exploring on foot or by bike. Rent a bicycle or simply walk through the city to reduce emissions and discover hidden gems at your own pace.
Avoiding Flying: Consider using the train or bus to reach Oxford, as these are more sustainable modes of transport compared to flying. The city is well-connected to other parts of the UK through a robust public transportation network.
Supporting Local Community: While in Oxford, make an effort to support local businesses. From artisan boutiques to family-owned restaurants, your patronage helps maintain the unique character of Oxford and supports the local economy.
FAQ
What is the best area to stay in Oxford?
Jericho and the City Centre are often considered the top areas to stay in Oxford. They offer a great blend of history, culture, dining, and shopping, all within a short walk of many of the city's iconic sights.
How far in advance should I book my hotel in Oxford?
Oxford is a popular destination year-round, especially during the summer and university terms. Booking your accommodation at least 2-3 months in advance is wise to ensure your preferred hotel availability.

What is there to do in Oxford?
Oxford is rich in history, architecture and culture. You can visit the historic Oxford University, explore numerous museums, take a punt on the River Cherwell, or simply enjoy a leisurely walk around its picturesque streets and parks.
Are there boutique hotels in Oxford?
Yes, Oxford has a range of boutique hotels that offer a unique and personalised experience. These hotels often feature distinct architecture, local art and gourmet dining options, providing a luxurious stay that reflects Oxford's character.

In Summary
Navigating the winding streets of Oxford, discovering its rich history, and unwinding in the cocoon of a boutique hotel have been nothing short of extraordinary.
The blend of academia, tradition and modern comforts creates an experience that's hard to replicate.
Know that these boutique hotels are more than just places to stay – they're an integral part of your Oxford narrative.
If you have questions or want to leave a hotel review, please do so in the comments.
—
Recommendations are independently chosen based on personal travel experiences and extensive research. This post contains affiliate links to hotels in Oxford, UK. This means I get a small commission from any bookings at no extra cost to you.