Recommendations are based on personal travel experiences and research. If you book through links on our site, we may earn a commission at no extra cost to you.
—
Inverness is a charming, historic city in Northern Scotland, which is why it's often called the gateway to the Highlands or the hub of the Highlands.
The region has a unique blend of ancient and modern culture, as seen in its incredible castle, cool boutique shops and diverse restaurants.
Additionally, as we all know, Inverness is believed to be the mythical home of the Loch Ness Monster, which makes it a fascinating destination to explore.
To fully experience the city's welcoming charm, check out some of the boutique hotels in Inverness that I recommend in this guide.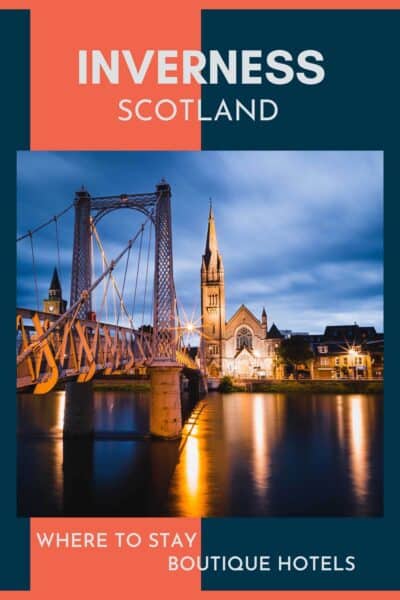 Boutique Hotels in Inverness
Firstly, it's important to have an idea of the areas where you might like to stay.
A great option for first-time visitors to Inverness is the trendy and lively Victorian Market neighbourhood in the heart of the city. This area is known for its independent stores, artisanal cafes, and bustling atmosphere.
Alternatively, if you're seeking a more relaxed and picturesque experience, the Crown area, located just east of the River Ness, is an excellent option. You'll find restorative green spaces, plenty of cafes, and beautiful Victorian and Edwardian-era architecture.
For a higher-end stay, you'll find many of the independent, boutique-style hotels located just south of the city centre, and that's where you'll find my top hotel pick.
Top Pick
Ness Walk Hotel
Address: 12 Ness Walk, Inverness, Scotland
As a top-rated luxury hotel in Inverness, Ness Walk Hotel offers an unparalleled experience of sophistication, comfort, and indulgence. The stunning decor, plush furnishings, and attention to detail are evident throughout the hotel, from the elegant bar to the luxurious rooms and suites. The Wellingtonia Suite, with its spacious layout and private lounge area, is a standout room, and the inclusion of luxurious Arran toiletries adds an extra touch of pampering to your stay.
Features:
Cool and unique design.
Arran bathroom amenities.
Great location near Inverness Castle with sensational views out to the River Ness.
Torrish Bar and Restaurant.
Sustainability:
Energy-efficient heating and cooling system.
Most food is locally-sourced, supporting local businesses.
Recycled and eco-friendly paper products are used.
Local artists are promoted in the hotel.
Pros: Stunning decor, luxurious Arran toiletries, top-rated experience.
Cons: Might be pricey for some, potentially high demand and limited availability.
Check Availability
While I firmly believe my top pick is the ultimate choice for your stay, I've also handpicked a couple of other boutique hotels that you might find equally calm and stylish.
Next Best
Blackfriars
Address: 93-95 Academy Street, Inverness, UK
I must mention the lovely Blackfriars Hotel in the city's bustling centre, not far from the famous Leakey's Bookshop. With the best of Inverness right at your doorstep, you'll have no trouble exploring the charming attractions and lively nightlife. Rest up in the hotel's sumptuous rooms, enjoy excellent amenities, and relish the warm, personalised service that elevates your stay from simply comfortable to genuinely exceptional.
Cool and Unique Hotel
As a discerning traveller, you'll appreciate the charm and character of a cool and unique boutique hotel, where every detail has been carefully curated to create a one-of-a-kind experience.
You might find my next recommendation particularly appealing, as it offers a perfect blend of style, individuality, and personal attention, ensuring an enjoyable stay.
Heathmount Hotel
Address: Kingsmills Road, Inverness, UK
At the Heathmount Hotel, prepare to be charmed by a hip and distinctive boutique hotel situated just a short 10-minute stroll from the iconic Inverness Castle. This recently updated gem features inviting, pristine rooms with exceptionally comfortable beds and top-notch amenities. Indulge in a classic Scottish breakfast, sip on fine Scottish whisky, and relish the delectable menu items like Scottish beef and venison pie or haggis-stuffed chicken drenched in a whisky sauce at their on-site restaurant. Fear not, vegetarian friends! The Heathmount has you covered with a variety of scrumptious options, such as a mouthwatering macaroni cheese crafted with Orkney cheddar.
Luxury Boutique Hotel
At a luxury boutique hotel, you can expect personalized service and unique, elegant designs that elevate your travel experience.
I chose to recommend this luxury boutique hotel pick for its intimate atmosphere and attention to detail, ensuring a highly comfortable stay.
Rocpool Reserve Hotel & Restaurant
Address: 14 Culduthel Road, Inverness, UK
Uncover the opulence and accessibility of the Rocpool Reserve Hotel & Restaurant, nestled in Inverness's vibrant core, just a leisurely stroll from the High Street and Inverness Castle. Immerse yourself in the contemporary, inventive design and cosy luxury of plush rooms adorned with Egyptian cotton linens and velvety bathrobes. Be greeted by the fantastic staff, always ready to assist, and savour the abundant, expertly crafted, and aesthetically pleasing cuisine, making you stay nothing short of extraordinary.
River Ness Hotel
Address: Church Street 83-97, Inverness, UK
Embrace the refined allure of The River Ness Hotel, a luxury boutique hotel situated in the heart of Inverness, known for its flawless service and meticulous attention to detail. Delight in the accommodating staff, always eager to share top-notch dining suggestions, and relish the hotel's closeness to must-see sights like the Inverness Museum and Art Gallery and the enchanting Inverness Castle. This stylish and seamless establishment is bound to elevate your time spent in this charming city.
Eco-Friendly Hotel
Embracing a sustainable or eco-friendly hotel allows you to enjoy a stay that prioritizes environmental responsibility and innovative green practices.
The following sustainable hotel might be just what you're looking for, providing an exceptional guest experience that minimises environmental impact and aligns with your values for a guilt-free stay.
The Glenmoriston Townhouse Hotel
Address: 20 Ness Bank, Inverness, UK
At the eco-friendly Glenmoriston Townhouse Hotel, you'll find yourself in the heart of Inverness, experiencing sustainability without compromising on style or comfort. Enjoy fresh, modern cuisine at the chic and informal Contrast Brasserie, and treat yourself to an impressive selection of Scotland's finest whiskies and creative cocktails at The Piano Bar, where live music adds to the vibrant atmosphere on Friday and Saturday nights. Situated on the banks of the river, this hotel has serene views of the cathedral and theatre, making it a relaxing, environmentally conscious retreat.
Where to Stay in Inverness
When considering where to stay in Inverness, there are several neighbourhoods that offer a mix of cafe culture, independent stores, galleries, museums, green spaces, cool bars, and nightlife, making them perfect for visitors looking to book a boutique hotel:
City Centre: Staying in the heart of Inverness provides easy access to the main attractions, shops, and restaurants. The city centre is home to a lively atmosphere, numerous bars, and a variety of cultural experiences.
Riverside Area: This picturesque neighbourhood offers stunning river views and a relaxed atmosphere. With its charming cafes, green spaces, and pleasant walking paths, the Riverside Area is a great choice for those seeking tranquillity within the city.
Crown District: A residential area with a village-like feel, the Crown District is known for its independent stores, galleries, and quaint cafes. It's an ideal location for those who appreciate a quieter atmosphere while still being close to the city centre.
South Kessock: This up-and-coming area boasts a vibrant arts scene, trendy bars, and unique shops. South Kessock is perfect for travellers who want to experience Inverness's more local and creative side.
Dalneigh: For visitors interested in history and culture, Dalneigh is home to several museums and historical sites. The neighbourhood also offers a mix of green spaces and charming eateries, making it an appealing option for a well-rounded Inverness experience.
By considering these neighbourhoods, you'll be able to find the perfect boutique hotel that suits your preferences and enjoy everything Inverness has to offer.
Explore the hidden gems and iconic landmarks of Scotland with my comprehensive guide, designed to help you uncover the best places to visit and create unforgettable memories during your journey.
For all your travel needs and inquiries, the tourist office in Inverness serves as a valuable resource, offering expert advice, recommendations, and assistance to help you make the most of your stay in this captivating city.
Responsible Travel Tips
Many of us are increasingly concerned about climate change and sustainability. Here are a few ideas on how we can travel more responsibly in Inverness.
Choose renewable energy: Opt for accommodations, like the Glenmoriston Townhouse Hotel, prioritising eco-friendliness and using renewable energy sources to reduce their carbon footprint.
Minimize food waste: Visit restaurants and cafes in Inverness that use locally sourced ingredients and adopt a zero-waste policy, helping to minimize food waste and support local farmers.
Embrace sustainable diets: Consider trying plant-based dishes at local eateries, such as the Heathmount Hotel's macaroni cheese made with Orkney cheddar, to reduce your environmental impact and promote sustainable diets.
Utilize sustainable transport: Explore Inverness by walking or cycling to reduce emissions, or use public transport like the local buses to navigate the city while minimising your carbon footprint efficiently.
Avoid flying when possible: If travelling within the UK or nearby European countries, consider taking a train or bus to Inverness instead of flying, reducing the environmental impact of your journey.
Support the local community: Shop at independent stores, dine at local cafes and visit galleries or museums to immerse yourself in the local culture while contributing to the Inverness economy and supporting small businesses.
FAQ
Which neighbourhoods should I consider for boutique hotels in Inverness?
City Centre, Riverside Area, and Crown District are all great neighbourhoods to consider when looking for boutique hotels in Inverness, offering a mix of cafe culture, independent stores, galleries, museums, green spaces, cool bars, and nightlife.
Can I expect a unique experience at a boutique hotel in Inverness?
You can anticipate a personalised and memorable experience at a boutique hotel in Inverness. Each hotel offers a distinctive atmosphere, curated design elements, and attentive service tailored to individual guests.
Are there any must-see attractions or landmarks in Inverness?
Some essential attractions in Inverness include Inverness Castle, the Riverside Area with its charming walking paths, the city centre for shopping and dining, and various museums and galleries showcasing local art and history.
Final Thoughts
When searching for the perfect boutique hotel in Inverness, take into account your personal preferences, travel goals, and desired location.
By considering factors such as proximity to attractions, neighbourhood ambience, and unique features of each hotel, you can make an informed decision that best suits your needs.
As you explore Inverness, immerse yourself in the local culture, appreciate the city's rich history, and savour the diverse culinary offerings to make your visit truly unforgettable.
If you have questions or want to leave a hotel review, please do so in the comments.
—
Recommendations are independently chosen based on personal travel experiences and extensive research. This post contains affiliate links to hotels in Inverness*, UK. This means I get a small commission from any bookings at no extra cost to you.*