Recommendations are based on personal travel experiences and research. If you book through links on our site, we may earn a commission at no extra cost to you.
—
Cheltenham is a popular Regency spa town in the Cotswolds district of England. It initially became well known in 1716 with the discovery of the first natural spring.
It has recently developed into a wonderful weekend break destination, and you'll find many excellent food attractions, cultural experiences and festivals worth attending.
In this guide, we recommend a number of boutique hotels in Cheltenham that will provide you with a comfortable base from which to explore the region.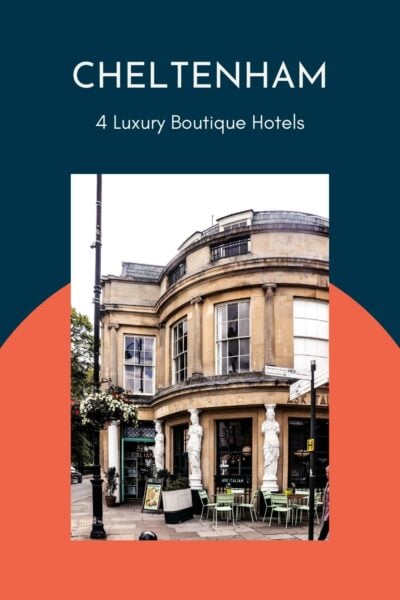 Boutique Hotels in Cheltenham
You'll find a number of boutique hotels in Cheltenham city centre, and there are also a few a little further out.
I recommend staying fairly central, so you'll have easy access to the city's wonderful restaurants, green open spaces and boutique shopping.
Top Pick
The George
Address: Saint Georges Road, Cheltenham, UK
The George by Cult Hotels is a warm and welcoming boutique hotel located in central Cheltenham within walking distance to great restaurants, cultural activities and the most popular sights. The rooms are beautifully decorated using dark features that create a warm and cosy atmosphere. The luxurious bathrooms are stocked with handmade products from Norway and include a relaxing rain shower.
Features:
Lovely bathroom products from Norwegian brand Sprekenhus.
Breakfast with locally sourced produce.
Blackout curtains.
Automated check-in and check-out.
Pros: A stylish boutique hotel with a focus on quality furnishings, attention to detail and exceptional service.
Cons: The hotel mentions sustainability as a high priority, however, there is no information about their initiatives on their website. This doesn't mean they don't exist, simply that they aren't currently transparent about it. I would love to find out about what they're doing.
Check Availability
Hotels in Cheltenham
If you're not interested in our top pick, there are quite a few other hotels in Cheltenham that are either luxury hotels or small boutique places to stay.
All of the following hotels are excellent; it most likely comes down to the area where you would like to stay. But you can't go wrong with any of these hotels, as the reviews can attest.
Malmaison Cheltenham
Address: Bayshill Road, Cheltenham, England, UK
The Malmaison is one of Cheltenham's most stylish design hotels and is located in the hugely popular Montpellier district. The hotel decor is warm and sophisticated, with stunning attention to detail and original artwork on the walls. This might not be the best value hotel, but it's very popular nonetheless. Additionally, the Malmaison Cheltenham is one of the most sustainable hotels in Cheltenham, as noted by their Green Tourism certification. You can read about this certification here.
No 131 The Promenade
Address: 131 The Promenade, Cheltenham, England, United Kingdom
Beautiful rooms with plush furnishings, comfortable beds, and luxurious bathrooms make this one of the best luxury hotels in Cheltenham. Located in the wonderful Montpellier district, the hotel is a short walk to Montpellier Gardens and the city centre. An excellent restaurant on site serves delicious meals created with locally sourced, organic produce.
No 38 The Park
Address: 38 Evesham Road, Cheltenham, Gloucestershire, United Kingdom
The beautiful, luxury accommodation at No 38 The Park is one of the most elegant hotels in Cheltenham. Located in a Georgian-era townhouse opposite Pittville Park. The benefit of staying in this area is the proximity to both Cheltenham city centre as well as one of the area's most beautiful open green spaces. The hotel rooms are very large, as are the bathrooms. The design might be too traditional for some, but the quality, cleanliness, and thoughtful staff make it a worthwhile choice.
This article is part of our series on places to visit in the UK. We hope this will help you when planning your upcoming trip.
Where to Stay in Cheltenham
When it comes to deciding where to stay in Cheltenham, there are several neighbourhoods that offer a great experience for visitors. Here are some of the best areas to consider when booking your boutique hotel:
Montpellier: This trendy area is known for its cafe culture and independent stores. It's the perfect place to stay if you're looking for a vibrant atmosphere and easy access to Cheltenham's best shopping and dining options.
The Suffolks: This charming neighbourhood is home to some of the city's best galleries and museums, making it a great choice for art lovers. It also has plenty of green spaces and cool bars, making it a great place to relax and unwind after a day of exploring.
The Promenade: This historic street is home to some of Cheltenham's most iconic landmarks, including the Imperial Gardens and the Town Hall. It's also lined with boutiques and high-end shops, making it a great choice for those looking for a luxury experience.
Pittville: This leafy neighbourhood is just a short walk from the city centre and home to Pittville Park, one of Cheltenham's most beautiful green spaces. It's the perfect place to stay if you're looking for a quiet retreat from the hustle and bustle of the city.
Tivoli: This trendy area is home to some of Cheltenham's coolest bars and nightlife spots, making it a great choice for those looking to experience the city's vibrant social scene. It also has plenty of independent stores and cafes, making it a great place to explore during the day.
No matter which area you choose, you're sure to have a fantastic stay in Cheltenham. Whether you're looking for a quiet retreat or a vibrant city experience, there's a neighbourhood that's perfect for you.
Selection Criteria
When recommending hotels, we look at a range of features that include the following.
Exceptional service. This is essential to a wonderful hotel stay.
Quality design. This value varies, but we usually recommend hotels with modern design features, quality bathroom fittings, high-end furniture and stylish common areas.
Great location. Depending on your reason for travelling, you might prefer to stay in the city centre, entertainment district, the fashion district or the cool hipster district. This is why we recommend several places, so you can find something that suits your interests.
Value for money. Although you might not be looking for a budget hotel, that doesn't mean you want to pay over the top. We try to avoid recommending hotels that are poor value for money, but again, that is a subjective determination.
Sustainability. We give priority to hotels that use renewable electricity as their energy source and implement energy efficiency and conservation measures. This is the most effective way to reduce greenhouse gas emissions in the hotel industry.
Social impact. Social sustainability is important, too, and this covers the fair treatment of employees, permanent contracts, minimum benefits etc. Unfortunately, this is very difficult to determine, but it's something to keep in mind.
Responsible Travel Tips
Many of us are increasingly concerned about climate change and sustainability. Here are a few ideas on how we can travel more responsibly in Cheltenham in the UK.
Choose sustainable transport: Instead of renting a car or taking a taxi, consider using public transport or renting a bike. Cheltenham has an extensive bus and train network, making it easy to get around without a car. There are also several bike rental companies that offer eco-friendly options.
Minimise food waste: When dining out, look for restaurants that focus on minimising food waste. For example, some restaurants in Cheltenham use leftover ingredients to create daily specials or donate excess food to local food banks. You can also ask for smaller portions or take leftovers home to avoid wasting food.
Support sustainable diets: Look for restaurants and cafes in Cheltenham that offer sustainable food options, such as vegetarian or vegan meals made with locally sourced produce. For example, The Find serves up locally sourced vegetarian and vegan food that is both delicious and sustainable.
Use renewable energy: Look for accommodations in Cheltenham that use renewable energy sources, such as solar or wind power. For example, the Greenway Hotel and Spa is a luxury hotel committed to reducing its carbon footprint through renewable energy sources.
Avoid flying: If possible, consider taking the train or bus to Cheltenham instead of flying. This can significantly reduce your carbon footprint and help you travel more sustainably.
Support the local community: When travelling to Cheltenham, consider supporting local businesses and attractions. For example, the Wilson Art Gallery and Museum showcase local art and history, while the Cheltenham Farmers' Market offers locally sourced produce and products. By supporting the local community, you can help promote sustainable tourism practices while experiencing all that Cheltenham offers.
FAQ
What are the best areas to stay in Cheltenham?
There are several neighbourhoods in Cheltenham that are great for visitors, depending on your preferences. Montpellier is known for its trendy cafe culture and independent shops, while The Promenade is home to high-end boutiques and landmarks. The Suffolks is a charming neighbourhood with art galleries and museums, and Pittville offers a quiet retreat near the city centre. Tivoli is a trendy area with cool bars and nightlife.
What are some must-see attractions in Cheltenham?
Cheltenham is known for its Regency architecture, so a stroll through the town centre is a must. The Pittville Pump Room and the Cheltenham Town Hall are also iconic landmarks. The Wilson Art Gallery and Museum showcase local art and history, while the Cheltenham Racecourse is a popular destination for horse racing fans. The Cotswolds are also nearby and offer stunning scenery and quaint villages.
What is the best time of year to visit Cheltenham?
Cheltenham is a year-round destination, but the best time to visit depends on your preferences. Spring and summer offer mild weather and plenty of outdoor events, such as the Cheltenham Jazz Festival and the Literature Festival. Autumn is a great time to see the changing leaves in the nearby Cotswolds, while winter offers festive events such as the Christmas Market and the pantomime at the Everyman Theatre.
There is plenty to keep you busy while in Cheltenham. Start here to find things to in the area and great experiences to look out for while you're there. Enjoy your trip!
As you plan your visit to Cheltenham, keep in mind that it is a city with a rich history and vibrant culture. From its iconic Regency architecture to its trendy cafes and boutiques, there is something for everyone to enjoy.
Remember to consider sustainable travel options and support the local community by dining at independent restaurants and visiting local attractions.
By doing so, you can help promote sustainable tourism practices and ensure that future visitors can experience all that Cheltenham offers.
If you have questions or want to leave a hotel review, please do so in the comments.
—
Recommendations are independently chosen by our travel editors. This post contains affiliate links to hotels in Cheltenham, Cotswolds, UK. This means we get a small commission from any bookings at no extra cost to you.