Recommendations are based on personal travel experiences and research. If you book through links on our site, we may earn a commission at no extra cost to you.
—
Stockholm is one of Europe's most beautiful and exciting cities, teeming with historic streets, iconic green spaces and a blend of medieval and modern architecture that remind us of its Nordic history.
In this guide, I'll share some of the most unique boutique hotels in Stockholm, of which there are many! This selection of places to stay blend cool sophistication and warm Swedish design.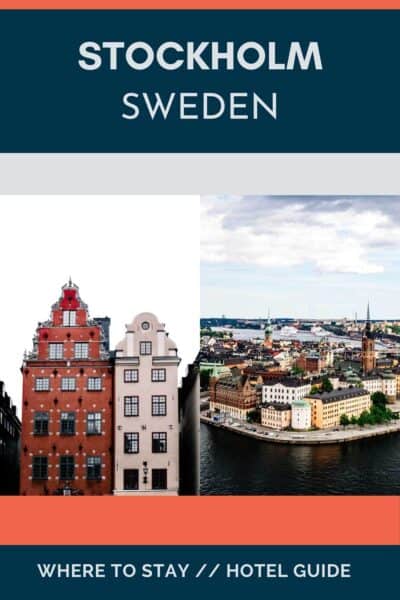 Unique Boutique Hotels in Stockholm
When searching for a hotel, I first like to consider which part of town suits me best.
Gamla Stan is the city's heart. It effortlessly fuses the historic and the cosmopolitan, with centuries-old structures providing a backdrop to boutique shops and unique restaurants. It's a popular area to stay, but there are many great districts that are less touristy.
For a vibrant scene packed with indie stores, edgy bars and a bustling cafe culture, Södermalm ticks all the boxes. Or you might like Norrmalm, a busy district on the opposite side of Gamla Stan.
Top Pick
Hotel At Six
Address: Brunkebergstorg 6, Stockholm
Location: Norrmalm
Hotel At Six is located in the heart of Stockholm in the vibrant Norrmalm area. The hotel puts a fresh spin on your stay with its modern design and green initiatives, including 100% renewable electricity. You'll love returning to your comfortable boutique room after a day exploring nearby Gamla Stan, Södermalm or the bustling nightlife at Stureplan. Complemented by an on-site bakery for your daily pastry fix and a vibrant bar serving innovative cocktails and punch bowls, this hotel delivers a high-quality experience; consider treating yourself to room service for extra indulgence.
Features:
Cool and unique design.
Stylish rooms with ample natural light.
Huge selection for breakfast.
Stunning lobby, lounge and bar areas.
Great location near Sergels Torg and Kungsträdgården.
Sustainability:
At Six uses 100% renewable electricity.
Energy-efficient heating and cooling system.
Sustainable food practices in place.
Use of recycled and eco-friendly paper products.
Electric vehicle charging station.
Pros: Central location, design rooms, green initiatives, on-site bakery.
Cons: Busy area of the city.
Check Availability
While Hotel At Six has its charm, I'd also like to highlight a couple of other boutique hotels in Stockholm that bring their unique appeal.
Whether it's a distinct style, prime location, or a commitment to eco-friendliness that you find interesting, these selections might be right for your stay in Stockholm.
Next Best
Ett Hem
Address: 2 Sköldungagatan, Stockholm, Sweden
Address: Östermalm
Ett Hem Hotel offers a slice of serenity in bustling Stockholm. Located in the Östermalm district, not far from Sergels Torg and the city centre, its hidden garden provides a perfect retreat for enjoying a summer breakfast or winding down with an evening wine. Nearby, you'll find popular spots, including Stureplan, the Army Museum and Humlegården Park. Inside, the service is top-notch, with guests raving about the delicious breakfast and exceptional overall experience.
Lydmar Hotel
Address: Södra Blasieholmshamnen 2, Stockholm, Sweden
Address: Norrmalm
Overlooking the Old Town and the Royal Palace, Lydmar Hotel makes a statement with its chic waterfront location near the National Museum. Each spacious room is an artistic expression, flaunting original stucco work, wood beams and high windows. The hotel's popular bistro-style restaurant will take you on a European culinary journey, from escargots to Sicilian fish, and the outdoor terrace becomes a haven for cocktail lovers in the summer. To top it off, the staff excel in recommending local sights, and the hotel frequently hosts art exhibitions, supporting local talent. Just a stone's throw from Strömkajen Harbour and a brief walk to Stureplan Square, the Lydmar brings together culture, sustainability, comfort and convenience for a truly satisfying stay in Stockholm.
Cool and Unique Hotel
In searching for a unique boutique hotel, look for a property that combines style and individuality.
These cool places to stay often breathe life into historic buildings or surprising spaces with interior design that is a balance of contemporary and traditional elements.
If this is what you're looking for, you might like one of the following unique boutique hotels.
Hotel Skeppsholmen
Address: Gröna Gången 1, Stockholm, Sweden
Location: Skeppsholmen
Hotel Skeppsholmen is a hidden oasis of calm within the buzz of Stockholm, housed in an alluring 1690s building on a tranquil city island. You'll be struck by the mix of classic charm and modern design, right down to the designer Italian washbasins by Boffi in each bathroom. A short ferry ride whisks you to Gamla Stan, Stockholm's Old Town, while the Moderna Museum is a mere 300 metres away. Beyond its appealing aesthetics and prime location, Hotel Skeppsholmen prides itself on sustainability, using energy-efficient lighting and making efforts to reduce food wastage. Its commitment to local produce and diverse menu options, including vegetarian and vegan dishes, adds to the appeal.
Hotel Frantz
Address: Peter Myndes Backe 5, Stockholm, Sweden
Location: Södermalm
Tucked into the vibrant Södermalm district, Hotel Frantz stands out for its unique blend of historical charm and stylish renovations. This hotel is conveniently close to numerous attractions, from the Museum of Medieval Stockholm to the Royal Swedish Opera. Your mornings will start off splendidly with a buffet breakfast, celebrated as one of the best, and the restaurant also impresses with exceptional dinner service. It's not just the food and location that will win you over. Expect comfortable beds for a quiet night's sleep and commendable staff communication before your stay. When it comes to balancing character, comfort and culinary specialties, Hotel Frantz is a top contender in Stockholm's boutique hotel scene.
Eco-Friendly Hotel
You might be leaning towards an eco-friendly hotel for a stay with a lighter footprint.
These properties typically integrate sustainable practices into their operations, ranging from using renewable energy and low-impact building materials to reducing waste, sourcing local produce and contributing to local communities.
Nordic Light Hotel
Address: Vasaplan 7, Stockholm, Sweden
Location: Norrmalm
Located just a stone's throw away from the Arlanda Airport Express Train at Stockholm Central Station, the Nordic Light Hotel provides an interesting mix of sleek design and sustainable practices. Hopefully, you'll rest comfortably in their luxury beds that are crafted by renowned Swedish brand Anders Hilding while also savouring the quality toiletries in the bathrooms. But what truly stands out is the in-house Lykke restaurant with its Nordic food culture, each dish served with a modern twist. Being just a hop away from the main square, Sergels Torg, and the bustling Drottninggatan shopping street, this hotel combines convenience with responsible travel. Their commendable efforts to reduce food wastage and their use of 100% renewable electricity make this a top choice for the conscious traveller. It's worth noting, too, that the rooms are peaceful, with all windows being double-glazed for a good night's sleep.
Hobo Hotel Stockholm
Address: 4 Brunkebergstorg, Stockholm, Sweden
Location: Norrmalm
Sitting in the heart of Stockholm, mere steps from Sergels Torg Square and Kungsträgården Park, the Hobo Hotel Stockholm is a remarkable fusion of comfort, convenience and sustainability. The hotel's restaurant serves delicious organic and seasonal dishes, and its commitment to sustainability even extends to offering various vegetarian options. Every morning, guests are greeted with an organic cafe-style breakfast featuring a variety of nourishing options, from chia pudding and egg muffins to fresh fruit and sandwiches. The hotel also sports a friendly bar and a cosy lounge, ideal for catching up with friends. You'll be just a stroll away from Gamla Stan and a brisk walk to Stockholm Central Station. Comfort also extends to the rooms, with guests praising the comfortable beds. Beyond its appealing aesthetic and superb location, the Hobo Hotel uses 100% renewable electricity and diligently works to minimise food wastage, reinforcing its commitment to a sustainable stay.
Luxury Boutique Hotel
In the realm of luxury boutique hotels, you'll find personalised experiences and superior service wrapped up in stylish packages.
Such hotels usually prioritise unique design and thoughtful detail, creating distinctive spaces that immerse you in a carefully curated environment.
Bank Hotel
Address: Arsenalsgatan 6, Stockholm, Sweden
Location: Norrmalm
At the Bank Hotel, you'll stay in a former bank building that has been redesigned into a striking setting for your stay in Stockholm. The locale couldn't be better, with Kungsträdgården Park, Djurgården Island and Gröna Lund Amusement Park all within an easy walk. Not to mention the swish rooftop bar, Le Hibou, offering classic and innovative cocktails and an enviable view. You can take breakfast in your room, but the charm is in the details, like the thoughtful treats left each night. Service is known for being top-notch. Bank Hotel is a gem of a boutique hotel that oozes cool, bringing a fresh dose of luxury to the Norrmalm district.
Villa Dagmar
Address: Nybrogatan 25-27, Stockholm, Sweden
Location: Östermalm
Stepping into Villa Dagmar is akin to finding a luxurious boutique sanctuary in the heart of Stockholm. It nails the location in a stone's throw of must-visit spots like the Army Museum and Vasa Museum. What truly makes Villa Dagmar stand out is its dedication to the little things, the things that give it a special, homey feel. The staff are a highlight, always ready to lend a hand, ensuring that nothing is too much trouble. The beds are reportedly like sleeping on a cloud, providing as sound a sleep as you could expect in a hotel. Breakfast is known for being a highlight, and the gym is a good size.
Where to Stay in Stockholm
Norrmalm: This is the beating heart of Stockholm. It's a bustling area known as downtown, with a great mix of shopping, culture and history. Staying in Norrmalm puts you within easy reach of Sergels Torg Square and Drottninggatan, the city's main shopping street.
Gamla Stan: Stockholm's historic city centre is a must-visit. It's full of beautiful cobblestone streets, colourful buildings and iconic landmarks. Here, history lives on in the Royal Palace and the Stockholm Cathedral. The ferries to the archipelago also depart from here.
Östermalm: An elegant and affluent district, Östermalm is your go-to for a taste of the high life in Stockholm. It's also where you'll find the high-end boutique Bank Hotel, a wonderful choice for luxury seekers.
Södermalm: Once a working-class district, Södermalm has transformed into one of Stockholm's trendiest neighbourhoods. It's got a fantastic selection of independent stores, hip bars, and cool restaurants. The Hotel Frantz, a tastefully renovated building, is a prime pick for a stay in this area.
Kungsholmen: A peaceful district dotted with lovely parks and waterfront cafes, Kungsholmen is an excellent spot for those seeking a tranquil escape within the city. Don't miss a visit to the impressive Stockholm City Hall.
Vasastan: This neighbourhood stands out for its beautiful architecture and laid-back vibe. Here, you'll discover charming boutiques, popular eateries and green spaces perfect for a picnic.
Djurgården: A green oasis in the city, Djurgården is home to several museums and attractions, such as the Vasa Museum and Gröna Lund Amusement Park. It's an excellent area to stay if you're keen on spending time in nature without straying too far from the city.
Figuring out where to stay in Stockholm can seem daunting, but with a bit of research, you're bound to find a neighbourhood that aligns with your travel desires.
Each district has its unique charm and vibe, and they all have some fabulous accommodation options to make your stay comfortable and enjoyable.
Check out my guide to the best places to visit in Sweden, packed full of ideas of where to go on your next trip.
Need more info on Stockholm? Visit Stockholm is a handy resource, especially for insights on things to do, top sights and upcoming events in the city.
Responsible Travel Tips
Here are a few ideas on how we can travel more responsibly in Stockholm.
Choose Accommodation That Prioritises Renewable Energy: You're likely to find plenty of hotels and apartments in Stockholm that operate on renewable energy, thanks to Sweden's commitment to green power. Keep an eye out for those details when you're booking your stay.
Minimise Food Waste: Stockholm is big on waste reduction, so do your part by ordering only what you can finish at eateries and consider sharing meals. Many establishments also donate leftover food to charities, so feel free to ask about their food waste practices.
Opt for a Sustainable Diet: The city is ripe with options for those seeking sustainable, plant-based or locally sourced food. The Swedes love their organic produce, so plenty of restaurants serve dishes made with locally sourced ingredients.
Use Sustainable Transport: Stockholm's transport system is convenient and affordable. Use public transport, such as buses, trams and the metro, to get around the city. Alternatively, rent a bike or just walk to get a close-up view of the city and reduce your carbon footprint.
Avoid Flying When Possible: If you're travelling within Sweden or nearby countries, consider trains instead of flights. Sweden has an extensive rail network that can take you to other parts of the country or neighbouring nations while enjoying scenic views.
Support the Local Community: Stockholm has a vibrant scene of local artisans, farmers' markets and small businesses. Buying locally supports the community and reduces carbon emissions related to shipping goods.
FAQ
What's the best neighbourhood in Stockholm to stay in for first-time visitors?
For a first-time visitor, Norrmalm or Gamla Stan (Old Town) are excellent choices. These areas put you close to major attractions, shops and restaurants.
Are there luxury boutique hotels in Stockholm?
Absolutely, Stockholm is home to numerous luxury boutique hotels. Both Bank Hotel in Norrmalm and Villa Dagmar in Östermalm are excellent options, providing top-tier services, elegant decor and a central location.
How can I get around Stockholm easily?
Stockholm has a well-developed public transport system, including buses, trams and the metro. For shorter distances, consider walking or cycling to enjoy the scenery.
What's the food like in Stockholm?
Stockholm is renowned for its food scene. You'll find everything from traditional Swedish dishes to modern cuisine, with many restaurants focusing on locally sourced and organic ingredients.
Final Thoughts
Finding the right boutique hotel for your stay in Stockholm really can make your trip. Keep an eye out for hotels and neighbourhoods that resonate with your style and needs.
Choosing an area that aligns with your interests, whether it's the bustling heart of Norrmalm, the historic charm of Gamla Stan, or the trendy vibes of Södermalm, makes a world of difference.
Every aspect of Stockholm, from its impressive architecture and historical sights to its bustling food scene and boutique hotels, is an opportunity for you to make fantastic memories.
If you have questions or want to leave a hotel review, please do so in the comments.
—
Recommendations are independently chosen based on personal travel experiences and extensive research. This post contains affiliate links to hotels in Stockholm, Sweden. This means I get a small commission from any bookings at no extra cost to you.