Recommendations are based on personal travel experiences and research. If you book through links on our site, we may earn a commission at no extra cost to you.
—
Stepping onto Lisbon's cobbled streets, you'll find your senses drawn in by the hum of historic yellow trams and the prettiness of the pastel-coloured buildings.
This bustling city is home to an array of delights, from UNESCO World Heritage sites to vibrant nightlife and spectacular vistas across the River Tagus.
In this guide, I'll share some of the best boutique hotels in Lisbon, a city that has many incredible hotels. Just check out the ratings; all of these hotels are rated 9+.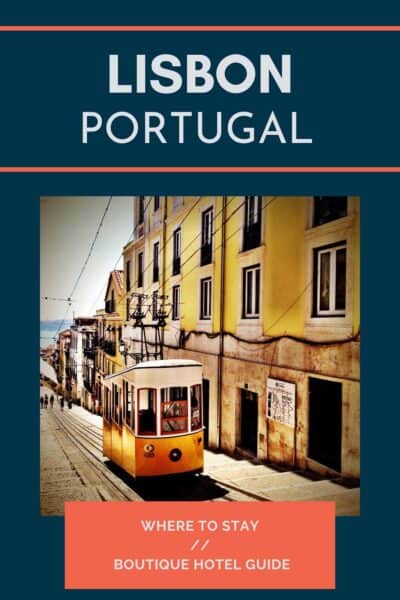 Best Boutique Hotels in Lisbon Portugal
Finding a hotel starts with zeroing in on the right neighbourhood for your tastes and interests.
Baixa de Lisboa, the downtown heart of Lisbon, is steeped in history and bustling with activity, where trams navigate between grand plazas and elegant boutiques.
On the other hand, the trendy district of Bairro Alto is a hub for the creatively inclined, with a profusion of independent shops, art galleries and nightlife venues.
If history and city life are what you're after, Baixa wins hands down as the place to set up your home base.
Top Pick
Hotel Hotel
Address: Travessa da Glória 22, Lisbon
Location: Baixa de Lisboa
Hotel Hotel is a true design gem, combining comfort with sustainable initiatives. This 4-star boutique sanctuary has a lush garden, refreshing outdoor pool, inviting terrace and a popular restaurant. The huge range of breakfast choices focus on locally sourced produce, highlighting Lisbon's quality local growers. In addition to the facilities, the hotel's staff are renowned for their friendliness and willingness to go the extra mile. You'll find plenty of opportunities for relaxation, whether you're lounging by the pool or sinking into your ultra-comfy bed. When you're ready to explore, you'll find popular attractions such as Rossio, the National Theatre and the Santa Justa Lift close by.
Features:
Distinctive decor and design.
Stylish rooms with ample natural light.
Huge selection for breakfast.
Stunning lobby, lounge and bar areas.
Great location near Praça dos Restauradores.
Sustainability:
Energy-efficient systems.
Most food is organic and locally sourced.
Vegetarian and vegan menus are available.
A recycling program is in place, diverting waste from landfills.
Promotion of tours led by local guides.
Pros: Fantastic location near major attractions, lush garden and outdoor pool for relaxation, wide breakfast options including vegetarian and vega, comfortable beds, exemplary service.
Cons: Occasionally busy breakfast service.
Check Availability
While Hotel Hotel might tick many of your boxes, it's worth exploring a couple of other boutique hotels Lisbon has up its sleeve. And there are a lot!
With differing styles, locations, unique features and eco-credentials, these alternatives present their own individual charms.
Let's delve a bit deeper and see what might suit you best.
Next Best
Sublime Lisboa
Address: Rua Marquês de Subserra 10, Lisbon
Location: Avenidas Novas – near Parque Eduardo VII
Tucked away at a stone's throw from Lisbon's vibrant centre, Sublime Lisboa has an appealing blend of tranquillity and accessibility. This stylish shared lounge, on-site restaurant and bar present an inviting backdrop for your city break. Each morning, you're greeted by an excellent breakfast spread encompassing à la carte, continental and American options – all set in a truly lovely environment. The staff are a standout feature, consistently going above and beyond to ensure an incredible stay. Not to mention, Sublime Lisboa takes pride in its eco-friendly approach, employing energy-efficient lighting throughout and making a concerted effort to minimise food waste. With a range of locally sourced, vegetarian and vegan menu options, you're sure to find a meal that tastes great and feels good too.
Luster Hotel
Address: Avenida Casal Ribeiro 48, Lisbon, Portugal
Location: Arroios – Santa Cruz
Right at the heart of Lisbon, Luster Hotel makes an impressive mark with its blend of modern design and homely touches. To fuel your city exploration, you can tuck into a hearty buffet breakfast each morning. The location is perfect for setting out on foot or by metro to nearby attractions like Miradouro da Senhora do Monte and Rossio. The restaurant serves up impressive dishes, made even more enjoyable by the attentive and friendly staff. The rooms, meticulously designed for comfort and efficiency, hit the mark for both cleanliness and up-to-date facilities. Moreover, Luster Hotel embraces sustainability with energy-efficient lighting and commendable efforts to reduce food wastage. With vegetarian and vegan options aplenty, it's a choice you can feel good about.
Cool and Unique Hotel
Finding a cool and unique boutique hotel in Lisbon can add an extra dash of charm to your travels.
They usually strongly emphasise service, creating a cosy, intimate atmosphere that larger hotels might struggle to replicate.
Such boutique hotels can offer a refreshing alternative, enriching your stay with distinct experiences and a sense of discovery.
Browns Avenue Hotel
Address: Rua Rodrigues Sampaio 48, Lisbon, Portugal
Location: Santo António – Baixa de Lisboa
Just a short stroll from Rossio, you'll find Browns Avenue Hotel, a boutique hotel that's as striking as it is comfortable. The rooms are both stunning and practical, providing you with a serene base in the midst of Lisbon's lively cityscape. You're set up for the day with a choice of a buffet or continental breakfast, and with a host of popular attractions like Dona Maria II National Theatre, Praça do Comércio and Miradouro da Senhora do Monte nearby, you'll find plenty to fill your itinerary. The hotel's location is a true highlight, placing you at the heart of Lisbon and within easy reach of the metro, local eateries and shopping spots. While the decor brings a touch of luxury to your stay, the rooftop pool and bar area stand out, offering a fantastic spot to unwind after a day of sightseeing. The hotel is also mindful of its impact, making a concerted effort to minimise food wastage.
The Vintage Hotel & Spa Lisbon
Address: Rua Rodrigo da Fonseca 2, Lisbon, Portugal
Location: Santo Antonio – Baixa de Lisboa
Just 300 metres off the bustling Avenida da Liberdade, you'll find the Vintage Hotel – a 5-star retreat steeped in character. The decor is fun and unique, and its design-savvy rooms offer an inviting respite after a day out in Lisbon. The cherry on top has to be the rooftop bar, where you can soak up panoramic city views over a refreshing drink. In terms of dining, the hotel's Blue Restaurant showcases traditional Portuguese cuisine, while the Lobby Bar is a go-to spot for a well-mixed cocktail or a glass of fine wine. What's more, the wellness area provides a soothing space to unwind. Complementing these offerings is the attentive and accommodating staff. Located in a tranquil neighbourhood that's still within easy walking distance of the city's highlights, the Vintage Hotel is one of the coolest hotels in Lisbon.
Memmo Príncipe Real
Address: Rua Dom Pedro V 56 J, Lisbon, Portugal
Location: Príncipe Real
Nestled in Príncipe Real, one of Lisbon's most sophisticated districts, Memmo Príncipe Real is a stylish sanctuary that beautifully merges timeless and contemporary aesthetics. The hotel places you within a 10-minute walk of Bairro Alto and Avenida da Liberdade, setting you up perfectly to explore Lisbon's rich history. The outdoor pool and lounge area are true highlights, providing panoramic views over the city that are nothing short of breathtaking. Café Principe Real Restaurant adds to the hotel's allure, serving a menu inspired by Portuguese and international dishes, with influences from Brazil, Africa and Asia. Breakfast here is an exclusive treat for guests, and the venue also offers light meals and refreshing juices or cocktails throughout the day. The hotel's interior is a blend of classic vintage furniture, contemporary paintings and even an oil painting of Dom Pedro V. This is one of Lisbon's friendliest boutique hotels and among the best places to stay in Lisbon.
Eco-Friendly Hotel
Selecting an eco-friendly hotel means choosing a place that's committed to sustainability. It's about aligning with establishments prioritising efficient energy use, waste reduction and sourcing locally grown food.
By opting for a green hotel, not only do you contribute to preserving the planet, but you also support local economies. It's an appealing way to travel responsibly while enjoying your stay, as these hotels blend comfort, style and sustainability seamlessly.
Corpo Santo Lisbon
Address: Largo do Corpo Santo 25, Lisbon, Portugal
Location: Misericórdia – Cais do Sodre
The Corpo Santo Lisbon Historical Hotel embraces the sustainability ethos without compromising comfort or quality. There are generous and diverse breakfast options and a commitment to reducing food waste and sourcing locally-grown produce. Their attention to energy efficiency is also noteworthy, with LED lighting across the property and the use of 100% renewable electricity. The location is unbeatable, just a stone's throw away from Rossio, Dona Maria II National Theatre, Praça do Comércio and the waterfront. But what sets this hotel apart is the stellar service – they treat you like family, ensuring everything is perfect for your stay. Pedro's complimentary tour of Lisbon was the icing on the cake. The Corpo Santo is a top pick for eco-conscious travellers visiting Lisbon, and I'd stay here on my next visit.
Luxury Boutique Hotel
Luxury boutique hotels are ideal for those who value an intimate, personalised experience with top-notch service and high-end amenities.
When you book a stay in one of Lisbon's luxury boutique hotels, you're signing up for a dash of exclusivity and privacy with well-curated spaces that promise both comfort and elegance.
The following boutique hotels blend a unique style, often reflecting an attachment to Lisbon, with exceptional service making every stay special.
The Ivens
Address: Rua Capelo 5, Lisbon, Portugal
Location: Santa Maria Maior – Historic City Centre
The Ivens Hotel location is just perfect, putting you within reach of all the city's main attractions and Bairro Alto. The staff are attentive and friendly, enhancing the impeccable experience. The hotel room was impressive, some even with city views from a balcony. This 5-star hotel in Lisbon city centre is known for its excellent breakfast.
Wine & Books Lisboa Hotel
Address: 56 Travessa da Memória,, Lisbon, Portugal
Location: Ajuda, Belem – Residential Neighbourhood
Wine & Books is tucked away in the quiet Ajuda district and within a stone's throw of the iconic Jeronimos Monastery, Belém Tower and the famous Pastéis de Belém pastry shop. The hotel's unique design is tinged with an old-world charm and impressive attention to detail. You'll find plush beds and enormous pillows – perfect for sinking into after a day out in Lisbon. Every morning will begin with a delicious breakfast, with the option to dine outside. If you don't mind staying outside Lisbon city centre, I highly recommend this hotel in Belém.
Where to Stay in Lisbon
Downtown Lisbon – Baixa: This is where to stay in Lisbon if you're after a central location. Known as Baixa de Lisboa, this flat area is the heart of the city, home to many tourist attractions, shops and eateries. It's perfect if you love the hustle and bustle of a city centre and want everything on your doorstep.
Bairro Alto: Known for its vibrant nightlife, this district comes alive in the evening with bars, restaurants and Fado clubs. During the day, you'll find traditional and modern shops along with art studios.
Alfama: This is the oldest neighbourhood in Lisbon, known for its narrow streets, traditional Fado music venues and the annual Santo Antonio Festival.
Príncipe Real: This upscale district near Bairro Alto is home to trendy boutiques, cool cafes and a lively atmosphere. It's also got its share of green spaces, perfect for a leisurely stroll.
Belém: This district is perfect for history buffs, packed with monuments and museums, and is where you'll find the famous Pastéis de Belém.
Ajuda: This quiet and less crowded neighbourhood in Belem houses the wonderful Wine & Books Lisboa Hotel. It's a fantastic area for those wanting a peaceful stay with easy access to sights like the Jeronimos Monastery.
Avenida da Liberdade: This is Lisbon's version of the Champs-Elysées, lined with high-end shops and boutique hotels like The Vintage Hotel & Spa Lisbon.
Chiado: This elegant neighbourhood is full of classic cafes, theatres, and bookshops. It's often described as the artistic heart of Lisbon, blending old and new.
So, there you have it, a list of the best areas to stay in Lisbon. Each offers its own unique flavour, so you're sure to find one that suits your tastes and style of travel.
Check out my comprehensive guide that shares the best places to visit in Portugal, providing you with insider tips to ensure an interesting Portuguese experience.
For more in-depth details on sightseeing, events and things to do around the city of Lisbon, Visit Lisbon is a great starting point. They have a wealth of knowledge and resources to help you embrace the city and make the most of your visit.
Responsible Travel Tips
Many of us are increasingly concerned about climate change and sustainability. Here are a few ideas on how we can travel more responsibly in Lisbon.
Choose hotels that use renewable energy: Look for hotels or guesthouses in Lisbon that use renewable energy sources such as solar panels or wind power to minimise their carbon footprint.
Minimise food waste: When dining out, opt for places that prioritise food waste reduction by implementing practices like portion control and offering options for smaller portions. Additionally, support local markets and shops that sell fresh produce to reduce food waste in the supply chain.
Embrace sustainable diets: Explore Lisbon's vibrant food scene and try local, sustainable cuisine that showcases seasonal and locally sourced ingredients. Look for restaurants that offer vegetarian or vegan options to reduce the environmental impact associated with animal agriculture.
Use active and public transport: Make use of Lisbon's efficient public transportation system, including trams, buses and the metro, to reduce carbon emissions. Alternatively, consider renting a bike to explore the city's bike-friendly infrastructure or walking to nearby attractions.
Reduce air travel: If possible, choose alternative modes of transportation like trains or buses when travelling to and from Lisbon or exploring nearby cities. By avoiding air travel, you can significantly reduce your carbon footprint and help reduce the demand for flying.
Support local community: Engage with the local community by visiting small businesses, local artisans and independent shops. This supports the local economy and allows you to connect with Lisbon's authentic culture and traditions.
By incorporating these responsible travel practices into your trip to Lisbon, you can contribute to preserving the environment, supporting the local community and having a more sustainable and meaningful travel experience.
FAQ
What are some popular areas to stay in Lisbon?
Downtown Lisbon (Baixa), Príncipe Real, Alfama, and Bairro Alto are highly recommended for their central locations, unique atmosphere and proximity to attractions.
Are there any neighbourhoods known for their vibrant nightlife?
Bairro Alto is renowned for its vibrant nightlife, with a plethora of bars, clubs, and Fado music venues. It's the perfect area for night owls seeking a lively atmosphere.
What are some must-visit attractions in Lisbon?
Some of the must-visit attractions in Lisbon include Belem Tower, Jeronimos Monastery, the Castle of São Jorge, the historic Alfama neighbourhood and the beautiful views from Miradouro da Senhora do Monte.
Are there any recommended areas for food and shopping?
Avenida da Liberdade and Chiado are excellent choices for food and shopping. Avenida da Liberdade has high-end shops and luxury boutiques, while Chiado is known for its elegant cafes, bookstores and boutique stores.
Final Thoughts
To conclude, it's essential to consider what matters most to you when it comes to finding the best boutique hotel in Lisbon.
Each area has unique charm and attractions, from the bustling city centre to charming neighbourhoods.
Whether you prioritise location, sustainability, or luxury, Lisbon offers diverse options to cater to your preferences.
If you have questions or want to leave a hotel review, please do so in the comments.
—
Recommendations are independently chosen based on personal travel experiences and extensive research. This post contains affiliate links to hotels in Lisbon, Portugal. This means I get a small commission from any bookings at no extra cost to you.