Recommendations are based on personal travel experiences and research. If you book through links on our site, we may earn a commission at no extra cost to you.
—
Italy has it all: history, culture and, of course, food. You'll want to experience all three on your travels, but it's hard to top the experience of eating Italian food in Italy. It's nothing like you will have tried at home. Nothing can compare.
Italian cuisine is famous all over the world for its delicious flavours, fresh ingredients, and simple yet sophisticated recipes. The country is home to countless regional specialties, each with its own unique twist on classic Italian dishes.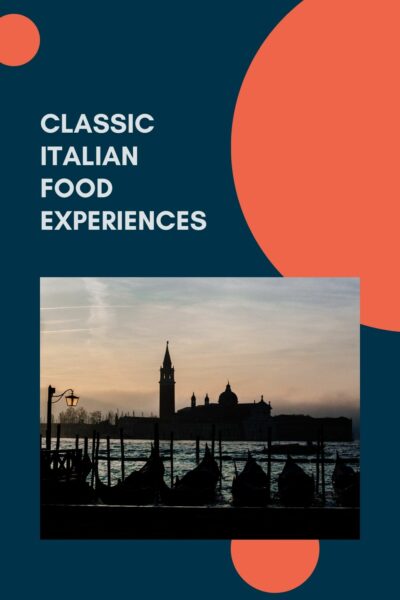 Food Experiences in Italy
Visitors to Italy can expect to find local markets overflowing with fresh produce, traditional trattorias serving up hearty meals, and fine dining restaurants offering innovative takes on classic Italian cuisine.
With such a wide range of culinary experiences on offer, it's no wonder that food is such an important part of Italian culture and daily life.
Food Tours in Italy
But finding the best food in Italy isn't always easy, particularly in the most popular tourist destinations at the peak of the travel season.
That's why I recommend starting with a gourmet tour on your arrival to a new destination.
This is where you'll get tips, personal recommendations from locals, and an understanding of what to look for when searching for authentic regional cuisine.
The best way to begin is by taking either a walking food tour, a cooking class or spending a couple of hours wandering around one of Italy's famous farmers' markets.
Below are a few tours and recommendations to get you started organising a great foodie experience in Italy.
What to Expect on a Food Tour
A typical food tour lasts for about four to five hours, catering to small or private groups. During the tour, you can indulge in a variety of dishes, snacks, desserts, and beverages, including wine or coffee, all of which are local specialties made with artisanal, organic, or fair trade ingredients.
One of the great things about food tours is exploring the city while enjoying the local cuisine. So, when you visit Italy, make sure to book a walking food tour in one of the country's renowned foodie destinations, such as Bologna, Milan, or Rome.
Rome Street Food Tour

The most popular and highly rated food tour in all of Italy takes you through the streets of Rome. You'll get to try local delicacies such as suppli, cured meats, vegetarian dishes, pizza and gelato. A highlight of this tour is the seasonal dishes you will enjoy at a restaurant in Rome's historic Jewish Quarter. Learn more…
Italian Farmers Markets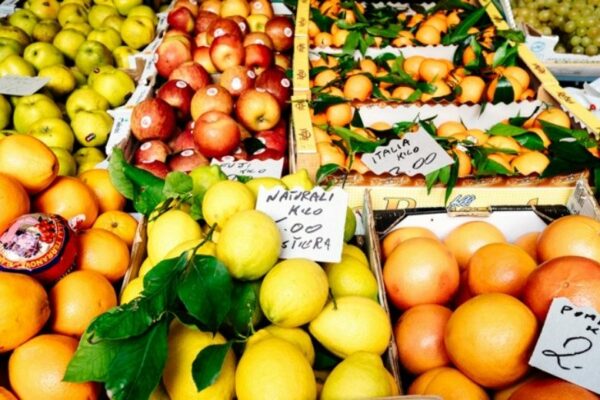 Visiting a farmers market in an Italian city is an experience not to be missed. The markets are bursting with fresh, local produce and delicious and unique goods.
While you don't necessarily need to take a tour to enjoy the markets, a guided tour can provide valuable insights into the local culture and traditions and help you discover hidden gems and specialties.
What to Expect at an Italian Market
When exploring a farmers market, you can expect to find a wide variety of fruits and vegetables and locally produced cheeses, meats, and baked goods.
In addition, you can often find artisanal products such as olive oil, honey, and wine, all of which are made with traditional methods and reflect the region's unique flavours.
If you want to sample some of the local fares, try some street food vendors offering delicious and affordable options such as arancini, panini, and gelato.
And if you're planning a picnic or a meal later in the day, the markets are the perfect place to stock up on supplies, such as fresh bread, cheese, and cured meats.
Taking a guided market tour is an excellent way to gain a deeper understanding of the local culture and traditions surrounding the market.
An experienced guide can introduce you to vendors and producers, explain the history and significance of certain products, and help you navigate the often-bustling crowds.
In short, visiting a farmers market in an Italian city is a wonderful way to experience the local culture and indulge in delicious, fresh produce and artisanal products.
Whether you choose to explore on your own or take a guided tour, the markets will leave a lasting impression on your taste buds and memories.
Venice Local Market Tour

Venice has one of the most incredible city markets in the world, the Rialto Market. The quality and variety of fruits and vegetables are outstanding, everything is so incredibly fresh. Of course, in Venice, seafood is one of the highlights. You can buy freshly cooked meals or take some home to prepare in your apartment. Learn more…
Cooking Class in Italy
When it comes to taking a cooking class, there is no better place to do so than in Italy. Not only will you learn how to cook authentic Italian dishes, but you will also have the opportunity to immerse yourself in the local culture and way of life, thanks to your guide.
What to Expect in a Cooking Class
A typical cooking class in Italy will generally involve a visit to a local market to source fresh ingredients, followed by hands-on instruction in the kitchen from an experienced chef.
You'll learn how to prepare traditional Italian dishes, such as homemade pasta, risotto, or a classic tiramisu.
Along the way, you'll pick up essential techniques, tips, and tricks to help you recreate these dishes at home.
In addition to learning how to cook, taking a cooking class in Italy is also an opportunity to connect with locals and gain a deeper understanding of Italian cuisine's culture and history.
You can ask questions about the ingredients, techniques, and flavours that make Italian food special and even share a meal and conversation with your classmates.
Cooking classes in Italy can be found in almost any city and are often offered by local cooking schools or restaurants.
They can range from a few hours to a full day or even a multi-day experience, depending on the level of immersion and instruction you desire.
Taking a cooking class in Italy is a unique and immersive experience that allows you to learn the art of traditional Italian cooking while immersing yourself in the local culture.
From sourcing fresh ingredients at a local market to learning essential techniques in the kitchen, a cooking class in Italy is an experience that will leave you with a deeper appreciation for the cuisine and the country that created it.
Verona Cooking Class

You might not think of heading to Verona until you discover it's less than an hour from Bologna, the foodie capital of all of Italy. Use the freshest local ingredients to make handmade pasta and delicious tiramisu from scratch. Learn more…
Best Places in Italy for Food
Italy is a dream destination for foodies, and there are countless cities and regions to explore for an authentic culinary experience.
Here are some of the best places to visit in Italy for food experiences:
Bologna: Known as the "food capital" of Italy, Bologna is famous for its rich pasta dishes, cured meats, and Parmigiano Reggiano cheese. Don't miss out on trying traditional dishes like tagliatelle al ragù and tortellini in brodo.
Naples: Famous for its Neapolitan pizza, Naples is a must-visit for any foodie. The city also has seafood dishes, including spaghetti alle vongole (with clams) and frittura di pesce (mixed fried fish).
Tuscany: This region is known for its simple yet flavorful cuisine, featuring dishes like ribollita (a vegetable and bread soup) and bistecca alla fiorentina (a grilled T-bone steak). Tuscany is also renowned for its wine, especially Chianti.
Sicily: This island off the southern coast of Italy has a unique culinary tradition, with dishes influenced by Greek, Arab, and Spanish cultures. Don't miss out on trying Sicilian specialties like arancini (fried rice balls) and cannoli (a dessert pastry).
Rome: The capital city of Italy is a foodie's paradise, with countless trattorias, pizzerias, and gelaterias to explore. Don't miss out on trying classic Roman dishes like spaghetti carbonara and cacio e pepe (pasta with cheese and black pepper).
Piedmont: This region in northwest Italy is known for its rich and hearty cuisine, featuring dishes like risotto with white truffles and bollito misto (mixed boiled meats). Piedmont is also renowned for its wine, including Barolo and Barbaresco.
Emilia-Romagna: This region is home to some of Italy's most famous culinary traditions, including Parmigiano Reggiano cheese, prosciutto di Parma, and balsamic vinegar from Modena. Don't miss out on trying traditional dishes like lasagne alla bolognese and piadina (a type of flatbread).
Amalfi Coast: This coastal region in southern Italy is known for its seafood dishes, especially fresh fish and shellfish. Don't miss out on trying local specialties like spaghetti alle vongole (with clams) and scialatielli ai frutti di mare (a type of pasta with seafood).
Italy has a rich culinary tradition, and countless cities and regions exist to explore for an authentic food experience. From the pizza in Naples to the pasta in Bologna, there is something for every foodie in Italy.
Sustainable Food Tourism
Taking a food experience-based vacation in Italy can be a fantastic way to indulge your senses and explore the country's rich culinary heritage.
However, it's important to do so in a sustainable way that respects the local environment, economy, and culture.
Here are some tips for sustainable tourism when taking a food experience-based vacation in Italy:
Support local, sustainable agriculture: Choose restaurants and food tours that prioritize locally-sourced, organic, and sustainable ingredients. This supports the local economy, promotes sustainable agriculture, and reduces the carbon footprint of the food you consume.
Avoid overconsumption: While it may be tempting to try everything, avoid overconsumption and waste by being mindful of portion sizes and sharing dishes with your travel companions. This not only helps reduce food waste but also supports a healthy lifestyle.
Respect cultural traditions: When visiting markets and taking cooking classes, be respectful of local traditions and techniques. Ask questions and learn from locals, but avoid appropriating cultural practices or treating them as a commodity.
Reduce plastic waste: Bring a reusable water bottle and shopping bag to avoid contributing to plastic waste. Choose food vendors that use sustainable packaging, and avoid disposable utensils whenever possible.
Walk, bike or use public transportation: Consider walking, biking or using public transportation to get around rather than renting a car. This not only reduces carbon emissions but also allows you to experience the local culture and scenery in a more sustainable way.
Undoubtedly, taking a food experience-based vacation in Italy can be a sustainable and rewarding experience if done mindfully.
By supporting local agriculture, reducing overconsumption and waste, respecting cultural traditions, reducing plastic waste, and using sustainable transportation, you can enjoy the local cuisine while also supporting a sustainable and responsible tourism industry.
Final Thoughts
Italy is a country that boasts a rich and diverse culinary landscape, with each region and city offering its own unique food traditions and specialties. Whether you are a foodie or simply love good food, there are countless gourmet experiences to enjoy throughout the country.
A food tour is one of the best ways to explore the local cuisine. Almost every city in Italy offers food tours that allow visitors to sample the local specialties and learn more about the region's culinary traditions.
Furthermore, a food tour is an excellent way to discover a city and its people, as you get to meet local vendors, chefs, and restaurateurs who are passionate about their food and eager to share their knowledge and stories.
In addition to food tours, there are many other gourmet experiences to enjoy in Italy. From cooking classes and wine tastings to truffle hunting and olive oil tasting, there are endless opportunities to indulge your senses and learn more about the country's rich culinary heritage.
Some of the top gourmet experiences in Italy include visiting the cheese factories in Parma, exploring the vineyards in Tuscany, and indulging in the seafood dishes in Naples. No matter where you go in Italy, there is always something delicious and unique to discover.
In summary, Italy is a food lover's paradise, with countless gourmet experiences to enjoy. Whether you prefer food tours, cooking classes, or wine tastings, there is something for everyone in this beautiful country.
So, if you are planning a trip to Italy, be sure to explore the local cuisine and indulge in the delicious flavours and traditions of this culinary wonderland.
If you have questions or want to leave a tour or cooking class review, please do so in the comments.
—
Recommendations are independently chosen by our travel editors. This post contains affiliate links to tours in Italy. This means I get a small commission from any bookings at no extra cost to you.