Recommendations are based on personal travel experiences and research. If you book through links on our site, we may earn a commission at no extra cost to you.
—
As Italy's most unique and beautiful city, Venice welcomes you with its tranquil canals, historic palazzos and outstanding museums.
In this guide, I share a selection of the best boutique hotels in Venice, each imbued with the city's Venetian allure, style and atmosphere.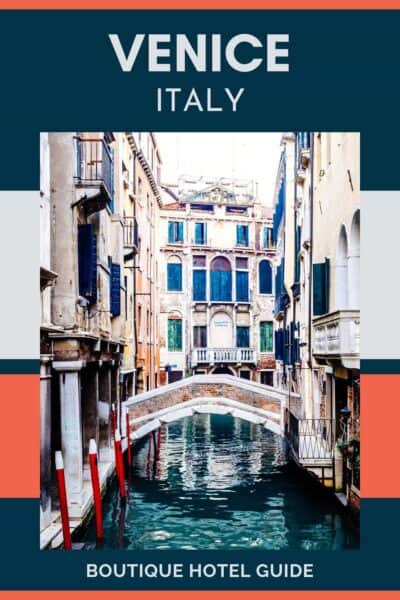 Best Boutique Hotels in Venice
When searching for a boutique hotel, your first consideration should be the area you want to stay.
San Marco is the historic centre of Venice and is a top choice for many, brimming with iconic landmarks like St Mark's Square and the Doge's Palace.
On the other hand, you might find Dorsoduro appealing, a vibrant district known for its lively atmosphere, charming cafes and thriving arts scene featuring the Peggy Guggenheim Collection.
My top hotel recommendation is located in Cannaregio, a lovely district that is a little quieter than other parts of Venice, something you might value in a city known for its crowds.
But if that's not for you, I list some boutique hotels in San Marco and Dorsoduro below.
Top Pick
The Venice Venice Hotel
Address: Palazzo Ca' da Mosto, Venice
Location: Cannaregio
The Venice Venice Hotel is a short walk away from the Rialto Bridge, a prime location for a Venetian holiday. Every morning, you'll be in for a treat with a highly regarded breakfast, with accommodating staff willing to cater to your dietary needs – vegetarian, dairy-free or gluten-free.
Features:
Distinctive decor and design.
Stylish rooms with ample natural light.
Huge selection for breakfast.
Great location near Rialto Bridge, Palazzo Contarini del Bovolo.
Ideal central Downtown location.
Pros: Prime location near Rialto Bridge but away from the crowds, outstanding rooms and exceptional service.
Cons: The wifi is not the best.
Check Availability
The Venice Venice Hotel is an outstanding choice, but I'd also like to bring a couple of other boutique hotels to your attention.
Each one has its own distinct flavour and appeal, be it location, unique character, design flair or commitment to sustainability.
Next Best
Nolinski Venezia
Address: 2033 Calle Larga XXII Marzo, Venice, Italy
Location: San Marco
Nolinski Venezia is another exceptional boutique hotel in Venice. The design is unique, and the attention to detail is incredible. Your mornings begin with a diverse breakfast selection, with most food items sourced from the region around Venice. The hotel emphasises sustainability, with energy-efficient lighting and 100% renewable electricity throughout. They are committed to reducing food wastage, and their menu accommodates both vegetarian and plant-based diets. With popular attractions like La Fenice Theatre and Piazza San Marco close by, Nolinski Venezia is a great place to stay in Venice.
Cool and Unique Hotel
When it comes to unique boutique hotels, you're not just booking a room. You're signing up for an experience.
These hotels often have a distinctive charm, often defined by their individual style or unusual design elements that set them apart from mainstream accommodations.
Il Palazzo Experimental
Address: Sestiere Dorsoduro 1410, Venice, Italy
Location: Dorsoduro
Il Palazzo Experimental stands out as a unique choice in Venice's wonderful Dorsoduro district, infusing contemporary design within a traditional Venetian palace. Once you cross the nearby Ponte dell'Accademia, St Mark's Square, the Basilica and Rialto Bridge are a short walk away. Start each day with a hearty buffet breakfast, and look forward to Italian cuisine at the in-house restaurant, featuring locally sourced and seasonal ingredients. The hotel is working towards sustainability, using 100% renewable electricity throughout while taking steps to reduce food wastage. To top it all, with a garden that opens to a canal view, you can enjoy spectacular drinks with a view. The welcoming staff add to the charm of this place, ensuring your stay is not just comfortable but thoroughly enjoyable.
Eco-Friendly Hotel
Staying in an eco-friendly hotel in Venice allows you to enjoy your holiday while minimising your environmental footprint.
When considering such a hotel, observe their commitment to sustainable practices, such as energy and water conservation, waste reduction and local and organic food sourcing.
Ca'di Dio
Address: Riva de la Ca' di Dio Castello 2182, Venice
Location: Castello
Ca'di Dio Hotel offers a refreshing stay in Venice, embracing sustainability without compromising on luxury. Located conveniently near the Doge's Palace, with splendid views of the lagoon, it's an ideal spot for visitors wanting to explore while staying slightly away from the city centre. Their breakfast selection is pleasingly broad, encompassing buffet, Italian and plenty of plant-based options. You can also look forward to delicious meals and drinks at their in-house restaurant and bar. This boutique hotel is independently certified sustainable. The Castello neighbourhood is an interesting one, with a mix of high-end and budget eateries.
Madama Garden Retreat
Address: Venezia Canareggio 3604, Venice, Italy
Location: Cannaregio
Madama Garden Retreat is an eco-friendly boutique hotel in the heart of Venice. This non-smoking property brings together convenience and comfort, situated close to notable sights like Ca' d'Oro and Rialto Bridge, yet provides a tranquil retreat. You can look forward to a varied breakfast each morning, all sourced locally. This commitment to sustainability also extends to their use of energy-efficient lighting and 100% renewable electricity. As a bonus, the idyllic location affords gorgeous canal views, making your stay feel like an escape into a magical oasis. The location is one of the calmest in busy Venice. The hotel reviews rate Madama Garden as exceptional.
Luxury Boutique Hotel
When you're setting your sights on a luxury boutique hotel, the emphasis should be on attention to detail, personalised service and distinctive style. The following two hotels provide outstanding luxury while still remaining true to their boutique hotel ethos.
Palazzo Maria Formosa
Address: Castello 6121 campo Santa Maria Formosa, Venice
Location: Castello
With an ideal setting in the Castello district of Venice, Palazzo Maria Formosa offers a splendid stay, combining luxury and charm. Just a short walk from the Rialto Bridge, it's perfect for those looking to explore the city's highlights like Basilica San Marco and Doge's Palace. The hotel's decorations are sure to impress, as will the cheerful and helpful staff. Each morning, you'll be treated to a delicious breakfast that's met with rave reviews from previous guests. The spa and bar area are also standout features, providing perfect spots for relaxation after a day of sightseeing. When it comes to luxury boutique hotels in Venice, Palazzo Maria Formosa makes a fine impression.
Palazzina Grassi
Address: Ramo Grassi 3247, Venice, Italy
Location: San Marco
At Palazzina Grassi, you're in for a unique, luxurious stay in Venice. Set in the city's historic heart, near Piazza San Marco, opposite the famous Grassi Palace. The renowned French architect and designer Philippe Starck designed this luxury boutique hotel to create a fusion of modern style and timeless Venetian charm. Just steps away from the bustling Canal Grande and the iconic Fenice Theatre, it is ideally located for exploring Venice. You'll love the restaurant and terrace, where you can savour the chef's incredible creations in a relaxed atmosphere. Compliments from past guests underline the hotel's pristine cleanliness, the warm professionalism of the staff, and the comfort it provides.
Where to Stay in Venice
San Marco: San Marco is the historic heart of Venice, home to key landmarks such as Piazza San Marco, Basilica San Marco and the Doge's Palace. It's an excellent area where to stay in Venice for first-time visitors due to its proximity to iconic sights and a wealth of dining and shopping options.
Castello: East of San Marco, Castello offers a more relaxed atmosphere while still being a stone's throw from the city's attractions. This district is brimming with picturesque canals, tranquil parks and traditional eateries serving authentic Venetian cuisine.
Dorsoduro: For a unique Venetian experience, consider Dorsoduro. Home to the Peggy Guggenheim Collection and Gallerie dell'Accademia, it's a haven for art lovers. Enjoy the vibrant nightlife scene here, with its cool bars and local hotspots.
Cannaregio: A bustling neighbourhood known for its vibrant food and drink scene, Cannaregio is an excellent area to stay in. Its location, slightly away from the tourist crowds, provides a genuine slice of Venetian life with a range of independent stores and local markets.
Santa Croce: A fantastic option for those in search of a quieter stay, Santa Croce is an authentic and less touristy area. Home to beautiful gardens and open spaces, it's the perfect spot for those who enjoy a peaceful retreat while being just a short walk from the city's highlights.
San Polo: This area is famous for the Rialto Bridge and its bustling market. San Polo is packed with boutique shops and quaint cafes, offering a mix of historic charm and vibrant city life.
Giudecca and the Islands: If you're up for a different type of stay, consider Giudecca or the other islands of Venice. Renowned for their charming atmosphere, they offer a tranquil retreat from the city's hustle and bustle yet are still easily accessible by Vaporetto (water bus).
Venice Lido: If you fancy some beach time, Venice Lido is the place to be. This long, narrow island, famous for its sandy beaches, provides a seaside resort feel within easy reach of Venice's cultural heart.
Remember, no matter where you choose to stay, Venice's compact size and excellent water transportation make exploring all the city's charming neighbourhoods easy.
My guide to the best places to visit in Italy can help with trip planning.
For things to do and events in Venice, be sure to have a look at the information provided by Visit Venezia.
Responsible Travel in Venice
Here are a few ideas on how we can travel more responsibly in Venice.
Choose Accommodation Wisely: Opt for hotels or guesthouses committed to environmental sustainability; look for renewable energy use, waste minimisation efforts and sourcing food and supplies locally.
Eat Sustainably: Go for locally sourced, seasonal ingredients when dining out; try the city's fresh seafood or traditional Italian produce, and consider vegetarian or vegan options to reduce your carbon footprint.
Minimise Food Waste: When dining, be mindful not to over-order and waste food; share meals if portions are large, and try to eat what you've ordered.
Use Sustainable Transport: Given Venice's unique structure, walk or use the public water buses (vaporetti) instead of private water taxis; you could also cycle around the Lido.
Reduce Air Travel: Consider train travel to and from Venice instead of flying; it's scenic and less taxing on the environment.
Support Local Community: Shop at local markets or stores rather than large chain shops, attend local events and respect the city's rules and regulations to preserve its beauty and culture.
Tread Lightly: Venice is a city struggling with over-tourism; consider visiting in the off-peak season and always respect the city's cultural heritage and environment.
FAQ
What's the best area to stay in Venice for first-time visitors?
The San Marco district is often recommended for first-timers because it puts you within walking distance of Venice's most iconic attractions, such as Piazza San Marco, Doge's Palace, and Basilica San Marco.
What are the benefits of staying in a luxury boutique hotel in Venice?
A luxury boutique hotel provides a unique, personalised experience with high attention to detail, a distinct style, and, often, a focus on excellent service and fine dining.
Is it possible to find eco-friendly hotels in Venice?
Absolutely, there's a growing trend of eco-friendly hotels in Venice that focus on sustainability, from energy-efficient lighting to efforts to reduce food wastage and the use of renewable energy.
How can I navigate around Venice responsibly?
Venice is an easily walkable city, and the public water buses (vaporetti) provide an eco-friendly option for getting around. Reducing reliance on private water taxis can help to preserve the city's infrastructure and environment.
Final Thoughts
As you set out to explore the enchanting city of Venice, remember that your choice of hotel can be an integral part of your experience.
An eco-friendly boutique hotel option benefits the environment and enriches your stay with sustainable practices.
Similarly, a boutique hotel can provide a unique, personalised experience that gives you a fresh perspective on Venetian culture and lifestyle.
If you have questions or want to leave a hotel review, please do so in the comments.
—
Recommendations are independently chosen based on personal travel experiences and extensive research. This post contains affiliate links to hotels in Venice, Italy. This means I get a small commission from any bookings at no extra cost to you.