Recommendations are based on personal travel experiences and research. If you book through links on our site, we may earn a commission at no extra cost to you.
—
In the heart of Ireland, Dublin melds rich history and vibrant culture in perfect harmony. It's home to exceptional literary heritage, intriguing ancient landmarks and inviting pubs filled with the famed Irish charm.
In this guide, I share the best boutique hotels in Dublin, each with its own unique Irish personality, reflecting the essence of this iconic city.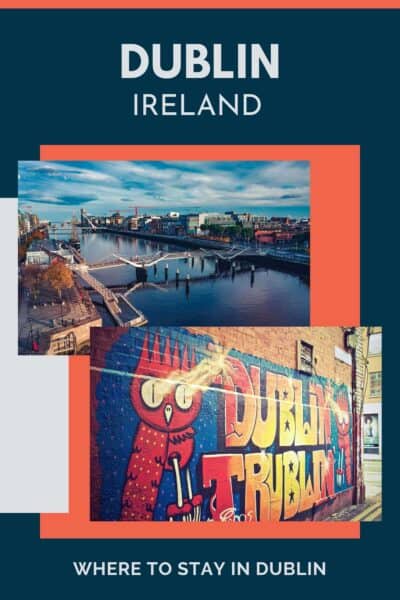 Best Boutique Hotels in Dublin
Choosing a boutique hotel first means thinking about which part of town best suits your needs.
Dublin City Centre is the vibrant heart. It pairs historic sites like Dublin Castle and the iconic Grafton Street with a lively blend of shops, restaurants and nightlife.
Within this area is Temple Bar. It's known for its trendy cafes, small boutiques, inviting green spaces and a sprinkling of top-notch pubs and eateries.
My top hotel pick is in North City, right next to the Ha'penny Bridge.
Top Pick
Zanzibar Locke
Address: 34 Ormond Quay Lower, Dublin
Location: North City
Zanzibar Locke is located just a stone's throw away from the vibrant pulse of Dublin's city centre. The clean and modern rooms set a high standard, and the convenient proximity to iconic sights such as Dublin Castle, Chester Beatty Library and St Michan's Church means you're at the heart of all the action. With exceptionally friendly staff, a restaurant dishing up global flavours throughout the day, and an unbeatable location, it's a property I would wholeheartedly recommend for your Dublin stay.
Features:
Cool and unique design.
Stylish rooms with ample natural light.
Huge selection for breakfast.
Stunning lobby, lounge and bar areas.
Great location near Ha'penny Bridge.
Pros: Superb location near city's main attractions, modern and clean rooms, exceptionally friendly staff and restaurant serving international cuisine.
Cons: Continental breakfast could use improvement.
Check Availability
Although I think this is the best of Dublin's boutique hotels, there are plenty of other options you might like.
They each have their unique appeal, whether it's a prime location, a unique sense of style or an eco-friendly ethos.
Next Best
The Grafton Hotel
Address: 31-32 Stephen's Street, Lower Johnsons Place, Dublin
Location: Temple Bar
The Grafton Hotel is a bright spot in Dublin's hotel scene. With a bar, a restaurant and a terrace for you to unwind on, it covers all the bases for a great stay. Situated in a convenient location, you're never far from Dublin's eateries, shops and main attractions. The exceptional breakfast – sourced locally no less – sets you up for the day, and their commitment to eco-friendliness shines through, from energy-efficient lighting to measures to minimise food waste. The Grafton Hotel is certainly one I would recommend for a second visit, with the friendly staff and lovely decor rounding out an excellent experience.
Cool and Unique Hotel
A cool and unique boutique hotel brings a distinct character and style to the table, featuring unusual design elements, a focus on personalised service, or a distinctive theme that sets them apart from the crowd.
The Mont
Address: Merrion Square, Dublin, Ireland
Location: Dublin City Centre
The Mont is a 4-star boutique hotel in the heart of Dublin and a unique choice for a city break. It pairs modern decor with designer interiors to create a stylish haven away from the bustle. The fitness facilities and the Irish Sports bar add a dash of versatility to your stay. Top-notch service from the friendly and professional staff is the cherry on top. It's no wonder guests praise the comfy beds, fabulous rooms and perfect location. Being within walking distance of major sights and with bars and restaurants close by, Mont Hotel positions you right where the action is.
Moxy Dublin City
Address: 1-5 Sackville Place, Dublin
Location: Dublin City Centre
The Moxy Dublin City Hotel truly stands out with its distinct character and commitment to guest comfort. It's in a prime spot, within easy reach of top attractions like EPIC, The Irish Emigration Museum, Trinity College and the Irish Whiskey Museum. The big comfy beds are the perfect place to crash after a day of sightseeing, and the bar provides a welcoming atmosphere for a well-earned drink. The hot breakfast options are somewhat limited but tasty and satisfying. Add in their eco-friendly measures like locally-sourced food and energy-efficient lighting, and you've got a hotel that's not just cool and unique but also working to lower its impact on the environment.
Eco-Friendly Hotel
Opting for an eco-friendly hotel is an excellent way to reduce your travel footprint. These hotels usually implement sustainable practices such as energy efficiency, water conservation, waste reduction and locally-sourced food.
Staying in such a place aligns with ethical and environmental values and can enrich your travel experience as you contribute to local economies and promote sustainable tourism.
Anantara The Marker Dublin
Address: Grand Canal Square, Dublin, Ireland
Location: Grand Canal Dock
Anantara The Marker, situated in the city's business and cultural quarter, is more than just an eco-friendly choice. This hotel beautifully marries luxury with sustainability, evident in the meticulous decor, top-notch dining and even a spa for relaxation. You can soak in views of the cityscape from the Rooftop Lounge, weather permitting, or savour traditional Irish cooking at The Brasserie, with a strong emphasis on locally-sourced produce. The comfortable rooms, spacious and spotless bathrooms and super comfortable beds get high marks, as does the customer service. This hotel embodies environmental consciousness with energy-efficient lighting, 100% renewable electricity usage and efforts to reduce food wastage. Moreover, vegetarian and vegan menu options are available for those pursuing plant-based diets. In all aspects, Anantara stands out as a green hotel choice that doesn't skimp on luxury.
Wren Urban Nest
Address: Dublin Andrews Lane, Dublin, Ireland
Location: Temple Bar
Wren Urban Nest is an eco-friendly hotel in the Temple Bar district. Its prime location lets you walk to notable attractions, including The City Hall, Dublin Castle and Chester Beatty Library, while the Gaiety Theatre is just a short stroll away. Air-conditioned rooms with modern amenities that can be controlled electronically ensure a cosy stay, and the shared lounge invites you to unwind. Don't miss out on the daily breakfast with a good spread, including Full English/Irish, vegetarian or vegan options. Wren Urban Nest shines with its efforts towards sustainability, sourcing most of its food locally, using energy-efficient lighting, using 100% renewable electricity and making strides to reduce food wastage.
Luxury Boutique Hotel
Luxury boutique hotels are your go-to for an immersive and personal experience steeped in plush comforts. They provide an intimate atmosphere and often exhibit a character that's unique, echoing the locale's history or culture.
You should look for superior service, distinctive decor and high-quality amenities in these boutique hotels, with two of the best in Dublin listed below.
Beckett Locke
Address: North Wall Avenue, Dublin, Ireland
Location: Dublin Docklands – Point Village
As a guest at Beckett Locke, you'll find the place brimming with charm. With its fantastic location, you'll have some of Dublin's popular points of interest within easy reach, including the iconic 3Arena and the Convention Centre. Their practical yet beautiful rooms are equipped with plenty of outlets for all your devices – a small detail that adds great convenience to your stay. A tram station right outside takes care of your city centre visits. The staff deserve a special mention – they're friendly and always ready to help, making you feel right at home. You'll also be charmed by the spaciousness of the rooms and the elegant reception and bar area.
The Wilder
Address: 22 Harcourt Terrace, Dublin, Ireland
Location: Saint Kevin's
Staying at The Wilder is quite an experience. You're nestled right in Dublin's entertainment district, a hop away from the Little Museum and just a ten-minute stroll from the National Museum of Ireland. The location is interesting, right near the canal and downtown. But the little things make The Wilder feel like a real luxury. Snacks on demand, gin and tonic at your beck and call and cool rooms that feel like a slice of heaven. Many reviews mention the breakfast as a highlight. The staff make you feel right at home, always ready with a helping hand. They've also got their eyes on the environment, with energy-efficient lighting and measures to reduce food waste.
Where to Stay in Dublin
Dublin City Centre: This is where the heart of the city beats. You're smack bang in the middle of all the action, surrounded by shops, galleries and more pubs than you can shake a stick at. A top pick when deciding where to stay in Dublin.
Temple Bar: Just a stone's throw away from Downtown, you'll find Temple Bar. Known for its buzzing nightlife, independent shops and vibrant street art, it's a perfect spot for those looking to immerse themselves in the lively spirit of Dublin.
Trinity College area: This buzzing hub is beside the city centre. Home to the historic Trinity College, this area has plenty of museums to explore and is a sweet spot for green spaces.
Grand Canal Square: Now, this is a beautiful spot. It is surrounded by modern buildings, hip bars and restaurants, and it's next to the business and cultural quarters.
City Hall – Castle area: Looking for a slice of history? This is the place for you. The area around City Hall and Dublin Castle has a lot of cultural landmarks, including the Chester Beatty Library and Gaiety Theatre. It's also the home of the eco-friendly Wren Urban Nest.
St. Stephen's Green: This area has a magnificent park and is home to some of Dublin's most notable shopping streets and the gorgeous boutique Wilder Hotel.
Portobello: A bit south of the city centre, this residential area is known for its cool café culture and is a great spot to relax after a day of city exploring.
Docklands: Over to the east, this rejuvenated area showcases modern Dublin, packed with tech hubs and trendy eateries. Beckett Locke, a luxury boutique hotel, calls this area home.
When deciding where to stay in Dublin, remember each neighbourhood has its flavour. So take a quiz and find the one that suits you best!
Explore more of Ireland with my guide that reveals the best places to visit in every region of Ireland, taking you on a curated itinerary through the country's charming villages, dramatic coastal landscapes, historic castles and vibrant cityscapes.
In searching for more details about the city, Visit Dublin is a valuable resource. They provide a wealth of information, particularly when it comes to planning activities, identifying prime sightseeing locations and keeping up to date with upcoming events.
Responsible Travel Tips
Here are a few ideas on how we can travel more responsibly in Dublin and elsewhere.
Use Dublin's Efficient Public Transport: Dublin is well-serviced by sustainable transport options like trams (Luas), buses and trains. Make the most of them instead of hiring a car to reduce your carbon footprint.
Support Local Producers: Look for restaurants and cafes in Dublin that source their ingredients from local farms. This not only boosts the local economy but also cuts down on carbon emissions associated with transporting food over long distances.
Minimise Food Waste: Avoid ordering or buying what you can eat and avoid wasting food. Many restaurants in Dublin are now also focusing on reducing their food waste, and you can support this effort by eating at these places.
Choose Renewable Energy Powered Venues: When choosing your hotel in Dublin, consider eco-friendly options. Some hotels and hostels use renewable energy and energy-saving practices.
Avoid Unnecessary Flights: If you're travelling from within Ireland or the UK, consider taking a train or ferry to Dublin instead of flying, which has a higher carbon footprint.
Sustainable Diets: Dublin has a good selection of vegetarian and vegan restaurants. Choosing plant-based meals can significantly reduce the environmental impact of your diet.
Support the Local Community: Shopping at local markets or independent stores in Dublin can help support the local economy and often reduces the carbon footprint compared to shopping at larger, international stores.
FAQ
What is the best area to stay in Dublin for first-time visitors?
The City Centre is generally a great choice for first-time visitors. It's centrally located, full of historic charm, and offers easy access to many of Dublin's top attractions like Dublin Castle, the Temple Bar area and Grafton Street.
What should I consider when choosing a hotel in Dublin?
You should consider the location and its proximity to the attractions you're interested in, the type of accommodation (e.g., luxury, boutique, eco-friendly), and your budget. Reviews from past guests can also provide valuable insights.
What is there to do in Dublin?
Dublin offers a wealth of attractions, including historic sites such as Dublin Castle and St Patrick's Cathedral, cultural venues like the National Museum of Ireland and the Little Museum of Dublin, as well as plenty of pubs for traditional Irish music and a pint of Guinness.
How do I get around Dublin?
Dublin is well-serviced by public transport, including buses, trams and trains. It's also a relatively compact city, so many attractions are within walking distance if you're staying in the city centre. Taxis and bike rentals are also widely available.
Final Thoughts
Remember each neighbourhood's distinctive character and allure when seeking a boutique hotel in Dublin.
Explore the vibrant streets of Temple Bar, immerse yourself in the history of Dublin Castle, or embrace the trendy atmosphere of Grand Canal Square.
Dublin's rich heritage, lively culture, and friendly atmosphere will ensure a remarkable experience.
If you have questions or want to leave a hotel review, please do so in the comments.
—
Recommendations are independently chosen based on personal travel experiences and extensive research. This post contains affiliate links to hotels in Dublin, Ireland. This means I get a small commission from any bookings at no extra cost to you.