Recommendations are based on personal travel experiences and research. If you book through links on our site, we may earn a commission at no extra cost to you.
—
Athens truly is the heart of ancient civilisation, where centuries of history blend alongside vibrant street life and unparalleled hospitality.
As a city, it harmoniously blends the past with the present, whether you're soaking up the grandeur of the Acropolis or savouring the hustle and bustle of its colourful markets.
In this guide, you'll discover the best boutique hotels in Athens that reflect this timeless metropolis's character.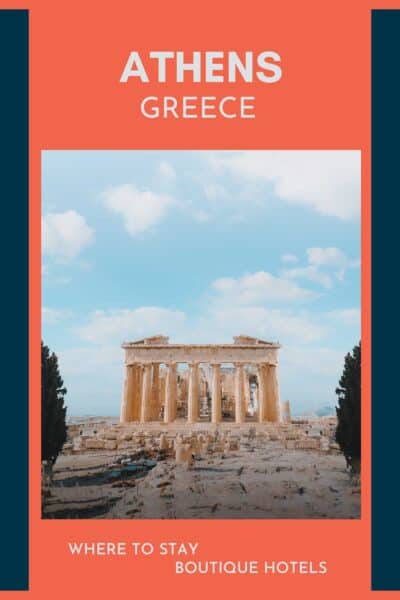 Best Boutique Hotels in Athens
Plaka is the historic heart of Athens and is home to well-preserved classical architecture and is within easy access to sights like the Acropolis. It's a popular area to stay in Athens.
On the other hand, you might like to stay in the Monastiraki district of Athens, known for iconic landmarks, including the ruins of Hadrian's Library, the Ancient Agora and the rebuilt Stoa of Attalos.
Plaka and Monastiraki are right next to each other, so both are great areas to stay. My top hotel pick is located in the Monastiraki district.
Top Pick
The Dolli at Acropolis
Address: 49 Mitropoleos, Athens
Location: Monastiraki
Staying at The Dolli at Acropolis is an absolute treat for any traveller. Perfectly situated in Athens city centre, it offers easy access to key attractions, including Monastiraki Square, with the added convenience of nearby transport links. The hotel takes pride in its superb service, world-class breakfasts that you can enjoy with a stunning Acropolis view and environmentally friendly initiatives such as energy-efficient lighting and a focus on reducing food waste. Its rooftop infinity pool, stylish decor and immaculately designed rooms create an extraordinary backdrop for your stay, ensuring you're enveloped in modern, clean elegance. As a cherry on top, the property emphasises local sourcing for food and caters to various dietary preferences, with vegetarian and vegan menu options.
Features:
Cool and unique design.
Stylish rooms with ample natural light.
Outdoor swimming pool.
Huge selection for breakfast.
Stunning lobby, lounge and bar areas.
Great location near Monastiraki Square and Tzistarakis Mosque.
Sustainability:
Energy-efficient heating and cooling system.
Most food is locally-sourced.
Vegetarian and vegan menus are available.
A recycling program is in place, diverting waste from landfills.
Pros: Prime location; stunning decor; impeccable rooms; helpful staff; world-class breakfast; Acropolis views; rooftop pool.
Cons: High demand for poolside seats; can be busy at peak times.
Check Availability
With so much diversity in Athens, it's only fair I share a few other boutique hotels you might like.
Whether you're looking for a unique style, a prime location, or an eco-friendly spot, there are several other outstanding options to consider for your stay.
Next Best
The Modernist Athens
Address: 4 I.Gennadiou Str, Athens, Greece
Location: Kolonaki
The Modernist Athens is situated in the chic neighbourhood of Kolonaki and within easy reach of Lycabettus Hill and Athens Music Hall. The hotel is a stylish haven for any style-focused traveller. Its elegant interiors house unique features, like a vinyl record collection for music lovers and a premium spirit trolley, adding a distinctive flair to your stay. Alongside, fitness enthusiasts can enjoy an on-site gym, and everyone can relish a buffet breakfast thoughtfully prepared with locally sourced ingredients each morning. Certain rooms extend onto a balcony, perfect for soaking in the vibrant Athens atmosphere, while the rooftop offers stunning city views. But the true gem of The Modernist Athens is its staff, going the extra mile to ensure your stay feels special. Complemented by the hotel's sustainable initiatives are the assortment of boutique shops, museums, bars and restaurants in the surrounding area.
Gatsby Athens
Address: Lekka 18, Athens, Greece
Location: Monastiraki
Gatsby is a standout boutique hotel in Athens, designed for a truly chic stay. A stone's throw from popular points of interest like Syntagma Square and the National Garden makes exploring Athens a breeze. The hotel ensures every morning starts on the right foot, serving up hearty, full breakfasts celebrated for their quality. The staff excel in making guests feel at home, whether you're checking in, enjoying your meal, or seeking local tips. Certain rooms come with an extra perk – a balcony, while others feature a unique bath in the room layout for a hint of luxury. Known for its stunning decor, comfy beds and exquisite food and drinks, Gatsby Athens offers a place to sleep and a true taste of Athenian elegance. Moreover, it's commendable how the hotel takes pride in locally sourced food, energy-efficient lighting, supporting local artists and guiding guests on local culture and etiquette.
Perianth Hotel
Address: 2, Limpona Street, Athens, Greece
Location: Monastiraki
Perfectly placed in the heart of Athens, just a hop away from Monastiraki Square, the Perianth Hotel presents a distinctive blend of retro-style decor with modern finesse. The rooms and suites, decorated with an eye for detail, feature black marble bathrooms and comfy work desks, all making for a comfortable stay. A delicious buffet breakfast is available daily, perfect for kick-starting your exploration of Athens. Just a leisurely 15-minute walk lands you at the Acropolis, while a cluster of hip bars, stylish restaurants and varied shops are right at your doorstep. The Acropolis Museum, the Acropolis Rock and Ermou Shopping Street are all easily accessible. The hotel staff are known for their accommodating nature and hospitality, ensuring your stay runs smoothly. The cherry on the cake is the spectacular Acropolis view from the junior suite's balcony.
Cool and Unique Hotel
In your quest to find a unique and cool boutique hotel, there are certain elements that will catch your eye.
Look for places that shake up the norm with their individual flair, weaving a distinct theme or concept throughout their decor and service.
A cool hotel often combines bold design with a keen sense of local culture, inviting you to see the city through a fresh lens.
New Hotel
Address: 16, Fillelinon Str., Athens, Greece
Location: Plaka
Situated in the city's beating heart in Plaka near Syntagma Square, the New Hotel makes its mark as a design hotel with a unique flair. The work of renowned Brazilian designers, the Campana Brothers, blends contemporary style with elements of its historical past, including a preserved 1940s black marble staircase. Its location is just perfect, placing you within easy walking distance of key sights, such as the ruins of Plaka, the iconic Acropolis, its new museum, and the stylish district of Kolonaki, known for its cafe culture and boutique shopping. The rooms impress with their design and comfort, featuring super comfortable beds that make for a perfect end to a day of exploration. The staff are particularly nice, going out of their way to ensure your stay is smooth. The New Hotel is a cool place to stay, offering a taste of local Athenian culture with a unique design twist.
Colors Hotel Athens
Address: 27-29 Emmanouil Benaki, Athens, Greece
Location: Omonia
Sitting a short 400 metres from Omonia Square, Colours Hotel Athens breathes new life into the city with its fresh, clean design that mirrors the vibrant images you see online. Always ready to assist, the staff creates an atmosphere that feels both welcoming and above par. You'll start each day with a good breakfast, though a touch more variety would really round it out. Walking distance from points of interest like the University of Athens, the National Archaeological Museum and the National Theatre of Greece, it's a comfy base for exploring. The hotel takes pride in its green practices, sourcing food locally, conserving energy with LED bulbs, and offering vegetarian and vegan options. With Colors Hotel Athens, your stay is immersed in comfort, colour and a dash of whimsy.
Alkima
Address: 10 Tompazi Psirri, Athens, Greece
Location: Monastiraki
Tucked away in a quiet part of Monastiraki, Alkima Hotel brings you a tranquil retreat with its serene location, stylish Scandinavian-inspired design and top-quality finishes. As you savour the diverse breakfast, you'll find comfort in knowing the food was locally sourced and wastage is kept to a minimum. In my eyes, the standout here is the outdoor pool on the terrace – it's the perfect spot for relaxing and taking in the panoramic city views. Despite its peaceful setting, it's within 1 km of the city centre and close to must-see spots like Monastiraki Railway Station and Omonia Square.
Eco-Friendly Hotel
To find a solid eco-friendly hotel in Athens, you'd want to look for a place that's committed to sustainability practices in its daily operations. These can be energy-saving measures, waste-reduction efforts, or a firm dedication to local sourcing.
The Zillers Boutique Hotel
Address: 54 Mitropoleos, Athens, Greece
Location: Monastiraki
I think you'll likely appreciate this sustainable hotel in Athens, where your carbon footprint can be lower than by staying elsewhere. Located in the heart of the historic city, mere steps away from notable sites like the Roman Agora, this eco-conscious boutique accommodation ensures your stay is both comfy and considerate of the environment. The hotel stays lit with energy-efficient LED bulbs while running on 100% renewable electricity. Their commitment to the planet doesn't stop there; they take strides to minimise food waste and source most of their food locally. Rooms are as clean as a whistle, boasting a certain charm that's authentically Greek. The rooftop terrace is spectacular, providing a cracking view of the Acropolis.
Luxury Boutique Hotel
A luxury boutique hotel is a place to stay based on exclusivity and sophistication, paired with an intimate atmosphere that big chain hotels can't quite mimic.
As they say, you get what you pay for, and you're paying for the best in a luxury boutique hotel. And the following luxury hotels aren't exactly cheap, but they're ideal for a special holiday treat if it's within your budget.
Xenodocheio Milos
Address: 3-5 Kolokotroni, Athens, Greece
Location: Monastiraki
At Xenodocheio Milos, you'll find luxury style in a stunning hotel near the Acropolis. You'll love how well-placed it is, making your exploration of Athens, including the iconic Acropolis, a breeze. But the location is only one part of its charm; it's also renowned for its impeccable organisation and cleanliness. A lovely breakfast gets your day off to a good start. The hotel staff can't do enough for you; they go the extra mile and make your stay smooth. This is more than just a hotel stay – it's a plush experience in a great location, delivered with a personal touch.
MiraMe Athens Boutique Hotel
Address: 118 Ermou, Athens, Greece
Location: Monastiraki
MiraMe Athens Boutique Hotel is a slice of luxury right in the heart of Athens. Its position, just a short walk from Monastiraki Square and the metro, is spot on, making it a brilliant launch pad for your city exploration. You'll step into a space that's kept exceptionally clean and be welcomed by staff who are friendly and keen to assist. Each room is comfortably outfitted, complete with fresh, high-quality linen and towels. As a treat, you'll wake up to a delicious breakfast each morning.
Ergon House
Address: Mitropoleos 23, Athens, Greece
Location: Monastiraki
The Ergon House Hotel is a lush haven of tranquillity, providing an unparalleled boutique hotel experience. With a convenient location a stone's throw from Monastiraki Square, you're in the perfect spot to immerse yourself in the city's vibe. The incredibly helpful staff will make your stay a breeze, always ready to assist. The rooms are beautiful, maintained to the highest standard of cleanliness, exuding a modern charm and fitted with super comfortable beds. The rooftop bar is a must-visit, with a stunning view of the Acropolis. You're set for the day with an exceptional breakfast, with the freedom to choose anything from the menu. Plus, there's a business centre and a cosy snack bar for your convenience.
Where to Stay in Athens
Downtown Athens: This is the city's historic heart, where to stay in Athens if you want to be close to renowned archaeological sites such as the Acropolis and the Ancient Agora. Along with its historical appeal, Downtown has a thriving café culture and an array of traditional tavernas where you can savour Greek cuisine.
Syntagma Square: As the city's central square, it's buzzing with activity and is just a short stroll from the Parliament building. It's also an area with chic boutiques, cool bars, and noteworthy restaurants.
Monastiraki: This is a vibrant neighbourhood known for its flea market and small independent shops. Monastiraki Square is a hub of activity, with street performers, food stalls, and an assortment of tavernas and bars.
Plaka: Considered Athens' "Neighbourhood of the Gods," Plaka is a picturesque district located at the foot of the Acropolis. It's full of narrow lanes, small squares and neoclassical houses, offering a unique blend of ancient and modern Athens.
Kolonaki: This upscale neighbourhood is known for its high-end boutiques, gourmet dining and art galleries. It's also home to the city's business zone, making it a great choice for business travellers.
Omonia Square: This area is a central hub for public transportation and offers a diverse mix of shopping and dining options. You're also close to the National Archaeological Museum of Athens and the National Theatre of Greece.
Gazi: If you're into the nightlife, this is your spot. Known for its bustling night scene, the area is filled with trendy bars and clubs. It's also home to the Technopolis, an industrial museum and cultural venue.
Anafiotika: Tucked on the slopes of the Acropolis, this district feels like a Greek island in the heart of Athens. It's charming, with its tiny white houses, narrow alleys and abundant flowers. A peaceful retreat from the busy city, yet still within walking distance of the main sights.
Remember, the best place to stay will ultimately depend on your interests and what you want to get out of your trip to Athens.
For more destinations to add to your Greek itinerary, read my guide to the best places to visit in Greece.
For a more in-depth exploration of the city's attractions, events and activities, This is Athens can be a reliable source of information.
They have a comprehensive collection of things to do in Athens that can help you create your personalised itinerary.
Responsible Travel in Athens
Here are a few ideas on how we can travel more responsibly in Athens.
Renewable Energy: Consider choosing hotels or accommodations in Athens that use renewable energy sources, such as solar panels or wind energy, to minimise your carbon footprint during your stay.
Minimising Food Waste: Be mindful of your portion sizes at Athens' many eateries, and consider sharing meals to reduce food waste.
Sustainable Diets: Opt for locally-sourced, plant-based meals and ingredients when dining out; many restaurants in Athens use fresh produce grown in and around the city, which supports local farmers and minimises food transportation.
Sustainable Transport: Athens has an efficient public transport system, including buses, trams and the metro. By using these, you'll minimise emissions compared to private car hire. Even better, explore Athens on foot or by bike where possible; it's a compact city with many sights in close proximity.
Avoid Flying: If you're already in Europe, consider overland travel options to reach Athens. Trains, buses, or ferries can be a more sustainable choice than flying and can offer you a different perspective on the landscape and culture.
Supporting the Local Community: When shopping, favour local artisans and small businesses in Athens. This supports the local economy, promotes traditional craftsmanship, and reduces the carbon footprint of mass-produced goods. Participate in community events or festivals to learn more about and appreciate Athens's rich culture and traditions.
FAQ
What is the best area to stay in Athens?
The best area to stay in Athens often depends on your preferences and plans. Plaka is popular for its central location and historical sites, while Monastiraki is great for shopping and dining. If you're after vibrant nightlife, try Psiri or Gazi.
How do I choose the best hotel in Athens?
Consider your budget, the hotel's location, the amenities it provides and guest reviews. For a unique experience, you might opt for a boutique or eco-friendly hotel, while a luxury hotel could be the choice if you're after some pampering.
What's the best way to get around Athens?
Athens has a robust public transport system, including buses, trams and the metro, which can get you to most parts of the city. For a more intimate experience of Athens, consider walking or cycling, particularly within the city centre where many attractions are located.

What are the must-see attractions in Athens?
The Acropolis, the Ancient Agora, and the National Archaeological Museum are among Athens' must-see sights. But don't forget to enjoy the city's vibrant food and arts scenes and explore neighbourhoods like Kolonaki for its galleries and Anafiotika for its island-like charm.
Summary
Choosing the right Athens boutique hotel stay all comes down to your unique tastes and what you want from your stay.
Athens is brimming with history, culture and incredible food; it always has so much going on. What an incredibly interesting city, like no other in the world.
If you have questions or want to leave a hotel review, please do so in the comments.
—
Recommendations are independently chosen based on personal travel experiences and extensive research. This post contains affiliate links to hotels in Athens, Greece. This means I get a small commission from any bookings at no extra cost to you.