Recommendations are based on personal travel experiences and research. If you book through links on our site, we may earn a commission at no extra cost to you.
—
With its world-class art scene, the iconic Cologne Cathedral and a distinct beer culture exclusive to this part of Germany, Cologne has a magic all its own.
In this guide, I'll lead you through the best boutique hotels in Cologne, each one adding a unique layer to your visit.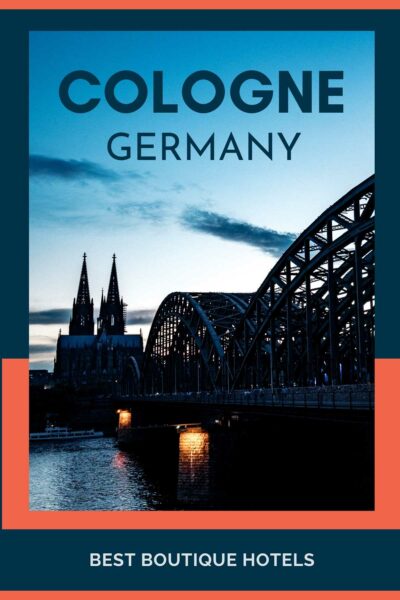 Best Boutique Hotels in Cologne
When looking for a hotel in Cologne, the first step is to consider which area you'd like to stay in.
Two of the most popular districts for tourists are the Belgian Quarter and of course, the Old Town (Altstadt-Nord).
The Belgian Quarter's vibrant cafe culture, independent stores and cool bars are great for those looking for a lively atmosphere.
On the other hand, the Old Town appeals to visitors with its charming cobblestone streets, historical landmarks and picturesque green spaces.
For most visitors, I recommend staying in the Old Town as this is the heart of the city's sights, attractions, theatres and business events.
Top Pick
25hours Hotel The Circle
Address: Im Klapperhof 22-24, Cologne
Location: Altstadt-Nord
During your stay at the 25hours Hotel The Circle, you'll appreciate its unique and stylish room design, which offers a refreshing break from the usual hotel format. The hotel takes pride in its sustainability efforts, including 100% renewable electricity, waste reduction initiatives and energy-efficient lighting. Enjoy a delicious breakfast buffet that includes vegetarian options, all served with fresh ingredients and minimal packaging, creating a relaxed atmosphere for the start of your day. The hotel's commitment to the local community and environment is evident in its support of local artists, guides, and businesses and in providing guests with information on Cologne's ecosystems, heritage, and culture.
Features:
Unique decor and design.
Stylish rooms with loads of natural light.
High-end amenities in the amazing bathrooms.
Huge breakfast selection.
Stunning lobby, lounge and bar areas.
Great location near the National Socialism Documentation Centre.
Sustainability:
The hotel uses 100% renewable electricity.
Energy-efficient heating and cooling system.
Food waste is minimised.
Vegetarian and vegan menu options are offered.
Pros: Unique room design, hightly-rated, sustainable practices, delicious breakfast options.
Cons: 12 minute walk from Cologne Cathedral.
Check Availability
While I think the 25hours Hotel is the best place to stay, I understand that different travellers have unique preferences.
So I've also recommended a couple of other boutique hotels in Cologne that you might like for various reasons such as location, uniqueness, style, or eco-friendliness.
Keep reading to explore these alternative options and find the perfect fit for your Cologne experience.
Next Best
Urban Loft Cologne
Address: Eigelstein 41, Cologne, Germany
Location: Altstadt-Nord
Staying at Urban Loft Cologne, you'll appreciate its prime location near the Musical Dome Cologne and Museum Ludwig and its proximity to popular points of interest like Cologne Central Station, Cologne Cathedral and the Romano-Germanic Museum. This hotel features a terrace and a bar while offering modern design, excellent services and amenities complemented by an efficient staff. Environmentally-conscious travellers will value the electric car charging station, vegetarian and vegan menu options and the hotel's commitment to reducing food waste. Urban Loft Cologne is also dedicated to supporting local artists, guides, and businesses, ensuring guests are well-informed about the city's ecosystems, heritage and culture.
Cool and Unique Hotel
When searching for a cool, unique boutique hotel, you'll want to focus on aspects that set it apart from the rest.
Consider the hotel's design, which might showcase creative or innovative architectural elements, and its ambience, which can create a unique experience.
Staying in an interesting or fun boutique hotel can elevate your trip, immersing you in the local atmosphere and providing a fresh perspective on Cologne's vibrant culture.
Ruby Ella Hotel Cologne
Address: 79-83 Hohenzollernring, Cologne, Germany
Location: Neustadt Nord
Experience the cool and unique ambience of Ruby Ella Hotel, conveniently located in the Neustadt Nord district. A mere 1.7 km from Cologne Cathedral and within walking distance to the National Socialism Documentation Centre, Neumarkt Square and Saint Gereon's Basilica, this hotel is an ideal location for both business and leisure travellers. The exceptional staff and high-quality rooms are signature features of the Ruby Hotels group, and the Ruby Ella is no exception. Enjoy the buffet and continental breakfast options each morning, with a focus on organic ingredients and efforts to reduce food waste. The hotel also showcases its commitment to sustainability with an electric car charging station and energy-efficient lighting throughout the property.
Luxury Boutique Hotel
In your search for a luxury boutique hotel, prioritise properties known for their exceptional services and refined amenities.
These hotels often stand out due to their personalised experiences and attention to detail, taking your stay in Cologne to a whole new level.
Hotel Mondial am Dom Cologne
Address: Kurt-Hackenberg-Platz 1, Cologne, Germany
Location: Altstadt-Nord, near Cologne Cathedral
Indulge in the luxurious experience of staying at the Hotel Mondial am Dom Cologne, located just steps from the Kölner Dom (Cologne Cathedral) and the Museum Ludwig. Enjoy an exquisite dining experience at Mondial 1516, which serves traditional and regional dishes while offering a stunning view of Cologne Cathedral. The hotel's attention to detail ensures a comfortable and super-clean environment, with an unbeatable location that's perfect for exploring the city and visiting the Christmas markets in winter. The helpful staff, delicious breakfast and commitment to sustainability – such as locally sourced food, energy-efficient lighting and 100% renewable electricity – make this luxury boutique hotel an exceptional choice for your Cologne visit.
Prevôt Restaurant & Hotel
Address: 4 Auf dem Brand, Cologne, Germany
Location: Altstadt-Nord
Discover the luxury and charm of Prevôt Restaurant & Hotel, situated in the heart of Cologne, just 200 meters from the Cologne Philharmony and Cologne Cathedral. This boutique hotel features a terrace, restaurant and bar and an excellent location near popular points of interest such as Hohenzollern Bridge, Musical Dome Cologne and Wallraf-Richartz Museum. Revel in stylish and comfortable rooms, some with balconies and city views, making your stay during events like the famed Karneval truly exceptional. The fantastic location, just a short 5-minute walk from Koeln Hbf and right on the River Rhein, adds to the allure. The hotel also supports local artists and businesses, offering tours and activities led by local guides and promoting cultural and environmental awareness to its guests.
Eco-Friendly Hotel
For travellers interested in staying at a sustainable or eco-friendly hotel, it's essential to identify properties that emphasise environmental responsibility and incorporate green practices.
Keep an eye out for hotels that are committed to reducing waste, conserving energy and water, and supporting local communities.
By opting for an eco-friendly hotel, you can enjoy a comfortable stay while playing a part in preserving the environment and fostering sustainable initiatives in the captivating city of Cologne.
Several of the hotels already recommended are some of the best sustainable hotels in Cologne, but here are a couple more options.
The Qvest hideaway
Address: Gereonskloster 12, Cologne, Germany
Location: Altstadt-Nord
Experience sustainability at The Qvest hideaway, an eco-friendly hotel nestled in the heart of Cologne's Old Town within a historic building dating back to 1897. Start your day with a locally sourced breakfast served in the stylish restaurant, which also offers evening drinks. The hotel is committed to the environment, using energy-efficient light bulbs and 100% renewable electricity throughout the property. Additionally, it makes efforts to reduce food wastage. While staying at this beautifully designed hotel, enjoy nearby attractions such as Cologne Cathedral and the Museum of Applied Art, both just 1 km away. The hotel is also adjacent to the Kaune Contemporary Gallery for Contemporary Photography. To further support the local community, The Qvest offers tours and activities organised by local guides and businesses.
Budget Boutique Hotel
Motel One Köln-Neumarkt
Address: 32 Cäcilienstraße, Cologne, Germany
Location: Altstadt-Nord
Experience eco-friendly hospitality at Motel One Köln-Neumarkt, a sustainable hotel located within walking distance of Neumarkt Square and numerous well-known attractions. While staying at this environmentally-conscious property, you'll find yourself close to Cologne Cathedral, Museum Ludwig, Wallraf-Richartz Museum and Romano-Germanic Museum. Start your day with a buffet or continental breakfast featuring organic food selections. Motel One Köln-Neumarkt is committed to sustainability, using 100% renewable electricity throughout the hotel and energy-efficient lighting. The property also incorporates green spaces such as gardens and rooftop gardens, allowing guests to enjoy a touch of nature during their stay. Relax in a clean, cosy room with a comfortable bed and lovely bathroom, and experience the attentive service the super nice staff provides.
Where to Stay in Cologne
When deciding where to stay in Cologne, consider these top areas, each with its unique appeal:
Altstadt-Nord (Old Town): Experience history in the heart of Cologne at Altstadt-Nord, a charming district filled with cobblestone streets, museums and lush green spaces that paint a picturesque scene.
Belgisches Viertel (Belgian Quarter): This trendy neighbourhood is perfect for those who appreciate a lively atmosphere. Here, you'll find an array of cafes, independent stores, and cool bars that make for a vibrant stay.
Neustadt-Nord (New Town): Dive into the energetic spirit of Neustadt-Nord, a district that perfectly encapsulates Cologne's modern side. It's a dynamic mix of innovative eateries, cutting-edge art spaces and hipster boutiques.
Deutz: Cross the Rhine to Deutz, a district that combines stunning river views with a vibrant community vibe. Here, you'll find a blend of contemporary architecture, local restaurants and panoramic views of Cologne's skyline.
Ehrenfeld: This creative and diverse area is known for its street art, galleries and nightlife. Ehrenfeld is perfect for visitors looking for a unique and culturally-rich experience in Cologne.
Rodenkirchen: If you're looking for a more tranquil environment, Rodenkirchen is a lovely option. The neighbourhood is known for its green spaces and proximity to the river, offering a peaceful retreat within the city.
Nippes: With its cosy cafes, independent stores and laid-back atmosphere, Nippes is a great choice for visitors wanting to experience a more local side of Cologne.
No matter which area you choose, you're bound to find a boutique hotel that suits your preferences and enhances your stay in this remarkable city.
Discover the magic of the country as you read my comprehensive guide, which will take you through the best places to visit in Germany, from the fairy-tale castles of Bavaria to the vibrant nightlife of Berlin and the historic charm of Heidelberg.
The tourist office is an excellent resource if you're looking for further information about visiting Cologne. They have extensive information on things to do, sightseeing, events, and more to help you plan your trip to this amazing city.
Responsible Travel Tips
Travelling responsibly in Cologne is both rewarding and enjoyable. Here are a few ideas to help you minimise your impact and make your trip more sustainable:
Renewable energy: Choose accommodations that use renewable energy sources such as solar or wind power. This way, you contribute to reducing carbon emissions during your stay.
Minimising food waste: Opt for meals at restaurants that source their ingredients locally and practice portion control, helping reduce waste and supporting local farmers.
Sustainable diets: Embrace Cologne's vegetarian and vegan dining options, which are both delicious and eco-friendly, reducing your carbon footprint one meal at a time.
Sustainable transport: Explore Cologne using its excellent public transportation system, including trams and buses, or rent a bike to navigate the city while reducing your carbon footprint.
Avoid flying: When possible, choose to travel to Cologne via train or bus instead of flying. This reduces your overall travel emissions and allows you to enjoy the scenic European landscape en route.
Supporting the local community: Prioritise spending your money at local businesses, such as independent shops, cafes and galleries. This helps support the Cologne community and ensures an authentic travel experience.
By following these tips, you'll enjoy a more responsible and fulfilling journey in the beautiful city of Cologne.
FAQ
What is the best area to stay in Cologne?
The Altstadt-Nord (Old Town) and the Belgian Quarter are popular neighbourhoods known for their cafes, restaurants, museums and nightlife.
Are there any unique or boutique hotels in Cologne?
Yes, there are several unique boutique hotels in Cologne, such as the 25hours Hotel The Circle, Urban Loft Cologne, Ruby Ella Hotel Cologne and Prevôt Restaurant & Hotel.
What are some popular tourist attractions in Cologne?
Cologne Cathedral, the Romano-Germanic Museum, and the Museum Ludwig are popular attractions. The city also has a vibrant nightlife, with numerous bars and clubs to explore.
What is the best way to get around Cologne?
Cologne has a good public transport system, with buses, trams and trains. Biking and walking are also great options.
Conclusions
Thanks for taking the time to read this guide on finding the best boutique hotel in Cologne.
With so many great options, it can be tough to choose just one, but hopefully, we've given you some inspiration and ideas to help you find your perfect match.
Remember to consider your personal preferences and priorities when choosing your hotel, whether it's location, style, or amenities.
And once you're settled in, take some time to explore all that this vibrant city has to offer – from the stunning architecture to the fantastic dining scene, you're sure to have an amazing time in Cologne.
If you have questions or want to leave a hotel review, please do so in the comments.
—
Recommendations are independently chosen based on personal travel experiences and extensive research. This post contains affiliate links to hotels in Cologne, Germany. This means I get a small commission from any bookings at no extra cost to you.