Recommendations are based on personal travel experiences and research. If you book through links on our site, we may earn a commission at no extra cost to you.
—
Jasper is a gem in the Canadian Rockies known for its pristine landscapes and thriving wildlife.
Many travellers find solace in its natural beauty, serene lakes, and towering mountains.
In this guide, you'll discover some of the finest boutique hotels that Jasper has to offer.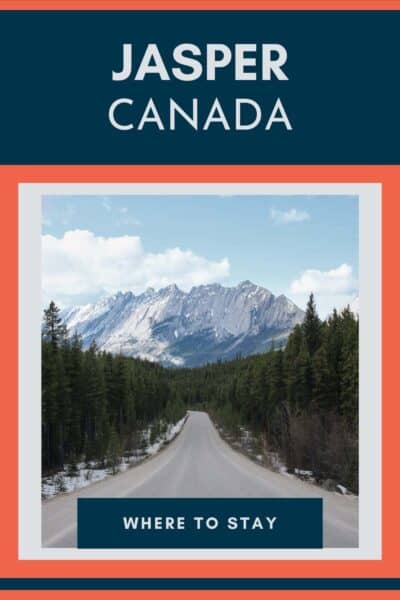 Boutique Hotels in Jasper
The first step when looking for a hotel is to consider which area you'd like to stay in.
Downtown Jasper serves as the heart of the town, with a myriad of shops, restaurants, and essential services for visitors.
On the other hand, the area around Patricia Street buzzes with a lively cafe culture dotted with independent stores, galleries, and green spaces for a more relaxed vibe.
For a mix of convenience and local charm, I'd suggest staying around Patricia Street.
Top Pick
HI Jasper
Address: 708 Sleepy Hollow Road, Jasper, Canada
Location: Town Centre.
HI Jasper is known for its friendly and accommodating staff, ensuring guests feel welcome and taken care of. The hostel is not only super clean with ample space but it's also situated in a prime location where wildlife sightings come as a delightful bonus. With its focus on sustainability, excellent amenities, and a reputation for great customer service, it stands out as one of the best hostels many travellers have experienced.
Features:
It's a cool and unique hotel.
Stylish rooms with lots of natural light.
Great breakfast selection.
Great location near Paradise, Canadian Rockies Express.
Sustainability:
Efforts are made to minimise food waste.
It avoids using single-use plastics.
Electric vehicle charging station.
Support is given to local community organisations.
Pros: Friendly staff, accommodating service, clean spaces, prime wildlife location, sustainability focus, ample amenities, and excellent customer care.
Cons: Minor issues resolved quickly, potential room variations, subtle ambience differences.
Check Availability
Beyond HI Jasper, I'll be introducing a few other boutique hotels that stand out based on their unique designs, eco-friendliness, and value for money.
Each of these selections brings something distinct to the table, ensuring varied options for your stay.
Whether you prioritise location or innovative design, you'll find something tailored to your preferences.
Best Value for Money
Four Cedars
https://www.booking.com/hotel/ca/four-cedars-accommodation.en-gb.html?aid=2019791
Address: 912 Patricia Street, Jasper, Canada.
Location: City Centre.
Four Cedars Hotel provides exceptional value for money, evident in its modern accommodations, which are both spacious and immaculately clean. The hotel showcases a beautiful design, making it a cosy place that gives you a homely feel. It features amenities such as a full kitchen, allowing guests to enjoy home-cooked meals. Furthermore, its strategic location is just a 5-10 minute walk to downtown restaurants and stores, and there's the added convenience of consistent street parking availability. The primary bedroom ensures comfort, is distinctively separated from the living area, and comes equipped with a pull-out sofa queen bed. For those considering a stay, Four Cedars comes highly recommended.
Inn Accommodation
The White Brick Inn
https://www.booking.com/hotel/ca/the-white-brick-inn.en-gb.html?aid=2019791
Address: PO Box 265/ 201 Geikie Street, Jasper, Canada.
Location: City Centre.
The White Brick Inn Hotel stands out for its undeniable value for money, with clean, warm accommodations that feature beautifully decorated rooms. The kitchen is notably impressive, and the bed and pillows ensure a level of comfort that's hard to match. Particularly for female solo travellers, there's a sense of safety within the property and the surrounding neighbourhood. Communication with the host is efficient, reinforcing the appeal of this finely furnished apartment that's easy to locate and a stone's throw away from the town. Among its various amenities, guests have appreciated the equipped kitchen, a reliably hot bathroom shower, and the pleasant surprise of music on arrival. Beyond the practicalities, the owners create a feeling of warmth and hospitality, making guests feel right at home. And for those arriving by car, the convenience of free parking right outside is yet another tick in its favour.
Where to Stay in Jasper
Downtown Jasper: The very heart of Jasper, Downtown offers a plethora of shops, restaurants, and essential services. Ideal for visitors who prefer to be in the middle of the action, it's a bustling area with easy access to most attractions.
Patricia Street: A lively street renowned for its cafe culture. Patricia Street is dotted with independent stores, galleries, and green spaces, presenting a laid-back vibe that's perfect for casual strolls and people-watching.
Four Cedars Area: Situated close to the town's heart, this neighbourhood provides a balance between urban and nature. There's a mix of modern accommodations and cosy places, making it a favourite for those who value aesthetics in their stay.
White Brick District: Known for its chic hotels and easy access to town, this district also has a reputation for safety, which is especially comforting for solo travellers. Additionally, it has several well-decorated accommodations, ensuring visitors feel right at home.
Riverfront Jasper: As the name suggests, this area is adjacent to the serene river, offering splendid views and a chance to be closer to nature. Popular for its green spaces and proximity to some cool bars and nightlife, it's an excellent choice for those who enjoy evening walks with a touch of urban flair.
East Jasper Arts Hub: A district brimming with art and culture. You'll find numerous galleries, museums, and studios showcasing local talent here. This is an optimal spot for art enthusiasts to decide where to stay in Jasper.
Jasper Beachfront: Although not a traditional beach, this waterfront area provides a refreshing escape with lakeside views. Popular during the warmer months, it's a fantastic place for picnics, water sports, or simply soaking in the landscape.
In your search for where to stay in Jasper, consider these areas based on your preferences, whether you're drawn to the buzz of downtown or the cultural allure of arts districts. Each neighbourhood offers its own unique charm, ensuring a delightful stay.
While you're exploring Canadian destinations, you might find my guide to the best places to visit in Canada helpful in planning your next adventure.
Plan Your Trip
For those keen on expanding their knowledge about the city, VisitJasper serves as a valuable resource. It provides details on things to do, sightseeing opportunities, and upcoming events.
Responsible Travel Tips
Here are a few suggestions to help you travel responsibly in Jasper.
Renewable Energy: Opt for accommodations in Jasper that utilise renewable energy sources, such as solar or wind power. It's a conscious decision that makes a significant difference.
Minimising Food Waste: When dining out in Jasper's local eateries, consider ordering portions that you can finish to reduce food waste. If you can't, ask for a takeaway box and enjoy it later.
Sustainable Diets: While in Jasper, embrace plant-based meals or locally sourced dishes. The town is surrounded by nature, and many local establishments pride themselves on using ingredients from the region.
Sustainable Transport: Utilise Jasper's public transport system or hire a bike for short distances. This reduces your carbon footprint and allows you to see the town from a different perspective.
Avoid Flying: If you're travelling within Canada, consider taking a train or bus to Jasper. The scenic routes offer views that flying simply can't compete with.
Support the Local Community: Purchase souvenirs and products made by Jasper's artisans. Engaging with local craftspeople supports the community and gives you a unique memento of your trip.
Incorporating these practices into your Jasper visit will make your trip more sustainable and beneficial for the local environment and community.
Final Thoughts
Choosing a boutique hotel in Jasper can significantly enhance your stay, allowing you to experience the town's charm more intimately.
While the natural beauty and activities around Jasper are the main attractions, a thoughtfully picked accommodation can complement your experience, ensuring comfort and a touch of local flair.
It's worth taking the time to research and select a place that aligns with both your preferences and the values of sustainable and local-focused travel. Safe travels!
If you have questions or want to leave a hotel review, please do so in the comments.
—
Recommendations are independently chosen based on personal travel experiences and extensive research. This post contains affiliate links to hotels in Jasper, Canada. This means I get a small commission from any bookings at no extra cost to you.