Recommendations are based on personal travel experiences and research. If you book through links on our site, we may earn a commission at no extra cost to you.
—
It might seem like a cliche, but Copenhagen truly is a city of bicycles. As a city draped in history, its charming architecture and attractions make it fascinating to explore by bike (or food), while the vibrancy of its art scene is sure to catch your eye.
In this guide, I share a selection of the best boutique hotels Copenhagen has on offer, immersing you in the distinct culture and Danish style.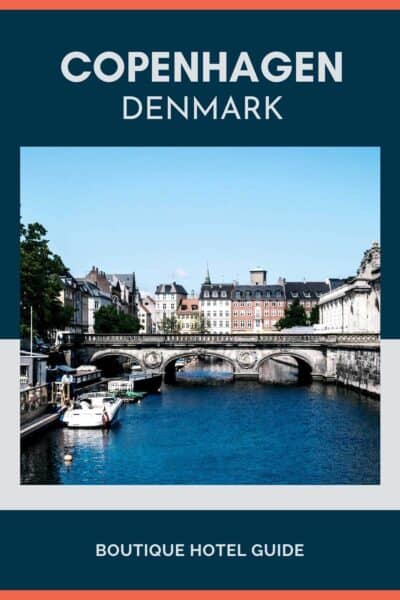 Boutique Hotels in Copenhagen
When hunting for the perfect boutique hotel, you might first like to pinpoint the district that aligns best with your interests.
If it's the hustle and bustle of Copenhagen's heartbeat you're keen on, Indre By, the city's historic centre, is the best area to stay.
Dotted with royal palaces, shopping streets and trendy restaurants, you're never far from the action.
On the other hand, Nørrebo is a lively neighbourhood with a youthful vibe, featuring a mix of chic boutiques, lush green parks and a pulsating nightlife scene.
I've listed hotels in both districts, and my top hotel pick is in Indre By.
Top Pick
Nobis Hotel Copenhagen
Address: 1 Niels Brocks Gade, Copenhagen
Location: Indre By
Nobis Hotel is located within an elegant a historic 1903 building just a stone's throw from Tivoli Gardens. The hotel exudes a chic and cosy atmosphere, with tastefully designed rooms, comfortable bedding and gorgeous bathrooms complete with luxury beauty products. You'll find the hotel has exceptional amenities, such as the excellent gym and wellness area, complete with a sauna and hammam hot stone. The hotel's restaurant, NOI, presents delicious Scandinavian dishes, sourcing seasonal, quality ingredients locally, thereby contributing to the local food community. With major attractions like Tivoli Gardens and the Danish Design Centre a leisurely walk away, the location couldn't be more convenient. The staff's warm welcome, top-notch service and a commitment to showcasing local artists' work further enhance your stay.
Features:
Distinctive decor and design.
Stylish rooms with ample natural light.
Huge selection for breakfast.
Award-winning restaurant, NOI.
Stunning lobby, lounge and bar areas.
Sustainability:
Most food is locally-sourced.
Sustainable food practices in place.
The hotel avoids using single-use plastics.
A recycling program is in place, diverting waste from landfills.
Pros: Great central location; access to the fitness centre and relaxation area; locally-sourced restaurant meals; close to major attractions; warm, welcoming staff.
Cons: 10-minute walk to the Strøget shopping area.
Check Availability
In addition to the Nobis Hotel, I've got a couple more boutique hotels to recommend. These options are fascinating due to their unique locations, exceptional style, or commendable commitment to eco-friendly practices.
Next Best
Hotel Kong Arthur
Address: Nørre Søgade 11, Copenhagen, Denmark
Location: Nansensgade-Kvarteret
Hotel Kong Arthur is a boutique hotel tucked by the city lakes in central Copenhagen. The recently renovated hotel exudes a beautiful Scandinavian feel that welcomes you instantly. And with comfortable beds, friendly staff and delicious food, your stay will be as comfortable as it gets. This eco-friendly hotel, dating back to 1882, brings history to life and champions the environment with its organic, Nordic-style breakfast buffet. Within the hotel, you'll be spoiled for choice with Italian cuisine at La Rocca, Spanish tapas at Pintxos and Japanese-inspired dishes at Sticks'n'Sushi. Fancy exploring Copenhagen by bike? Rent one of their bikes and make the most of the central location, with Nørreport Station, Tivoli Gardens, and the main shopping street, Strøget, all within easy reach. The hotel's commitment to reducing food waste, providing electric car charging stations, and offering vegetarian and vegan menu options will leave you feeling good about your stay.
Hotel Sanders
Address: Tordenskjoldsgade 15, Copenhagen, Denmark
Location: Indre By
Centrally located in Indre By, mere steps from Nyhavn, Hotel Sanders is a unique boutique hotel that stands out with its elegance and attention to detail. You'll find a tranquil retreat in the rooftop conservatory garden, while the restaurant, Sanders Kitchen, tempts with a fresh, healthy menu inspired by Mediterranean cuisine and underpinned by local, seasonal produce. For an evening unwind, the vintage setting of Bar Tata sets the perfect stage, serving classic cocktails and hand-picked wines. The hotel also extends its hospitality beyond the typical, arranging laundry and concierge services and car and bike rentals for your convenience. You'll be within a brisk 20-minute walk to Tivoli Garden and Copenhagen Central Station. And when it's time to kick back, the inner courtyard is a dream spot to enjoy a drink, a meal, or simply a good book on a sunny day.
Cool and Unique Hotel
In the world of cool boutique hotels, what makes the difference is a unique blend of style, character and personalisation. These hotels often bring a distinct charm to the table, woven through their architecture, decor, or through their story.
25hours Hotel Indre By
Address: Pilestraede 65, Copenhagen, Denmark
Location: Indre By
25hours Hotel Indre By is a cool and unique boutique hotel conveniently tucked in central Copenhagen, setting itself apart with its quirky designs and thoughtful commitment to sustainability. You'll appreciate the allergy-free rooms, comfortable beds and the hush at the back of the hotel for a restful night's sleep. A buffet, continental, or vegetarian breakfast is available every morning, not to mention a delicious Saturday brunch at the in-house restaurant. You'll be in for a treat with the varied, quality food sourced locally, and the efforts to reduce food waste are a clear nod to the hotel's eco-consciousness. Sightseeing couldn't be easier with popular spots like Rosenborg Castle, Torvehallerne and Christiansborg Palace nearby.
Manon Les Suites Guldsmeden
Address: Gyldenløvesgade 19, Copenhagen, Denmark
Location: Nansensgade-Kvarteret
Manon Les Suites provides an intriguing experience with its focus on eco-consciousness and unique aesthetics. The hotel's prime location places you within a 10-minute walk from Strøget, the main shopping street, and Tivoli Gardens, offering a convenient base to explore the city. The hotel invites you to enjoy an organic breakfast buffet and treat yourself to the luxury of organic toiletries in the private bathroom. A stand-out feature is the serene pool, enveloped by lush greenery and the inviting sauna and steam room. The hotel's Eco Essentials line adds an exceptional touch to the rooms and spa, contributing to a luxurious and sustainable stay. Indulge in a variety of delicious meals at the rooftop restaurant and appreciate the efforts to source food locally and reduce wastage. Manon Les Suites is one of the most sustainable hotels in Copenhagen thanks to its use of 100% renewable electricity and many other sustainability measures.
Hotel Skt. Annæ
Address: Sankt Annae Plads 14-20, Copenhagen, Denmark
Location: Indre By
Stepping into Hotel Skt. Annæ is like stepping back in time, with buildings dating back to the 17th century coupled with a modern Copenhagen design. Just around the corner from Nyhavn Harbour and in close proximity to Kongens Nytorv Metro Station, you'll find it a breeze to explore the city. You could even rent a bike from reception for a different sightseeing perspective. The rooms are clean, comfortable and relatively quiet, creating a restful environment after a day's adventure. The Shrimp, an on-site restaurant, produces Coastal American cuisine that satisfies your taste buds, while The Club is perfect for unwinding with a cocktail. You'll find a delicious, diverse breakfast buffet served in the Atrium-style restaurant, and the hotel's initiative to reduce food wastage is a work in progress.
Eco-Friendly Hotel
Eco-friendly hotels usually prioritise renewable energy use, waste reduction, and locally sourced, organic foods. There are many eco-friendly hotels in Copenhagen, including Manon Les Suites listed above and the two sustainable boutique hotels.
Coco Hotel
Address: Vesterbrogade 41, Vesterbro, Denmark
Location: Vesterbro
The Coco Hotel is a Green Key eco-certified property located in the trendy Vesterbro district. It's an ideal spot, just a short stroll from Central Station and the famed Tivoli Gardens. A standout is their popular breakfast buffet, loaded with organic bread, juice and Danish dairy products, served in the breakfast restaurant Delphine just across the road. One could tell their commitment to sustainability, with double-glazed windows and 100% renewable electricity being used throughout. Most of their rooms overlook a tranquil courtyard, offering a peaceful retreat from the bustling city. Don't forget to enjoy a game in their new ping-pong room or relax on the summer terrace. A helpful staff, ready with tourist information and recommendations, rounds up a remarkable stay.
citizenM Copenhagen Radhuspladsen
Address: H.C. Andersens Boulevard 12, Copenhagen, Denmark
Location: Radhuspladsen
The eco-conscious citizenM Copenhagen in the Radhuspladsen district is a quirky sustainable boutique hotel in the heart of Copenhagen. Its clean, well-designed rooms and beautifully decorated lounge area make it excellent value for the location. The vivid murals by local artists, gracing both the exterior and interior spaces, add an authentic cultural touch to any visit. A delicious buffet breakfast is available each morning, with their pastries becoming a favourite for many guests. For those with business needs, the midcentury furniture of their four meeting rooms provided a stylish backdrop. Not to forget, it's within a short walk from Tivoli Gardens and Christiansborg. Their sustainability efforts include energy-efficient lighting, 100% renewable electricity and an active approach to reducing food wastage. They also cater well to dietary preferences with vegetarian and vegan options.
Luxury Boutique Hotel
As opposed to the more generic settings of large hotel chains, luxury boutique hotels pay meticulous attention to detail and often mirror the culture and spirit of their surroundings. Not only do they provide top-notch services, but they also maintain a warm, intimate atmosphere, making your stay feel exclusive. Here are a couple of options for your stay in Copenhagen.
Nimb Hotel
Address: Bernstorffsgade 5, Copenhagen, Denmark
Location: Rådhuspladsen
Nimb Hotel is a grand luxury boutique hotel located within Copenhagen's renowned Tivoli Gardens. This striking Moorish-style building provides a picture-perfect backdrop for an exceptional stay. Enjoying a meal at Nimb Brasserie, with its splendid views of Tivoli Gardens, is a special treat. Delight in seasonal Scandinavian dishes and French cuisine, or relish in the grilled delights with an Asian flair at Bar'n'Grill. Over in the bar, you'll love the top-notch afternoon tea and quality coffee amidst the charming decor. Post 5 pm, this space transforms into a cocktail paradise with mixologists crafting fantastic concoctions. The tranquil spa, a haven for relaxation, alongside a room boasting park views, a cosy fireplace and a comfortable bed, enhance your luxurious stay. Attention to detail is evident everywhere, right down to the provision of information regarding local ecosystems, heritage and culture. To top it off, the staff are simply wonderful – always on hand, friendly and adding that extra touch to your stay.
Villa Copenhagen
Address: 39 Tietgensgade, Vesterbro, Copenhagen, Denmark
Location: Vesterbro
Set in an ideal spot in Vesterbro, Villa Copenhagen is a luxury boutique hotel that promises you a fabulous stay. Dining here is a delightful experience, with African and Mediterranean delicacies served in the restaurant and top-notch cocktails in the bar. And what's better than starting the day with a delicious buffet or a gluten-free breakfast? You can take in the city views from the terrace or grab a bite at the in-house snack bar in between your adventures. Relaxation isn't far, with a lovely pool and sauna at your disposal. Don't miss the cocktails in the reception area; they are a hit, especially with the soothing beats of the DJ in the background. The location is perfect, a short train ride from the airport and an easy walk to top sights like Tivoli Gardens, Ny Carlsberg Glyptotek and Copenhagen Central Station. Your room will be comfy with delightfully scented toiletries. The staff excel in helping you out with recommendations and making your stay a pleasure. This hotel stands out for its commitment to sustainability, demonstrated by its use of 100% renewable electricity and ongoing efforts to curb food wastage.
Where to Stay in Copenhagen
Indre By (City Centre): This is the historic heart of the city, a place where you'll find a lively mix of locals and tourists, well-known landmarks and plenty of shopping options. It's a top choice when thinking about where to stay in Copenhagen, particularly if you enjoy the hustle and bustle of city life.
Vesterbro: Once known as the Red-Light District, Vesterbro has been transformed into a trendy area full of hip cafes, boutique shops and contemporary galleries. This is an excellent choice for those interested in independent stores, contemporary culture and local eateries.
Nørrebro: This diverse and energetic neighbourhood is filled with exciting bars, international restaurants, and vibrant nightlife. Nørrebo also has Assistens Cemetery, a dual-purpose park and cemetery that offers green space for picnics and quiet reflection.
Christianshavn: A unique district with its own distinct charm, characterised by canals and a mix of architectural styles. It's famous for Freetown Christiania, an intentional community with a countercultural vibe, and is a great area to stay in if you're looking for a unique cultural experience.
Frederiksberg: An upscale district is known for its lovely parks, such as Frederiksberg Gardens, and a selection of high-end shops. This neighbourhood is a good choice if you're into green spaces and fancy a touch of luxury.
Østerbro: This peaceful, family-friendly neighbourhood has wide boulevards and cosy cafes and is home to the largest park in Copenhagen, Fælledparken. Østerbro is perfect if you're after a quiet, relaxed atmosphere with plenty of outdoor space.
Amager: Just across the bridge from Christianshavn, Amager is a great neighbourhood with beaches, green areas and a selection of cafes and restaurants. It's also home to the Amager Strandpark beach park, a fantastic option for those who love the outdoors and water sports.
With my guide, I make it easy for you to find the best places to visit in Denmark, from buzzing cities to serene coastal retreats and awe-inspiring natural landscapes.
To discover more about visiting the city, check out Visit Denmark, a valuable resource packed with handy tips and information, especially on sightseeing opportunities, engaging events and the must-do activities to enrich your stay.
You'll find it's an excellent starting point for planning your trip itinerary and getting the most out of your visit.
Responsible Travel Tips
Here are a few ideas on how we can travel more responsibly in Copenhagen.
Choose Renewable Energy: When booking your accommodation, opt for places that use renewable energy. For instance, many hotels and hostels in Copenhagen are switching to energy-efficient measures and using 100% renewable electricity.
Minimise Food Waste: Be mindful of your food consumption and wastage. Copenhagen is a pioneer in innovative food waste solutions, so try to support restaurants and cafes that have adopted practices to reduce food waste.
Opt for a Sustainable Diet: Consider trying more vegetarian and vegan meals during your stay. Copenhagen is well-known for its excellent vegetarian and vegan culinary scene, so take advantage and savour some truly delicious meals while lessening your carbon footprint.
Use Sustainable Transport: Copenhagen is famous for its biking culture, with more bikes than people! Ditch the car, and enjoy this eco-friendly city as the locals do by cycling. It's healthier and a great way to see the city. Public transport is also excellent, so getting around without a car is easy.
Avoid Flying Where Possible: If you can, avoid flying into Copenhagen, or offset your carbon emissions if flying is your only viable option. Trains are a great alternative to reach the city, with excellent connections from many European destinations.
Support the Local Community: While in Copenhagen, consider supporting local businesses by buying locally produced goods and using local services. This helps the local economy and reduces the carbon footprint associated with transporting goods from afar.
FAQ
What's the best area to stay in Copenhagen for a first-time visitor?
Staying in the city centre or Indre By is ideal for first-time visitors as it offers easy access to popular attractions, plenty of shops, restaurants, and an excellent public transportation system.
Are boutique hotels a good choice for accommodation in Copenhagen?
Absolutely, boutique hotels offer a unique and personalised experience. They often highlight local design and offer a high level of service. Copenhagen has a range of boutique hotels, from luxury to budget, that cater to various tastes and preferences.
What's the best way to get around Copenhagen?
Copenhagen is renowned for its cycling culture, so renting a bike can be a fantastic and eco-friendly way to explore. Additionally, the city's public transportation system, which includes buses, trains and the metro, is efficient and reliable.
What kind of food specialities should I try while in Copenhagen?
Copenhagen is known for its New Nordic Cuisine. Be sure to try Smørrebrød, an open-faced sandwich, or a Danish pastry. The city also has a rising vegetarian and vegan scene with plenty of options.
Final Thoughts
Exploring Copenhagen is a truly enriching experience, not only because of its rich history and culture but also its diverse and vibrant neighbourhoods. It has always been one of my favourite European cities; I even dreamt of living in Copenhagen many years ago.
Picking the right accommodation is key to enhancing your travel experience. Take into account your preferences, the neighbourhood vibe that resonates with you, and how much you want to splurge.
Boutique hotels in Copenhagen can provide a unique touch to your stay, immersing you in Danish design and hospitality.
And remember, every trip is a chance to experience something new, so stay open-minded, curious and enjoy every moment of your Copenhagen adventure!
If you have questions or want to leave a hotel review, please do so in the comments.
—
Recommendations are independently chosen based on personal travel experiences and extensive research. This post contains affiliate links to hotels in Copenhagen, Denmark. This means I get a small commission from any bookings at no extra cost to you.