Recommendations are based on personal travel experiences and research. If you book through links on our site, we may earn a commission at no extra cost to you.
—
As a regular visitor to Czechia, I've been fortunate to explore Prague's cobblestone streets, historic bridges, Medieval squares and quiet corners.
In this guide, I'll take you through my handpicked selection of the best boutique hotels in Prague across several incredible inner-city neighbourhoods.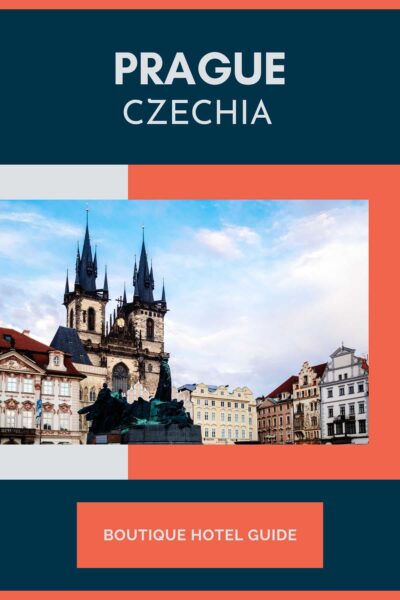 Best Boutique Hotels in Prague Czechia
The first thing I like to do when picking a hotel is choose the neighbourhood.
Top of your list should be Prague 1, the city centre, home to historical landmarks like the Old Town Square and the Astronomical Clock.
Then there's the vibrant district of Vinohrady, renowned for its bustling cafés, hip bars, and eclectic mix of independent shops.
Prague has many interesting neighbourhoods, and I've compiled a list of the best below. But if you just want to go ahead and book, here's my top hotel pick in Prague.
Top Pick
The Julius Prague
Address: 3 Senovážné Náměstí, Prague
Location: Prague 1 – Historic Centre
The Julius is a very cool boutique hotel. Its prime location puts you within walking distance of iconic sights like the National Museum of Prague and the Astronomical Clock. You'll be spoilt each morning with a huge breakfast selection, most of it locally sourced. The hotel doesn't skimp on quality, with top-drawer amenities, fantastic service and eco-friendly touches.
Features:
Cool and unique design.
Stylish rooms with ample natural light.
High-end amenities in the luxurious bathrooms.
Huge selection for breakfast.
Stunning lobby, lounge and bar areas.
Great location near Prague's famous City Gate.
Sustainability:
Energy-efficient systems.
Sustainable food practices in place.
The restaurant prioritises locally-sourced food.
A waste recycling program is in place.
Electric vehicle charging station.
Pros: Prime location near iconic sights, quality locally sourced breakfast, excellent service, close transport connections.
Cons: Busy location in Prague's city centre.
Check Availability
Don't worry if the Julius Hotel isn't right for you. I've got a couple of other boutique hotels you might like, including two I stayed in on my last trip.
Next Best
Hotel Nerudova 211
Address: Nerudova 14, Prague, Czechia
Location: Prague 1 – Malá Strana
Set in the heart of Prague 1 in the Malá Strana district, Hotel Nerudova 211 is an absolute gem with an incredible location just a stone's throw from iconic landmarks such as Prague Castle and Charles Bridge. This historic building, once owned by renowned architect Jan Blažej Santini, has been meticulously preserved; the authentic wooden ceilings, ribbed vaults, fresco paintings and functional sundial add a unique charm that's hard to resist. The dedication to service is impressive, and the eco-conscious efforts combined with locally sourced food and vegetarian options make it an even more appealing choice. It's an extraordinary hotel that impresses with its history, design, cleanliness, and of course, the exceptional staff.
BoHo Prague Hotel
Address: Senovážná 4, Prague, Czechia
Location: Prague 1 – Nové Město
Perched a mere hop away from the Old Town Square, BoHo Prague certainly makes its mark. The location is bang on, giving you easy access to both Wenceslas Square and the main station, setting you up to explore the city at your own pace. The staff here don't just hit the mark; they sail right past it with their helpful and friendly attitudes, making your stay comfortable and seamless. And it's not just the service that impresses; the well-appointed rooms, delicious restaurant meals, and thoughtful touches such as the free glass of wine in the library every evening truly set this hotel apart. With eco-friendly initiatives in place, BoHo Prague stands as a solid option for a superb stay in the city.
Cool and Unique Hotel
A truly unique boutique hotel should be more than just a place to rest your head; it's an experience in its own right.
Characterised by a blend of intimate settings, distinctive design and personalised service, these spots turn your stay into something special.
So, for a fun twist on the typical hotel experience, I'd say a boutique hotel in Prague can certainly add a splash of colour to your travels.
Three Storks
Address: Valdstejnske namesti 8, Prague, Czechia
Location: Prague 1 – Malá Strana
I was fortunate to stay in this cool hotel several years ago. Nestled in Prague's Lesser Town, the Three Storks Hotel weaves its luxurious design into a building steeped in history. Dating back to the 14th century, this former monastic brewery is now a modern sanctuary with sweeping views over the city's red rooftops and, if you're lucky, Prague Castle. The rooms are a perfect mix of space, comfort and contemporary flair, matched by a team of staff who know their stuff and are always on hand to help. Step outside, and you're in a top-notch location at the base of Prague Castle near Charles Bridge. Trams and the metro are just a short walk away, making it easy to venture out. But don't miss the chance to kick back in the elegant lobby bar or to savour the locally sourced food and a great variety of breakfast options.
Golden Star
Address: Nerudova 48, Prague, Czechia
Location: Prague 1 – Malá Strana
Another hotel I was lucky to stay in. I highly recommend the Golden Star for its incredible elevated views across Prague. Located halfway up towards Prague Castle, the Golden Star wraps itself in Baroque splendour while giving you a front-row seat to panoramic views over the Old Town and Lesser Town. A recent renovation brought a fresh breath of life to the 270-year-old staircase, richly adorned ceilings and rooms brimming with designer furniture. You're set up in a prime location, close to the Castle and within an easy stroll to Old Town and Charles Bridge. The restaurant here serves up a tasty blend of Czech dishes and international cuisine under a historic vaulted ceiling.
Eco-Friendly Hotel
Opting for an eco-friendly hotel is a step towards a greener future. These hotels typically focus on energy efficiency, waste reduction and locally sourced food — all factors that minimise their impact on the environment.
By choosing this kind of hotel, you're enjoying a stay that's just as comfortable and stylish and make a lower impact on the planet.
Hotel At the White Lily
Address: 4 Jánský Vršek, Prague
Location: Prague 1 – Malá Strana
Tucked quietly in Prague's Lesser Town, At the White Lily makes an effort to be both cool to stay in and kind to the environment. Its location, a mere 400 metres from Prague Castle and within a relaxed walk to Charles Bridge, sets you up for easy exploration. The rooms are spacious, with big bathrooms and a notable touch of comfort in the beds. Fresh fruits and vegetables feature daily in the varied breakfast, served in a charming central courtyard. A noteworthy commitment to sustainability is evident, with energy-efficient lighting, efforts to cut food waste and use of 100% renewable electricity throughout.
Hotel Cube Prague
Address: Křemencova 18, Prague, Czech Republic
Location: Prague 1 – Nové Město – New Town
Hotel Cube, positioned conveniently in Prague's heart, provides an eco-friendly stay without skimping on comfort or convenience. Located within walking distance of the Old Town and key attractions, this modern, 4-star hotel is as cosy as it is clean. Notably, they've made a strong commitment to sustainability; all lighting is energy-efficient, and there's a concentrated effort to reduce food wastage. There's also an abundance of locally-sourced, vegetarian and vegan options on the breakfast menu, with everything from fresh bread and pastries to hot and cold selections.
Luxury Boutique Hotel
With an emphasis on bespoke service, unique design and a feeling of exclusivity, luxury boutique hotels can make your stay feel special.
They're the epitome of personalised luxury, often situated in prime locations, and each brings its own character and charm.
So, luxury boutique hotels are a brilliant choice for an experience that transcends standard hotel stays.
Allure Hotel Prague
Address: 21 Bílkova, Prague, Czechia
Location: Prague 1 – Old Town
For a luxury traveller, Allure Hotel ticks all the right boxes. Situated in the heart of the city, it's a stone's throw from many attractions, with the Astronomical Clock and Old Town Square close by. I was truly struck by the thoughtful design, blending comfort and luxury with ease. The rooms are spacious, complete with well-appointed bathrooms that add to the overall charm. A rich breakfast awaits in the morning, its variety and quality leaving no room for disappointment. Additionally, there are sustainable practices in place – think locally sourced food, energy-efficient lighting and minimal food wastage. Plus, they catered to different dietary needs with vegetarian and vegan options.
Cosmopolitan Hotel Prague
Address: 3 Zlatnická, Prague
Location: Prague 1 – Petrska Ctvrt
This hotel is located in the historic city centre of Prague but in a different area than most of the hotels in this guide. It's within a stone's throw of the Old Town Square and mere steps away from the popular Palladium shopping mall. The building is a beautiful townhouse from 1889 that's been transformed into a luxurious boutique hotel where history and modern design strike a perfect balance. Within its walls, the Next Door restaurant is the highlight – designed by Italian architect Luciano Belcapo, with its frescoed ceilings and the magic of celebrity chef Zdenek Pohlreich. Even the basics are exceptional here, from the quiet, spacious rooms with comfortable beds and bathroom floor heating to a tasty and fulfilling breakfast in an inviting atmosphere.
Where to Stay in Prague
Old Town (Staré Město): This is the heart of Prague and where to stay in Prague if you're a first-time visitor. Rich with historical significance, this district is home to famous landmarks like the Old Town Square and Astronomical Clock.
Lesser Town (Malá Strana): Across the Charles Bridge from Old Town, this area is renowned for its stunning Baroque buildings and beautiful garden spaces. It's perfect if you're after a quiet and atmospheric experience, with Prague Castle and St Nicholas Church on your doorstep.
New Town (Nové Město): Despite the name, New Town dates back to the 14th century! It's a lively area with a bustling cafe culture and vibrant nightlife. Key attractions include Wenceslas Square and the National Museum.
Josefov: As the old Jewish quarter of Prague, Josefov is a poignant district filled with history. It's also within easy reach of the Old Town Square, making it a convenient and fascinating base.
Vinohrady: Known for its wide boulevards, pastel Art Nouveau buildings and green spaces, Vinohrady is a neighbourhood that oozes charm. It's also a haven for foodies, dotted with trendy bistros and farmer's markets.
Žižkov: Žižkov is a quirky, offbeat neighbourhood popular with younger visitors. It's reputed to have more bars per capita than any other city district in Europe!
Hradčany: Home to Prague Castle, this district is the city's historical epicentre. The views over the city's rooftops from this hilltop neighbourhood are worth the trip alone.
Karlín: Karlín has become one of Prague's hippest areas. It's filled with cool bistros, cafes and boutique shops, while its large park is perfect for a leisurely stroll.
Each of these districts are great areas to stay in Prague. But keep in mind that Prague has a brilliant public transport system so it's easy to get around where you stay.
If you're looking to add to your Czechia itinerary, check out my guide that maps out the best places to visit in Czechia, covering everything from enchanting castles and hidden gems to vibrant cities.
For more detailed insight about your upcoming visit to the city, you'd do well to check out the resources available at Prague City Tourism. They've got great info on the latest happenings, key sightseeing spots and exciting activities to fill your itinerary.
Responsible Travel Tips
Here are a few ideas on how we can travel more responsibly in Prague.
Embrace Public Transport: Prague has an extensive and efficient public transport network, including trams, buses and the metro, which you can use to reduce your carbon footprint.
Choose Your Hotel Wisely: Opt for a boutique hotel that prioritises sustainable practices, such as using renewable energy sources or implementing energy-saving measures like LED lighting and triple glazing.
Minimise Food Waste: Opt for smaller, more frequent meals at local eateries rather than big hotel buffets to reduce food waste. Many restaurants in Prague are more than happy to provide take-away containers for leftovers.
Choose a Sustainable Diet: Prague has a growing number of vegetarian and vegan restaurants, making it easier for you to opt for a more environmentally friendly diet during your stay.
Support Local Businesses: Consider shopping at local markets or stores or eating at locally-owned restaurants to support Prague's local economy. Look out for artisan crafts, regional produce and traditional Czech dishes.
Reduce, Reuse, Recycle: Try to limit your waste by reusing items where possible and recycling when you can. In Prague, you'll find recycling bins throughout the city.
Be Mindful of Water Usage: Although Prague is not a water-scarce city, it's always good practice to conserve water where you can. Try to limit your shower time and ensure the taps are fully turned off after use.
FAQ
What are the best areas to stay in when visiting Prague?
The best areas to stay in Prague often depend on your preferences. The city centre is ideal for those looking to be in the heart of the action, close to historic sites, restaurants and shops. Lesser Town, known for its charming, quiet streets, is a top pick for travellers seeking tranquillity, while New Town is fantastic for nightlife and shopping enthusiasts.
How do I find a good hotel in Prague?
When looking for a good hotel in Prague, consider your priorities. For some, it might be location; for others, amenities, the type of accommodation (like luxury or boutique), or specific features (like a fitness room or a restaurant). Online review platforms and travel guides can also be useful resources for finding and comparing options. We have a great guide to Prague's boutique hotels!
How can I navigate Prague easily?
Prague's public transport system is extensive and efficient, with trams, buses, and the metro making it easy to get around the city. The historic centre of Prague is also quite walkable, and many of the city's key attractions are within a reasonable distance of each other.

What is the food like in Prague?
Prague has a diverse food scene, from traditional Czech cuisine to international options. You'll find plenty of hearty meat dishes, pastries and beer. However, the city also caters to a range of dietary preferences and needs, with many vegetarian and vegan restaurants popping up in recent years.

Summary
With its rich history, vibrant culture and stunning architecture, Prague is a city you're bound to enjoy.
Remember what you value most when choosing your accommodation – location, unique style or top-notch amenities.
Staying in a boutique hotel adds a layer of personalisation to your trip, making it feel like more than just a regular holiday. You can go wrong as Prague is one of Europe's great cities.
If you have questions or want to leave a hotel review, please do so in the comments.
—
Recommendations are independently chosen based on personal travel experiences and extensive research. This post contains affiliate links to hotels in Prague, Czechia. This means I get a small commission from any bookings at no extra cost to you.