Recommendations are based on personal travel experiences and research. If you book through links on our site, we may earn a commission at no extra cost to you.
—
Nanaimo, a city located on the east coast of Vancouver Island in British Columbia, Canada, is a hidden gem that offers a unique blend of natural beauty, arts and culture, and complex history.
Surrounded by stunning landscapes, including forests, mountains, and beaches, Nanaimo is a popular destination for outdoor enthusiasts who enjoy activities such as hiking, fishing, and kayaking.
In this guide, I recommend the best places to stay in Nanaimo, BC in various neighbourhoods across the city.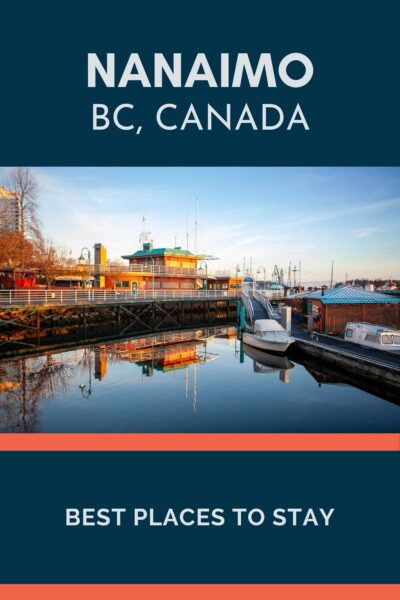 Food and drink are also a highlight of Nanaimo, with the city being famous for its namesake dessert, the Nanaimo bar, and a thriving craft brewery scene.
Nanaimo's arts and culture scene see regular performances and exhibitions at the Port Theatre and other venues.
Additionally, the city hosts several festivals and events throughout the year, such as the Nanaimo Marine Festival, the Nanaimo International Jazz Festival, and the Bathtub Race.
Nanaimo is a vibrant and exciting place to visit, with a rich First Nations history and thriving arts and culture scene.
Places to Stay in Nanaimo BC
When looking for a place to stay in Nanaimo, it's worth considering which neighbourhood you would like to be based in to fully immerse yourself in the local culture.
You may want to check out two areas: the Old City Quarter and the downtown area.
The Old City Quarter is a historic neighbourhood with plenty of character, featuring independent shops, art galleries, and cozy cafes.
Take a stroll along the tree-lined streets, admire the colourful murals, and stop for a coffee or pastry at one of the charming cafes.
Downtown Nanaimo is another vibrant area with a lively atmosphere featuring a range of restaurants, bars, and shops. Visit the Nanaimo Museum to learn about the city's history, take a walk along the waterfront, or catch a show at the Port Theatre.
If you're looking to fully experience the local culture and be in the heart of the action, I recommend staying in downtown Nanaimo.
Top Pick
Courtyard by Marriott Nanaimo
Address: 100 Gordon Street, Nanaimo, Canada
As someone looking for a comfortable and convenient place to stay in Nanaimo, the Courtyard by Marriott is a great choice. This newly opened hotel is located near the Nanaimo Museum and offers a range of amenities to make your stay enjoyable and relaxing. In your spacious room, you'll find a sitting area and a tea and coffee maker; throughout the hotel, you'll have access to a gym, indoor pool, and hot tub.
Features:
New, comfortable rooms with large beds and tea and coffee facilities.
City views from most rooms.
Modern gym for a quick workout.
Many restaurants are within walking distance.
Ideal central downtown location near the waterfront and Old City Quarter.
Sustainability:
Energy-efficient LED lighting.
Food waste is minimised.
The hotel avoids single-use plastic.
EV charging station.
Pros: A prime location with top-notch amenities and spacious rooms, makes it an ideal combination of comfort and convenience.
Cons: As a newly opened hotel, there could be some minor issues with service or amenities that are still being fine-tuned.
Check Availability
While I believe that my top pick for a boutique hotel in Nanaimo is the best option for a comfortable and unique stay, I also understand that each traveller has their own preferences.
That's why I've recommended a couple of other places to stay that you might like, each with its own distinct style and atmosphere.
You might like these if you're looking for a cosy setting or a more modern and sleek vibe; a hotel in Nanaimo will fit your needs.
Next Best
Gorgeous 4-Bedroom House
Address: 522 Vancouver Avenue, Nanaimo, BC
For those seeking a holiday home in Nanaimo that encompasses comfort, style, and an unbeatable location, look no further than this breathtaking 4-bedroom house. Situated near the Nanaimo Bastion, you'll be just steps away from the city's best attractions and activities. Inside, the house features a fully equipped kitchen, a comfortable living area with plenty of seating, and beautifully decorated bedrooms that are sure to make you feel right at home. The thoughtful decor and attention to detail throughout the house create a welcoming and relaxing atmosphere that's perfect for families, couples, or groups of friends.
One of the standout features of this holiday home is the stunning garden, which offers a peaceful oasis in the heart of the city. Take a seat on the outdoor furniture, surrounded by lush greenery and flowers, and soak in the serene ambience. It's the perfect place to unwind after a day of exploring Nanaimo's top attractions.
Eco-Friendly Hotel
As someone who cares about the environment and reducing your impact on the planet, you may prefer staying at an eco-friendly or sustainable hotel.
By staying in such a hotel, you can ensure that your accommodation is aligned with your values and that you are supporting a business that is taking steps to minimize its impact on the environment.
Campbell Cottage
Address: 555 Campbell Street, Nanaimo, Vancouver Island
Campbell Cottage is an excellent choice if you're looking for an eco-friendly and sustainable accommodation option in the heart of Nanaimo's Old City Quarter. This B&B is committed to minimizing single-use plastic and reducing food waste. Energy conservation measures are in place, and the food provided is mostly organic and locally sourced. Plus, you'll have walking access to some of the city's best restaurants. The rooms are known to be immaculate, and the breakfast is exceptional as it includes fresh eggs from the resident chickens.
Where to Stay in Nanaimo
Some of the best areas to stay in Nanaimo, British Columbia, Canada, include:
Old City Quarter: This vibrant and walkable neighbourhood features Victorian-era architecture, independent shops, art galleries, and cozy cafes. You can spend a whole day exploring the unique boutiques and shops, sampling local cuisine, and admiring the beautiful murals and street art.
Departure Bay: Located near the ferry terminal, this residential neighbourhood offers breathtaking views of the bay and easy access to the beach. You can spend your day strolling along the waterfront, soaking up the sun on the sandy beach, or enjoying a picnic in the park.
Protection Island: This small island is a short ferry ride away from Nanaimo and offers a serene setting with no hotels or resorts. You can rent a vacation home or cabin and enjoy the tranquillity of the island, taking long walks on the beach or watching the sunset over the water.
South End: This district is located south of downtown Nanaimo and offers a mix of residential and commercial areas. It's a great option for those who want to be close to downtown but prefer a quieter atmosphere. You'll find a variety of shops, restaurants, and parks in the area.
University District: Located near Vancouver Island University, this district has a vibrant and youthful atmosphere. It's a great option for students, academics, or those who enjoy a lively and dynamic atmosphere. You'll find a variety of cafes, bars, and shops in the area.
North Nanaimo: This area is located north of downtown and is known for its suburban charm and natural beauty. It's a great option for those who want to be close to nature while still having access to amenities and attractions. You'll find plenty of parks, trails, and beaches in the area, as well as a variety of shops and restaurants.
Cedar: Cedar is a small town located just south of Nanaimo that offers a rural setting with easy access to outdoor activities and parks. Take a hike through the nearby forests and mountains, visit local farms and wineries, or simply relax in the peaceful countryside. This is a great option for those looking for a quiet, relaxing getaway.
As someone who loves exploring new destinations and discovering hidden gems, you will find my guide to the best places to visit in BC to be an invaluable resource for your next trip.
As someone planning a trip to Nanaimo, British Columbia, you'll likely find Nanaimo Tourism to be an extremely helpful resource for all your travel needs.
The website provides a wealth of information about the city, including top attractions, events, and activities and practical information about transportation, accommodations, and dining options.
Whether you're looking for ideas for things to do, need help with trip planning, or want to learn more about Nanaimo, the Nanaimo Tourism website is an excellent starting point.
Responsible Travel Tips
If you're interested in travelling more responsibly in Nanaimo, British Columbia, there are a number of things you can do to minimize your impact on the environment and support the local community. Here are some ideas:
Minimize food waste: When eating out in Nanaimo, try to order only what you can eat and take any leftovers home with you.
Support sustainable diets: Consider eating at restaurants that support sustainable and environmentally responsible practices, and limit your meat and dairy consumption.
Use sustainable transport: Instead of driving, consider using public transportation or walking and biking in Nanaimo. The city has a well-developed network of bike paths and walking trails, making it easy to get around without a car.
Avoid flying: If possible, avoid flying to Nanaimo and instead choose to travel by train, bus, or car. This will reduce your carbon footprint and support sustainable transportation options.
Use renewable energy: Look for hotels and accommodation options in Nanaimo that use renewable energy, such as solar and wind power, and that have energy-efficient appliances and lighting. Options are limited in Nanaimo right now.
Support the local community: Whenever possible, try to support local businesses in Nanaimo. This includes eating at local restaurants, shopping at local markets and stores, and choosing local tours and activities. By supporting the local community, you are helping preserve the city's unique cultural and economic fabric.
FAQ
What are the best areas to stay in Nanaimo?
Some of the best areas to stay in Nanaimo include the Old City Quarter, Departure Bay, South End, University District, and North Nanaimo. Each area offers a different atmosphere and range of amenities, so choosing the one that fits your preferences and needs is important.
What are the must-see attractions in Nanaimo?
Some of the must-see attractions in Nanaimo include the Nanaimo Museum, the Bastion, Newcastle Island, Neck Point Park, and Piper's Lagoon Park. Whether you're interested in history, nature, or culture, there's something for everyone in Nanaimo.
What are the best outdoor activities to do in Nanaimo?
Nanaimo offers a variety of outdoor activities, including hiking, biking, kayaking, and fishing. Some of the best spots for outdoor activities include Westwood Lake Park, the Nanaimo River, and the nearby Mount Benson. Whether you're an experienced adventurer or a beginner, there's an activity for everyone to enjoy in Nanaimo.
Nanaimo is a fascinating and beautiful destination that offers something for every type of traveller.
With a range of unique and cosy boutique hotels to choose from, you can experience Nanaimo in a comfortable and personalised way. Make sure to research the different neighbourhoods to find the one that fits your needs and preferences.
When visiting Nanaimo, don't forget to explore the local shops and restaurants, immerse yourself in the local culture, and take in the stunning natural scenery. From hiking in the nearby mountains to kayaking in the crystal-clear waters, there are endless opportunities for outdoor adventure.
And if you're looking for a more relaxed pace, you can simply stroll through the picturesque streets of the Old City Quarter or enjoy a coffee at one of the cosy cafes.
If you have questions or want to leave a hotel review, please do so in the comments.
—
Recommendations are independently chosen based on personal travel experiences and extensive research. This post contains affiliate links to hotels in Nanaimo, BC. This means I get a small commission from any bookings at no extra cost to you.