Recommendations are based on personal travel experiences and research. If you book through links on our site, we may earn a commission at no extra cost to you.
—
Montreal is renowned for its vibrant arts scene, rich history, and eclectic mix of French and English culture.
The city is a haven for foodies, with a huge range of cuisines and a lively nightlife to match.
In this guide, you'll find a curated list of cool and unique boutique hotels that let you stay right in the heart of it all.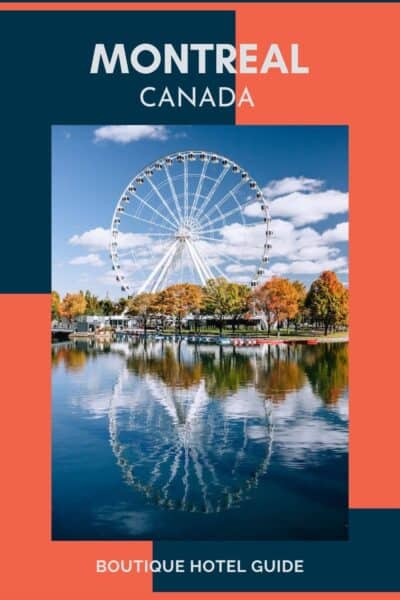 Boutique Hotels in Montreal
When you're on the hunt for a hotel, the first step is considering which part of the city you'd like to call home during your stay.
Golden Square Mile is a popular downtown area near major attractions like the Museum of Fine Arts and Old Montreal.
On the other hand, the Plateau-Mont-Royal district is known for its indie boutiques, charming cafes, and vibrant murals that create a bohemian atmosphere.
Golden Square Mile is likely the best area for your stay if you're keen on a mix of convenience and city landmarks.
Top Pick
Le Mount Stephen
Address: 1440 Rue Drummond, Montréal, Canada
Location: Golden Square Mile
Le Mount Stephen is strategically positioned in the downtown area, making a variety of restaurants, jazz clubs, and shops easily accessible by foot. The rooms are known for their comfort, particularly the high-quality bathrooms, and the hotel has additional features like a well-regarded gym, and a front desk staff noted for their helpfulness. Sustainability is also a focus, with the hotel using renewable energy.
Features:
Distinctive hotel decor and design.
Stylish rooms with lots of natural light.
High-end amenities in the luxurious bathrooms.
Huge breakfast selection.
Great location near Montreal Museum of Fine Arts.
Exceptional attention to detail and service.
Sustainability:
Independently certified sustainable hotel.
The hotel uses 100% renewable electricity.
Most food is organic and locally sourced.
Electric vehicle charging station.
Promotion of local artists within the hotel.
Pros: Prime downtown location; walkable to dining and entertainment; high comfort level in rooms; eco-conscious rating.
Cons: Limited gym size.
Check Availability
While Le Mount Stephen sets a high standard, there are other boutique hotels in Montreal that might also catch your eye for various reasons.
Whether you're prioritising location, a unique style, or a strong focus on eco-friendliness, you've got options.
In the next section, I'll spotlight a couple of these alternative accommodations.
Next Best
Hotel Monville
Address: 1041 rue de Bleury, Montréal, Canada
Location: Downtown Montreal
Hotel Monville is situated in the heart of Montreal, making it convenient for both leisurely strolls to nearby attractions and efficient travel for business trips. The rooms are thoughtfully designed with modern fixtures and integrated entertainment systems, not to mention the comfort of the beds and the practicality of automatic blinds. Sustainability is also a strong suit for this hotel, as it operates on 100% renewable electricity. Amenities like a spacious shower, air conditioning, and speedy elevators add convenience, while the staff are noted for their professionalism and helpfulness.
Cool and Unique Hotel
When you're in the market for a boutique hotel, consider elements like distinct architectural features and an innovative approach to guest experience.
These hotels often set themselves apart by integrating local culture into their design or services, providing a more authentic and individualised stay.
Hôtel Le Germain
Address: 2050 rue Mansfield, Montréal, Canada
Location: Downtown Montreal
Hôtel Le Germain excels in guest experience, highlighted by its attentive staff and seamless check-in process. The property is noted for its central location, which is prime for shopping, dining, and getting around. In-room amenities such as Nespresso machines and stylish tile bathrooms add a layer of comfort, while communal features like a well-equipped 17th-floor workout room and a cosy cocktail lounge elevate the stay.
Le Petit Hotel St Paul
Address: 168 Saint-Paul Street West, Montréal, Canada
Location: Vieux-Montréal
Le Petit Hotel St. Paul stands out for its convenient yet tranquil location, enabling guests to walk to various attractions while offering an oasis of quiet in a bustling neighbourhood. The hotel is particularly noted for its friendly and accommodating staff, who contribute to a smooth and pleasant experience. An espresso machine at the front desk ensures you can enjoy excellent specialty coffees any time, a feature much appreciated as part of the hotel's healthy and convenient breakfast offerings.
Eco-Friendly Hotel
Opting for an eco-friendly hotel allows you to minimise your carbon footprint while travelling.
Look for places with sustainable certifications, which are usually reliable indicators that the establishment is making conscious efforts in energy conservation, waste management, and responsible sourcing.
Hotel Gault
Address: 449 Rue Sainte-Helène, Montréal, Canada
Location: Vieux-Montréal
Hotel Gault makes a strong commitment to sustainability, evidenced by its use of 100% renewable electricity. You'll find spacious, comfortable rooms meticulously attended to, with an emphasis on eco-friendly toiletries in the well-designed showers. The staff excel in providing warm and professional service, enhancing your experience. For those on the go, the option to enjoy an excellent breakfast in-room is a real perk. The hotel's central location at the Old Port makes it convenient for exploring, and the historical facade adds a unique charm to your stay.
Humaniti Hotel Montreal
Address: 340 de la Gauchetiere O, Montréal, Canada
Location: Downtown Montreal
Humaniti Hotel Montreal demonstrates a commitment to green practices by operating on 100% renewable electricity. The hotel's central location provides easy access to both Old and New Town, adding convenience to your stay. Staff are consistently helpful and friendly, elevating the experience in this modernly styled establishment. The well-crafted outdoor swimming pool adds a splash of luxury, while the hotel's overall aesthetics and attention to detail ensure a comfortable and visually pleasing environment.
Luxury Boutique Hotel
You'd typically look for personalised service and finely curated experiences in a luxury boutique hotel.
These hotels often distinguish themselves through a blend of high-end amenities and unique, often local, design elements.
The smaller size allows for more attention to each guest, which often results in a more tailored stay.
Auberge du Vieux
Address: 97 Commune Street East, Montréal, Canada
Location: Old Montreal
Auberge du Vieux positions itself in a prime location for exploring the historic Port area. The hotel collaborates with William Gray's hotel nearby, giving you an option for a quick workout, pool, and gym use. Inside the hotel, expect to find well-appointed rooms complete with a welcome treat of fruit and macaroons. Breakfast on-site is both generous in serving size and reasonably priced. Sustainability is also a focus, with 100% renewable electricity usage. The location further adds value by being within walking distance of quality dining and entertainment options.
Where to Stay in Montreal
Deciding where to stay in Montreal will shape your experience in this vibrant city. Here's a rundown to help you choose:
Downtown Montreal: Perfect for first-time visitors who want to be in the heart of the action. Here you'll find the city's primary business district and a range of high-end shops. It's a bustling area, rich in arts and culture, and it's well-connected by public transport.
Old Montreal (Vieux-Montréal): Known for its historic charm, this area allows you to walk on cobblestone streets while taking in the architecture. It's a hot spot for boutique hotels and offers a variety of dining options, from upscale restaurants to quaint cafes. It's also home to the Old Port.
Plateau Mont-Royal: This is the go-to area for cafe culture, with a variety of establishments offering quality coffee. You'll also find independent stores and galleries here. Its residential streets are lined with the iconic Montreal outdoor staircases, and it has easy access to Mount Royal Park.
Griffintown: Located in southwestern Montreal, this trendy neighbourhood is perfect for young professionals and couples. You'll find cool bars and a lively nightlife scene, not to mention it's close to the Lachine Canal, which provides a scenic walking path.
Mile End: This area is often cited as a creative hub, known for its unique stores and cultural diversity. It's a fantastic area to explore galleries and thrift stores and has a strong focus on local artisans. If you're a foodie, try out one of its famed bagel shops.
Little Italy: As the name implies, this area is a haven for Italian culture and cuisine. Besides its food markets and eateries, it's also home to Jean-Talon Market, one of the largest public markets in North America.
Gay Village: Known locally as Le Village, this area is one of the largest gay neighbourhoods in North America. It's incredibly welcoming, highly walkable and offers a plethora of dining and nightlife options. During the summer, a portion of Sainte-Catherine Street becomes pedestrian-only, lined with art installations and terraced cafes.
Westmount: If you prefer a quieter, more residential area, Westmount offers lush green spaces and is ideal for families. Despite its suburban feel, it's conveniently located and easily accessible to downtown.
Choosing the right neighbourhood allows you to tailor your Montreal visit to your interests and lifestyle.
For a well-researched guide to the best places to visit in Quebec, you'll find my article lists key attractions, covering everything from historical landmarks to natural wonders, all curated to enhance your trip.
Bonjour Quebec is invaluable for those keen to delve deeper into city attractions. The site provides up-to-date information on a range of activities, including things to do, sightseeing opportunities, and upcoming events to help you make the most of your visit.
Responsible Travel Tips
Here are a few tips on how you can travel more responsibly in Montreal.
Renewable Energy: Opt for hotels or accommodations committed to renewable energy usage. In Montreal, several hotels run on 100% renewable electricity.
Minimising Food Waste: Be mindful of portion sizes when ordering at Montreal's famed eateries to reduce food waste. Some local organisations even collect leftover non-perishable food for food banks.
Sustainable Diets: Montreal is home to numerous farmers' markets like the Jean-Talon Market, where you can buy locally sourced, organic produce. Opt for plant-based meals at restaurants where possible to reduce your carbon footprint.
Sustainable Transport: Use Montreal's extensive public transit system, including its metro and bus services, instead of renting a car. The city also has a well-developed bike-sharing scheme, BIXI, making it easy to explore local neighbourhoods on two wheels.
Avoiding Flying: If you're travelling within Canada or from nearby U.S. cities, consider taking a train to Montreal instead of flying to reduce your carbon emissions.
Supporting the Local Community: Shop at local boutiques in areas like Old Montreal and the Plateau instead of international chain stores. Consider taking part in community events or visiting local art galleries to contribute to the local economy.
By taking these steps, you're contributing to a more sustainable and responsible way of experiencing Montreal.
FAQ
What are the best areas to stay in Montreal for tourists?
The best areas depend on your interests, but Downtown is generally great for first-time visitors due to its proximity to major attractions and public transport. Old Montreal offers a historic atmosphere, while neighbourhoods like the Plateau are known for their cafe culture and independent stores.
How do I choose between a luxury boutique hotel and a more sustainable option?
Consider what matters most: a luxury boutique hotel typically provides a more personalised, opulent experience, while a sustainable hotel aligns with eco-friendly practices. Both types of accommodations are abundant in Montreal and offer excellent service and amenities.
What kind of transport options are available in Montreal?
Montreal has a comprehensive public transit system that includes buses and metros. Taxis and ride-sharing services are widely available, and the city also has a bike-sharing program called BIXI. It's possible to get around easily without a car.
Is Montreal a walkable city?
Montreal is quite walkable, especially in Downtown, Old Montreal, and the Plateau. These neighbourhoods are well-connected and offer a variety of attractions within walking distance.

Selecting a boutique hotel in Montreal allows you to enjoy personalised service and unique design elements, contributing to a more enriching travel experience.
With its diverse neighbourhoods, robust public transit, and a range of hotel options, Montreal provides a versatile backdrop for various types of stays.
If you have questions or want to leave a hotel review, please do so in the comments.
—
Recommendations are independently chosen based on personal travel experiences and extensive research. This post contains affiliate links to hotels in Montreal, Canada. This means I get a small commission from any bookings at no extra cost to you.