Recommendations are based on personal travel experiences and research. If you book through links on our site, we may earn a commission at no extra cost to you.
—
Toronto is known for its diverse culture, world-class museums, and vibrant arts scene. It's a city where you can catch a Raptors game, explore historic neighbourhoods like the Distillery District, or dine on global cuisine.
In this guide, you'll find a curated list of Toronto's best boutique hotels that add a unique flair to your stay in this bustling Canadian metropolis.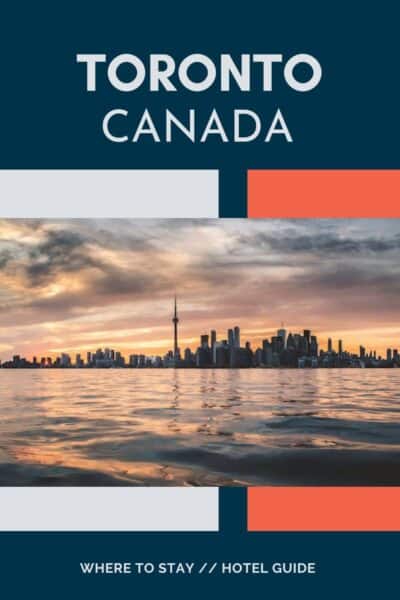 Boutique Hotels in Toronto
When you're sorting out accommodation, choosing the right neighbourhood is crucial.
Downtown Toronto serves as the city's bustling hub, complete with high-rise hotels, the iconic CN Tower, and proximity to key business and entertainment venues.
On the other hand, Queen Street West is a haven for artsy souls and nightlife enthusiasts, featuring indie shops, trendy cafes, and a rich collection of galleries and music venues.
My top hotel pick is in the Fashion District, but other options are below.
Top Pick
Ace Hotel
Address: 51 Camden St, Toronto
Location: Fashion District
Ace Hotel is situated in an emerging neighbourhood and has quickly become a hotspot with its trendy bar and new rooftop venue. The hotel provides exceptional amenities, including a well-stocked mini-bar and a restaurant that serves a diverse all-day menu. Cleanliness and comfort are high priorities, contributing to an overall great guest experience.
Features:
Quirky and cool hotel.
Stylish rooms with lots of natural light.
High-end amenities in the luxurious bathrooms.
Huge breakfast selection.
Exceptional attention to detail and service.
Sustainability:
Efforts are made to minimise food waste.
Most food is organic and locally sourced.
It avoids using single-use plastics.
Promotion of local artists within the hotel.
Pros: Trendy neighbourhood, cool and unique design.
Cons: Away from the city centre tourist attractions.
Check Availability
You might also appreciate a few other boutique hotels that stand out for different reasons, such as their prime location, unique style, or commitment to sustainability.
Each offers a distinct experience tailored to varied travel preferences. Keep reading for some curated options that could make your Toronto stay unique.
Next Best
Gladstone House
Address: 1214 Queen Street West, Toronto, Canada
Location: Beaconsfield Village
Gladstone House Hotel is a heritage building over 132 years old, meticulously restored to preserve its rich history. Known for its extensive art collection featuring works by contemporary Canadian artists, the hotel provides a unique atmosphere enriched by historical photos and artifacts. It offers high-end amenities like comfortable beds and house coats. Staff are notably courteous and well-informed, and the on-site restaurant serves excellent food. Situated near entertainment venues, it combines convenience with a boutique feel and witty design.
Cool and Unique Hotel
A unique boutique hotel often blends local culture with innovative design, offering a tailored experience far removed from the cookie-cutter approach of larger chains.
These hotels provide an intimate atmosphere where attention to detail and personalised service are prioritised.
The Drake Hotel
Address: 1150 Queen Street West, Toronto, Canada
Location: Beaconsfield Village
The Drake Hotel is well-known for its cosy atmosphere and design elements that make guests feel at home. Friendly and professional staff are keen to make your stay as comfortable as possible, even accommodating late check-out requests without hesitation. Among the amenities are comfy beds, a cafe serving excellent coffee and sourdough croissants, and an inviting patio where guests can unwind.
1 Hotel Toronto
Address: 550 Wellington Street West, Toronto, Canada
Location: Fashion District
1 Hotel Toronto integrates a warm and welcoming design with an interesting location. Staff are highly attentive and kind, aiming to make every aspect of your stay highly satisfactory, from the room amenities to the dining options. The decor sets a relaxed tone, while the lobby and bar serve as inviting social spaces. With an environmentally conscious yet luxurious approach, the hotel has thoughtfully planned bars and restaurants that contribute to a welcoming experience from arrival to departure.
Eco-Friendly Hotel
Choosing an eco-friendly hotel means supporting a business prioritising sustainable practices.
Staying in a sustainable hotel reduces your travel footprint and contributes to local sustainability initiatives.
Kimpton Saint George Hotel
Address: 280 Bloor Street West, Toronto, Canada
Location: Huron, Sussex
Kimpton Saint George Hotel merges comfort with eco-consciousness, from clean, well-designed rooms to kind staff and good food in the in-house restaurant. Added perks like a yoga mat in the room and daily morning coffee in the lobby enhance your stay. Its excellent location next to a well-connected subway station makes city exploration easy, and underground parking is also available.
Le Germain Hotel
Address: 75 Bremner Boulevard, Toronto, Canada
Location: Old Toronto
Le Germain Hotel Maple Leaf Square is located conveniently near various amenities, the hotel features fresh filtered water in hallways and complimentary apples for on-the-go snacking. The staff, from the front desk to housekeeping, operate around the clock and prioritise your needs. Rooms are designed for utility and comfort, featuring ample space, multiple charging options, and a well-appointed shower. Late check-out and courteous staff add to the overall quality of your stay.
Luxury Boutique Hotel
When considering a luxury boutique hotel, focus on aspects like personalised service, quality of materials, and an atmosphere that blends sophistication with exclusivity.
The small scale of boutique hotels allows for attention to detail that bigger chains might overlook, creating a tailored experience that stands out.
Bisha Hotel Toronto
Address: 80 Blue Jays Way, Toronto, Canada
Location: Old Toronto
You'll find that Bisha Hotel Toronto is strategically situated, making exploring key attractions like CN Tower and various shopping outlets convenient without needing a car. The hotel pays meticulous attention to room design, with plush beds and well-thought-out decor. They've got Byredo bathroom products that many seem to admire. Overall, it aligns well with what you might expect from a luxury boutique hotel, down to the little details.
The Hazelton Hotel
Address: 118 Yorkville Avenue, Toronto, Canada
Location: Yorkville
The Hazelton Hotel excels in making your stay as convenient and pleasurable as possible. Its proximity to a subway station opens up all of Downtown Toronto for easy exploration. The hotel goes the extra mile to book guests' dinner reservations and other services. For wellness enthusiasts, the gym and spa facilities receive consistently high praise. The staff, including the front office and housekeeping, demonstrate remarkable professionalism and responsiveness. Even the dining options, such as the food served on the restaurant's terrace, are noteworthy for their quality. The Hazelton delivers a comprehensive luxury experience in one of Toronto's finest neighbourhoods.
Where to Stay in Toronto
Here's a comprehensive guide for where to stay in Toronto, designed to match various interests and needs:
Downtown Toronto: This bustling hub is where the city's financial and entertainment districts converge. It's ideal if you're in town for business or fancy quick access to top attractions like the CN Tower and Ripley's Aquarium. Hotels here range from luxury options to budget-friendly choices.
Yorkville: Renowned for its high-end boutiques and galleries, Yorkville is the area for you if luxury and elegance are your game. The Hazelton Hotel, a luxury boutique hotel, is also located here. The neighbourhood is also sprinkled with quaint cafes, ideal for people-watching.
West Queen West: Art and culture enthusiasts will feel right at home here. This neighbourhood is filled with galleries, indie shops, and hip bars. Cafes are plentiful, making it a perfect spot for casual meet-ups and work sessions.
The Annex: Adjacent to Yorkville, The Annex is a residential area with a youthful vibe, thanks to its proximity to the University of Toronto. This area has a varied array of eateries and bookstores, making it a more laid-back alternative to its posh neighbour.
Kensington Market: Look no further if you're into a bohemian lifestyle. Known for its diverse food options and vintage shops, this area also has a few small galleries and a strong sense of community. It's a fun place to explore during the day and offers a different kind of Toronto experience.
Distillery District: This historic area is well-preserved and primarily pedestrian-only. You'll find artisanal shops, unique eateries here, and several small museums. It's particularly charming when a European-style market sets up shop during Christmas.
Leslieville: Once a working-class neighbourhood, Leslieville has transformed into a trendy area known for its relaxed cafe culture and independent boutiques. The area has many green spaces and is less crowded than Downtown, giving it a homely atmosphere.
Chinatown: Located near Kensington Market, Toronto's Chinatown is one of North America's largest. Aside from the abundant dining options, the area is also great for shopping, especially if you're hunting for Asian products.
Each neighbourhood presents a distinct facet of Toronto, making each worth considering depending on what you're looking to get out of your visit.
For a well-researched, comprehensive list of must-see locations across the province, don't miss my guide to the best places to visit in Ontario, where you'll find key details on each destination to help you plan your itinerary effectively
Consider checking out the Destination Toronto for reliable and detailed information on city activities, sightseeing, and events. The site provides an array of practical tips and recommendations that can enhance your visit.
Responsible Travel Tips
Here are a few tips on how we can travel more responsibly in Toronto.
Renewable Energy:
Look for accommodations with green energy certifications, such as those using solar panels or wind turbines for their energy needs. Toronto has been pushing for green energy solutions, making it easier to find such places.
Minimising Food Waste:
Opt for restaurants that are committed to reducing food waste. Toronto is home to several eateries using apps to sell surplus food at discounted prices towards the end of the day.
Sustainable Diets:
Choose plant-based or locally sourced meals when dining out. Toronto's Kensington Market is a hub for local produce and ethically sourced food.
Sustainable Transport:
Utilise the city's public transport system, which includes buses, subways, and streetcars, to minimise your carbon footprint. Bike rentals are widely available, with Toronto boasting an extensive cycling network, including the Waterfront Bike Trail.
Avoiding Flying:
If you're coming from nearby cities like Montreal or Ottawa, consider taking the train to reduce carbon emissions. The Union Station in Toronto serves as a major rail hub.
Supporting the Local Community:
Spend your dollars at local businesses rather than chain stores. Areas like Queen Street West are known for their independent shops. Consider attending community events or local festivals to immerse and experience the city's culture and to contribute to local economies.
Cultural Respect:
Toronto is a diverse city. Learn a bit about the cultures you'll encounter, whether it's visiting cultural neighbourhoods like Chinatown or Little Italy, and always show respect.
FAQ
What are the best areas to stay in Toronto for tourists?
The most popular areas for tourists are Downtown, Yorkville, and Queen Street West. Each area has its unique vibe and attractions, from Downtown's business-centric atmosphere and close proximity to iconic landmarks to Yorkville's upscale boutiques and art galleries to Queen Street West's indie shops and vibrant nightlife.
How do luxury boutique hotels differ from regular hotels?
Luxury boutique hotels focus on providing a unique, high-end experience, often with designer décor, personalised service, and exclusive amenities. They're usually smaller than chain hotels, which allows for more customised attention to guests.
What's the public transport situation like in Toronto?
Toronto has a robust public transport system that includes buses, subways, and streetcars, making it easy to get around the city. The Toronto Transit Commission (TTC) is the primary public transportation service, and Union Station serves as the main hub for regional and international trains.
Is Toronto a walkable city?
Yes, Toronto is considered quite walkable, especially in its Downtown area, where many attractions are located close to each other. However, public transport or a car is advised for trips outside the central areas.

Finding the right boutique hotel in Toronto hinges on what you're after luxury features, sustainable practices, or perhaps a blend of both.
Each neighbourhood provides a distinct experience, so your choice of location can significantly impact your visit.
If you have questions or want to leave a hotel review, please do so in the comments.
—
Recommendations are independently chosen based on personal travel experiences and extensive research. This post contains affiliate links to hotels in Toronto, Canada. This means I get a small commission from any bookings at no extra cost to you.