Recommendations are based on personal travel experiences and research. If you book through links on our site, we may earn a commission at no extra cost to you.
—
You'll love visiting Kelowna, with its beautiful beaches, vineyards, and outdoor activities. Take a stroll along the lakeside promenade, go wine tasting, or hit the slopes in the winter.
For many visitors, a highlight is taking a farm-to-table tour, a wine-tasting tour or exploring the Rutland murals.
In this guide, I recommend a couple of cool boutique hotels in Kelowna in the heart of the city and some other ideas on where to stay on a short break.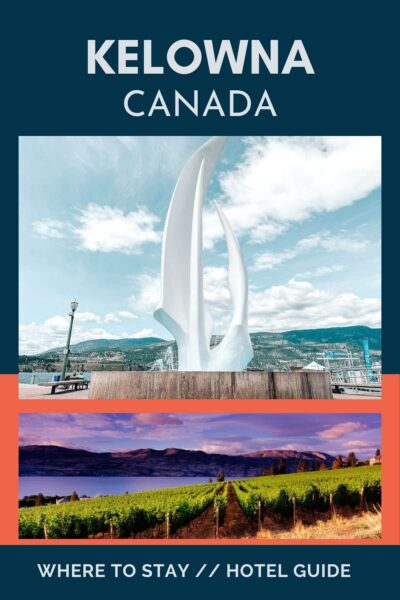 Boutique Hotels in Kelowna
Kelowna has several cool and unique neighborhoods, each offering its own charm and atmosphere.
If you want to be close to the city's best beaches, parks and cultural attractions, then the areas around Okanagan Lake, Pandosy Village or the downtown area are great options.
The Pandosy Village of Kelowna is often considered the city's hipster neighbourhood. This area is known for its trendy cafes, boutique shops, and independent businesses, as well as its focus on sustainability and local culture.
While exploring this area, you can enjoy outdoor dining, street art, and a laid-back vibe.
For a unique stay, head to the vibrant cultural neighbourhood of Rutland, where you can find a variety of hotels, local restaurants, mural artwork and interesting markets.
I recommend staying in Pandosy or Downtown Kelowna to be close to the city's sights, attractions and places to eat out.
Top Pick
The Shore
Address: 3477 Lakeshore Road, Kelowna, BC, Canada
This apartment hotel boasts spacious rooms with fully equipped kitchens, making your stay comfortable and convenient. The location is excellent, away from the hustle and bustle of downtown traffic, and you'll have easy access to the beach. Plus, The Shore is pet-friendly, so you can bring your furry friend along for the adventure. The apartments are modern, clean, and well-maintained, with some rooms even offering stunning views of the lake.
Features:
Modern, clean rooms with large beds and sitting areas.
Great location in the Pandosy Village area.
On-site restaurant serving American and Asian cuisine.
Locally-sourced artwork on the walls.
Exceptionally rated service.
Sustainability:
The Shore uses 100% renewable electricity.
Most food is locally-sourced.
The hotel avoids single-use plastic.
The hotel supports local tour companies and guides.
Pros: Spacious rooms, excellent cuisine, prime location, beach access, pet-friendly policy, and well-maintained modern apartments with beautiful lake views.
Cons: Some low level rooms facing the street could experience some noise.
Check Availability
Although The Shore is the best boutique apartment hotel in Kelowna in my opinion, I understand that you might be seeking a unique experience or a different location.
In that case, I have provided a few alternative recommendations below that cater to various preferences and features.
Next Best
Hotel Zed Kelowna
Address: 1627 Abbott Street, Kelowna, BC
Take a dip in the seasonal outdoor pool, soak in the hot tub, sweat it out in the sauna, and bask in the sun on the sun deck.
The rooftop patio offers stunning views of Kelowna's City Park and Okanagan Lake, making it the perfect place to unwind.
And, as an added bonus, you can borrow roller skates or bicycles at no extra charge.
The hotel's ideal downtown location puts you within walking distance to popular places of interest, cafes, bars, and restaurants.
The unique decor and great value for money make Hotel Zed Kelowna the perfect choice for an affordable boutique hotel stay.
Luxury Hotel in Kelowna
Admittedly, modern boutique hotels can be challenging to find in Kelowna. If you're interested in luxury accommodation, then the next hotel might suit you.
The Royal Kelowna
Address: 1288 Water Street, Kelowna, Canada
If you're into luxury resorts, you'll love staying at Royal Kelowna, just a quick 5-minute walk from the stunning Okanagan Lake beaches.
The spacious apartment hotel offers a full kitchen and breathtaking lake views. Stay active in the on-site gym, relax in the sauna, and take a refreshing dip in the outdoor swimming pool.
The hotel's prime location across from the Waterfront Boardwalk and Kelowna Art Gallery in the downtown Cultural District puts you in the heart of all the action.
If you're planning a trip to British Columbia and want to make the most of your time there, my guide to unique places to visit will be an invaluable resource, providing you with insider tips on the must-see destinations, recommendations for unique experiences, and detailed information on how to get the most out of your visit.
As you plan your trip to Kelowna, make sure to check out the helpful website of Tourism Kelowna. They provide you with all the information you need to navigate the city and make the most of your visit, including recommendations on local attractions, events, and activities and practical information on accommodations, transportation, and dining options.
Responsible Travel Tips
Many of us are increasingly concerned about climate change and sustainability.
When visiting Kelowna, there are several ways you can travel more responsibly and make a positive impact on the local community and environment:
Choose accommodation that uses renewable energy sources such as solar or wind power like The Shore.
Make an effort to minimize food waste by opting for restaurants with sustainable practices or cooking meals using local, seasonal ingredients.
Consider a sustainable diet that includes locally-sourced and plant-based options, or at least reduce your meat and dairy consumption.
Use sustainable transport options such as cycling, walking, or using public transportation rather than driving. This is easy to do if you stay in Downtown Kelowna or Pandosy Village.
Avoid flying if possible and opt for other modes of transportation such as trains or buses.
Support the local community by choosing to stay in locally-owned accommodations, eating at locally-owned restaurants, and shopping at local markets and stores. There are plenty of opportunities for downtown Kelowna and in the surrounding areas where you can visit wineries and art galleries or have an active holiday experience.
By incorporating these simple practices into your trip to Kelowna, you can contribute to a more sustainable and responsible travel experience.
If you have questions or want to leave a hotel review, please do so in the comments.
—
Recommendations are independently chosen based on personal travel experiences and extensive research. This post contains affiliate links to hotels in Kelowna, BC. This means I get a small commission from any bookings at no extra cost to you.