Recommendations are based on personal travel experiences and research. If you book through links on our site, we may earn a commission at no extra cost to you.
—
Winnipeg is well known for its vibrant arts scene and pretty riverbanks. Many visitors are drawn to The Forks, a bustling market with a storied past, and the awe-inspiring architecture of the Canadian Museum for Human Rights.
There is plenty to see in Winnipeg. In this guide, I list the best boutique hotels in Winnipeg that are ideal for a short stay.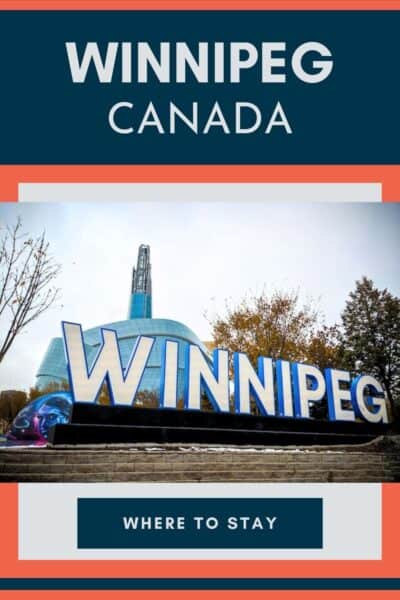 Boutique Hotels in Winnipeg
Deciding on the right neighbourhood is a useful first step when searching for a hotel.
Downtown Winnipeg is the city's heartbeat with its busy business areas, key landmarks, and easy access to main attractions.
On the other hand, Osborne Village, with its lively cafe culture, unique shops, and vibrant nightlife, often draws those interested in a more artsy and laid-back atmosphere.
Downtown Winnipeg is a fantastic choice for visitors for convenience and city vibes, especially if this is your first visit. The Exchange District is a lively area with Downtown.
Top Pick
Mere Hotel
Address: 333 Waterfront Drive, Winnipeg
Location: Exchange District
Mere Hotel is located by the Red River, allowing guests easy access to refreshing walks on the Waterfront Drive and scenic cycling adventures with the hotel's complimentary bikes. The rooms are spacious and well-appointed, featuring comfortable beds, efficient blackout shades, and inviting showers.
Features:
Cool and unique hotel.
Stylish rooms with lots of natural light.
Great breakfast selection.
It has a great location near Stephen Juba Park.
Sustainability:
Efforts are made to minimise food waste.
Most food is organic and locally sourced.
Vegetarian and vegan menus are available.
Electric vehicle charging station.
Pros: River location, complimentary bikes, spacious rooms, near the Forks.
Cons: Area might be quieter than some prefer.
Check Availability
Next, I'll share a few other boutique hotels that stand out for their unique locations, distinctive designs, and commitment to eco-friendliness.
Each has its own appeal, providing different experiences based on what you value most.
Next Best
Inn at the Forks
Address: 75 Forks Market Road, Winnipeg, Canada
Location: Downtown
Inn at the Forks is a great pick when it comes to location. Not only is it a stone's throw away from the river, surrounded by a vibrant mix of local wildlife from birds to prairie dogs and the occasional groundhog, but it's also just a short walk from the bustling Forks Market, teeming with diverse food options and intriguing shops. The rooms at the Inn are both well-equipped and tastefully decorated, ensuring a comfortable stay. As an inn, this could be a bit basic if you're looking for a boutique place.
Best Value for Money
Alt Hotel Winnipeg
Address: 310 Donald Street, Winnipeg, Canada
Location: Downtown
Alt Hotel Winnipeg provides genuine value for money, striking a balance between stylish decor and essential services. The hotel's modern aesthetic is beautifully executed, with a tastefully modern design evident throughout. Situated in a convenient location, especially for those interested in exploring downtown, it ensures that most attractions are just a short walk away.
The rooms are quiet and comfortable and maintain exceptional cleanliness standards. Visitors often speak highly of the amicable and attentive staff. When travelling with pets, you'll be pleased to know that they are welcome here. While breakfast might not be included, a minor charge for items like muffins could be worthwhile.
Eco-Friendly Hotel
When considering an eco-friendly hotel, it's essential to research its sustainability practices and certifications.
A genuine commitment to the environment often means the hotel invests in renewable energy, waste management, and energy-saving initiatives.
Delta Hotels
Address: 350 Saint Mary Avenue, Winnipeg, Canada
Location: South Portage
Delta Hotels has embedded eco-friendly practices into its ethos, using 100% renewable electricity across the property. Their dedication to guest experience matches their commitment to sustainability. The plush beds improve the comfort of the rooms, and the larger spaces provide that added touch of luxury.
But what stands out most is the impeccable customer service. The staff, from the front desk to in-room services, are helpful and friendly. Whether you need assistance with the computer to print boarding passes or a simple request like a dinner plate, they're on hand, often provided without extra charges, which isn't always the case at other hotels. Delta delivers both in eco-conscious efforts and in ensuring guests feel valued.
Luxury Boutique Hotel
A luxury boutique hotel generally has a unique blend of personalised service, cosy settings, and bespoke design elements.
While they may come with a higher price tag, the value is evident in the individualised experience and high-end amenities which could be worth the money.
The Fort Garry Hotel
Address: 222 Broadway, Winnipeg, Canada
Location: Downtown
The Fort Garry is a hotel with elegance and history, given its remarkable design and architecture. It's a stone's throw away from the Forks and St Boniface, making it an ideal base for exploration. Each room at the hotel exudes comfort and cleanliness, and while there might be slight variations from the booking details, the overall experience remains undeterred.
The staff is attentive and accommodating, evident when catering to specific needs. You could be drawn to its beautiful wedding venue or simply the allure of a historic luxury boutique hotel. The Fort Garry is a great choice.
Where to Stay in Winnipeg
Deciding where to stay in Winnipeg depends largely on your interests and what you wish to experience during your visit. Here's a guide to the best areas and what they're known for:
Downtown Winnipeg: Downtown Winnipeg seamlessly combines the old with the new. It's home to the iconic Exchange District with its historic buildings and artsy vibe. You'll find many independent stores, galleries, and theatres. It's also the financial hub, with many businesses operating in the area.
Exchange District: This historic area is designated as a National Historic Site of Canada just north of Downtown. It's a popular place for art lovers with numerous galleries and studios. The area also houses chic bars, making it an attractive spot for nightlife.
St. Boniface: This is Winnipeg's French quarter, showcasing the city's Franco-Manitoban culture. Cultural attractions include the St. Boniface Cathedral and the Royal Canadian Mint. It's an area dotted with quaint cafes and restaurants.
The Forks: An area known for its scenic beauty, The Forks is where the Red and Assiniboine rivers meet. It's a treat for nature enthusiasts and a hub for shopping and dining with The Forks Market located here.
Osborne Village: A trendy neighbourhood with a bohemian spirit. Known for its vibrant cafe culture, cool bars, and unique boutiques, it's ideal for those looking to soak up local culture.
St. James: This commercial area has shopping malls and restaurants. It also provides easy access to the Assiniboine Park Zoo, making it a good choice for families.
River Heights: A peaceful residential area known for its beautiful green spaces and parks. It's perfect for those looking for a quieter stay while still being within easy reach of the city's main attractions.
I recommend considering these neighbourhoods based on your personal preferences to make the most of your Winnipeg visit.
While you're exploring the wonders of Winnipeg, you might also find my guide to the best places to visit in Canada useful for planning future trips or expanding your current itinerary.
Plan Your Trip
For more information on the city, Tourism Winnipeg is a good resource, especially for sightseeing, events, and other activities. It's worth checking out if you're planning a visit.
Responsible Travel Tips
Here are a few tips on how we can travel more responsibly in Winnipeg:
Renewable Energy: Pick a hotel in Winnipeg that uses renewable energy sources, and consider renting eco-friendly apartments with solar panels or wind power.
Minimising Food Waste: When dining out, ask for smaller portions if unsure of portion sizes in local Winnipeg eateries. It's better to order less initially and ask for more if needed.
Sustainable Diets: Prioritise dining at eateries that source local, organic produce. Winnipeg has a growing local food movement, and many restaurants focus on Manitoban ingredients. This supports local food producers.
Sustainable Transport: Use Winnipeg's extensive cycling trails or walk when exploring the city, especially around the Forks and the historic Exchange District.
Avoiding Flying: If arriving from nearby provinces, consider using ground transportation like buses or trains to reduce your carbon footprint. Winnipeg's Union Station is a hub for both.
Supporting Local Community: Purchase souvenirs and gifts from local artisans in Winnipeg. This supports the local economy and reduces the environmental impact of imported goods.
Respecting Green Spaces: Winnipeg is home to several parks and green areas. Ensure you leave no trace behind and stick to designated paths to preserve these natural spaces.
Remember, every small step taken can collectively lead to a significant positive impact on Winnipeg's environment and community.
Prioritising responsible travel and supporting local endeavours will ensure Winnipeg remains vibrant for future visitors.
Selecting a boutique hotel in Winnipeg can provide a unique experience, setting the tone for your visit.
If you have questions or want to leave a hotel review, please do so in the comments.
—
Recommendations are independently chosen based on personal travel experiences and extensive research. This post contains affiliate links to hotels in Winnipeg, Canada. This means I get a small commission from any bookings at no extra cost to you.