Recommendations are based on personal travel experiences and research. If you book through links on our site, we may earn a commission at no extra cost to you.
—
With its picturesque riverbank and vibrant arts scene, Saskatoon has become a destination for discerning travellers.
The city's charm is reflected in its boutique hotels, blending modernity with a touch of Saskatchewan heritage.
In this guide, I'll shed light on some of the best boutique hotels Saskatoon has in store for you.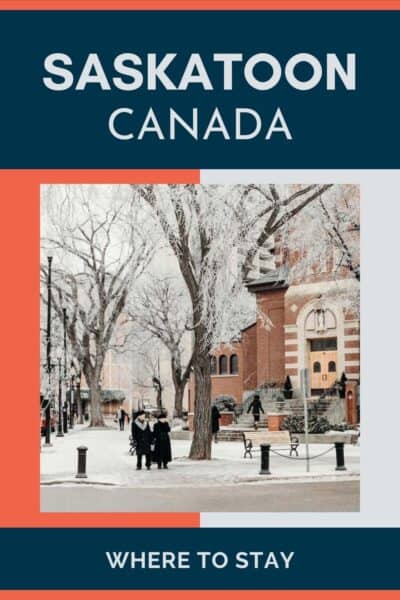 Boutique Hotels in Saskatoon
When searching for a hotel in Saskatoon, the area you choose to stay in is crucial.
The Downtown CBD district serves as the city's heartbeat, bustling with commerce and juxtaposed by the tranquil Saskatchewan River.
Meanwhile, Broadway embodies Saskatoon's eclectic spirit with its independent shops, chic cafes, and vibrant nightlife.
For a balanced mix of urban energy and access to attractions, I'd suggest the CBD as an excellent area for visitors to stay.
Top Pick
The James Hotel
Address: 620 Spadina Crescent East, Saskatoon
Location: CBD
The James Hotel in Saskatoon seamlessly blends comfort with service. The staff, from the front desk to the breakfast team, are consistently friendly, ensuring guests feel right at home in the spacious and immaculate rooms. It's a genuine gem in the city's boutique hotel scene, with an excellent location overlooking the river, a complimentary breakfast, and a delightful lobby bar.
Features:
Distinctive hotel decor and design.
Stylish rooms with lots of natural light.
Great breakfast selection.
It has a great location near Cosmopolitan Park and Kiwanis Memorial Park.
Pros: Excellent staff, riverside location, spacious rooms, complimentary breakfast, impeccable cleanliness, and welcoming atmosphere.
Cons: Limited amenities, can get busy.
Check Availability
While The James Hotel has its merits, other boutique hotels in Saskatoon are worth considering.
Depending on your preferences for location, design, or eco-friendliness, I'll highlight a few alternatives that might align with your needs.
Next Best
Alt Hotel Saskatoon
Address: 2 Avenue South 480, Saskatoon, Canada
Location: Central Business District
The Alt Hotel Saskatoon doesn't just tick the boxes; it sets a standard. With its striking design and prime spot by the river, you'll find both convenience and comfort wrapped into one. Beyond being impeccably clean, the rooms provide a serene sanctuary with fantastic views and a bed you'd swear was made from clouds. Not to mention the hushed ambience ensuring a restful sleep. A stone's throw away, there's a museum waiting to be explored. And for those eco-conscious travellers, it's noteworthy that the hotel takes sustainability seriously, with commendable initiatives and recognised certifications. Whether you're out for a riverside stroll or hopping on a city bicycle courtesy of the hotel's participation in the program, the location is simply spot-on. The staff? Absolute legends in professionalism and kindness.
Best Value for Money
Delta Hotels
Address: 405 20th Street East, Saskatoon, Canada
Location: Central Business District
Delta Hotels in Saskatoon truly understands the essence of value for money. The combination of delightful culinary treats, like the toasted English muffin paired with the exquisite Saskatoon berry jam, is a simple pleasure that shouldn't be overlooked. For those attending downtown events, its location is an undeniable advantage, and the hotel's thoughtful approach to service, such as extending lounge/restaurant hours post-event, demonstrates an admirable commitment to guest satisfaction. Not only are the rooms comfortable and serene, but surprises like the larger-than-expected water slide in the impeccably clean pool add a touch of fun. A mention must be made about the convenience of indoor parking, especially during colder days, ensuring your vehicle stays warm. While the location and river views impress, what stands out is the tranquillity in the hotel; even amidst the hustle and bustle, rooms remain quiet and peaceful.
Where to Stay in Saskatoon
Deciding where to stay in Saskatoon? Here's a comprehensive guide to the city's best areas:
Downtown: Saskatoon's vibrant heart, Downtown, is teeming with commerce, retail shops, and entertainment venues. The Saskatchewan River serves as its picturesque backdrop, making it an attractive choice for visitors keen on urban buzz complemented by natural beauty. You'll find most of the city's hotels and eateries here, ensuring you're never too far from the action.
Broadway: An eclectic mix of the old and the new, Broadway is famed for its independent shops, chic cafes, and dynamic nightlife. It's a hub for artistic souls, with galleries and performance spaces scattered throughout. The district exudes a local flair, making it an excellent choice for those wanting to experience Saskatoon's contemporary spirit.
Riversdale: Once overlooked, Riversdale has undergone a resurgence and now stands as a trendy hotspot. Green spaces are interspersed with hip bars, artisanal shops, and innovative eateries. The neighbourhood offers a fusion of cultural experiences and is particularly popular among younger visitors.
City Park: Nestled close to Downtown, City Park provides a tranquil retreat. Lush parks, serene river views, and historic homes define this neighbourhood. It's an ideal spot for those seeking a relaxed atmosphere yet still wish to be close to the city's core.
Nutana: Steeped in history, Nutana exudes old-world charm. Here, tree-lined streets meet unique boutiques and charming cafes. It's also home to several cultural venues, making it a go-to for those interested in Saskatoon's heritage.
Sutherland: A blend of residential and commercial spaces, Sutherland offers visitors a glimpse into everyday Saskatoon life. Its community parks and local dining spots make it an excellent place for those wanting to stray slightly off the beaten path.
Selecting the right area can enhance your Saskatoon experience. Consider what you value most – be it culture, nature, or nightlife – and choose accordingly.
While exploring Saskatoon, you might also be intrigued by the broader beauty of the country. I've put together a guide on the best places to visit in Canada, which could inspire your next travel destinations, giving you a taste of the nation's diverse landscapes and cities.
Plan Your Trip
For those keen on digging deeper into the city's attractions and events, I'd suggest checking out Visit Saskatoon. It's a reliable resource that provides a wealth of information on sightseeing, activities, and upcoming events in the city.
Responsible Travel Tips
Here are a few tips on how we can adopt responsible travel practices in Saskatoon:
Renewable Energy: Saskatoon is making strides in the renewable energy sector. Consider staying in accommodations that use solar or wind energy. The city has several initiatives promoting green energy, so keep an eye out for establishments endorsing such practices.
Minimise Food Waste: Many Saskatoon eateries are keen on reducing food waste. When dining out, order portions you can finish and ask for a takeaway box if there are leftovers.
Sustainable Diets: Embrace plant-based or locally sourced meals. Saskatoon has a rich agricultural backdrop, so there's an abundance of local produce. Opting for these reduces the carbon footprint associated with transporting goods.
Sustainable Transport: Make use of Saskatoon's expansive cycling routes. For example, The Meewasin Valley Trail is perfect for walking and cycling, offering a scenic route alongside the Saskatchewan River.
Avoid Flying: If you're touring within Canada, consider alternatives to flying when heading to Saskatoon. The city is well-connected by rail and road, which tend to have a lower carbon footprint than air travel.
Support the Local Community: Invest in local crafts, arts, and produce. Markets in Saskatoon often showcase local artisans and farmers. Purchasing their goods boosts the local economy and ensures the money stays within the community.
Attend Eco-Friendly Events: Saskatoon hosts several eco-conscious events throughout the year. Participate in these to gain insights into sustainable practices and support city green initiatives.
Taking these steps will ensure you leave a minimal footprint during your Saskatoon visit, contributing positively to the city's sustainability efforts.
Final Thoughts
With its blend of urban vibrancy and scenic tranquillity, Saskatoon is a destination worth exploring.
When selecting a boutique hotel, consider its proximity to key attractions and the unique experiences it provides.
Prioritising sustainable practices both in your choice of accommodation and your activities ensures a trip that's kind to the city and the environment.
Every visit can make a positive impact, enhancing Saskatoon's charm for future travellers. Safe travels.
If you have questions or want to leave a hotel review, please do so in the comments.
—
Recommendations are independently chosen based on personal travel experiences and extensive research. This post contains affiliate links to hotels in Saskatoon, Canada. This means I get a small commission from any bookings at no extra cost to you.