Recommendations are based on personal travel experiences and research. If you book through links on our site, we may earn a commission at no extra cost to you.
—
Quebec City is well known for its rich history, stunning architecture like the iconic Chateau Frontenac, and vibrant arts scene.
Its cobbled streets and French Canadian flair make it a popular destination for travellers looking for a European-style experience in North America.
In this guide, we'll explore some of the best boutique hotels that will make your stay in Quebec City truly comfortable and convenient.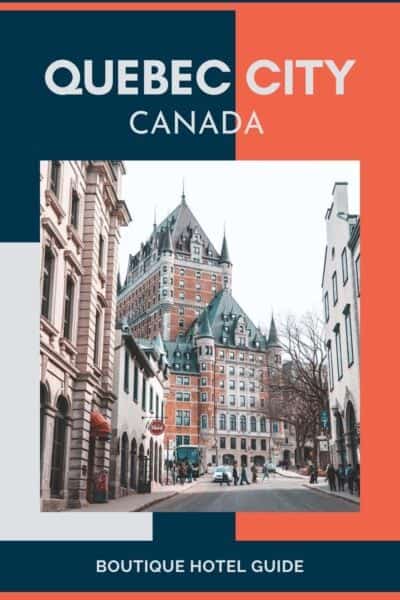 Boutique Hotels in Quebec City
When it comes to picking a hotel, considering the neighbourhood is often your first move.
Old Quebec, the city's historic heart, puts you right in the middle of iconic landmarks and attractions.
On the other hand, Saint-Roch is a vibrant area renowned for its trendy cafes, cool bars, and artsy atmosphere.
If you're keen on soaking up the city's history while being close to key attractions, Old Quebec is probably your best bet for accommodation.
Top Pick
Hotel 71
Address: 71 Rue St Pierre, Quebec City
Location: Old Quebec
Hotel 71 sits in a prime location in the lower old town of Quebec City, making exploring nearby attractions, restaurants, and activities on foot a breeze. The hotel blends 19th-century architecture with modern comforts, including a self-serve wine bar and massage services. Rooms are both well-furnished and spacious, featuring details like rain showers and ample shelving, and the staff consistently go the extra mile to ensure a comfortable stay.
Features:
Distinctive hotel decor and design.
Stunning lobby and common areas.
Stylish rooms with lots of natural light.
Huge breakfast selection.
Great location near the Parc de l'Unesco.
Highly rated service.
Pros: Prime Old Port location; modern amenities in a 19th-century setting; easy access to city highlights.
Cons: Peak season may require early booking.
Check Availability
While Hotel 71 is an excellent option, other boutique hotels are worth considering based on various criteria like location, uniqueness, or eco-friendliness.
In the following sections, I'll outline a couple more options that might suit different preferences or needs.
Next Best
Hôtel Boutique Ophelia
Address: 640 Grande Allée Est, Quebec City, Canada
Location: Old Quebec.
Hôtel Boutique Ophelia is centrally located, allowing you to reach charming cafes, restaurants, and parks easily. Exceptional staff go out of their way to make guests feel welcome and well-cared for, and the rooms are meticulously presented with details like herringbone floors, gold hardware, and marble accents. The hotel provides vegetarian and vegan menu options for those with dietary preferences, adding a considerate touch to the overall experience.
Cool and Unique Hotel
In selecting a boutique hotel, you might prioritise properties with unique design elements and a distinctive atmosphere that sets them apart from mainstream options.
These hotels often focus on delivering a more personalised experience, which can make your stay feel special and tailored to your tastes.
Hôtel Alt Québec
Address: 1200 Avenue Germain des Pres, Quebec City, Canada
Location: Sainte-Foy–Sillery–Cap-Rouge
Hôtel Alt Québec is well-situated for easy access to Ste Foy and various shopping centres and main roads for exiting the city. The rooms prioritise comfort, featuring inviting beds and well-appointed bathrooms. For fitness enthusiasts, the hotel provides a well-equipped gym that's often unoccupied. Its high sustainability rating is an additional perk, making it an eco-conscious choice. Staff are attentive, and room service, supplied by a partner restaurant, consistently impresses with delicious food offerings.
Eco-Friendly Hotel
In selecting an eco-friendly hotel, you might focus on those with recognised sustainability certifications or programs aimed at minimising environmental impact.
These establishments often use energy-efficient systems, source local and organic food, and employ waste-reducing practices.
Hotel le Priori
Address: 15, Rue Sault-au-Matelot, Quebec City, Canada
Location: Old Quebec
Hotel le Priori is well-situated in the lower town area of historical Old Quebec City, making it convenient for walking to tourist spots, local shops, museums, and cafes. Although it's a heritage property with generally smaller rooms, it compensates by equipping them with all the necessary conveniences for a comfortable stay. The staff at the front desk are notably attentive and particularly helpful for first-time visitors, and the hotel also serves up Euro-style breakfasts featuring a range of options, including croissants and cheese. Importantly, the hotel has a high sustainability rating, making it a responsible choice for eco-conscious travellers.
Hôtel Le Germain
Address: 126 Rue Saint-Pierre, Quebec City, Canada
Location: Old Quebec
Hôtel Le Germain Québec sits in an excellent location in the heart of Old Quebec City, making it easy to reach nearby attractions and dining spots on foot. The staff are notably friendly and well-informed, always ready to assist with recommendations for activities or eateries. In addition to its welcoming fireplace in the bar and reception area and large, well-equipped rooms, the hotel also serves a nutritious French/European breakfast with a good variety of items to choose from, including superb coffee. It's worth noting that the hotel carries a high sustainability rating, appealing to those who prioritise eco-friendly accommodation options.
Luxury Boutique Hotel
In a luxury boutique hotel, you can expect a high level of personalised service combined with exclusive amenities.
These establishments often provide a more intimate setting compared to large-scale luxury resorts, making your stay feel unique.
Le Capitole Hotel
Address: 972 Rue St-Jean, Quebec City, Canada
Location: Old Quebec
Le Capitole Hotel is well-placed at the edge of Quebec's walled city, making it ideal for exploration. It successfully marries a unique historic setting with modern amenities. Guests find the staff friendly and multilingual, providing attentive service, including efficient valet parking. The rooms are spacious and well-furnished and feature charming balconies overlooking the old fort. On-site dining options cover a range of tastes, from a quality Italian restaurant to diverse breakfast offerings, with vegetarian and vegan options available. Amenities such as a roof patio add to the appeal, rounding out a luxurious yet warm stay.
Where to Stay in Quebec City
Deciding where to stay in Quebec City will depend on what you're after. Here's a comprehensive guide to help you choose the best area for your visit.
Old Quebec (Vieux-Québec)
Known for its rich history and European charm, this area is popular among tourists who are keen on exploring cobblestone streets, historic sites, and quaint boutiques. The neighbourhood is a UNESCO World Heritage site, so you'll find a range of architectural styles and landmarks. Cafes, restaurants, and galleries line the streets, offering a blend of French and Canadian cultures.
Downtown Quebec City
This area suits those who want a mix of the modern and the historical. You'll find shopping centres and business hubs alongside historic buildings. Dining options are diverse, and there's access to public transport, making it convenient for travellers. While not as old as Old Quebec, the downtown area has its own character and is a bit less crowded.
Saint-Jean-Baptiste
Ideal for those who appreciate a lively atmosphere, this area is known for its independent stores, cool bars, and robust nightlife. A variety of dining options are available, and you're never too far from a local event or live performance. The district has a bohemian vibe and is a bit younger in its demographic appeal.
Montcalm
A great option for travellers looking for a quieter yet sophisticated experience. Known for its art galleries and museums, the area also features some green spaces for a leisurely afternoon. It's a bit more residential but offers top-notch dining and shopping experiences, including bakeries and gourmet food shops.
Saint-Roch
This is a newly revitalised district that appeals to a younger crowd. You'll find a variety of tech companies here, along with trendy cafes, modern art installations, and an active nightlife. This area is where the city's up-and-coming culture is most evident.
Limoilou
If you're a fan of green spaces, this is the area for you. It's more laid-back with parks and river views than the bustling city centre. The neighbourhood also has its share of cafes and bistros, making it ideal for a relaxing stay.
Each area has its unique flavour, so you're bound to find something that suits your travel style.
In my linked guide, I've outlined some destinations within Quebec that you might find worth exploring. This collection of suggestions could enhance your travel plans, offering a variety of experiences for your journey. Feel free to explore the guide and consider these options as you plan your adventure through the best places in Quebec.
Quebec City is a reliable resource for those after more detailed info about the city. It's particularly helpful for up-to-date information on things to do, sightseeing opportunities, and upcoming events.
Responsible Travel Tips
Here are a few tips on how you can travel more responsibly in Quebec City.
Renewable Energy: Look for accommodation options that use renewable energy sources. In Quebec, hydroelectricity is the main form of renewable energy, so finding a place that harnesses this can lower your carbon footprint.
Minimising Food Waste: Be mindful of portion sizes at restaurants, especially given the hearty Quebecois cuisine. You can always take leftovers with you, which is a common practice.
Sustainable Diets: Opt for plant-based meals at least once a day. Quebec City has a variety of eateries that focus on vegetarian and vegan options using locally sourced produce.
Sustainable Transport: Use the efficient public transport system, which includes buses and ferries, to get around Quebec City. It's also a walkable city, particularly in the historic areas, so consider this before hailing a taxi.
Avoiding Flying: If you're already in Canada or the US, consider taking a train or bus to reach Quebec instead of flying. Both train and bus stations are centrally located, making them convenient options.
Supporting Local Community: Engage in tourism activities that benefit the local community. Look for tours run by local guides or shop at farmers' markets to buy regional specialties.
Cultural Sensitivity: Familiarise yourself with local customs and the French language. While not strictly environmental, cultural sensitivity is a key aspect of responsible tourism.
FAQ
What's the best area to stay in Quebec City for first-time visitors?
The historic city centre, also known as Old Quebec, is an excellent choice for first-time visitors. It's close to major attractions, restaurants, and shopping options, making it convenient for sightseeing.
What should I look for in a luxury boutique hotel in Quebec City?
Prioritise hotels that focus on exceptional service, unique design elements, and premium amenities. These hotels often provide a tailored experience that differs from standard luxury hotels.
What's the general price range for hotels in Quebec City?
The price can vary significantly depending on the type of accommodation and location. You can find budget options for around $100 CAD per night, mid-range hotels for $150-$250 CAD, and luxury accommodations can go upwards of $300 CAD.
Is Quebec City walkable, or will I need to use public transport?
Quebec City, especially the historic centre, is quite walkable. However, if you plan to explore areas outside the centre, such as Montmorency Falls or the Ile d'Orleans, you'll benefit from using public transport or hiring a car.
Finding the right boutique hotel in Quebec City hinges on your personal preferences and what you want to get out of your stay.
Old Quebec serves as an ideal base for first-time visitors, while those seeking more contemporary vibes might opt for districts like Saint-Roch.
If you have questions or want to leave a hotel review, please do so in the comments.
—
Recommendations are independently chosen based on personal travel experiences and extensive research. This post contains affiliate links to hotels in Quebec City, Canada. This means I get a small commission from any bookings at no extra cost to you.