Recommendations are based on personal travel experiences and research. If you book through links on our site, we may earn a commission at no extra cost to you.
—
Canada's capital is known for its rich history, impressive landmarks and vibrant culture.
Ottawa draws travellers to sights like the Parliament Buildings, the National Gallery, and the Canadian Museum of History.
In this guide, you'll find my selection of the city's best boutique hotels and a neighbourhood guide suggesting where to stay.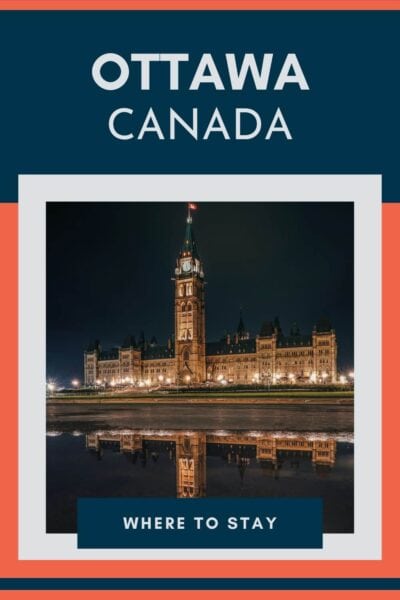 Boutique Hotels in Ottawa
When selecting a hotel, it's crucial to consider the district or neighbourhood that aligns with your interests.
Downtown Ottawa is the city's heartbeat, with landmarks like the Parliament Buildings and the National Gallery.
On the other hand, Byward Market is a lively district renowned for its eclectic boutiques, quaint cafes, and diverse cultural venues, making it a hub for arts and entertainment.
My top hotel pick is located in the Byward Market area, but I list several other options below.
Top Pick
Le Germain
Address: 30 Daly Avenue, Ottawa
Location: Byward Market
Le Germain Hotel stands out for its well-situated location near Byward Market and Parliament Hill and its commitment to sustainability. The staff consistently receive praise for their friendly and helpful demeanour, ensuring guests feel catered to throughout their stay. The rooms maintain high standards of cleanliness and comfort, with highlights including a luxurious bath and a notably comfortable bed.
Features:
Distinctive hotel decor and design.
Stylish rooms with lots of natural light.
Great breakfast selection.
Exceptional attention to detail and service.
Sustainability:
The hotel uses 100% renewable electricity.
Most food is organic and locally sourced.
Vegetarian and vegan menus are available.
It avoids using single-use plastics.
Electric vehicle charging station.
Support is given to local community organisations.
Pros: Central location, outstanding staff, and luxurious amenities.
Cons: You might prefer to stay Downtown.
Check Availability
While Le Germain is a good choice, other boutique hotels are worth considering.
Depending on your preferences for location, design, value, uniqueness, or eco-friendliness, I've highlighted a few that might align with your needs.
Next Best
The Metcalfe
Address: 123 Metcalfe Street, Ottawa, Canada
Location: Downtown
The Metcalfe Hotel stands out as a lovely boutique choice in the heart of Canada's capital. It's got a modern edge, evident in the hardwood flooring of the guest rooms, updated decor and Le Labo amenities. The comfort extends beyond the aesthetics, with the plush bed and quality sheets ensuring a good night's sleep. The front desk and the bar staff are attentive and friendly, enhancing the overall experience. Location-wise, you're sorted; walking to major attractions is a breeze. After a day out, returning to the calm ambience of the hotel and enjoying a meal in the French-inspired Cocotte is the cherry on top. The provision of daily water bottles and the expansive, bright atrium further add to the hotel's charm.
Best Value for Money
Swiss Hotel
Address: 89 Daly Avenue, Ottawa, Canada
Location: Byward Market
Strategically positioned between downtown and the university, Swiss Hotel nestles in a historic district dotted with Victorian-era architecture. This central location ensures all key attractions are within easy reach. The hotel's facilities reflect a stylish standard, evident in the red and white decor, mod chairs, glass tables, and quality linens, giving rooms a posh aura. The morning coffee service is a standout feature in a charming common room or garden. The hotel exudes warmth and meticulous care. It's evident in the details, from spotlessly clean spaces to quality fittings. The staff play a significant role in enhancing the experience with their welcoming nature.
Unique Hotel
One should focus on distinctive design elements and unconventional amenities when seeking a unique boutique hotel.
These hotels often stand out for their originality, drawing inspiration from art, history, or local culture.
Andaz Ottawa
Address: 325 Dalhousie Street, Ottawa, Canada
Location: Byward Market
The Andaz Ottawa Hotel, set near the lively Byward Market, has carved its niche in the hospitality scene with a blend of friendly staff and efficient communication methods, like its text service. Its proximity to quality dining places enhances the appeal for gastronomes. The rooms tick the boxes for comfort and cleanliness, offering travellers a serene retreat. However, it's worth noting that their breakfast menu could benefit from a broader range of vegetarian options. But overall, the hotel's location, coupled with its well-appointed rooms and commendable staff, makes it a solid choice for those visiting Ottawa.
Eco-Friendly Hotel
When considering an eco-friendly hotel, it's essential to research its sustainability practices and commitments.
These hotels often implement measures to reduce environmental impact through energy conservation, waste reduction, or sourcing local and organic products.
Lord Elgin Hotel
Address: 100 Elgin Street, Ottawa, Canada
Location: Downtown
Lord Elgin Hotel stands out as an eco-conscious choice for travellers keen on sustainable options. Nestled on Elgin Street, it places you in the heart of vibrant dining and entertainment venues while also being conveniently close to Parliament and significant landmarks. The spacious rooms and well-appointed washrooms affirm its value proposition. While the hotel does have dining options, many guests prefer to explore the nearby cafes or reconnect with local acquaintances. Lord Elgin's dedication to the environment is underlined by its commitment to third-party sustainability certifications, reflecting its ongoing efforts to operate responsibly and eco-consciously.
Luxury Boutique Hotel
When considering a luxury boutique hotel, you would expect a blend of refined aesthetics and personalised services.
By providing unparalleled attention to detail, unique settings, and impeccable service, these hotels can represent true value for discerning travellers seeking an enriched experience.
Fairmont Chateau Laurier
Address: 1 Rideau St Fairmont Gold, Ottawa, Canada
Location: Byward Market and Downtown
Fairmont Chateau Laurier, nestled in a central spot in Ottawa, is the epitome of luxury boutique experiences. Beyond its exquisite facade lies a culinary delight, particularly evident in its breakfast spread. The freshness of the Saturday omelette, authentic chia seed pudding, delicious berries, and appetising oatmeal demonstrate their commitment to quality dining. At the heart of this place's charm is its dedicated staff, always eager to ensure guests have a stellar experience.
Where to Stay in Ottawa
When considering where to stay in Ottawa, here's a breakdown of the best areas tailored to various interests:
Downtown Ottawa: This is the heart of the city, home to major landmarks such as the Parliament Buildings and the National Gallery. Ideal for first-time visitors, you're right in the mix of historical attractions and shopping zones.
Byward Market: Nestled close to the Ottawa River, this neighbourhood thrives with eclectic restaurants, bars, and shops. Its bustling ambience makes it perfect for those looking to dive into Ottawa's nightlife.
The Glebe: A lively district is known for its independent boutiques, quaint cafes, and vibrant arts scene. It's an excellent spot if you're keen to experience Ottawa's cultural side.
Westboro Village: This up-and-coming area is a haven for shoppers, especially if you fancy unique boutiques and artisanal crafts. With its close proximity to the Ottawa River, there's a mix of urban charm and natural beauty.
Old Ottawa South: A historic neighbourhood that seamlessly blends its rich past with modern amenities. With a host of eateries, shops, and green spaces like Windsor Park, it's great for a laid-back stay.
Centretown: Situated just south of Downtown, it's a blend of residential areas and businesses. The area is dotted with museums, parks, and a slew of restaurants, offering a balanced feel of urban life and relaxation.
After exploring Ottawa, you might find my guide to the best places to visit in Canada a helpful resource for broadening your Canadian adventure. It provides insights into various destinations, allowing you to consider and plan your next stops.
Plan Your Trip
Ottawa Tourism is an excellent resource for those keen on diving deeper into city activities.
They provide detailed insights into things to do, notable sightseeing spots, and upcoming events in the city.
Responsible Travel Tips
Here's how you can travel more responsibly in Ottawa:
Renewable Energy: Consider places that are powered by renewable energy sources. Ottawa has been making strides in green energy, so ask hotels about their energy sources before booking.
Minimising Food Waste: When dining out, especially in areas like the Byward Market, be mindful of portion sizes. If you can't finish your meal, ask for a takeaway container to enjoy it later.
Sustainable Diets: Opt for plant-based or locally sourced dishes when eating out. Many Ottawa eateries focus on regional produce, which supports local farmers and reduces carbon footprints.
Sustainable Transport: Use Ottawa's extensive cycling paths across the city and along the scenic Ottawa River. The city's public transit, including buses and the O-Train, also provides an eco-friendly travel option.
Avoiding Flying: If you're travelling within Canada, consider using the VIA Rail instead of domestic flights. The train station in Ottawa is well-connected, making it a viable alternative to air travel.
Supporting the Local Community: Engage in community events or shop at local markets. Ottawa's neighbourhoods, like Westboro Village and Old Ottawa South, host various events and markets that showcase local artisans and craftsmen.
Adopting these practices will enhance your Ottawa experience and contribute positively to the city's sustainability efforts.
Selecting the right boutique hotel can add to your Ottawa experience. The city seamlessly blends history, culture, and modernity, making it a diverse destination for any traveller.
If you have questions or want to leave a hotel review, please do so in the comments.
—
Recommendations are independently chosen based on personal travel experiences and extensive research. This post contains affiliate links to hotels in Ottawa, Canada. This means I get a small commission from any bookings at no extra cost to you.