Recommendations are based on personal travel experiences and research. If you book through links on our site, we may earn a commission at no extra cost to you.
—
Halifax is a vibrant harbour city in Nova Scotia known for its maritime history and lively arts scene.
Finding the right place to stay can add to your experience as you explore its waterfront and the rest of the city.
In this guide, I share the best boutique hotels in Halifax to help you plan your visit.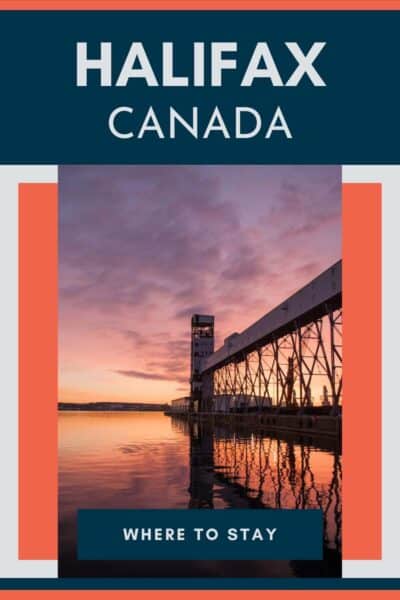 Boutique Hotels in Halifax
When selecting a hotel, the initial step is often deciding on the area you'd like to be based in.
Downtown Halifax, the city's historic heart, provides easy access to major attractions and the vibrant waterfront.
On the other hand, the North End stands out with its eclectic mix of independent shops, cool bars, and artsy vibe.
Downtown Halifax is a sound choice for many visitors for a mix of culture and convenience, and this is where you'll find my top pick.
Top Pick
Muir Autograph
Address: 1709 Lower Water Street, Halifax
Location: Downtown
Muir Autograph Hotel stands out with its thoughtful contemporary design both in public spaces and the rooms. The staff are notably friendly, with impeccable services like door service for ice and touches like chocolates and macarons accompanied by personal notes. The property's commitment to sustainability is commendable, and features like the Wellness Centre and Drift Restaurant, and the comfort of the rooms make it a standout choice for those familiar or new to Halifax.
Features:
Distinctive hotel decor and design.
Stylish rooms with lots of natural light.
Great breakfast selection.
Great location near the Maritime Museum.
Exceptional attention to detail and service.
Sustainability:
Efforts are made to minimise food waste.
Most food is organic and locally sourced.
Vegetarian and vegan menus are available.
Electric vehicle charging station.
Support is given to local community organisations.
Pros: Thoughtful contemporary design and comfortable rooms.
Cons: Limited late checkout.
Check Availability
While Muir Autograph is a good choice, other boutique hotels in Halifax might catch your attention for different reasons.
Some stand out for their unique design, eco-friendliness, or exceptional value for money. I'll be highlighting a few of these.
Next Best
The Sutton Place
Address: 1700 Grafton Street, Halifax, Canada
Location: Downtown
The Sutton Place Hotel is a solid choice at the top of the hill, providing a comfortable stay and a vantage point with some great views. Every aspect of the room, from the luxurious bed to the thoughtful design and amenities, is well-maintained, making for an excellent stay. Not to mention the staff, who are not only efficient and polite but also go the extra mile. Stroll down the hill, and you'll find yourself right at the waterfront, adding to the hotel's location. The attention to detail in both the lobby and rooms stands out, and their customer service is highly rated.
Best Value for Money
The Lord Nelson
Address: 1515 South Park Street, Halifax, Canada
Location: Downtown
The Lord Nelson is centrally located near the Public Gardens. It's known for delivering excellent value for money through its range of services and facilities. You can kick start your day with a pleasant breakfast in the hotel's restaurant and lounge. While the rooms are spacious, it's worth noting that some bathrooms might be on the smaller side.
Nonetheless, the addition of thoughtful amenities, such as a Nespresso machine, complete with coffee, cream, and sugar, adds a touch of luxury. The hotel ensures a comfortable stay with its indoor seating areas, including a bar, an outdoor seating area out front, and the peace of mind of secure covered parking.
Luxury Boutique Hotel
Focusing on personalisation and unique experiences is essential when considering a luxury boutique hotel.
These hotels stand out because they often combine bespoke design with a touch of exclusivity, giving you a distinct and individualised stay.
Halifax Tower Hotel
Address: 15 Lakelands Boulevard, Halifax, Canada
Location: Bayer's Lake
The Halifax Tower combines luxury with comfort. One of its standout features is the exceptional breakfast, complemented by the much-appreciated coffee machines, which can add to your morning routine. The rooms, not only spacious and adorned with marble, exude a sense of luxury and cleanliness.
The heated pool, with its ultra-comfortable loungers, also provides an inviting relaxation space. Feedback frequently highlights the staff's accommodating nature and the beds' remarkable comfort. With such consistent quality, it's no surprise that some guests have chosen to stay multiple times, praising the overall experience and decor each visit.
Where to Stay in Halifax
Downtown Halifax: As the centre of the city, Downtown Halifax is full of historic sites, bustling markets, and a vibrant waterfront. It's a central hub for cultural attractions, restaurants, and shops, making it a must-visit for those interested in soaking up the atmosphere.
North End: With its mix of galleries, cool bars, and diverse eateries, the North End offers a more bohemian feel. Characterised by its eclectic community, it's perfect for visitors wanting to experience a mix of traditional and contemporary Halifax.
Spring Garden Road Area: Located adjacent to Downtown, this area is renowned for its cafe culture and independent stores. Wander along Spring Garden Road, and you'll find a mix of boutique shops, trendy cafes, and a touch of Halifax's history.
South End: Home to the picturesque Point Pleasant Park and numerous green spaces, South End is great for those who love tranquillity amidst urban settings. It also has an important history, with Victorian-era homes and historical monuments dotting the landscape.
Quinpool Road: This bustling area, a short distance from Downtown, is filled with local eateries, shops, and entertainment venues. A magnet for foodies, it presents a great range of places to eat out.
Dartmouth: Just a ferry ride across the harbour from Downtown Halifax, Dartmouth is a popular spot with its lovely parks, beach areas, and a more laid-back atmosphere. It's also rapidly gaining popularity for its burgeoning arts scene and waterfront development.
When deciding where to stay in Halifax, consider your interests and what you hope to achieve during your visit.
Each neighbourhood brings unique charm and can shape your experience in this vibrant city.
While exploring the vast expanse of Canada, you might find my guide to the best places to visit in Canada a helpful companion, highlighting intriguing destinations and offering insights for your next adventure.
Plan Your Trip
For those interested in discovering the city's attractions, Discover Halifax is a reliable resource.
It's particularly useful for discovering things to do, interesting sightseeing spots, and upcoming events.
Responsible Travel Tips
Here are a few tips on how we can travel more responsibly in Halifax:
Renewable Energy: When booking a place to stay, look for places that use renewable energy sources. For instance, some Halifax hotels are powered by wind or solar energy, reducing their carbon footprint.
Minimising Food Waste: Try to order only what you can eat at Halifax's eateries. If you have leftovers, consider packing them for later or composting organic waste, as the city has strong recycling and composting initiatives.
Sustainable Diets: Choose plant-based meals or local sustainable seafood dishes, such as sustainably caught lobster or mussels. Halifax's coastal location means you can enjoy fresh, locally sourced seafood that hasn't travelled long distances.
Sustainable Transport: Use Halifax's extensive public transit system, which includes buses and ferries. Not only will you reduce emissions, but you'll also get a unique perspective of the city from the water.
Avoiding Flying: If travelling within the Maritime Provinces, consider using trains or buses instead of short-haul flights to reduce carbon emissions and demand for flying.
Supporting the Local Community: Shop at the many local markets in Halifax, like the Historic Farmers' Market. You support local artisans and get unique, locally-made products by doing so.
Respect Natural Sites: When visiting areas like Point Pleasant Park or Peggy's Cove, always stick to marked paths to protect fragile ecosystems and habitats.
Water Conservation: Given Halifax's coastal nature, water conservation is key. While staying in the city, take short showers, turn taps off when brushing your teeth, and use water refill stations to reduce plastic waste. It's a small change that can have a long-term impact.
Remember, every small action counts, and it's up to us to ensure Halifax remains a pristine destination for future generations.
Final Thoughts
Selecting a boutique or design hotel in Halifax can add to your experience in this city.
Prioritise locations and amenities that align with your preferences, and you're poised for a remarkable stay in this unique Canadian city.
If you have questions or want to leave a hotel review, please do so in the comments.
—
Recommendations are independently chosen based on personal travel experiences and extensive research. This post contains affiliate links to hotels in Halifax, Canada. This means I get a small commission from any bookings at no extra cost to you.