Recommendations are based on personal travel experiences and research. If you book through links on our site, we may earn a commission at no extra cost to you.
—
Edmonton attracts countless visitors thanks to its vibrant arts scene and the vast River Valley Park.
Its blend of urban sophistication and natural beauty creates an inviting backdrop for those seeking a unique stay.
If you're planning a visit, in this guide, I highlight some of the best boutique hotels in Edmonton.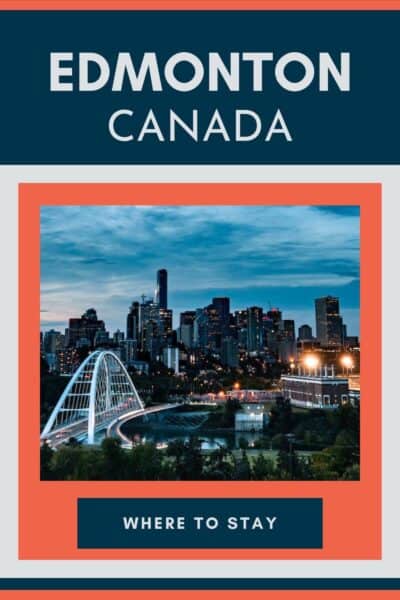 Boutique Hotels in Edmonton
When considering a hotel in Edmonton, a good first step is determining where you'd like to stay.
Like any downtown area, it provides easy access to major attractions and business activities.
Meanwhile, Whyte Avenue in the Old Strathcona district is renowned for its cafe culture, unique shops, and vibrant nightlife.
If this is your first visit to Edmonton, staying downtown is probably the best option, but if you've been before, why not try a different part of the city?
Top Pick
JW Marriott Edmonton
Address: 10344-102 Street NW, Edmonton
Location: Downtown ICE District
The JW Marriott Edmonton stands out with its modern, clean, and upscale design complemented by quality amenities. The hotel has a heated pool and well-appointed rooms that highlight attention to detail, from robes and slippers to complimentary refreshments. While this is a chain hotel, it's one of the most stylish and highly-rated in the city centre.
Features:
Stylish rooms with lots of natural light.
Great breakfast selection.
It is a great location near the ICE District
Exceptional attention to detail and service.
Sustainability:
Efforts are made to minimise food waste.
Most food is organic and locally sourced.
Vegetarian and vegan menus are available.
It avoids using single-use plastics.
The support is given to local community organisations.
Pros: Modern design and excellent service.
Cons: This is a chain hotel.
Check Availability
While JW Marriott has good points, I'll introduce you to a few other boutique hotels that stand out for their unique designs, eco-friendliness, or value for money.
Each hotel has distinct characteristics that might align with your preferences, ensuring a well-rounded stay in Edmonton.
Next Best
Sandman Signature
Address: 901 Pembina Road, Canada
Location: Sherwood Park
The Sandman Signature Hotel provides a comfortable and refreshing stay for visitors. The beds are plush, and the European-inspired bathroom layout, while unconventional, adds a touch of elegance to the rooms. On top of that, the hotel is exceptionally clean with ample parking, and the staff are both friendly and professional.
A highlight for many is the pool with its water slide – a sure hit with the kids. And while the hotel might not serve breakfast, the Chop restaurant on-site more than makes up for it with its tasty meals. With its great location and room rates, it's no wonder some folks suggest they'd only want to book at Sandman in the future.
Eco-Friendly Hotel
Choosing an eco-friendly hotel reflects a conscious decision to support sustainable practices.
Such places often adopt measures that lessen their carbon footprint, promote local economies, and ensure a harmonious relationship with nature.
Element Edmonton West
Address: 18540 100 Avenue NW, Edmonton, Canada
Location: Edmonton West
The Element Edmonton is a testament to contemporary eco-friendly accommodation. Guests are welcomed into rooms that seem freshly renovated, presenting a blend of beauty and practicality, some with the inclusion of a kitchenette. Cleanliness is paramount here, evident from the daily fresh towels to the pristine public areas.
The hotel's dedication to sustainability shines through with its use of 100% renewable electricity. While there, you'll likely appreciate the complimentary continental breakfast, particularly the hot breakfast options and the omelette station. Evening treats include wine and cheese events. The availability of underground parking and guest laundry facilities further add to the convenience.
Where to Stay in Edmonton
Deciding where to stay in Edmonton can shape your entire experience. Here's a rundown of the best areas, each with its unique charm:
Downtown Edmonton: The city's centre, this area is busy with activity. With numerous attractions, restaurants, and shops, staying here ensures you're at the centre of it all. Known for its urban sophistication, the district is near major business centres and the iconic River Valley Park.
Old Strathcona: A lively district centred around Whyte Avenue, renowned for its bustling cafe culture, distinctive shops, and dynamic nightlife. Rich in history, the area also hosts various festivals, attracting locals and visitors alike.
West Edmonton: Best known for the West Edmonton Mall, North America's largest shopping and entertainment complex. Beyond shopping, the mall houses attractions like the World Waterpark and Galaxyland. The neighbourhood also has various parks, with a mix of retail and green spaces.
Glenora: A historic neighbourhood with tree-lined avenues and stately homes. It's near the Royal Alberta Museum, making it a favoured spot for those interested in exploring Edmonton's cultural heritage.
Oliver: Just west of the downtown area, Oliver is one of Edmonton's densest neighbourhoods. With many high-rise condos and apartments, it blends urban living with the tranquillity of the River Valley's parks and trails.
Highlands: Characterised by its early 20th-century architecture, this neighbourhood has its own charm. With boutique shops and local eateries, it's a quieter alternative for visitors wanting a more relaxed pace.
While exploring the charm of Edmonton, you might also find interest in my guide to the best places to visit in Canada, a curated list of destinations worth considering on your Canadian travels.
Plan Your Trip
For detailed insights on visiting the city, Visit Edmonton is a valuable resource.
It's useful for finding up-to-date information on things to do, sightseeing opportunities, and upcoming events in the city.
Responsible Travel Tips
Here's how you can travel more responsibly in Edmonton:
Renewable Energy: Consider staying at places that use renewable energy sources. Edmonton is increasingly adopting solar power; check if your hotel or apartment supports this trend.
Minimising Food Waste: When dining out, ask for portions that match your appetite or consider sharing dishes. Edmonton's restaurants are quite accommodating, and this small step can significantly reduce food wastage.
Sustainable Diets: Opt for local and seasonal produce. Edmonton's farmers' markets, such as the Old Strathcona Farmers' Market, provide many fresh, regional, and sustainable options.
Sustainable Transport: Use the city's extensive cycling paths or the efficient Edmonton Transit Service. Walking or cycling along the North Saskatchewan River Valley is eco-friendly and has scenic views.
Avoiding Flying: If travelling within Alberta or nearby provinces, consider taking a train or bus instead of a short-haul flight to reduce carbon emissions.
Support the Local Community: Instead of big chain stores, shop at local boutiques or artisan shops in areas like Whyte Avenue. This supports local entrepreneurs and keeps the community feel.
Recycling and Reducing: Familiarise yourself with Edmonton's waste management and recycling guidelines. The city is known for its progressive waste management system; participate by sorting your waste accordingly.
Remember, every little effort counts when it comes to sustainable travel in Edmonton.
Final Thoughts
Edmonton has a couple of boutique hotels that mirror its vibrant culture and history.
Prioritise location and values like eco-friendliness to align with your travel ethos, and enjoy every moment of your Edmonton trip.
If you have questions or want to leave a hotel review, please do so in the comments.
—
Recommendations are independently chosen based on personal travel experiences and extensive research. This post contains affiliate links to hotels in Edmonton, Alberta. This means I get a small commission from any bookings at no extra cost to you.