Recommendations are based on personal travel experiences and research. If you book through links on our site, we may earn a commission at no extra cost to you.
—
Charlottetown has a charm that draws visitors year-round, with its picturesque harbour and bustling markets. There's also a lively theatre culture thanks to the Centre of the Arts and other venues. It's a nice place to visit on a short break.
To help you pick where to stay, I list boutique hotels that Charlottetown has available. For a small city, there are some surprisingly nice options.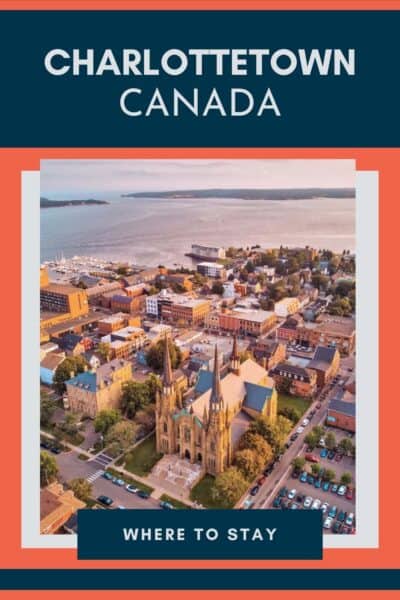 Boutique Hotels in Charlottetown
When considering a hotel in Charlottetown, deciding on a suitable area for your stay is the first step.
Many visitors prefer the downtown area as it's convenient for many attractions, and not surprisingly, this is where you'll find most of the hotels.
Other areas are geared more to people driving through so it's best to keep your search to the downtown.
Top Pick
Sydney Boutique
Address: 55 Weymouth Street, Charlottetown
Location: Downtown
Sydney Boutique Hotel, located just a 5-minute walk from the heart of Charlottetown, provides a serene retreat from the bustling town centre, particularly during busy cruise ship visits. Their Parkland suite is clean and spacious, with amenities like a washer and dryer, making it especially convenient for longer stays. The hotel's history adds to its charm, and guests can expect quality amenities, from exquisite furniture to a luxurious breakfast featuring egg bakes, bacon, and authentic hash browns. The attentive staff and the hotel's proximity to Charlottetown's vibrant bars and restaurants is why this is my top pick.
Features:
Distinctive hotel decor and design.
Stylish rooms with lots of natural light.
Great breakfast selection.
Exceptional attention to detail and service.
Pros: Central location but in a quiet area. The reviews are exceptional.
Cons: Classic interior design.
Check Availability
While I think the Sydney is the best choice, I'll highlight a few other boutique hotels too.
These will cater to varied preferences: location, value, unique design, or eco-friendliness.
Next Best
Slaymaker
Address: 82 Fitzroy Street, Charlottetown, Canada
Location: Downtown
The Slaymaker Hotel is a cute place to stay, intertwining the historic building with modern comforts. The beautifully designed large rooms, paired with unique furnishings, are a nod to this history, and the addition of record players in each space, complete with a diverse album selection in the corridor, is a nice touch.
Their attention to detail shines through in both their impeccable service and the intricacies of each room – think spacious, expertly designed bathrooms and comfy beds. To top it off, you won't want to miss their brunch, available both in the comfort of your room or downstairs.
Best Value for Money
The Hotel on Pownal
Address: 146 Pownal Street, Charlottetown, Canada
Location: Downtown
The Hotel on Pownal stands out for its exceptional value for money, primarily because of its stellar services and amenities. Located in the heart of Charlottetown, it places you within easy walking distance of many of the city's attractions, so it's great for a short stay.
Guests frequently commend the impeccable cleanliness of the rooms and the evident care that goes into maintaining the comfort and appearance of the suites. The staff consistently receives praise for their helpfulness, and little touches, like complimentary teas, coffees, and cookies, add to the overall guest experience. Additionally, the provision of a laundry room for guest use means this could also work for a longer stay.
Luxury
The Holman Grand
Address: 123 Grafton Street, Charlottetown
Location: Downtown
The Holman Grand Hotel is a luxury boutique hotel in PEI, with a reputation for its excellent location. It is situated conveniently in the heart of downtown, providing easy access to shops and restaurants. The cleanliness is consistent throughout the hotel, from the rooms to the common areas. Leisure facilities at the hotel include a pool and hot tub, both of which receive positive remarks from visitors.
The staff at the Holman Grand is commended for being friendly, knowledgeable, and attentive, readily providing extra towels and coffee as requested. The peaceful ambience, despite its central location, adds to the hotel's charm. Overall, the Holman Grand is recognised for its welcoming environment and is a preferred option for many, with guests frequently planning return visits.
Unique and Quirky
If you want something a little more unique, pay attention to the design and distinctive features that differentiate it from mainstream hotels.
Often, it's the unconventional amenities, services, or even historical ties that add a touch of intrigue to your stay.
Charlotte's Rose Inn
Address: 11 Grafton Street, Charlottetown, Canada
Location: Downtown
Charlotte's Rose Inn stands out for its distinctive design, imbued with character and charm that instantly resonates with its visitors. As soon as you step inside, the attentive staff greets you, creating a genuinely warm and pleasant atmosphere. Each room is tastefully decorated, combining antique decor with modern amenities, ensuring both aesthetics and comfort.
The meticulously prepared breakfast consistently garners acclaim for its taste and elegant presentation. Beyond its exceptional services, the inn takes pride in its commendable strides towards sustainability, ensuring it positively impacts both environmentally and socially.
Eco-Friendly
When considering an eco-friendly hotel, it's essential to research its sustainability practices and the impact of those measures.
Staying at such places minimises your carbon footprint and supports businesses striving for environmental conservation.
Despite prioritising green initiatives, many of these hotels manage to provide excellent value, combining eco-consciousness with guest comfort.
Prince inn
Address: 241 Prince Street, Charlottetown, Canada
Location: Downtown
At Prince Inn, you're positioned perfectly to experience Charlottetown's best, centrally located and a mere stroll away from top dining, shopping, and iconic tourist spots. The warm and attentive staff add to your stay with local insights and recommendations.
Not only is the inn aesthetically pleasing, drawing inspiration from Victorian designs, but it's also committed to the environment, operating entirely on renewable electricity. The complimentary breakfast is a treat, with a generous spread and freshly cooked eggs, accentuating this eco-conscious establishment's overall value and charm.
Where to Stay in Charlottetown
When deciding where to stay in Charlottetown, consider the following areas for their unique attractions and ambience:
Downtown Charlottetown: Often referred to as the city centre, this vibrant heart of Charlottetown is full of things to keep you busy. You'll find a mix of modern places alongside preserved Victorian architecture. The downtown area houses galleries, museums, and theatre venues. After dark, its streets come alive with bars and live music venues offering a taste of the city's nightlife.
Victoria Park: A haven for nature enthusiasts, this neighbourhood is adjacent to the expansive Victoria Park, offering scenic views and walking trails. The area is quieter, ideal for a more relaxed pace, yet still has a selection of cafes and eateries showcasing local flavours.
Brighton: This residential suburb, just outside the bustling centre, is known for its scenic coastline and green spaces. It's a good choice for visitors who want a blend of city access and tranquil surroundings.
East Royalty: A blend of residential and commercial spaces, East Royalty is a balance between city life and suburban calm. Here, you'll find green parks for recreation and a selection of independent stores that give a sense of the local community.
West End: Known for its youthful energy, West End is the go-to for cool bars, eclectic eateries, and independent shops. It's a hub for the city's more modern and innovative side, often frequented by locals and tourists alike.
While exploring Charlottetown, you might also be keen to discover other gems across the country; my guide to the best places to visit in Canada provides a curated selection of destinations to consider on your next adventure.
Plan Your Trip
To learn more about the city's attractions and events, Visit Charlottetown is a reliable resource. It's especially handy when pinpointing things to do and sightseeing opportunities.
Responsible Travel Tips
Here are a few tips on how we can travel more responsibly in Charlottetown:
Renewable Energy: Consider hotels or inns that are known to use renewable energy sources.
Minimising Food Waste: When dining out, order portions you can finish or ask for leftovers to be packed. Charlottetown has numerous farm-to-table eateries; supporting them also reduces the carbon footprint linked to food transportation.
Sustainable Diets: Look out for local seafood dishes, such as the renowned PEI mussels or oysters. Consuming local produce not only reduces transport emissions but also supports regional farmers.
Sustainable Transport: Make the most of Charlottetown's compact nature by walking or cycling around. The city has a series of pedestrian-friendly pathways and cycling lanes that make it easy to explore without a car.
Avoiding Flying: If you're travelling within the Maritimes, consider taking a coach or driving to Charlottetown instead of short-haul flights with a significant carbon footprint.
Supporting the Local Community: Purchase handmade crafts or souvenirs from local artisans. Attending community events or farmers' markets is another way to directly engage with and support the residents.
Eco-friendly Activities: Explore the natural beauty of the nearby beaches and parks, ensuring to leave no trace behind. The city's green spaces, such as Victoria Park, are perfect for this. Always remember to pick up after yourself and respect wildlife.
Water Conservation: While PEI has abundant freshwater sources, it's essential to use water judiciously.
Remember, every little effort counts towards making Charlottetown a sustainable travel destination.
Enjoy your time in Charlottetown, which seamlessly blends history, culture, and modernity.
If you have questions or want to leave a hotel review, please do so in the comments.
—
Recommendations are independently chosen based on personal travel experiences and extensive research. This post contains affiliate links to hotels in Charlottetown, Canada. This means I get a small commission from any bookings at no extra cost to you.