Recommendations are based on personal travel experiences and research. If you book through links on our site, we may earn a commission at no extra cost to you.
—
Calgary is renowned for its proximity to the Rocky Mountains, a bustling downtown scene, and the annual Stampede rodeo festival.
With its rich heritage and modern spirit, the city provides the perfect backdrop for a range of stylish boutique hotels.
In this guide, you'll discover some of the best boutique places to stay that Calgary has to offer.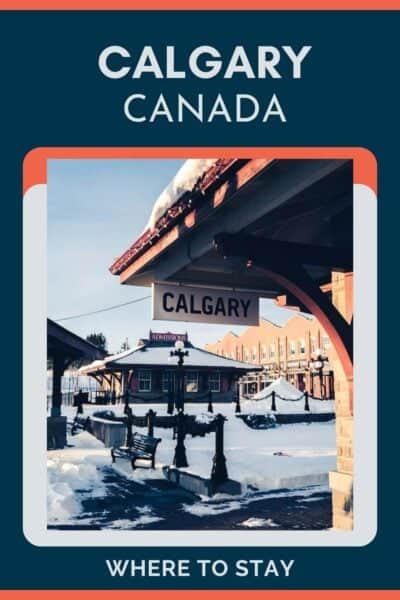 Boutique Hotels in Calgary
When selecting a hotel, the initial consideration often hinges on the desired neighbourhood.
Downtown Calgary serves as the heartbeat of the city, brimming with skyscrapers, businesses, and cultural attractions like the Glenbow Museum.
On the other hand, Kensington provides a vibrant and artsy ambience with its plethora of independent shops, quaint cafes, and proximity to the Bow River.
For a lively blend of culture and convenience, Downtown stands out as a prime choice for visitors to Calgary.
Top Pick
Hotel Le Germain Calgary
Address: 899 Centre Street Southwest, Calgary
Location: Downtown
Hotel Le Germain Calgary stands in an excellent downtown location, directly facing the iconic Calgary Tower. The hotel provides spacious rooms with well-designed interiors, including comfortable beds, ample storage, and noteworthy bathroom features such as high-quality shower products. Recognised for its commitment to sustainability and excellent room service menu, guests frequently commend its friendly staff and proximity to Stephens Street, a hub for dining and people-watching.
Features:
Cool and unique hotel.
Stylish rooms with lots of natural light.
Great breakfast selection.
It has a great location near Calgary Tower, Glenbow Museum.
Exceptional attention to detail and service.
Sustainability:
Independently certified sustainable hotel.
The hotel uses 100% renewable electricity.
Most food is organic and locally sourced.
Electric vehicle charging station.
Promotion of local artists within the hotel.
Pros: Downtown location, spacious interiors, quality beddings, friendly staff, near Stephens Street dining.
Cons: Popular areas can be busy.
Check Availability
While Hotel Le Germain Calgary holds its appeal, other boutique hotels are worth considering.
I'll highlight a few alternatives you might appreciate based on factors like location, design, value, and eco-friendliness.
Next Best
The Dorian
Address: 525 5th Avenue, Calgary, Canada
Location: Downtown
The Dorian Hotel is worth some attention with its intricate attention to detail. It's easy to be impressed by its fitness centre, arguably one of the finest you'll encounter in a hotel setting. The Wilde on 27, perched on the 27th floor, is an absolute standout – delivering exceptional cocktails, delectable food, and a welcoming ambience. In terms of accommodations, the rooms are spacious, thoughtfully designed, and, most importantly, offer a quiet retreat. It's hard not to commend the staff; each member is friendly, well-informed, and always ready to assist. Located in the heart of downtown, a stone's throw away from river pathways and 8th Avenue, the hotel provides an elevated feel without a hefty price tag. The rooms are not only ample in size and filled with natural light but also feature sizable bathrooms and showers with ample space for personal toiletries.
Best Value for Money
The Westley
Address: 630 4th Avenue, Calgary, Canada
Location: Downtown
The Westley Hotel in Calgary stands out for its exceptional value for money, evident in its comprehensive services, facilities, and attention to detail. From a smooth check-in experience to providing a stylish, clean, and comfortable corner room, the hotel ensures a satisfactory experience. A particular highlight is the hotel's design, blending modern aesthetics with a touch of mid-century charm, as seen in the art prints and the alluring seating in the lobby. With notably large rooms and particularly well-crafted bathrooms, comfort is a given. The Fonda Fora restaurant, adjacent to the lobby, also serves excellent Mexican-inspired cuisine that leaves a lasting impression. The hotel's commitment to sustainability, backed by third-party certifications, further enhances its reputation. The Westley presents a compelling choice for anyone considering a stay in Calgary.
Unique Hotel
In the realm of boutique hotels, uniqueness often takes centre stage. Seek out establishments that present distinctive designs in architecture, interior decor, or innovative services and amenities.
Such features provide a refreshing break from the standard hotel experience and immerse you in a world of creativity and inspiration.
Hotel Arts
Address: 119 – 12th Avenue Southwest, Calgary, Canada
Location: Beltline
Hotel Arts stands out as a modern and comfortable place to stay, thoughtfully designed to cater to guests' every need. Its central location in Calgary makes it particularly convenient for those wishing to visit the Stampede Grounds. The interiors, from the welcoming hotel lobby to the well-appointed rooms, reflect a blend of style and comfort. Guests often commend the friendly reception staff, the delightful restaurant team, and the added flexibility of a later checkout. Further enriching the stay is the cosy swimming pool ambience, the availability of free parking, and the proximity to Calgary's centre, including the riverside, which is ideal for walking, biking, or jogging.
Eco-Friendly Hotel
When considering an eco-friendly or sustainable hotel, it's essential to focus on places that actively reduce their environmental footprint and promote responsible practices.
Such hotels often integrate energy-saving measures and waste reduction initiatives and source local, sustainable products.
Delta Hotels
Address: 209 4th Avenue Southeast, Calgary, Canada
Location: Downtown
Delta Hotels has carved a niche for itself as a commendable eco-friendly choice in Calgary. The lobby welcomes guests with a warm ambience, and the service remains consistently high-quality from check-in to check-out. Guests are treated to spacious rooms with impressive views of Calgary, and the bathroom interiors, with their large showers and tasteful decor, often surpass expectations. The hotel's central location is a significant advantage, allowing guests to easily navigate downtown on foot. Additional facilities like the on-site restaurant and coffee shop further enhance the guest experience. A notable feature is the hotel's skywalk connection, linking major buildings, streets, and shopping centres. Delta Hotels also champions sustainability by utilising 100% renewable electricity, showcasing its commitment to green practices without compromising on luxury or comfort.
Luxury Boutique Hotel
In the world of luxury boutique hotels, it's the bespoke experience and tailored service that often set them apart.
These hotels focus on delivering a unique blend of exclusivity and personalisation, often housed within a distinctive architectural setting.
Despite the premium price, many luxury boutique hotels manage to provide value by ensuring that every cent spent translates to unparalleled comfort and experience.
So, while you're investing in a higher-tier stay, the personalised touch and attention to detail can make it entirely worth the expense.
Fairmont Palliser
Address: 133 9th Avenue Southwest, Calgary, Canada
Location: Downtown
The Fairmont Palliser embodies luxury in the boutique hotel category, resonating with history and sophistication. Located in an excellent central spot adjacent to the Calgary Tower, the establishment makes its mark with a grandeur that's evident from its historic building to its majestic lobby and restaurant areas. The rooms are of a high standard, focusing on both comfort and utility, with details like generously sized toiletries, thoughtful amenities and a well-equipped desk space. Guests frequently commend the bed's comfort, the excellent shower, and the unparalleled room service. Beyond the rooms, the hotel also presents a serene recreational space, encompassing a gym, pool, steam room, and hot tub. Even without a visit to the spa, the ambience alone is sufficient to instil a sense of relaxation.
Hotel Arts Kensington
Address: 1126 Memorial Drive Northwest, Calgary, Canada
Location: Downtown
Hotel Arts Kensington presents itself as a beacon of luxury in the boutique hotel landscape. Nestled in an ideal location in the city, it ensures guests are well-placed to access great walks, top-tier restaurants, and notable city attractions, including the proximity to Sunnyside station, making trips to places like Stampede a breeze. Every detail of the guest experience has been meticulously crafted, from the impeccable rooms and especially comfortable beds to the well-appointed bathrooms. An added highlight is the hotel's provision of complimentary bikes, allowing guests to seamlessly explore the city, particularly with a serene cycle path along the river. The continental breakfast stands out for its variety and the freshness and quality of items like freshly baked muffins and delicate pastries. With welcoming staff and thorough attention to detail, it's no surprise that the hotel is highly recommended by many who've enjoyed staying there.
Where to Stay in Calgary
When considering where to stay in Calgary, a variety of areas stand out, each bringing its unique charm:
Downtown: Situated at the city's heart, this bustling area is home to high-rise buildings, cultural sites like the Glenbow Museum, and close proximity to the iconic Calgary Tower. It's a hub of activity with numerous dining, shopping, and entertainment options.
Kensington: This vibrant neighbourhood is perfect for those who appreciate a blend of artsy and Bohemian vibes. With its independent shops, quaint cafes, and proximity to the Bow River, it's a favourite for both relaxation and adventure.
Inglewood: Known for its rich history, Inglewood is a paradise for lovers of vintage stores, art galleries, and unique dining spots. The area's charming main street offers an array of experiences, from boutique shopping to casual eateries.
Beltline: A modern urban district, Beltline is recognised for its lively nightlife, trendy bars, and contemporary art spaces. This is a go-to destination if you're keen on an area with energy and flair.
East Village: A rejuvenated space with a mix of modern architecture and historic charm, East Village offers a range of entertainment options. Its closeness to the Bow River makes it an ideal spot for scenic walks.
Mission: Known for its cafe culture, Mission is a delightful area with tree-lined streets and a laid-back atmosphere. Here, you can find a selection of boutique shops and eclectic dining venues, all set against a picturesque backdrop.
Considering your preferences, whether it's nightlife, arts, or just relaxation, Calgary's neighbourhoods provide diverse experiences. Each area offers a distinct slice of what makes Calgary an attractive destination for visitors.
While exploring Calgary's charms, you might also be intrigued by the diverse beauty of the nation. I've curated a guide to the best places to visit in Canada, which might inspire your next adventure, providing insights into iconic destinations and hidden gems across the country.
Plan Your Trip
For those interested in the city's attractions and events, I'd recommend checking out Visit Calgary.
It's a valuable resource, especially when seeking detailed insights on sightseeing opportunities, things to do, and upcoming events in the city.
Responsible Travel Tips
Here are a few suggestions on how you can adopt a more responsible approach to travelling in Calgary:
Renewable Energy: While staying in Calgary, opt for accommodations that utilise renewable energy sources. For instance, certain hotels in the city harness solar power or use geothermal heating.
Minimising Food Waste: Calgary has a strong focus on sustainability; thus, you'll find several eateries dedicated to zero-waste principles. Consider dining at such places and also make an effort to finish your meals or ask for leftovers to be packed.
Sustainable Diets: Embrace a sustainable diet by consuming more plant-based options or locally sourced produce. Calgary's farmers' markets are a treasure trove of fresh, local ingredients.
Sustainable Transport: The city prides itself on its extensive cycling network. Instead of driving, why not rent a bike? Additionally, Calgary's public transport system, including buses and the C-Train, is efficient and reduces carbon emissions.
Avoiding Flying: If you're travelling within Canada, consider taking a train or bus to Calgary rather than a domestic flight. This reduces your carbon footprint significantly.
Supporting the Local Community: Engage in community-driven experiences. Attend local events or festivals in Calgary to understand the culture better and contribute directly to the local economy.
Sustainable Shopping: Look for locally-made products for souvenirs or gifts. This not only supports the local artisans but also reduces the environmental impact associated with transporting goods long distances.
By incorporating these practices into your travel routine, you'll have a fulfilling experience in Calgary and contribute positively to the environment and the local community.
Final Thoughts
Selecting a boutique hotel in Calgary can enhance your travel experience, offering a unique blend of personalisation and local flavour.
The city's rich cultural tapestry and diverse attractions promise an enriching stay. Focusing on sustainability and community engagement ensures comfort and contributes to the destination's well-being.
As you plan your visit, consider these facets to make your trip to Calgary both enjoyable and responsible.
If you have questions or want to leave a hotel review, please do so in the comments.
—
Recommendations are independently chosen based on personal travel experiences and extensive research. This post contains affiliate links to hotels in Calgary, Canada. This means I get a small commission from any bookings at no extra cost to you.