Recommendations are based on personal travel experiences and research. If you book through links on our site, we may earn a commission at no extra cost to you.
—
After Brussels, Bruges is Belgium's most popular city, with visitors coming from all over the world.
The city deserves popularity thanks to its picturesque canals, including the incredibly beautiful Rosary Quay (Rozenhoedkaai), historic architecture, bustling squares and wonderful museums.
In this guide, I recommend boutique hotels in Bruges that are close to the city's main sights and attractions.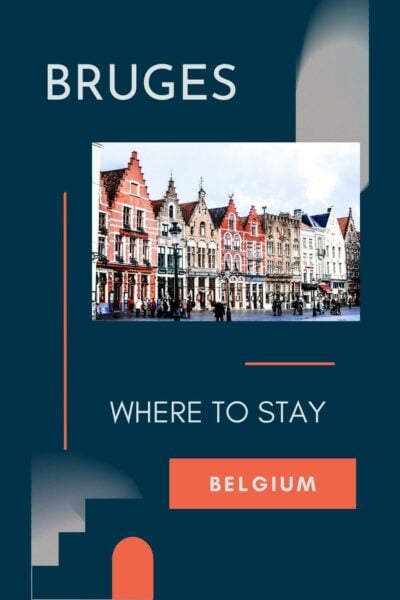 Boutique Hotels in Bruges
When deciding where to stay in Bruges, look for hotels close to Grote Markt or Burg, the two main squares in the centre of Bruges.
More or less anywhere in Steenstraat Quarter or Burg Quarter will be central, with easy access to the city's highlights. Bruges train station is in the southwest of the city (Brugge Station on Stationsplein), around a 20-minute walk to Grote Markt.
Top Pick
Hotel De Castillion
Address: Heilige Geeststraat 1, Historic Centre of Brugge, Bruges, Belgium
Hotel De Castillion is one of the best boutique hotels in Bruges thanks to its wonderful staff, exceptional location and high-quality rooms. The rooms are large with huge beds, a sitting area and plush furnishings. The bathrooms are classically designed, spotlessly clean with bathrobe and slippers included. The Castillion is the perfect mix of historic and modern, as is reflected in the reviews.
Features:
Great location close to Rozenhoedkaai, Grote Markt, Burg and other sights.
Recently renovated rooms with stylish finishes.
Art Deco salon and bar onsite.
Helpful and welcoming staff.
Pros: A modern hotel in a historic building located in one of the best areas of Bruges. The hotel is rated as exceptional in all categories.
Cons: As a luxury boutique hotel, it is not the most affordable of hotels, however, it is cheaper than a number of other boutique hotels in Bruges.
Check Availability
I think that my top pick is the best boutique hotel in Bruges due to its exceptional amenities and charming atmosphere, I also recommend a few other options that may appeal to different tastes and budgets.
Next Best
Next up is a centrally located boutique hotel that's popular with visitors to Bruges; I highly recommend checking out Hotel Sablon, which is situated near Grote Markt, the bustling main square of the city.
Boutique Hotel Sablon
Address: Kopstraat 10, Bruges, Belgium
The recently renovated Hotel Sablon is one of the most popular of Bruges' boutique hotels. The location near Market Square (Grote Markt) is ideal, and even though the hotel is in a lively area, the rooms are quiet. Rooms in the Sablon are large, with extremely comfortable beds. Some rooms have city views.
Luxury Boutique Hotel
In a luxury boutique hotel, you can expect to be treated to exceptional amenities, personalised service, and attention to detail. If you appreciate opulence, indulgence, and a high-end experience when on holiday, you might find that my next hotel recommendation is for you.
Hotel Van Cleef
Address: Molenmeers 11, Brugge, Belgium
Hotel Van Cleef is the most luxurious boutique hotel in Bruges. It's at the higher end of the market, so it won't be within everyone's budget, but if you're looking for somewhere special to stay, this is a great option. The hotel is known for its exceptionally warm, welcoming and thoughtful staff, amazing breakfast, stylish rooms and excellent location close to Market Square.
The Pand Hotel
Address: Pandreitje 16, Bruges, Belgium
The Pand Hotel is a luxury boutique hotel that offers a truly indulgent experience for visitors to Bruges. This hotel exudes sophistication and elegance with its traditional Belgian style, Ralph Lauren fabrics, antiques, and art objects. Located just around the corner from Market Square and 35 metres from the famous Dijver quay and the canals, the hotel is perfectly positioned to explore the city's top attractions. All rooms feature granite or marble bathrooms and are housed in an 18th-century mansion that exudes charm and character. The luxurious breakfast includes a waiter service and champagne, and the hotel is located just 250 metres from the Groeningemuseum. The famous Rozenhoedkaai is just outside the hotel and offers a scenic view, while Bruges Railway Station is a 15-minute walk away.
Green Hotel
By choosing a sustainable or eco-friendly boutique hotel, you can expect to be part of a movement that values reducing carbon footprint and preserving the environment. If you're looking for a boutique hotel that prioritizes sustainability and eco-friendliness, try the following hotel.
Zakske 13 Boutique B&B
Address: Zakske 13, Historic Centre of Bruges
Zakske 13 is an eco-friendly boutique bed and breakfast that prioritizes sustainability in a number of ways. For instance, the property is powered by 100% renewable electricity and utilizes energy-saving practices to minimize energy consumption. In addition, the hotel minimizes food waste, sources organic and local ingredients, and maintains green spaces like a rooftop garden to further reduce its environmental impact. Additionally, the hotel offsets a portion of its emissions to further reduce its carbon footprint. If you're looking for a cool boutique stay in the Ezelstraat Quarter that's committed to sustainable practices, Zakske 13 might be an excellent option for you.
Cool Hotel in Bruges
Choosing a cool and unique boutique hotel means you can anticipate an experience that's off the beaten path, with distinctive design features and creative flourishes that make the space truly memorable.
If you're drawn to boutique hotels that offer something out of the ordinary, my next hotel pick could be the perfect fit for you.
Boutiquehotel 't Fraeyhuis
Address: 15 Minnewater, Historic Centre of Brugge
Fraeyhuis is located outside Bruges's historic centre, close to Minnewaterpark and Brugge Train Station. Although this location won't suit everyone, the hotel is beautifully designed with modern furniture, large comfortable beds, an excellent restaurant and an incredible breakfast. The hotel grounds include stunning green open spaces that add to the calmness of the retreat.
This article is part of our series on places to stay in Belgium.
Where to Stay in Bruges
A few neighbourhoods stand out for visitors looking to book a boutique hotel when considering where to stay in Bruges.
The first is the historic city centre, where you'll find many of the city's top attractions, as well as a lively cafe culture and a range of boutique shops and galleries.
Another great option is the Sint-Gillis neighbourhood, located just outside the city centre and known for its charming cobblestone streets and historic architecture. This area is also home to a number of cool bars and restaurants, making it a popular choice for visitors looking to experience the city's nightlife.
If you're interested in spending time outdoors, you might consider staying in the Sint-Anna district, which is located near a number of parks and green spaces. This area is also home to several museums and cultural attractions, making it a great choice for visitors interested in learning more about the city's history and culture.
Finally, the Sint-Pieters area is another popular choice for visitors looking to book a boutique hotel. Located just outside the city centre, this area is known for its independent shops, cafes, and laid-back atmosphere.
No matter where you choose, you're sure to find a range of boutique hotels that cater to your preferences, whether you're looking for luxury amenities, quirky design features, or a central location.
For ideas and inspiration for things to do in Bruges (Brugge in Flemish), Visit Bruges is a great resource where you can find itineraries, museum information, top attractions and cultural events.
Responsible Travel in Belgium
Many of us are increasingly concerned about climate change and sustainability. Here are a few ideas on how we can travel more responsibly in Bruges.
Consider sustainable transportation options such as biking or walking. Bruges is a compact city that's easy to navigate on foot or by bike, and plenty of bike rental options are available.
Look for hotels and accommodations that prioritise renewable energy and eco-friendly practices. The is an increasing number of sustainable hotels in Bruges and hotels that are working toward it.
Minimise food waste by eating at restaurants that focus on sustainable practices. One example is De Vitrine, which sources ingredients from local farms and only uses seasonal produce.
Consider adopting a more sustainable diet while in Bruges. There are a number of vegetarian and vegan restaurants in the city, such as the popular Avalon Restaurant, which serves organic, plant-based dishes.
Avoid flying to Bruges if possible, and instead, opt for alternative modes of transportation such as train or bus. Bruges is easily accessible by train from major European cities such as Brussels, Amsterdam, and Paris.
Support the local community by shopping at independent stores and markets rather than chain stores or souvenir shops. One option is the weekly Saturday Market, which features local vendors selling fresh produce, handmade goods, and other unique items.
FAQ
What's the best area to stay in Bruges?
The historic city centre is a popular choice, as it's home to many of the city's top attractions and a range of boutique hotels. Other popular neighbourhoods include Sint-Gillis, Sint-Anna, and Sint-Pieters, each with its own unique character and charm.
What are some must-see attractions in Bruges?
Bruges has many must-see attractions, including the Belfry of Bruges, the Groeningemuseum, and the Basilica of the Holy Blood. Visitors can also take a boat tour of the city's canals or enjoy a beer tasting at a local brewery.
What's the best time of year to visit Bruges?
The best time of year to visit Bruges largely depends on your preferences. Summer is the busiest season, with warm weather and long days, while winter can be chilly but also features festive holiday markets and a magical atmosphere. Spring and fall are generally quieter and offer mild weather, making them great options for avoiding crowds.
Final Thoughts
With its charming cobblestone streets, historic architecture, and rich cultural heritage, Bruges offers visitors a truly enchanting destination that's unlike anywhere else.
You might be interested in exploring the city's top attractions, savouring local cuisine, or simply relaxing in a beautiful and distinctive hotel; Bruges has something for everyone.
With a bit of research and planning, you can find the perfect boutique hotel to suit your preferences and make the most of your visit to this magical city.
If you have questions or want to leave a hotel review, please do so in the comments.
—
Recommendations are independently chosen by our travel editors. This post contains affiliate links to hotels in Bruges, Belgium. This means we get a small commission from any bookings at no extra cost to you.